Learn how to make these delicious prawn fritters that are light and crispy. They are great as a snack or to accompany other dishes. I'm also showing you two ways of frying the cucur udang, with or without a mould.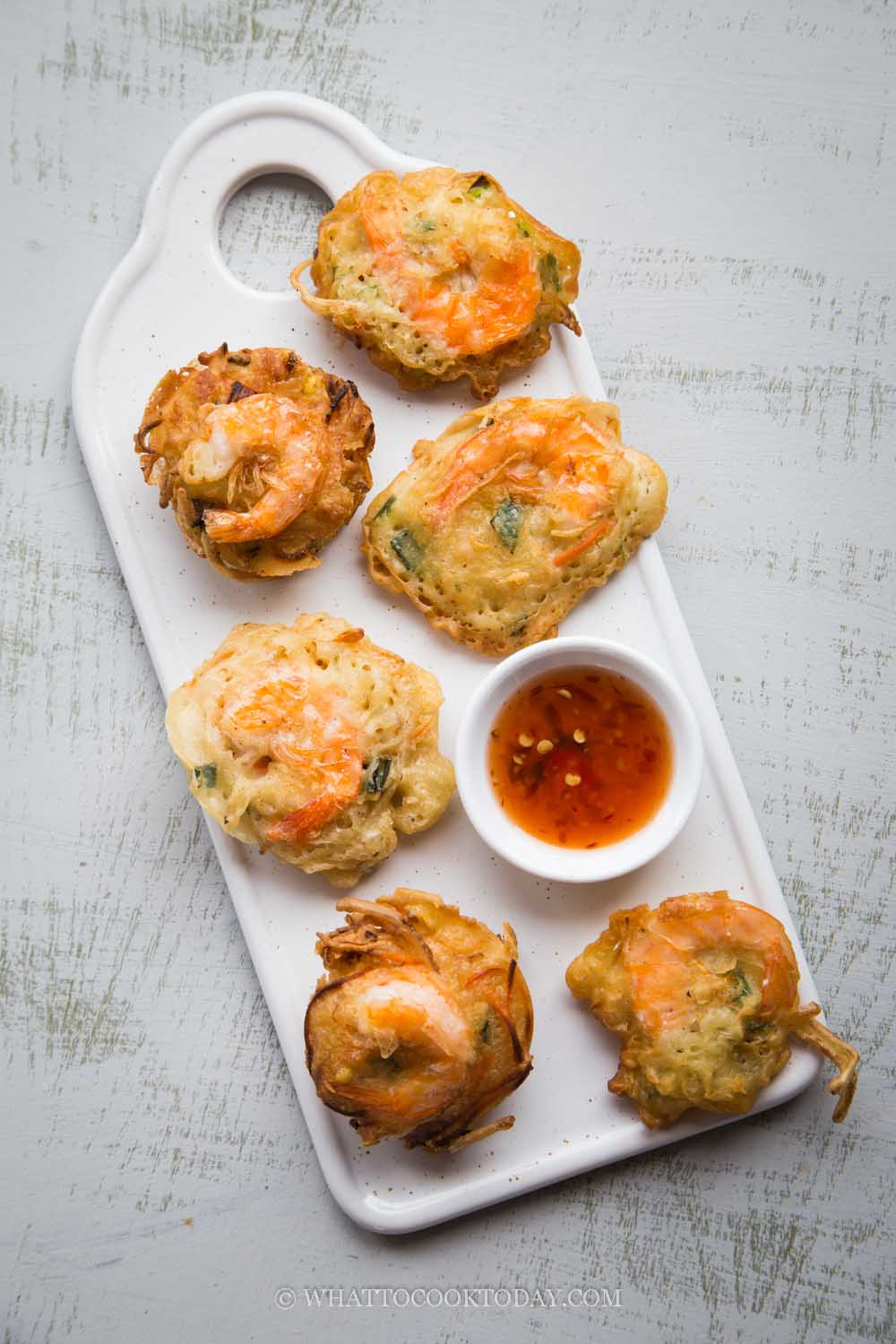 This popular Southeast Asian street food or snack is popular especially in Indonesia, Malaysia, and Singapore. They are known as cucur udang or jemput udang in Malaysia and Singapore. In Indonesia, we call them bakwan udang or sometimes peyek udang. They are quite similar to the cucur sayur / bakwan sayur I made a while ago.
The texture of the fried batter can be adjusted
For crispy cucur udang (cucur udang rangup/garing) : which is what this recipe is, I use more rice flour than all-purpose flour. I won't recommend using all rice flour however. It's a bit too dry and the color is pale too
For softer cucur udang (cucur udang gebu dan lembut): if you prefer a crisp on the edge and soft in the middle kind of cucur udang, you can try to use 50:50 amount of rice flour and all-purpose flour, or swap the amount I have for rice flour to all-purpose flour and all-purpose flour to rice flour, or use only all-purpose flour. This will give you a much softer texture

How to make cucur udang from scratch
1. If the prawn you use are small enough, you can leave the head intact too. The ones I used here are small-medium, so I removed the head but keep the shells intact. You don't want to use large prawns as the shells will be too thick and tough to eat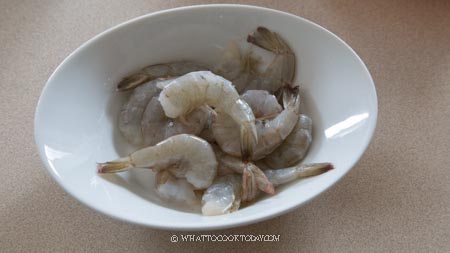 2. Add all ingredients for the chili sauce, except for the cornstarch. Bring to a boil and cook until the sugar melts.


3. Combine the corn starch with water and pour into the sauce to thicken slightly. Set aside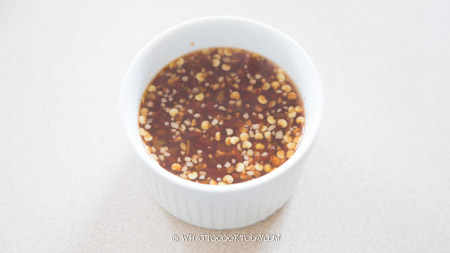 4. Whisk all the dry ingredients for the batter


5. Add the wet ingredients and whisk until the batter is smooth. Different brand of flour may absorb liquid differently. If the batter is too thick, you can add a bit of water until the batter is thick but flowy kind of consistency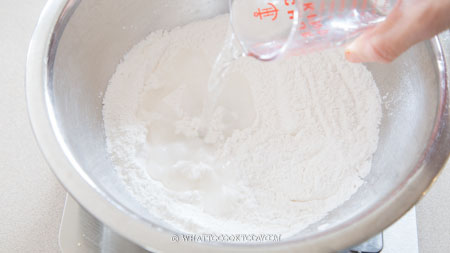 6. Add the bean sprouts, chives, and carrots if using


7. If frying using a ladle as a mould: I use a ladle (about 100 ml capacity) as a mould. Dip the ladle into the hot oil to let it preheat for about 1 minute. This is important step. If your mould is not hot enough, the batter will stick to it really bad


8. After preheating the ladle, scoop some batter into the ladle


9. Put about 2-3 pieces of the prawns on top


10. Quickly but gently dip the ladle back into the hot oil to let it fry


11. The batter will detach itself from the ladle. If it doesn't, you can use a chopstick or a fork/spoon to help the fritter detach and continue to fry until both sides are nicely golden brown and crispy. Make sure you control the heat. I fry over medium heat to prevent the batter from browning too fast, but the inside is still not cooked through. Preheat the ladle each time before you fry each fritter


12. If frying without using a mould: I recommend using a skillet or a pan instead in this case. Preheat about 1 inches of oil over medium heat. The oil is ready when you dip a skewer or a chopstick into the oil, you will see bubbles around it. Scoop about 1/3 cup of the batter and gently pour it into the hot oil, near the side of the pan. Put 2-3 shrimps on top of the batter. Some part of the batter will cling to the side of the pan at first. This helps to "anchor" the batter so it won't disperse everywhere into the oil. Control the heat and fry over medium heat.


13. You can use a spoon or chopstick to help the batter detach from the side of the pan and continue frying until both sides are nicely golden brown and crispy


14. You can keep them warm while you are frying the rest, by putting them on top of a cooling rack sits on a baking sheet and place this in the oven at 200 F (93 C)

The cucur udang fried using a ladle will have a rounder and thicker shape. The one fried without a ladle is flatter. There's no right or wrong here. It's more of a personal preference and your convenience. Frying with a mould take a longer time because you have to fry one at a time, while frying without a mould, you can fry several at one go.

How to store leftovers and reheat cucur udang
Leftover fried cucur udang can be kept in the refrigerator or kept frozen for longer storage. Here's how:
1. Let them cool down completely and then cover with a cling wrap and keep in the refrigerator for about 2-3 days
2. For longer storage, place them in a freezer bag or container, push out the air and seal the bag. They can be kept frozen for one month
3. Simply recrisp frozen cucur udang in the toaster oven or oven at 350 F for about 10 minutes or until they are crispy again or an air-fryer at 300 F for about 5 minutes or until they are crispy again

Did you make this cucur udang/bakwan udang recipe?
I love it when you guys snap a photo and tag to show me what you've made 🙂 Simply tag me @WhatToCookToday #WhatToCookToday on Instagram and I'll be sure to stop by and take a peek for real!

The recipe for the batter and chili sauce is adapted from MyKitchen101.
Cucur Udang / Bakwan Udang (Prawn Fritters)
Ingredients
250

gr

small prawn with shells

Cooking oil

enough for deep frying
Dry ingredients for the batter:
Wet ingredients for the batter:
3

Tbsp

oil

200

ml

water

plus more as needed
Instructions
If the prawn you use are small enough, you can leave the head intact too. The ones I used here are small-medium, so I removed the head but keep the shells intact. You don't want to use large prawns as the shells will be too thick and tough to eat
Prepare the chili sauce:
Add all ingredients for the chili sauce, except for the cornstarch. Bring to a boil and cook until the sugar melts. Combine the corn starch with water and pour into the sauce to thicken slightly. Set aside
Prepare the batter:
Whisk all the dry ingredients for the batter. Add the wet ingredients and whisk until the batter is smooth. Add the bean sprouts, chives, and carrots if using. Different brand of flour may absorb liquid differently. If the batter is too thick, you can add a bit of water until the batter is thick but flowy kind of consistency
Frying (using a ladle as a mould):
Preheat about 2 inches of oil in a heavy-bottom pan or pot over medium heat. The oil is ready when you dip a skewer or a chopstick into the oil, you will see bubbles around it. Fry a small amount of the batter in the oil for a taste-test. If you are happy with the taste, you can proceed to fry the fritter, otherwise, add salt/sugar, or other seasoning to your liking

I use a ladle (about 100 ml capacity) as a mould. Dip the ladle into the hot oil to let it preheat for about 1 minute. This is important step. If your mould is not hot enough, the batter will stick to it really bad

After preheating the ladle, scoop some batter into the ladle and put about 2-3 pieces of the prawns on top and quickly but gently dip the ladle back into the hot oil to let it fry. The batter will detach itself from the ladle. If it doesn't, you can use a chopstick or a fork/spoon to help the fritter detach and continue to fry until both sides are nicely golden brown and crispy. Make sure you control the heat. I fry over medium heat to prevent the batter from browning too fast, but the inside is still not cooked through

Preheat the ladle each time before you fry each fritter
Frying (without any mould):
The cucur udang can be fried without any mould too. I recommend using a skillet or a pan instead in this case. Preheat about 1 inches of oil over medium heat. The oil is ready when you dip a skewer or a chopstick into the oil, you will see bubbles around it. Fry a small amount of the batter in the oil for a taste-test. If you are happy with the taste, you can proceed to fry the fritter, otherwise, add salt/sugar, or other seasoning to your liking

Scoop about 1/3 cup of the batter and gently pour it into the hot oil, near the side of the pan. Put 2-3 shrimps on top of the batter. Some part of the batter will cling to the side of the pan at first. This helps to "anchor" the batter so it won't disperse everywhere into the oil. Control the heat and fry over medium heat. You can use a spoon or chopstick to help the batter detach from the side of the pan and continue frying until both sides are nicely golden brown and crispy
Keep them warm:
You can keep them warm while you are frying the rest, by putting them on top of a cooling rack sits on a baking sheet and place this in the oven at 200 F (93 C)
To serve:
Serve the cucur udang with the sweet chili sauce on the side
Nutrition
Calories:
105
kcal
|
Carbohydrates:
14
g
|
Protein:
5
g
|
Fat:
3
g
|
Saturated Fat:
1
g
|
Trans Fat:
1
g
|
Cholesterol:
42
mg
|
Sodium:
461
mg
|
Potassium:
59
mg
|
Fiber:
1
g
|
Sugar:
3
g
|
Vitamin A:
706
IU
|
Vitamin C:
5
mg
|
Calcium:
64
mg
|
Iron:
1
mg