Pillowy soft and airy Hokkaido style chiffon cupcakes with an amazing sweet pandan aroma and filled with rich and creamy kaya filling is one of our family's favorite chiffon cupcakes.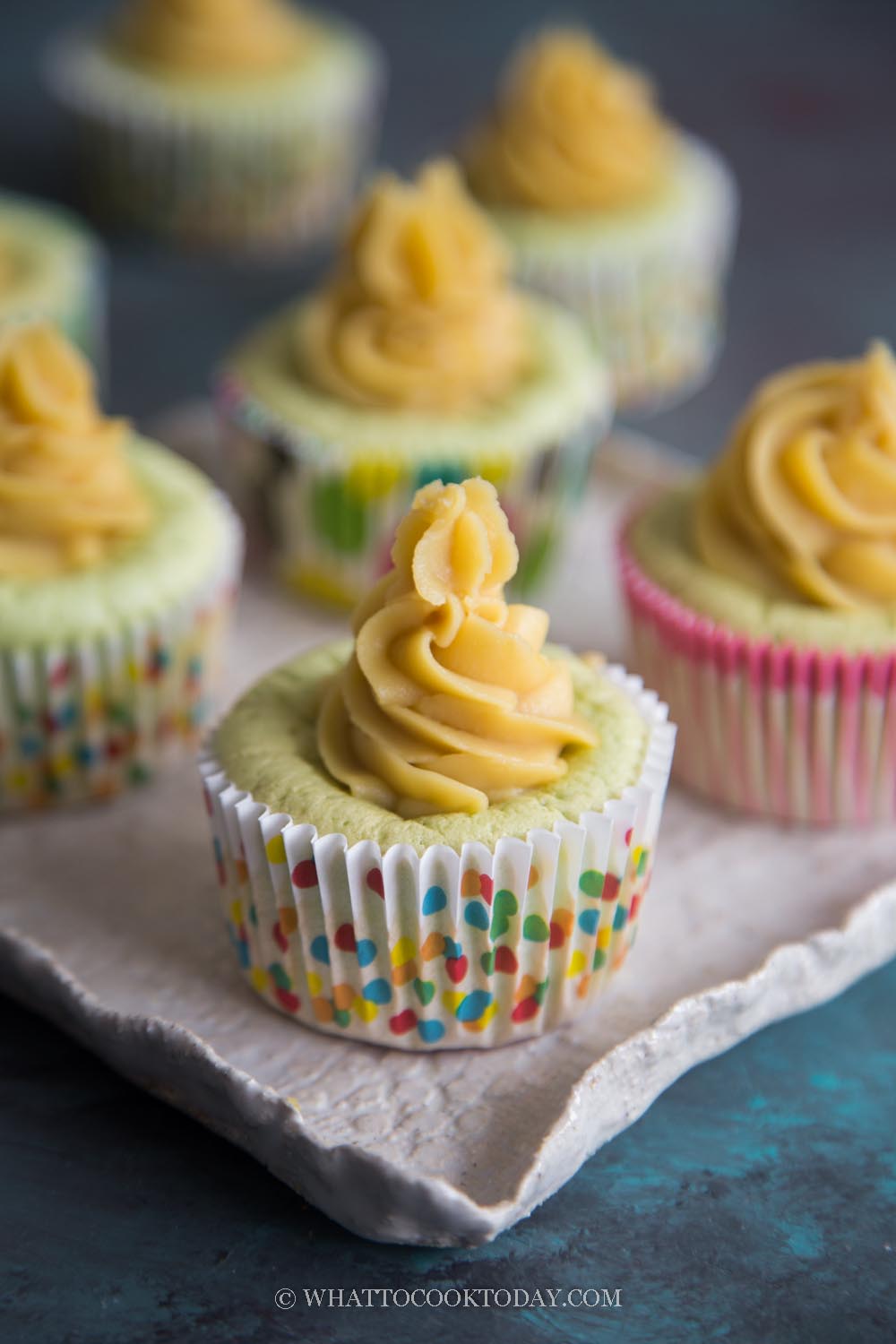 If you feel overwhelmed having to bake the whole chiffon cake or if you don't have a chiffon tube pan, these chiffon cupcakes are great ways to enjoy that soft and airy texture of chiffon cakes but much easier to handle. Hokkaido-style chiffon cupcakes are usually baked in tall, sturdy, and decorative paper cups. I don't have any and so I just use regular muffin tins lined with paper liners
I use my pandan chiffon cake recipe with minor adaptation. I know pandan leaves aren't always available for some of you who live outside of Asia (like myself). So, instead of using pandan juice, I'm just using pandan essence in this recipe for simplicity and convenience.
The recipe rundown
Taste: Lightly sweetened cake with rich and creamy kaya filling
Texture: Soft and airy texture of cupcakes with creamy kaya jam
Level: Intermediate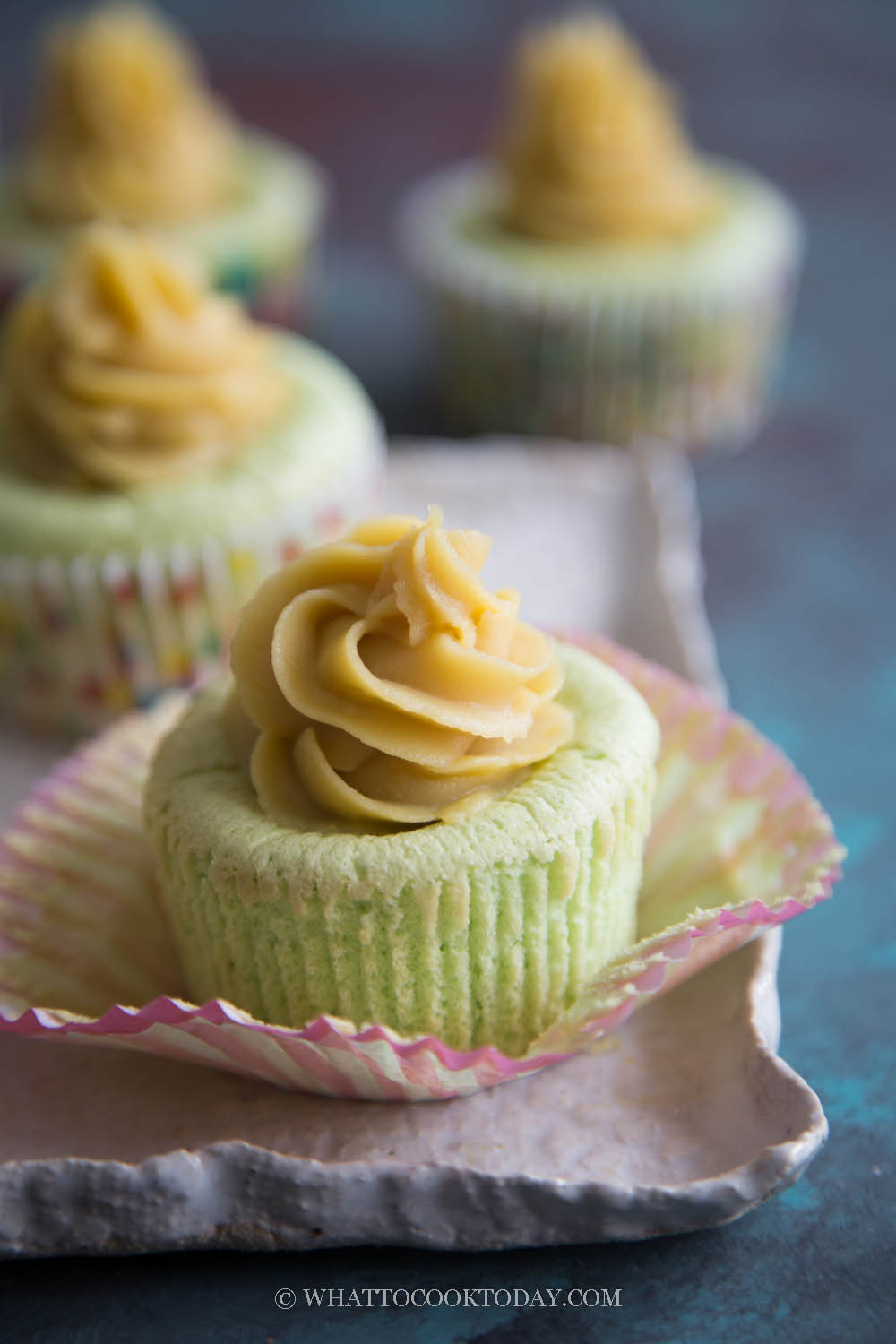 How to make pandan kaya Hokkaido chiffon cupcakes
1. Separate the egg yolks from the white. The meringue whips better at room temperature. In a separate bowl, whisk the egg yolks, sugar and cooking oil, then add coconut milk and pandan essence. Sift in the cake flour, baking powder, and salt into the batter, there will be no lumps when you do this. Whisk to mix into a smooth batter. Set aside


2. Place the egg whites in a clean mixing bowl. I use a stand mixer with a whisk attachment. You will have trouble whipping your meringue if there's a trace of grease in your utensils or bowls. Beat the egg whites on medium speed until frothy


3. Add cream of tartar or lemon juice/vinegar and whip until it turns whitish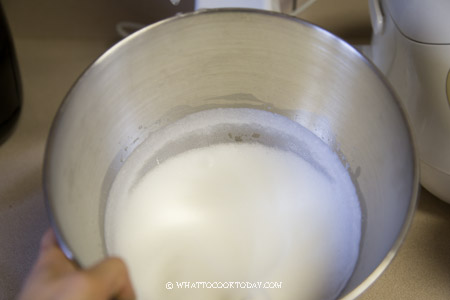 4. Gradually add the sugar as you beat, in 3 batches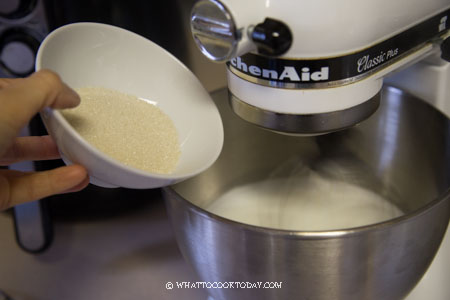 5. I beat them at high speed (speed 6 on Kitchen Aid). When you lift the whisk up, it will hold its shape with a slight bent on the tip. Stop once you reach this stiff peak. Overbeating the meringue will break it. You can always stop to check on the meringue so you won't under or overbeating it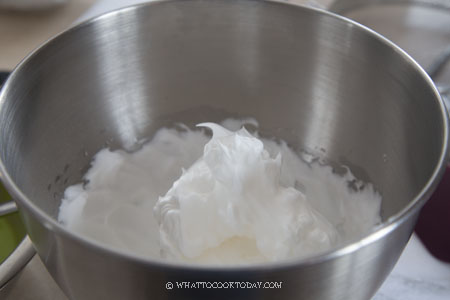 6. Gently fold 1/3 of the meringue into the thick batter. Using a whisk, using a cutting motion, and fold over to mix. Repeat this motion several rounds. Continue on with the second 1/3 of the meringue again to mix.


7. For the last 1/2 of the meringue, use a rubber spatula instead to ensure you get all the batter at the bottom of the bowl mixed in as well. Use a cut down in the middle and fold over motion to fold gently but quickly. Make sure you don't see any more white meringue.


8. The mixture should be fluffy and voluminous


9. Use an ice cream scoop if you have one, otherwise, you can just use a regular spoon, to scoop batter into the muffin tins, about 3/4 full. Use a toothpick to draw a zigzag pattern on the batter to pop any bubbles inside the batter. (Sorry forgot to take photos on this step)
10. Pop into the oven middle rack and let it bake for 20-25 minutes or until a cake tester inserted comes out clean.


11. Remove from the oven after that and transfer to a cooling rack to let it cools down completely. Once the cupcakes cool down, they will shrink and the top middle will sink in slightly. It's normal. We will fill them up with filling, so don't worry


12. Transfer the kaya jam into a piping bag fitted with a large nozzle of your choice. Gently poke the tip of the nozzle into the cupcake and gently squeeze out the filling. You will fill the kaya jam fills up the cupcakes on the inside and you can stop piping once the filling shows up a bit on the top or you can continue to swirl or create a pattern on top of the cupcakes if you like

Pandan flavor and kaya jam are like a match-in-heaven combo IMHO. Look at that creamy filling inside the cupcakes.

How to store Hokkaido cupcakes
1. For cupcakes without filling or unfrosted: you can keep the cupcakes at room temperature, well-wrapped to prevent loss of moisture, for 2-3 days. You can keep the kaya jam in the fridge.
2. For cupcakes with filling or frosted: Keep them in an air-tight container for 2-3 days. The longer you keep, the drier the cake will get. You can also keep them in the freezer for up to one month

Did you make this pandan kaya Hokkaido chiffon cupcakes recipe?
I love it when you guys snap a photo and tag to show me what you've made 🙂 Simply tag me @WhatToCookToday #WhatToCookToday on Instagram and I'll be sure to stop by and take a peek for real!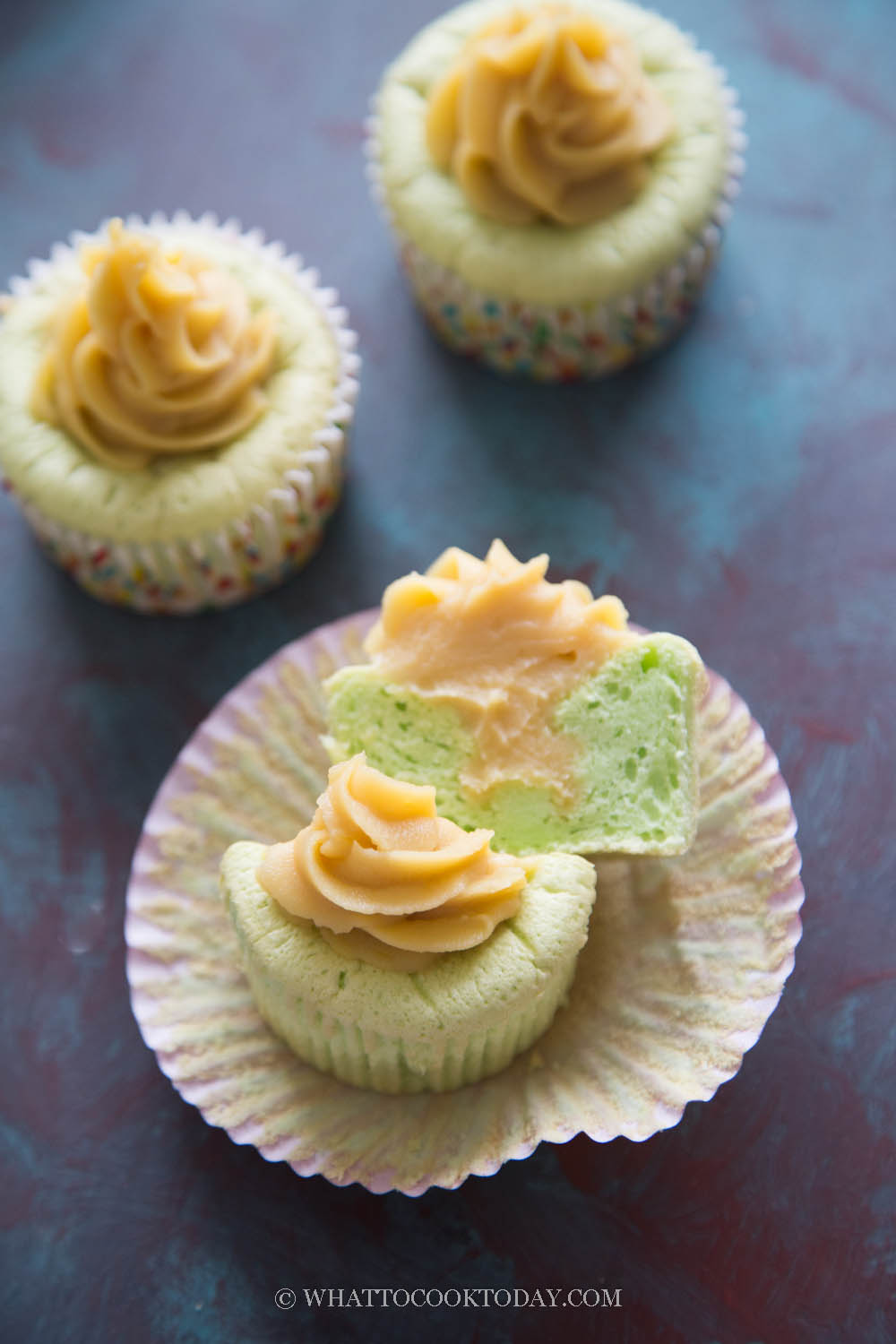 Pandan Kaya Hokkaido Chiffon Cupcakes
Ingredients
Instructions
Line muffin tins with cupcake liners. If you use the thick paper cups, place them on top of a baking sheet
Prepare cake batter:
Separate the egg yolks from the white. The meringue whips better at room temperature. In a separate bowl, whisk the egg yolks, sugar and cooking oil, then add coconut milk and pandan essence. Sift in the cake flour, baking powder, and salt into the batter, there will be no lumps when you do this. Whisk to mix into a smooth batter. Set aside
Whip the meringue:
Preheat your oven to 325 F (165 C). My oven is a conventional oven with bottom heat only, no fan. If you have a convection oven, I suggest lowering the temperature by 20 F (15 C). Place the oven rack 3rd from the top. Place the egg whites in a clean mixing bowl. I use a stand mixer with a whisk attachment. You will have trouble whipping your meringue if there's a trace of grease in your utensils or bowls. Beat the egg whites on medium speed until frothy, add cream of tartar or lemon juice/vinegar and whip until it turns whitish. Gradually add the sugar as you beat, in 3 batches. I beat them on high speed (speed 6 on Kitchen Aid) until you reach a stiff peak but still have a slight bent on the tip. Stop once you reach a stiff peak. Overbeating the meringue will break it
Fold meringue into the batter:
Gently fold 1/3 of the meringue into the thick batter. Using a whisk, using a cutting motion and fold over to mix. Repeat this motion several rounds. Continue on with the second 1/3  of the meringue again to mix. For the last 1/2 of the meringue, use a rubber spatula instead to ensure you get all the batter at the bottom of the bowl mixed in as well. Use a cut down in the middle and fold over motion to fold gently but quickly. Make sure you don't see any more white meringue. The mixture should be fluffy and voluminous.

Use an ice cream scoop if you have one, otherwise, you can just use a regular spoon, to scoop batter into the muffin tins, about 3/4 full. Use a toothpick to draw a zigzag pattern on the batter to pop any bubbles inside the batter
Baking:
Pop into the oven middle rack and let it bake for 20-25 minutes or until a cake tester inserted comes out clean. Remove from the oven after that and transfer to a cooling rack to let it cools down completely. Once the cupcakes cool down, they will shrink and the top middle will sink in slightly. It's normal. We will fill them up with filling, so don't worry
Fill and decorate:
Transfer the kaya jam into a piping bag fitted with a large nozzle of your choice. Gently poke the tip of the nozzle into the cupcake and gently squeeze out the filling. You will fill the kaya jam fills up the cupcakes on the inside and you can stop piping once the filling shows up a bit on the top or you can continue to swirl or create a pattern on top of the cupcakes if you like

They are ready to be served. I suggest only fill as many cupcakes with the filling you want to serve. That way you can keep the chiffon cupcakes, well-wrapped to prevent loss of moisture, at room temperature for 2-3 days and the filling can be kept in the fridge to chill. When you want to serve them, you can fill it up on the same day
Recommended products: