Soft and fluffy pandan sponge cake paired with rich and soft kaya custard to make this beautiful layered cake. A video tutorial is available to ensure you can replicate this at home.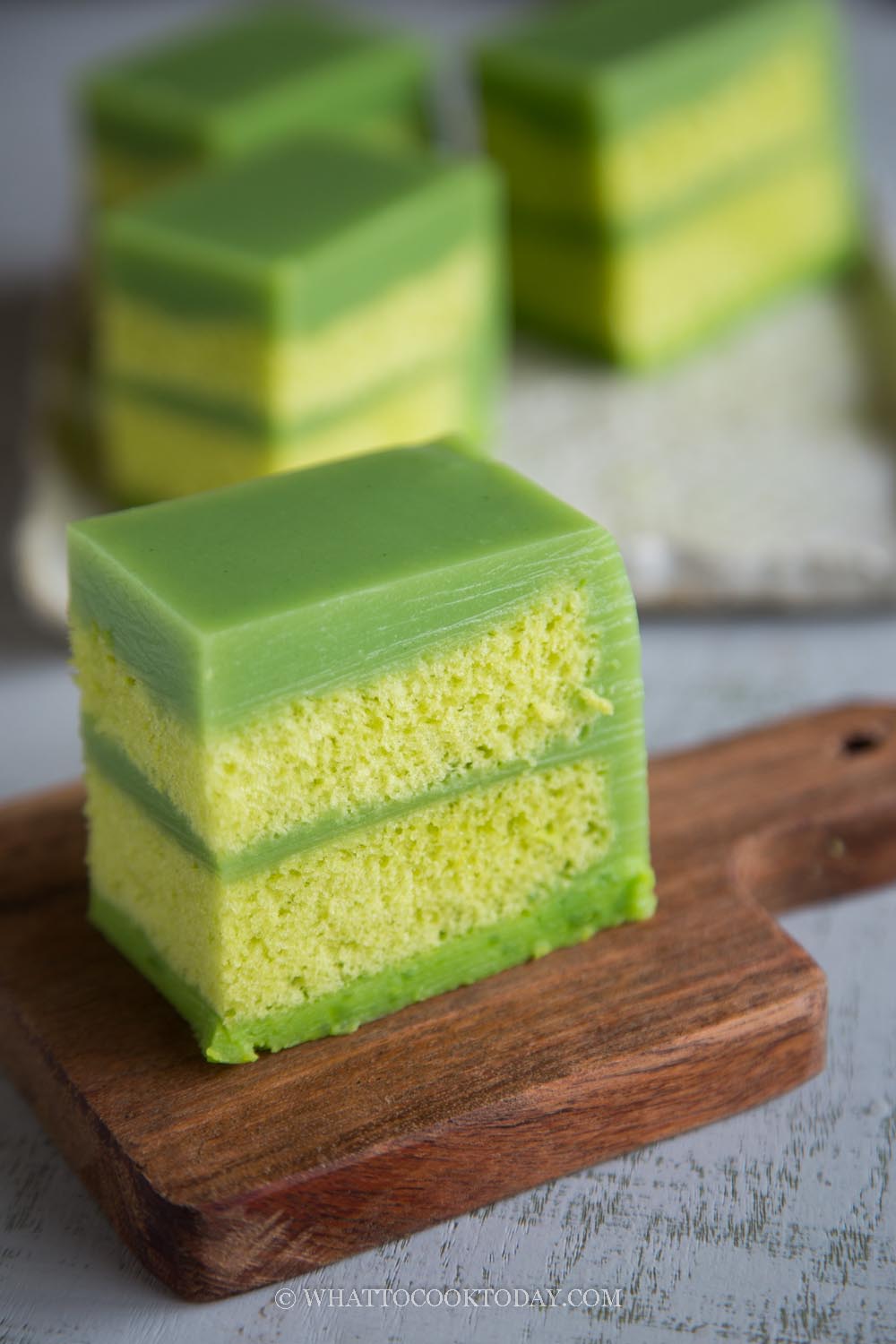 If you enjoy the combination of soft airy sponge cake and the texture of custard in one cake, you will love this pandan kaya layer cake. I know this pandan kaya layer cake is popular in Malaysia and Singapore. I have been wanting to make this cake for so long and finally, I got a chance to 🙂
The recipe rundown
Taste: the combination of pandan and kaya is a classic. The cake has the right amount of sweetness (to me anyway)
Texture: soft and airy cake with soft custardy kaya layers
Level: intermediate. it can be overwhelming if you try to do everything on the same day. I recommend baking the cake the day before.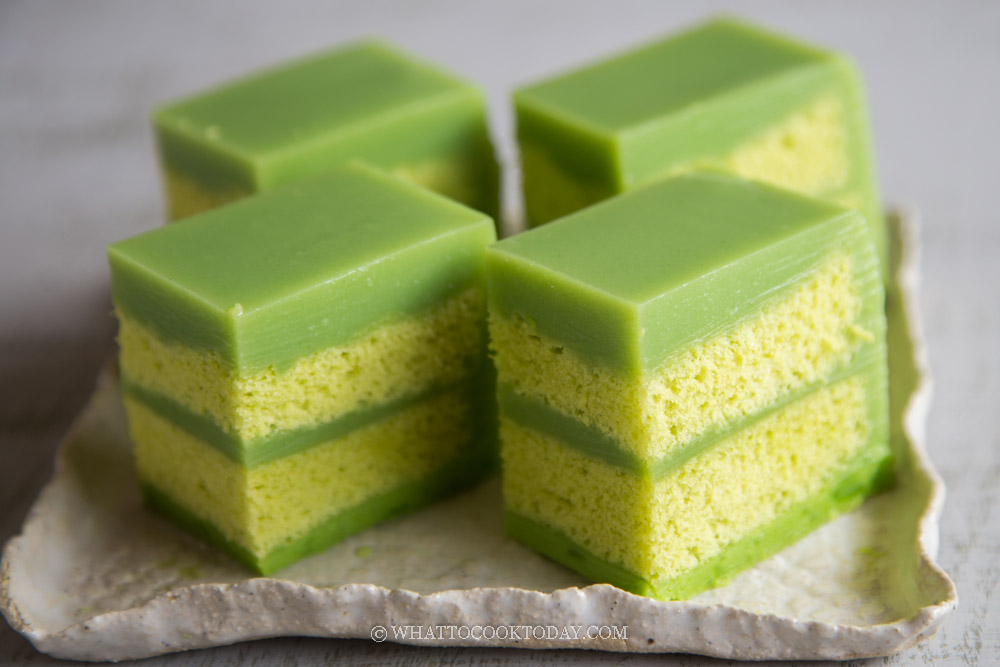 How to make pandan kaya layer cake
1. You can follow this recipe to prepare the sponge cake
2. Slice the sponge cake horizontally into 2 or 3 slices (depends on how many layers you want). Try to cut as flat and evenly as possible. I initially thought I was going to make 3 layers, but I ran out of the kaya custard after the second layer LOL!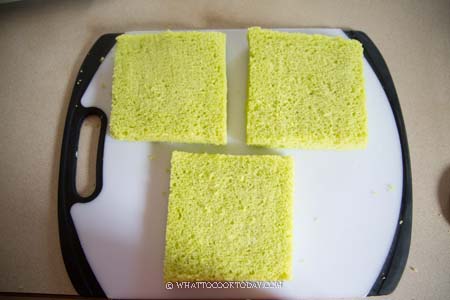 3. Cut the pandan leaves into small pieces. Put them inside a blender along with water and coconut milk and blend until smooth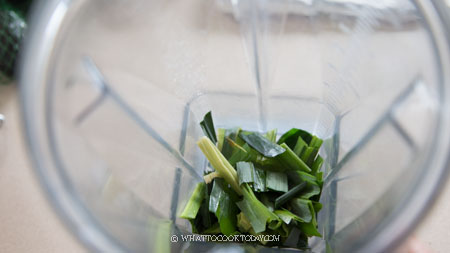 4. . Strain the mixture and make sure it measures 350 ml total. You can top up with some water to make up for the amount if needed


5. Add hun kwe flour to the pandan coconut milk mixture and whisk to combine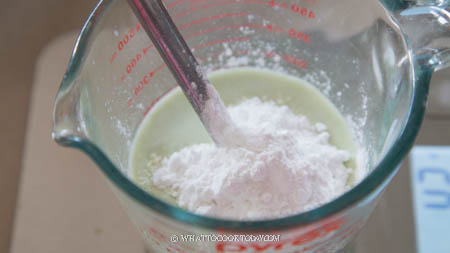 6. In a heavy bottom pot or saucepan, add water, sugar, salt, and agar agar powder. Stir to combine. Let them sit for 20 minutes. The agar agar will dissolve better later.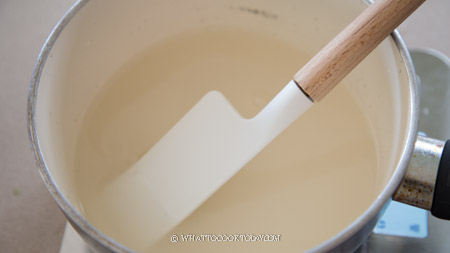 This is the agar agar powder I use, but you can use whatever brand you like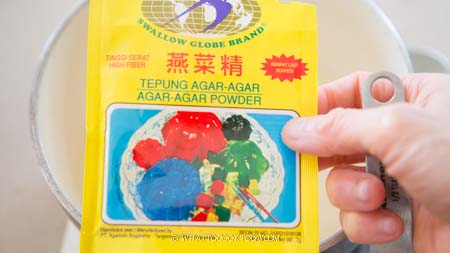 7. Put the pan on low heat, add butter, and cook until the agar agar dissolves. You shouldn't see any more specks of agar agar. If they don't dissolve, your kaya custard will not set later


8. Remove from the heat and add pandan coconut mixture and stir to combine


9. Return it back to the stove and cook over low heat until the mixture thickens slightly and coats the spatula but still liquid and pourable


10. Rinse the clean pan you use to bake the cake with water and then shake off excess water


11. Pour in about 300 gr of kaya custard (for 3-layer cake) or 400 gr for 2-layer cake.


12. Gently put the first layer of cake on top and just gently press the cake down a little bit.


13. Pour in second layer of custard, then top with second layer of cake and pour the remaining kaya custard if you are making 2 layer-cake. For 3-layer cake, top with the third layer of cake and finish off with the rest of the kaya custard

14. Let the cake cools down at room temperature and then transfer to a fridge to let it cool for 5 to 6 hours or overnight. Gently turn the cake upside down onto a serving platter. Wrap the side of the cake pan with a hot towel. It helps to release the cake. You can also roll the cake pan on its side gently and because of gravity, it will help to loosen the cake from the side and it will slide out later


15. You can decorate it if you like, I didn't, I just serve it as is

Tips for success
1. Bake the sponge cake the day before and let them cool down and wrap it up in a cling wrap to maintain moisture
2. Make sure the agar agar powder really dissolves (you don't see any more specks) or the kaya custard will not set
3. Don't cook the custard too thick. It will be hard to spread and you won't get smooth layers. It should coat the spatula but still a pourable consistency
Did you make this pandan kaya layer cake recipe?
I love it when you guys snap a photo and tag to show me what you've made 🙂 Simply tag me @WhatToCookToday #WhatToCookToday on Instagram and I'll be sure to stop by and take a peek for real!

The kaya custard recipe is adapted from here
Pandan Kaya Layer Cake
Ingredients
Kaya custard:
270

g

coconut milk

80

g

water

10

pandan leaves

90

g

hunkwe flour

or mungbean starch

660

g

water

1 ½

tsp

agar agar powder

55

g

butter

125

g

sugar

¼

tsp

salt
Instructions
Slice the sponge cake horizontally into 2 or 3 slices (depends on how many layers you want). Try to cut as flat and evenly as possible

Don't trim the 4 edges of the cake. I did a mistake by doing that and the custard ends up being not enough for a 3-layer cake because too much gap on the 4 sides that have to be filled with custard
Prepare pandan coconut milk mixture:
Cut the pandan leaves into small pieces. Put them inside a blender along with water and coconut milk and blend until smooth. Strain the mixture and make sure it measures 350 ml total. You can top up with some water to make up for the amount if needed
Prepare the kaya custard:
Add hun kwe flour to the pandan coconut milk mixture and whisk to combine

In a heavy bottom pot or saucepan, add water, sugar, salt, and agar agar powder. Stir to combine. Let them sit for 20 minutes. The agar agar will dissolve better later

Put the pan on low heat, add butter, and cook until the agar agar dissolves. You shouldn't see anymore specks of agar agar. If they don't dissolve, your kaya custard will not set later

Remove from the heat and add pandan coconut mixture and stir to combine. Return it back to the stove and cook over low heat until the mixture thickens slightly and coats the spatula but still liquid and pourable
To assemble:
Rinse the clean pan you use to bake the cake with water and then shake off excess

Pour in about 300 gr of kaya custard (for 3-layer cake) or 400 gr for 2-layer cake. Gently put first layer of cake on top and just gently press the cake down a little bit. Pour in second layer of custard, then top with second layer of cake and pour the remaining kaya custard if you are making 2 layer-cake. For 3-layer cake, top with the third layer of cake and finish off with the rest of the kaya custard

Let the cake cools down at room temperature and then transfer to a fridge to let it cool for 5 to 6 hours or overnight
Serving:
Gently turn the cake upside down onto a serving platter. Wrap the side of the cake pan with a hot towel. It helps to release the cake. You can also roll the cake pan on its side gently and because of gravity, it will help to loosen the cake from the side and it will slide out later

You can decorate it if you like, I didn't, I just serve it as is
Storage:
It is best to finish the cake in about 3 days. I noticed that after 3 days, the custard starts to ooze out some liquid making the cake a bit wet. This is typical for agar-agar type of cake or custard
Recommended products: