Shaved ice is served with a wide variety of toppings and syrup to make such a refreshing dessert and filled with amazing texture and taste. Ice kachang is a popular dessert in Singapore and Malaysia.


I did not grow up with ice kachang, but we do have a very similar dessert called es campur (literally means mixed ice) in Indonesia. I only knew about ice kachang when I lived in Singapore. I loved it because it's so similar to es campur. Living in a tropical country, you will appreciate the refreshing and cooling ice kachang. The combination of taste, texture, and everything about things get mixed together always gets my vote LOL!
What is ice kachang?
Ice kachang. Kachang means beans in the Malay language. It is also known as ABC, which stands for Ais Batu Kachang. So ice kachang was originally a shaved ice served with sweetened red beans and syrup. is basically a shaved ice eaten with sweet red beans. This dessert has evolved and is served with so many different ingredients now.

Ingredients
If you ask me, there's no rule what you can put in ice kachang, but of course there are certain things you kinda "must" have to be considered ice kachang. I don't claim this ice kachang recipe to be authentic or whatever you want to call it, but these are the basic 6 that I would like to have in my ice kachang:
1. Shaved ice
Of course! it won't be called ice kachang without the shaved ice. I don't own a shaved ice machine, but I use my Vitamix blender to blend the ice and it works.
2. Sweetened red beans
You can make your own sweetened red beans (not red bean paste) or get the canned sweetened red beans
3. Grass Jelly
You can make your own grass jelly or get the canned grass jelly
4. Creamed sweet corn
5. Condensed Milk
6. Simple syrup
If you are feeling fancy, of course you can also add the following:
7. Cendol jelly
You can make your own with this cendol recipe
8. Toddy palm seeds (Attap cee)
Canned toddy palm seeds are widely available at Asian grocery store
9. Gula Melaka syrup
You can use coconut sugar, gula Melaka, or light/dark brown sugar
How to make ice kachang at home
1. Cook the sugar and water until the sugar dissolves. Turn off the heat and let it cools down completely


2. You can divide it into two portions and add food coloring. I use red and green. The intensity of the color depends on how much food coloring you use. It's really up to you


3. If the gula Melaka comes in block, cut it into little pieces so they dissolve faster. Cook with the water until all sugar dissolves. Let it cools down completely


4. I use a blender to shave the ice. If you have shaved ice machine, that's great. It's easier to serve ice kachang in a bowl. I use a cup for photography reasons. Spoon about 1 to 2 tbsp of sweetened red beans, some grass jelly cubes and cendol jelly, 3-4 pieces of toddy palm seeds, 2-3 tbsp of creamed sweet corn


5. Top with a mountain of shaved ice


6. Drizzle with red and green simple syrup and gula Melaka syrup

7. Drizzle of condensed milk. Serve immediately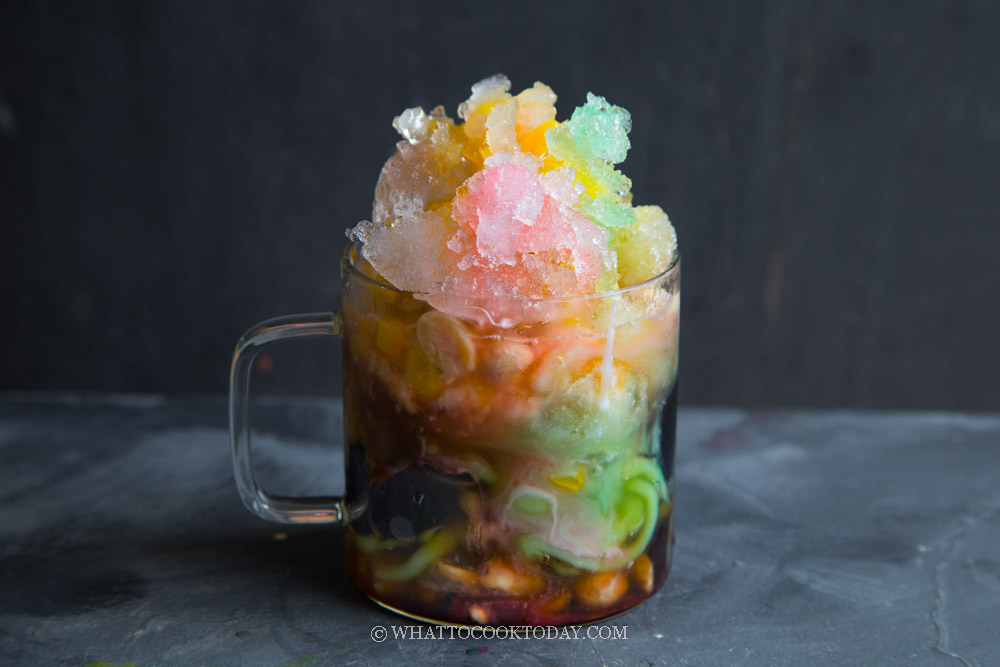 Did you make this ice kachang recipe?
I love it when you guys snap a photo and tag to show me what you've made 🙂 Simply tag me @WhatToCookToday #WhatToCookToday on Instagram and I'll be sure to stop by and take a peek for real!

You may also like similar desserts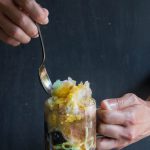 Singapore/Malaysia Refreshing Ice Kachang / ABC (Iced Beans Dessert)
Ingredients
Instructions
Prepare simple syrup:
Cook the sugar and water until the sugar dissolves. Turn off the heat and let it cools down completely. You can divide it into two portions and add food coloring. I use red and green. The intensity of the color depends on how much food coloring you use. It's really up to you
Prepare gula Melaka syrup:
If the gula Melaka comes in block, cut it into little pieces so they dissolve faster. Cook with the water until all sugar dissolves. Let it cools down completely
Putting things together (the amount of ingredients are flexible):
I use a blender to shave the ice. If you have shaved ice machine, that's great. It's easier to serve ice kachang in a bowl. I use a cup for photography reason. Spoon about 1 to 2 tbsp of sweetened red beans, some grass jelly cubes and cendol jelly, 3-4 pieces of toddy palm seeds, 2-3 tbsp of creamed sweet corn. Top with mountain of shaved ice. Drizzle with red and green simple syrup, gula melaka syrup and drizzle of condensed milk. Serve immediately