Learn how to easily prepare this refreshing and delicious cheng tng (tong sui) using pang da hai along with other nutritious ingredients . It can be cooked on the stove or with Instant Pot pressure cooker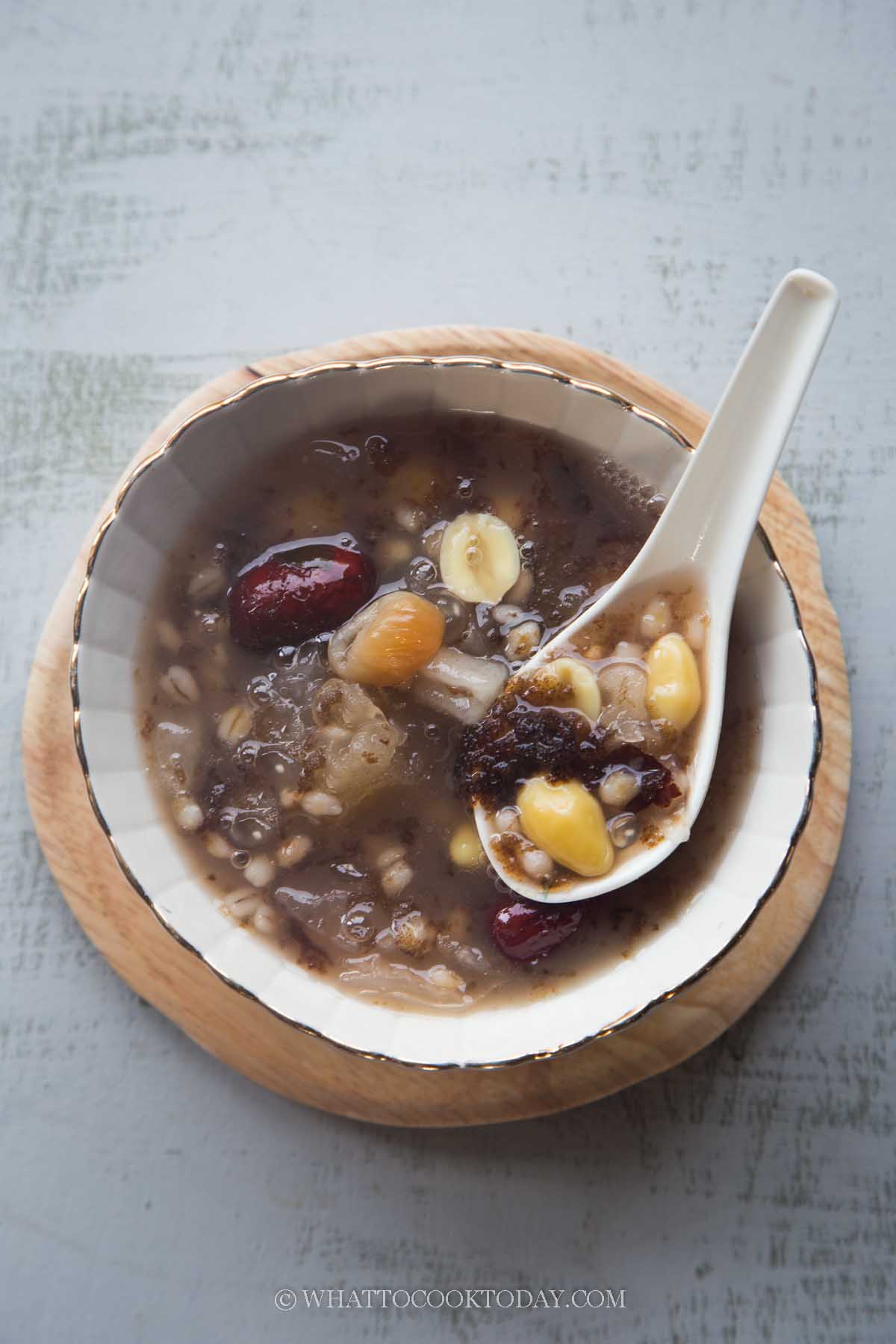 What is cheng tng?
I learned about the term cheng tng / cheng teng, which literally means "clear soup", when I lived in Singapore for few years. I never realized that my mom had been making cheng tng since we were kids, but I just never knew they were considered cheng tng, or also known as tong sui (sugar water). Cheng tng or tong sui is just a general term for any Chinese-style soupy dessert that is clear in appearance without any cream. Cheng tng contains both cooling and heaty ingredients. Cheng tng can be a "cooling" dessert in hot weather, but it can also be a "warming" dessert during the colder months.
Cheng tng is very popular in Singapore. I can see it being sold pretty much at any hawker center and it is incredibly refreshing when you served it chilled in the hot humid weather.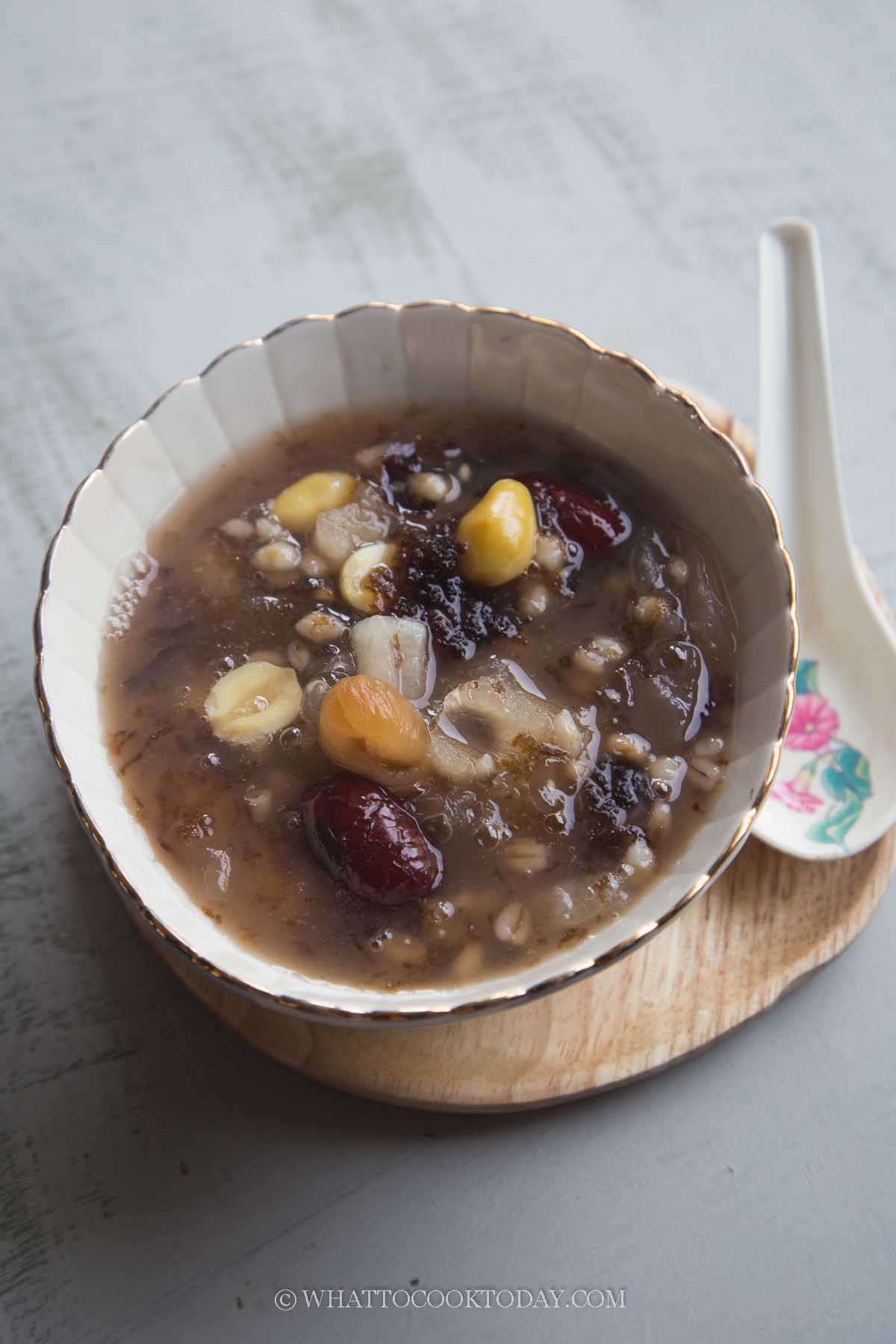 Is Cheng tng healthy?
It is considered a very light dessert and usually just lightly sweetened with rock sugar. It's enough to satisfy that craving for a dessert after a meal, but still being at a light side with all the nutritious stuff from the Chinese herbs.
Common ingredients used to make cheng tng
What you can put in cheng tng is of course really flexible and up to you. I'm just sharing more common ingredients used in preparing cheng tng. Some likes to use 8 ingredients and call it eight treasure cheng tng:
1. Snow fungus
2. Pang da hai (Malva nuts)
3. Peach gum /peach resin
4. Lotus seeds
5. Barley
6. Red dates
7. Dried longan
8. Ginkgo nuts
9. Rock sugar

How to make pang da hai cheng tng using Instant Pot
1. Soak snow fungus and lotus seeds in warm water until they are soft. Soak pang da hai in boiling water for 10 minutes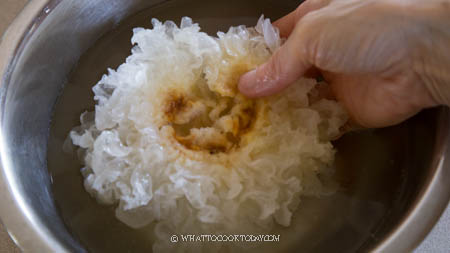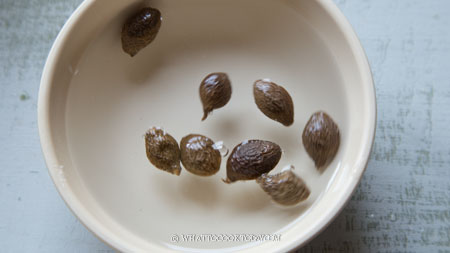 2. Crack the lotus seeds open and remove the center green pits. They are bitter.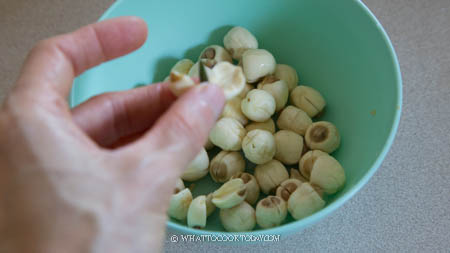 3. Trim off the yellowish tough core of snow fungus and cut into bite-size pieces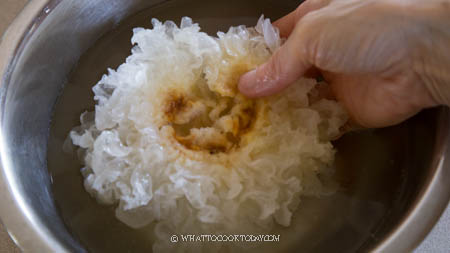 4. Pour 10 cups of water into the inner pot. Press saute mode and bring it to a boil. Add barley and tapioca pearls. Turn off saute mode. Close the lid and turn the steam release valve to "sealing". Press "pressure cooker" and make sure it's on high pressure and set the timer to 15 minutes and then do a natural release


4. Carefully unlock the lid. The tapioca pearls may still have some cloudiness in the center but as long as they are soft and chewy without the hard center, they are done. Turn the saute mode back on. Add the rest of the ingredients, except for the pang da hai. Let them simmer for 10 minutes


5. Turn off saute mode and add pang da hai and stir to mix. Have a taste and add more sugar if needed


6. Pang da hai cheng tng can be served warm or chilled. To chill, let it cools down completely and then keep in the fridge for 3-4 hours

Did you make this pang da hai cheng tng recipe?
I love it when you guys snap a photo and tag to show me what you've made 🙂 Simply tag me @WhatToCookToday #WhatToCookToday on Instagram and I'll be sure to stop by and take a peek for real!

You may also like similar tong sui/cheng tng recipes
How To Make Pang Da Hai Cheng Tng
Ingredients
Aromatic and sweeteners:
50

gr

candied wintermelon

or use candied pineapple as substitute

30

gr

brown sugar

50

gr

rock sugar

3

pandan leaves

knotted
Instructions
Soak ingredients:
Soak snow fungus and lotus seeds in warm water until they are soft. Soak pang da hai in boiling water for 10 minutes

I bought pitted red dates. If yours still have pits, soak in warm water for 10 minutes and then make a slit to remove the pits

Crack the lotus seeds open and remove the center green pits. They are bitter. Trim off the yellowish tough core of snow lotus and cut into bite-size pieces
If you are cooking on the stove:
Bring 10 cups of water to a boil. Add barley and tapioca pearls and let them cook for about 30-40 minutes or until they are soft. The tapioca pearls may still have cloudiness in the middle, but as long as they are soft and chewy, no tough center, they are cooked through

Add pandan leaves and the rest of the ingredients, except for pang da hai.Let them simmer for another 15-20 minutes. Add pang da hai and turn off the heat. Have a taste and adjust the sweetness level to your preference
If you are cooking with Instant Pot or other multicooker:
Pour 10 cups of water into the inner pot. Press saute mode and bring it to a boil. Add barley and tapioca pearls. Turn off saute mode. Close the lid and turn the steam release valve to "sealing". Press "pressure cooker" and make sure it's on high pressure and set the timer to 15 minutes and then do a natural release

Carefully unlock the lid. The tapioca pearls may still have some cloudiness in the center but as long as they are soft and chewy without the hard center, they are done. Turn the saute mode back on. Add the rest of the ingredients, except for the pang da hai. Let them simmer for 10 minutes. Turn off saute mode and add pang da hai and stir to mix. Have a taste and add more sugar if needed
Serving:
Pang da hai cheng tng can be served warm or chilled. To chill, let it cools down completely and then keep in the fridge for 3-4 hours and then serve with some crushed ice if you like
Storage:
Leftovers can be kept in the fridge, preferrably, for no more than 5 days for the best quality
Recommended products: