I'm sharing how to clean and prepare peach gum to make Chinese peach gum, dried longan, snow lotus, red dates, and goji berries tong sui/cheng tng dessert, lightly sweetened with honey rock sugar.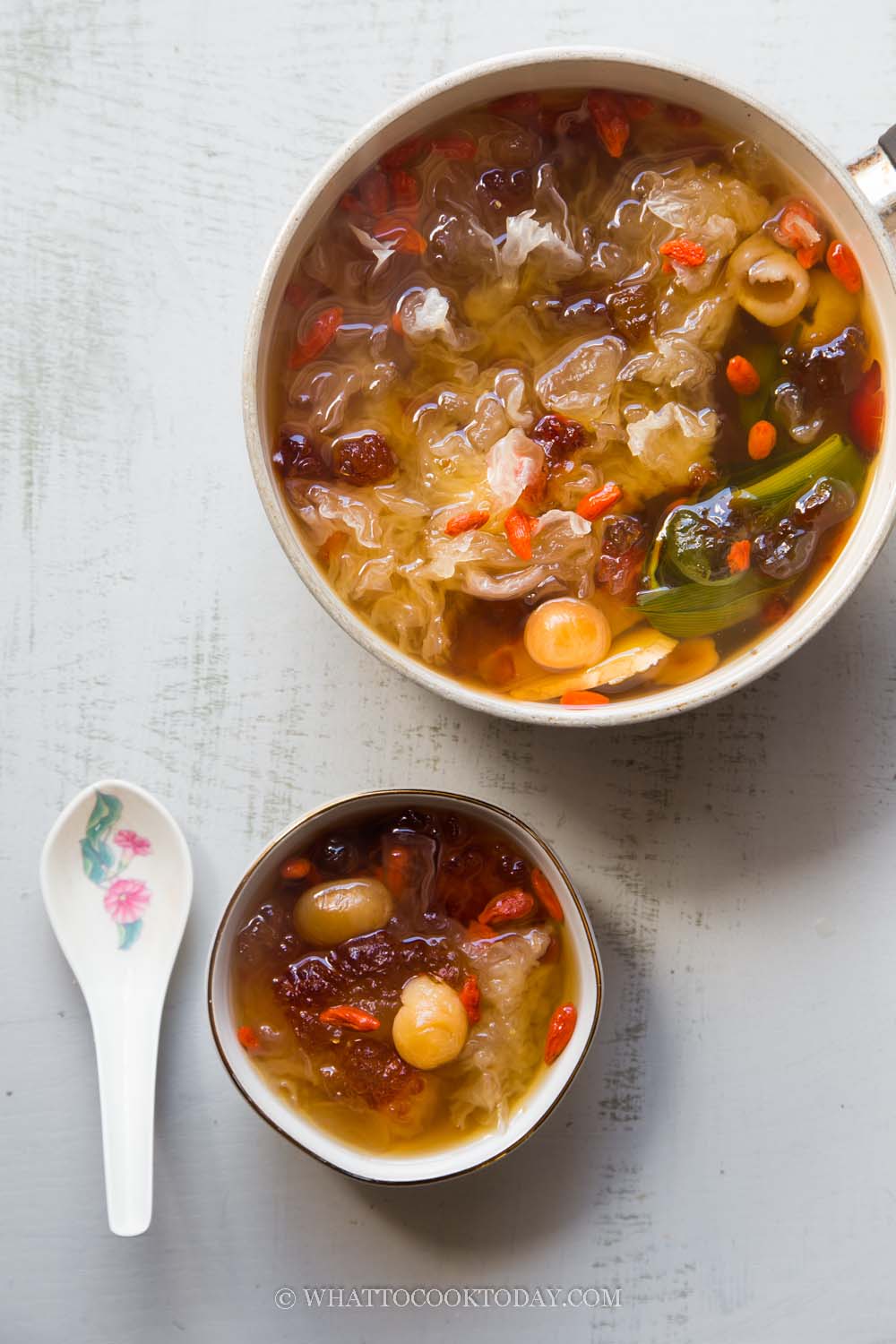 What is peach gum (Prunus Persica)?
Peach gum or tao jiao or peach resin or peach blossom tears is a solidified resin from peach trees and Chinese wild peach trees. They look like gem-stone with their vibrant amber hues. Peach gums are usually sold in dried form and need to be rehydrated so you can clean and cook them.
They are treasured in the Traditional Chinese Medicine community for its nutritional value similar to those of the highly-priced bird's nest, but at a fraction of its cost. When rehydrated, peach gum has a jelly-like texture, soft, bouncy and usually tripled its original size. Peach gum is tasteless on its own and usually used to prepare sweet soup such as tong sui or savory soup.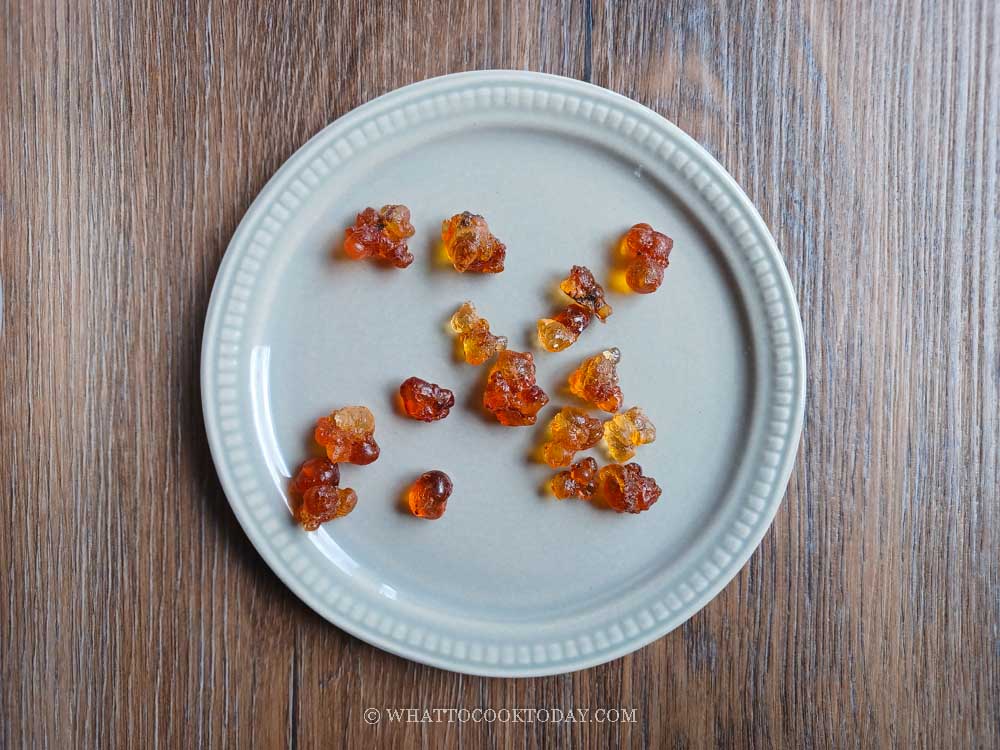 Benefits of peach gum
Peach gum is very popular among women because of its high collagen content. Yes, when you hear collagen, immediately you think of your skin beauty 🙂 But with that said, it's not only for women of course. Peach gum consists of collagen, galactose, rhamnose, and amino acids. They are pretty much praised for their high collagen content and great substitution to the very expensive bird's nest.
Is it safe to eat peach gum?
Peach trees are known to be toxic to humans, except for the fruit and the sap, in this case peach resin/peach gum. Peach gum is safe to consume by kids and adults in general. They have been consumed for thousands of years by the Chinese as medicine and used in cooking. There are many talks among the community that kids under the age of 2, pregnant women, and women who are having menstruation should avoid peach resin. Then there are some that believe peach gum is safe for pregnant ladies as long as it's in moderation. With that said, I'm no medical doctor and so if you choose to consume, please do so at your own risk. Don't just take my words for it, consult your health care professional if you are in doubt!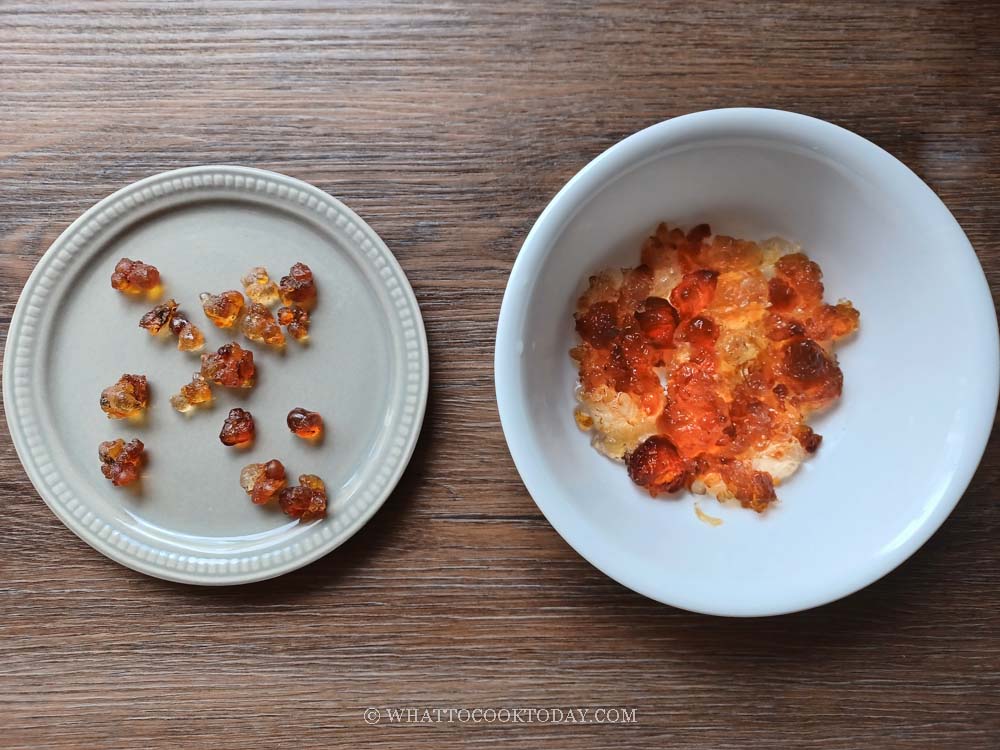 Is peach gum cooling or heaty?
Peach gum is considered a cooling ingredient in Traditional Chinese Medicine (TCM). My mom usually asks me to pair such cooling ingredients with something more "heaty" such as dried longan, red/black jujube (Chinese dates), ginger to balance
The best way to clean peach gum
The best way to clean peach gum is to soak them overnight or for 12 hours. I found that it's not necessary to soak beyond 12 hours (at least not the ones I got) as they turned out to be too soft and may turn into mush when you cook them. If you get good quality peach gums, they will grow in size tremendously. They pretty much tripled the original size or more! They also contain fewer black impurities.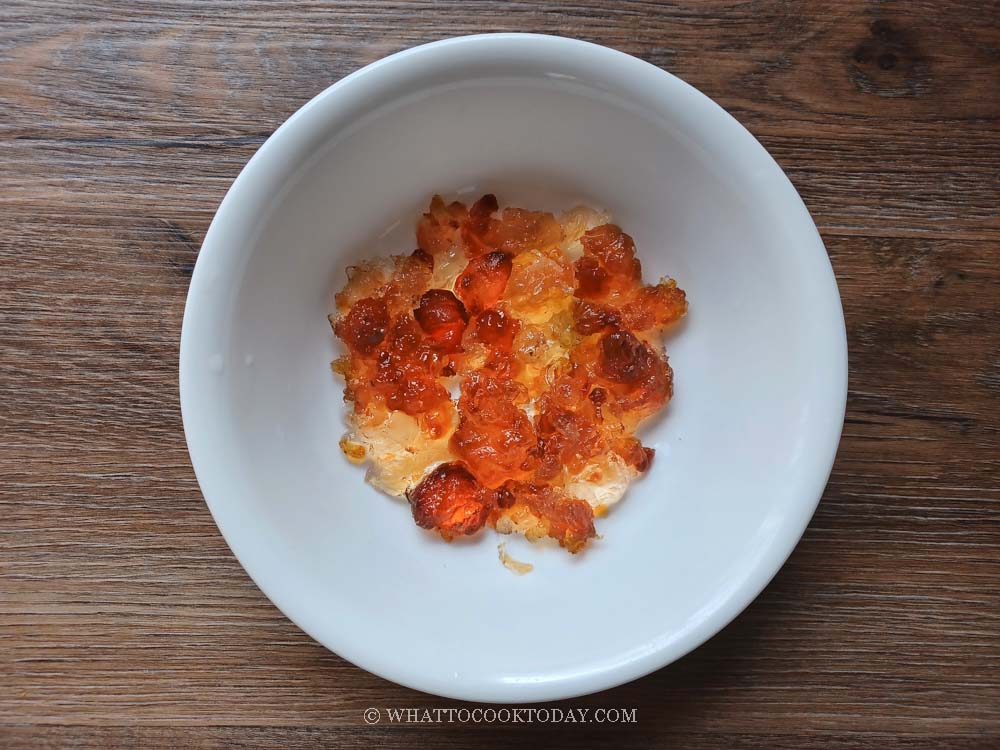 How to clean and prepare peach gum
1. Soak the peach gums in clean water for at least 8 hours or up to 12 hours so they can grow to their maximum size as much as possible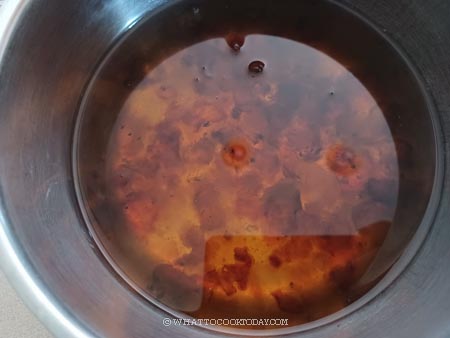 2. Good-quality peach gums will grow tremendously after soaking. You will see some black impurities on some of the peach gums. This is very normal. Even with the best quality of peach gums, there will still be some impurities, just not in excessive amounts.
Pick out the black specks. If you have a tweezer, it will get the job done easier, if not, just use your fingers. This is probably the only tedious part of preparing peach gums. Luckily the one I got weren't as bad as I thought.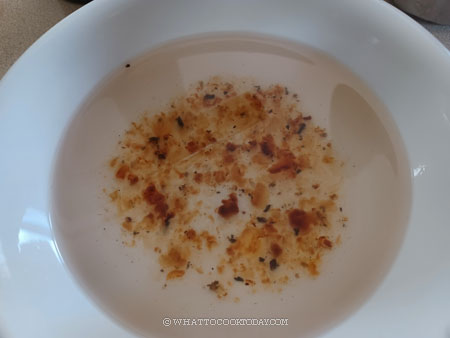 3. I soaked 30 grams dried peach gums and when I weighed the rehydrated peached gums, I got about more than 300+ grams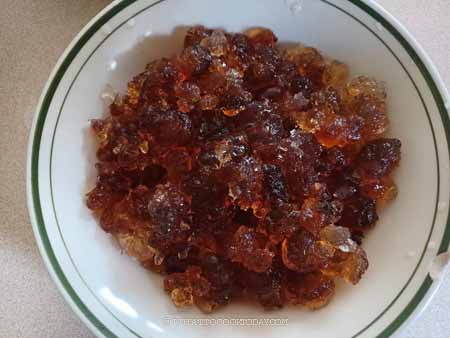 4. These peach gums are now ready to be used in whatever you want to use them for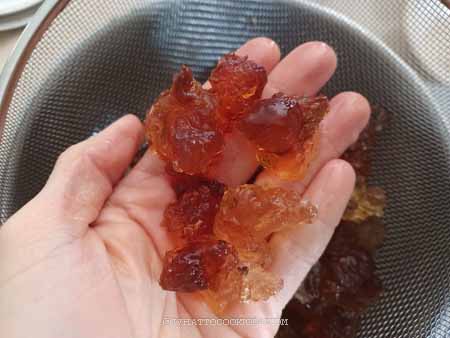 How to make peach gum tong sui dessert
1. Soak peach gums as detailed in above post or in the recipe card below
2. Soak the snow fungus in a large bowl with clean water. They will plump up in about 10-15 minutes. Remove the yellow hard core at the bottom and then cut into smaller pieces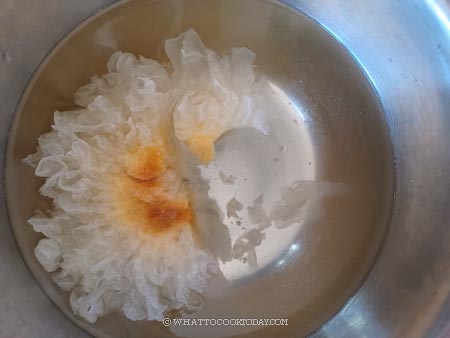 3. Bring water to a boil. Add ginger, pandan leaves, dried longan, and red dates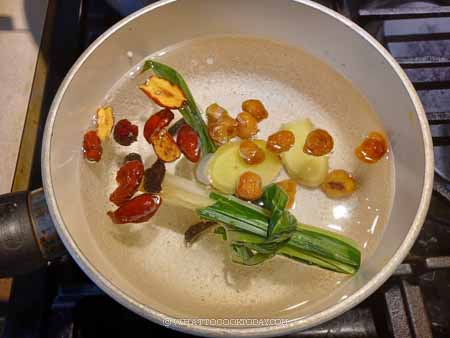 4. Lower the heat to simmer and cover to let them cook for about 15 minutes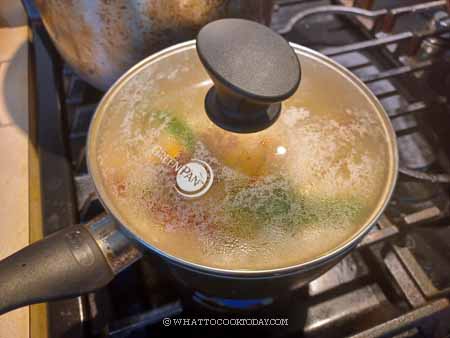 5. Uncover and add the snow fungus pieces and rock sugar, cover, and cook for another 15 minutes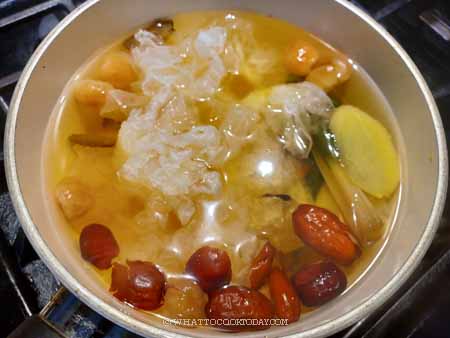 6. After that add the peach gums and let them simmer for another 10 minutes. Take care not to overcook them or they will melt and disappear into the soup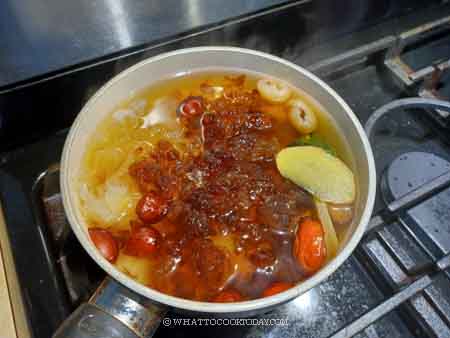 7. Have a taste and add more sugar or sweetener as needed. Turn off the heat and stir in goji berries. The residual heat will soften the berries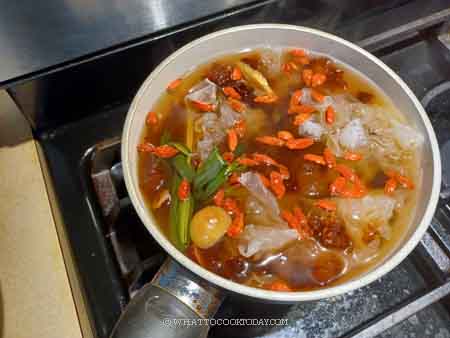 8. Peach gum tong sui can be served warm or chilled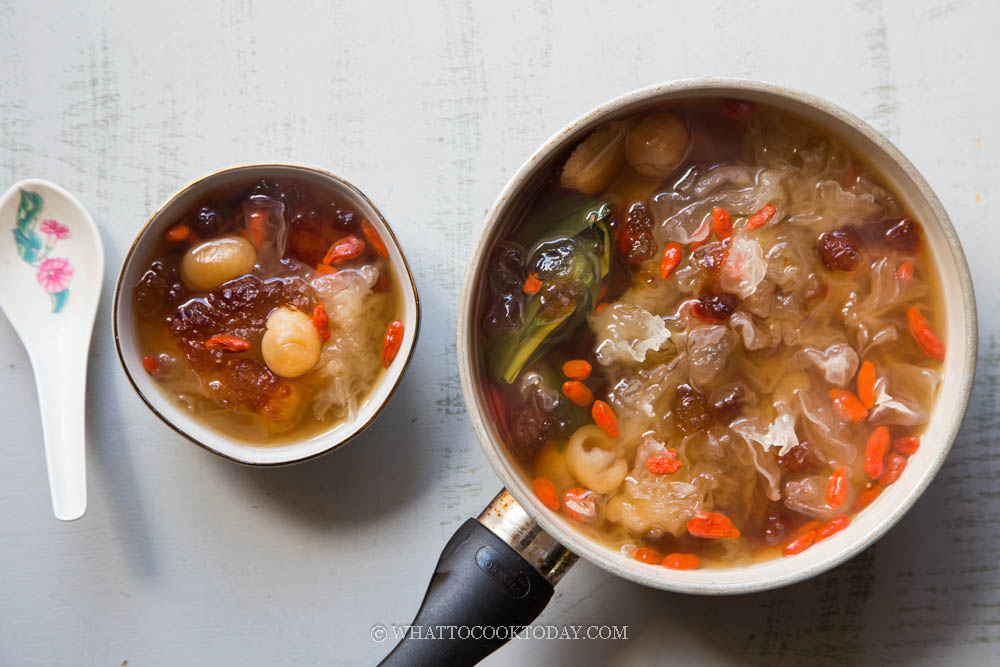 Did you make this peach gum tong sui recipe?
I love it when you guys snap a photo and tag to show me what you've made 🙂 Simply tag me @WhatToCookToday #WhatToCookToday on Instagram and I'll be sure to stop by and take a peek for real!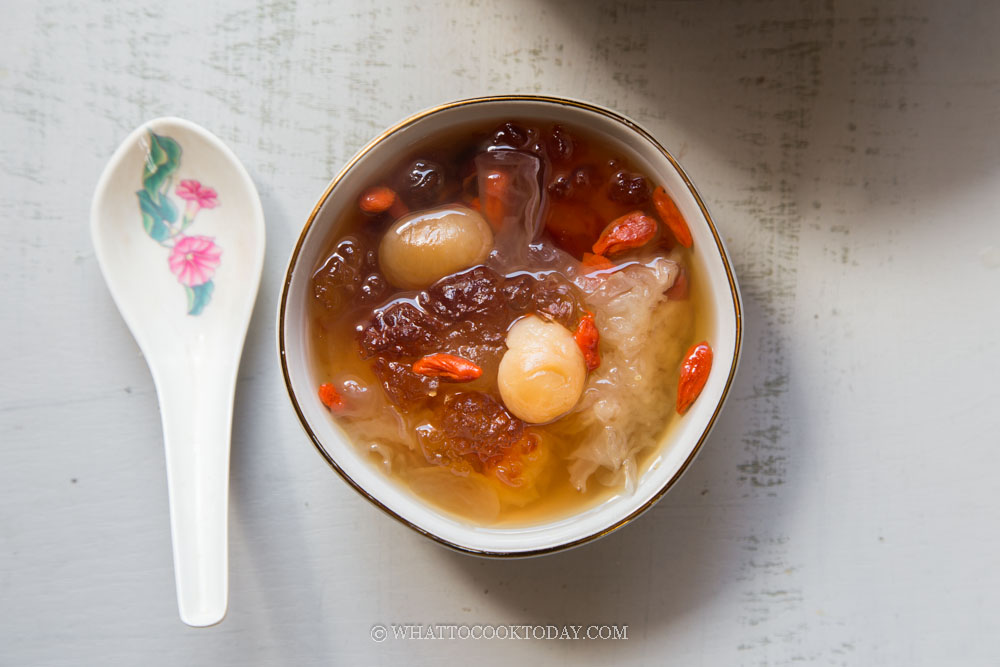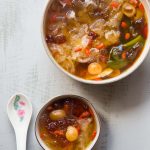 Peach Gum Tong Sui Dessert (Peach Gum Cheng Tng)
Instructions
Soak the peach gum:
Soak the peach gums in clean water for at least 8 hours or up to 12 hours so they can grow to their maximum size as much as possible

Pick out the black specks. If you have a tweezer, it will get the job done easier, if not, just use your fingers. This is probably the only tedious part of preparing peach gums. Luckily the one I got weren't as bad as I thought. Rinse one last time

These peach gums are now ready to be used in whatever you want to use them for
Soak the snow fungus:
Soak the snow fungus in a large bowl with clean water. They will plump up in about 10-15 minutes. Remove the yellow hard core at the bottom and then cut into smaller pieces
Start cooking:
Bring water to a boil. Add ginger, pandan leaves, dried longan, and red dates. Lower the heat to simmer and cover to let them cook for about 15 minutes

Uncover and add the snow fungus pieces and rock sugar, cover, and cook for another 15 minutes

After that add the peach gums and let them simmer for another 10 minutes. Take care not to overcook them or they will melt and disappear into the soup. Have a taste and add more sugar or sweetener as needed. Turn off the heat and stir in goji berries. The residual heat will soften the berries
Serving:
Peach gum tong sui can be served warm or chilled