Learn how to make soft fluffy no-bake chiffon cake without using the chiffon tube pan and oven. I love biting into pieces of goji berries inside the cake and they add nice visual contrast too.


The question that I often get asked a lot when it comes to chiffon cake are "Can I bake chiffon cake without chiffon tube pan?" and "Can I steam chiffon cake?" The answer to both is a yes. It's not as simple as you think, but it's possible.
Making a chiffon cake without the tube pan
First of all, we need to understand the purpose of the tube pan. Aside from the aesthetic reason, the far more important reason is the middle tube prevents the airy chiffon cake from collapsing as it cools down. The cake can cling to the tube to help it rise high and stay high during cooling down. The special tube pan also has feet to let the cake cools upside down so it won't collapse on its own weight. Chiffon cake depends on egg white meringue alone to rise tall. Just imagine it's like a tall building without any support in the middle of it. It is easier to concave in the middle or worse, collapse. So when we try to make chiffon cake without the tube pan, we are facing the same challenge. It's possible to do it. We really need to control the temperature and use a pan with a loose-bottom or removable base.

Making a chiffon cake without an oven
If you ask me, making a chiffon cake with an oven is much easier than making steamed chiffon cake. So our second challenge is to cook the chiffon cake in the steamer 🙂 When you bake with an oven, we get to set the temperature. When you steam, you can't set the temperature, at least not in my case. I don't have a fancy steamer to set a temperature. So when I say "steam over medium-low heat", my medium-low heat may be different than yours. So it may require some experimentation on your part to figure out the right "medium-low heat". But, again, it's possible. I have steamed probably about 5-6 chiffon cakes before I figured out what works with my stove. Once I did, they come out perfect each time.

Pros and Cons with no-bake chiffon cake
Pros:
1. You don't need an oven 🙂
2. You don't need a chiffon tube pan
3. You get the same moist and fluffy chiffon cake as you would with an oven
Cons:
1. The cake doesn't rise as tall as it would if I were to bake it in the oven. Still minimal shrinkage, but not as tall
2. You can't set a certain temperature and hence the challenge. Too high of a heat and your cake will shrink a lot. Not enough heat and you will have cake with dense layer, wet, and possibly will collapse too
3. You don't need a chiffon tube pan, but it's highly recommended to get a round or square cake pan (without a non-stick coating) with a removable base to prevent a concave bottom
Why you want to get a cake pan with a removable base (loose-bottom tin)
I notice that when I use a regular pan without a removable base to bake or steam a chiffon cake, the bottom of the cake will concave. That's because the parchment paper is soaking up the condensation created during cooling down in an inverted manner. The bottom of the cake becomes wet and concave. I have no solution to that other than investing in a pan with a removable base if you don't have a chiffon tube pan to bake or steam chiffon cake. As you can see that the top of the cake (which was previously the bottom) was flat without concave when I use a loose-bottom pan.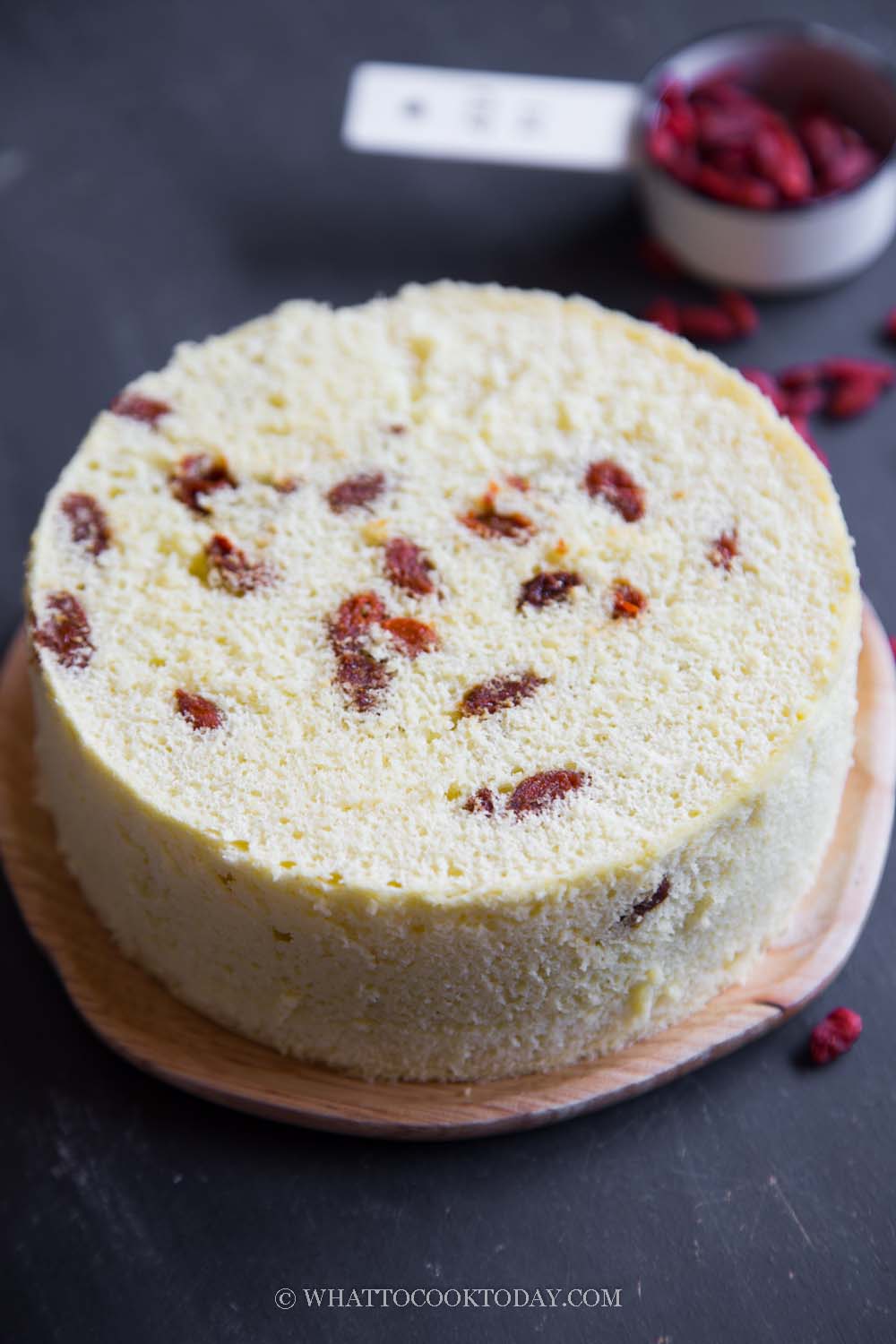 Tips
1. Get a loose-bottom or removable base round pan (without a non-stick coating) to prevent a concave bottom chiffon cake
2. Make sure your ingredients are at room temperature
3. The steamer must be preheated and ready to go when the cake is ready to be cooked
4. It is crucial to maintain the heat at medium-low throughout the steaming period
5. Let the cake cools upside down
Did you make this no-bake chiffon cake with goji berries recipe?
I love it when you guys snap a photo and tag to show me what you've made 🙂 Simply tag me @WhatToCookToday #WhatToCookToday on Instagram and I'll be sure to stop by and take a peek for real!

No-Bake Chiffon Cake with Goji Berries (Steamed Chiffon Cake)
Ingredients
Meringue:
3

egg whites (room temperature)

about 30 grams each

½

tsp

vinegar or lemon juice

35

gr

granulated sugar
Instructions
Prepare the cake pan:
I used 6-inch round pan with a removable base. Wrap the outside of the cake pan with a double layer of aluminum foil if you use a removable base pan as I did. If you use a non-removable base pan (not recommended), line the bottom with parchment paper without greasing the pan

IMPORTANT TO NOTE IF YOU USE REGULAR PAN WITHOUT REMOVABLE BASE: I notice that when I use a regular pan without a removable base, the bottom of the cake will concave. That's because the parchment paper is soaking up the condensation created during cooling down in an inverted manner. The bottom of the cake becomes wet and concave. I have no solution to that other than investing in a pan with a removable base if you don't have a chiffon tube pan to bake or steam chiffon cake
Prepare the steamer:
Fill up the steamer with water and bring the water to a boil and then lower the heat to medium. The steamer needs to be ready when the cake is ready to be steamed
Prepare the cake batter:
Separate the yolks from the whites. Mix egg yolks, milk, oil,sugar, and vanilla extract. Whisk to combine. Sift in flour and salt and use a whisk to combine using a "Z" motion. Set aside. Add the goji berries and whisk to combine
Make the meringue:
Beat the meringue on low speed until foamy, add the acid and then increase the speed to medium and beat for about 1 minute. Gradually add in sugar in three batches and beat for 1 minute after each addition. After that increase the speed to high and beat until you get a soft peak and then lower the speed to medium and continue beating until the meringue is stiff. When you lift it up, it will stand up straight. The meringue should be smooth and glossy. Stop beating once you reached this point. Beating further will break it down and make meringue foamy and difficult to fold into the cake batter
Fold meringue into the cake batter:
Take 1/3 of the meringue and combine it with the cake batter and use a whisk to swipe down and fold over. When you reach the last 1/3, switch to a rubber spatula so you can scrape down the bottom of the bowl to make sure everything is mixed up
Steam the cake:
Pour the cake batter into the prepared pan from a height of about 20 cm height. This helps to pop large bubbles. Use a skewer to go around the cake to pop any bubbles inside the cake. Tap the cake pan 2-3 times and then put inside the steamer and cover it with a plate. I figure this actually works better than using aluminum foil. This is to avoid water condensation dripping on the cake surface creating burn and dense spots

Lower the heat to medium and low. This also highly depends on your stove. Do not steam over high heat. The cake will shrink a lot when it cools down when you steam over high heat. If the cake rises too quickly, it's going to shrink a lot more.

The goal is to maintain a steady med-low temperature throughout the steaming period. Steam for 55 minutes and then turn off the heat and wait 5 minutes before opening the lid and removing the cake from the steamer. I recommend steaming for 1 hour if this is your first time and you are not sure about the heat level. It's safer than undercooking the chiffon cake. Undercooked chiffon cake will be wet on the inside and have a higher chance of collapsing during cooling down
Cooling down:
Remove the cover and take the cake out from the steamer and drop the cake pan on the counter 2-3 times to minimize shrinkage.

Turn it upside down on a cooling rack or using two small bowls or saucers to prop the pan up (as shown in the photo) above. Let it cools down completely at this position

Unmould the cake by running an offset spatula on the side of the cake to loosen and then invert upside down. This can be the top of the cake if you prefer
Storage:
The cake can be kept at room temperature for 2-3 days in an air-tight container
Recommended products:
6 inch round pan loose bottom
Nutrition
Serving:
1
slice
|
Calories:
144
kcal
|
Carbohydrates:
15
g
|
Protein:
4
g
|
Fat:
8
g
|
Saturated Fat:
1
g
|
Polyunsaturated Fat:
2
g
|
Monounsaturated Fat:
4
g
|
Trans Fat:
1
g
|
Cholesterol:
98
mg
|
Sodium:
32
mg
|
Potassium:
49
mg
|
Fiber:
1
g
|
Sugar:
8
g
|
Vitamin A:
139
IU
|
Calcium:
20
mg
|
Iron:
1
mg