If you love spicy numbing food, then you need to meet ma la xiang guo. It is spicy and numbing, yet you can't stop eating it. I'm sharing how you can easily make ma la xiang guo at home using hai di lao mala sauce and also how you can make your own mala sauce if you choose to.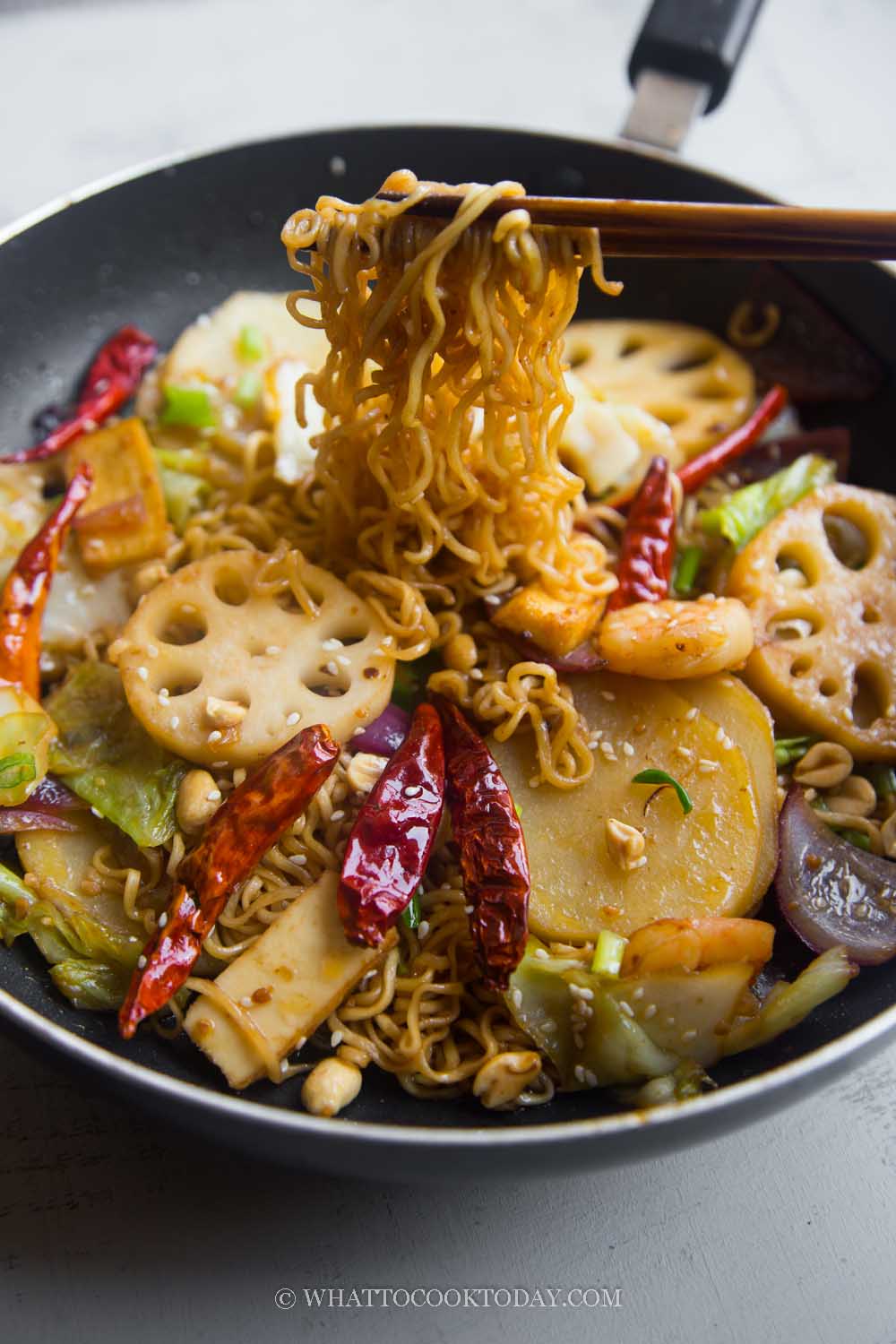 I remember a few years ago when we were visiting Chicago, my husband found this Sichuan restaurant and we were craving spicy food then and I immediately ordered ma la xiang guo. The portion was HUGE! I mean, HUGE! It was filled with TONS of seafood and meat and oh gosh…lots of Sichuan peppercorns and the super spicy ma la sauce. I considered myself a person who can really eat spicy food and this ma la xiang guo was off the chart spicy! LOL AND numbing! but we loved it so much!
Spicy ma la food sure has caught its trend in Singapore or I should say, outside of China, in recent years. From the spicy mala hot pot and now the dry version of hot pot, the ma la xiang guo! When you eat ma la xiang guo in restaurants, you picked your ingredients, they will weigh them on the scale (yup!) and the cook will fry up ma la xian guo using what you picked! It can cost you quite a bit. I think ma la xiang guo made at home is just as delicious, and the nice thing about it is that, you can use whatever ingredients you have leftover or you can go all out and put in whatever you fancy.
Easy Homemade Ma la Sauce vs Hai Di Lau Ma la sauce
If this is your first time making ma la xiang guo, I suggest using the Hai Di Lau ma la basic stir-fry sauce (not sponsored). It's just so much more convenient and it gives you that satisfying level of spiciness and numbness. I actually use the Hai Di Lau ma la hotpot sauce that I purchased for making hotpot but didn't end up using it. They are very similar. You are of course, welcome to use whatever ma la stir-fry sauce you like, you don't have to use this brand. For homemade ma la sauce I've tried using Lao Gan Ma chili crisp in oil and then add some Szechuan peppercorns and some seasonings and it actually turns out pretty good too.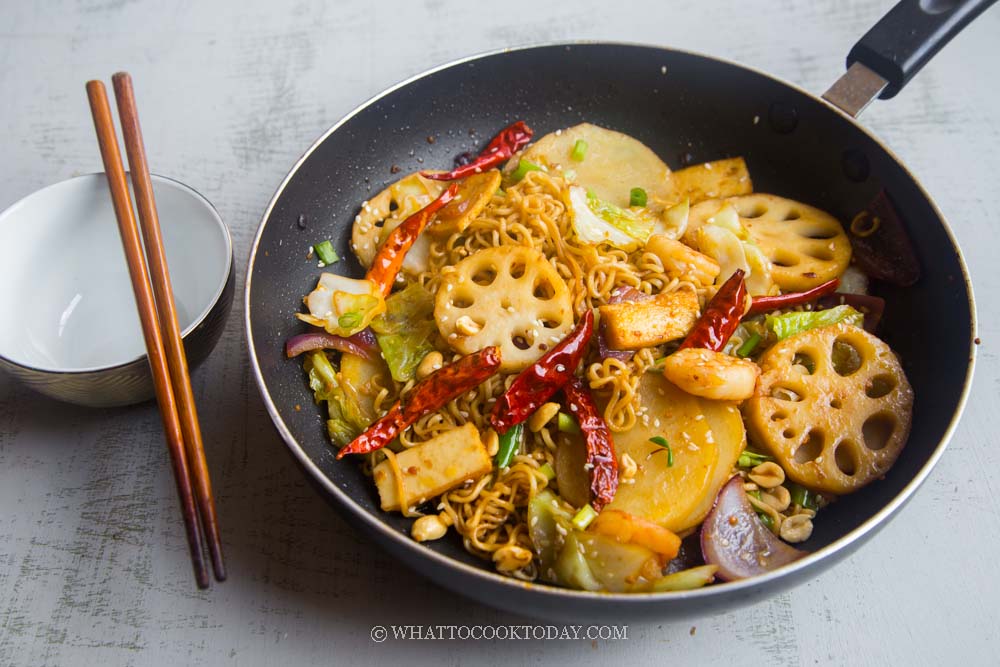 Ingredients suitable for ma la xiang guo
You can use pretty much whatever your heart desires. Here are just some suggestions in case you need some ideas
1. Veggies
Veggies need to be bite-size or thinly sliced and usually blanched before stir-frying.
You can use bok choy, cabbage, slices of carrots, baby corn, broccoli florets, shiitake mushrooms, enoki mushrooms, wood ear mushrooms, lotus roots, potato slices
2. Meat
Thinly sliced beef, chicken, pork, meatballs, luncheon meat (cut into cubes or slices), hot dogs (cut into cubes or slices)
3. Seafood
Shrimp, squid, fish cake slices, fish balls, surimi
4. Meatless protein
Beancurd sticks (soak until soft), extra-firm tofu (cut into cubes or slices), tempeh (cut into cubes or slices)
5. Noodles or carbs
Instant noodles, mung bean thread noodles, Korean sweet potato noodles, Chinese or Korean rice cakes
6. Low-carb options
Shirataki noodles, konnyaku jelly (cut into cubes)
How to cook easy ma la xiang guo at home
1. Bring a large pot of water to a boil. Add cabbage, potatoes and lotus roots and blanch for about 1-2 minutes. Drain off water and refresh with cold water and set aside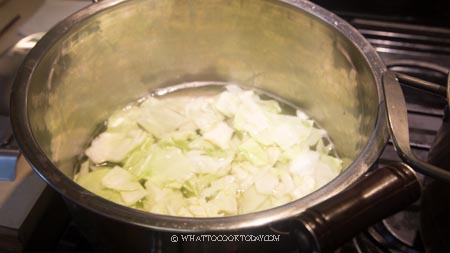 2. Whatever noodles you use, cook them according to the instruction. I use instant ramen noodles. Don't overcook the noodles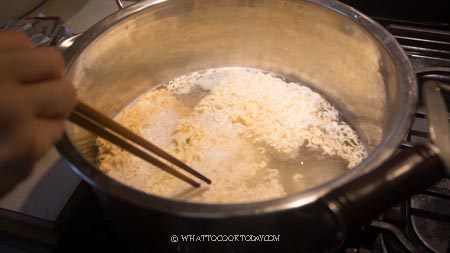 3. Preheat your skillet or wok. If you use ready-made ma la sauce, add about 3-4 Tbsp of the sauce, or in my case, I use 1/2 pack of Hai Di Lao ma la sauce. If you decide to do the homemade ma la sauce, add about 3 Tbsp of lao gan ma chili and Sichuan peppercorns. The amount is really up to your tolerance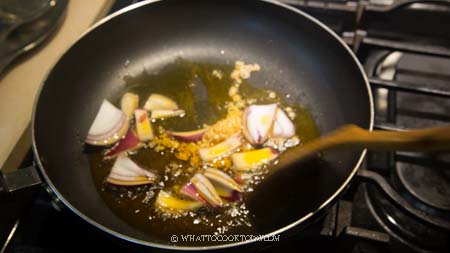 4. Add the shrimp and stir fry until they just started to turn pink. If you use meat slices, add them here too. Add the fish cakes along with the blanched veggies, noodles and whole dried chilies. Add seasonings and stir to mix everything to make sure they are coated with the ma la sauce. Have a taste, at this point if you feel like you need more, you can add more of the ma la sauce. Turn off the heat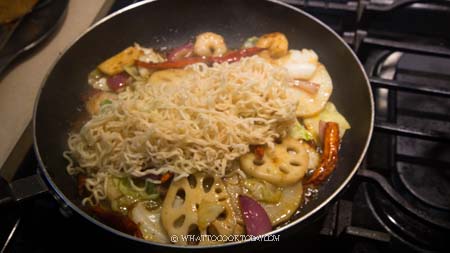 5. Add the toasted nuts, sesame seeds, green onion and give them a final toss to mix everything. Garnish with some fresh cilantro leaves. Serve immediately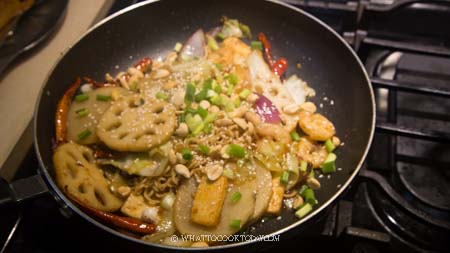 Ma la xiang guo stir-fry is ready in no time 🙂 My husband loves Sichuan peppercorns and so this dish is needless to say, one of his favorites. He kept on saying as he was eating "So spicy and numbing, but I can't stop eating!" LOL.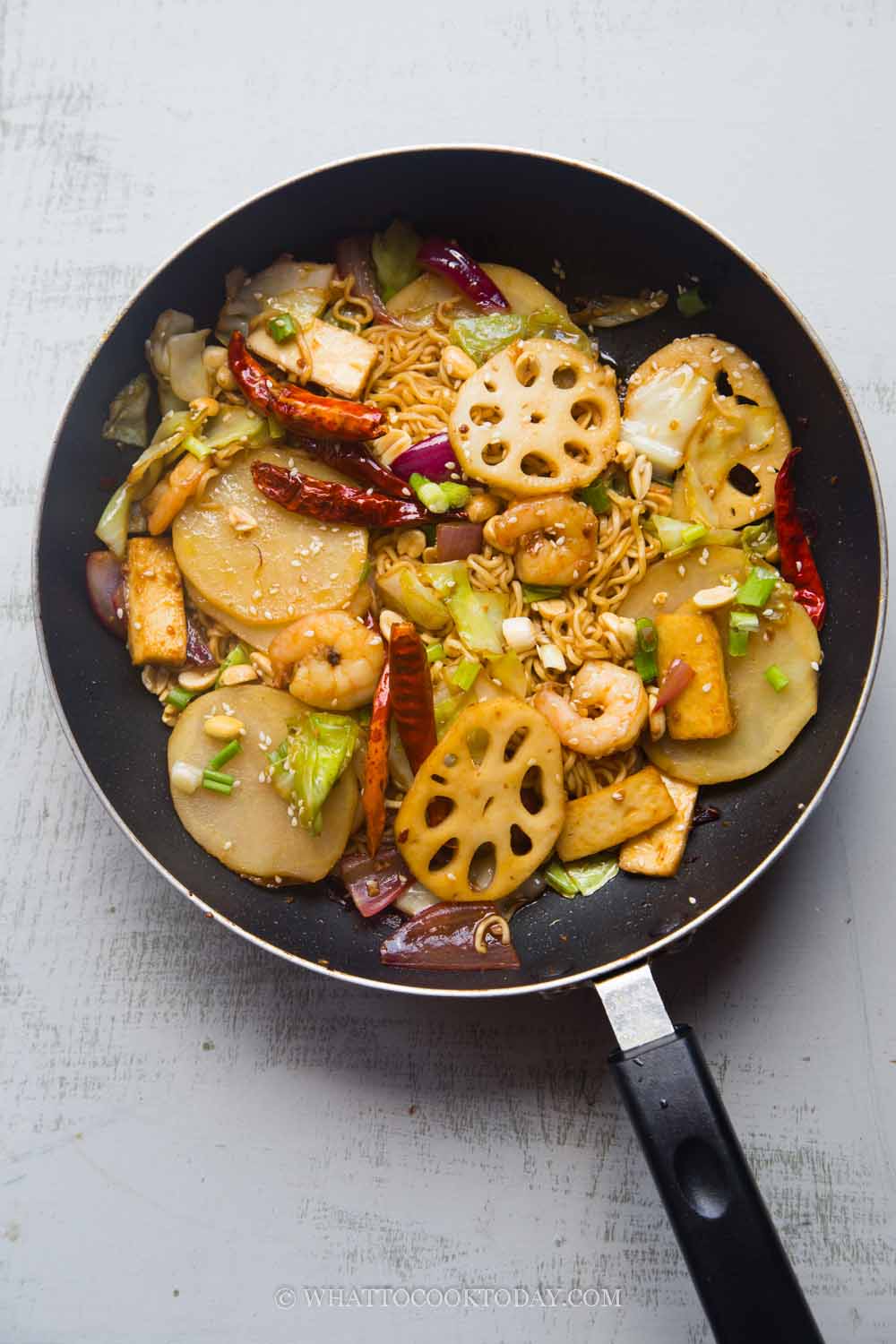 Did you make this ma la xiang guo recipe?
I love it when you guys snap a photo and tag to show me what you've made 🙂 Simply tag me @WhatToCookToday #WhatToCookToday on Instagram and I'll be sure to stop by and take a peek for real!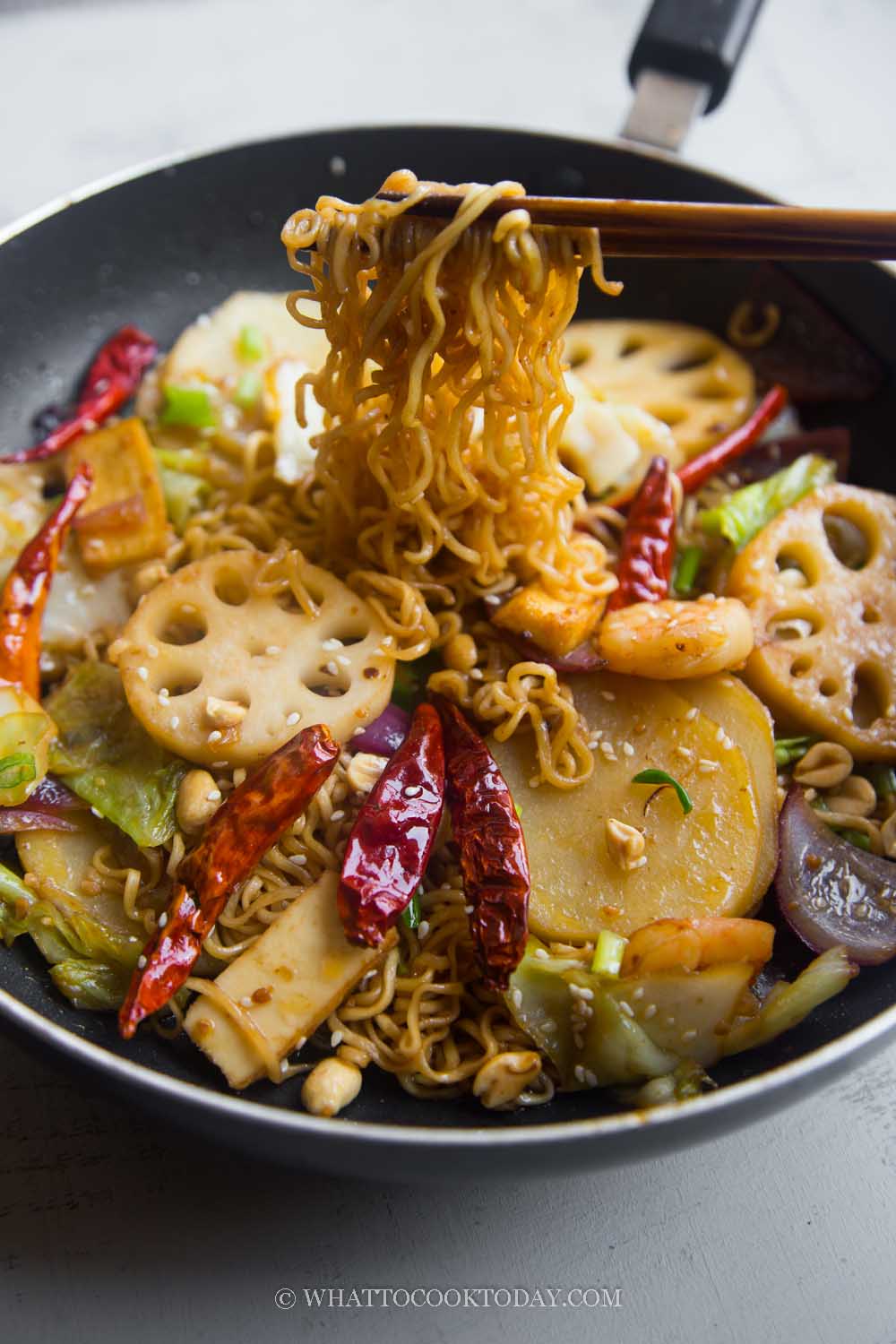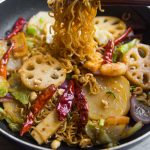 Easy Ma La Xiang Guo At Home (Spicy Numbing Stir-fry)
Ingredients
These are just suggestions. See other suitable veggies and meat on the post above:
2

packs

instant ramen noodles

or use any noodles you like

100

gr

potatoes

peeled and thinly sliced

50

gr

lotus root

thinly sliced

1

cup

cabbage

cut into square bite-size

½

onion

quartered

200

gr

shrimp

peeled

100

gr

fish cakes

cut into slices

10

dried chilies

leave them whole

½

pack

Hai Di Lao basic stir fry sauce

and add more if you prefer
For easy homemade ma la sauce:
Seasonings (adjust to your taste):
Toppings:
½

cup

toasted peanuts

Toasted white sesame seeds

1

stalk

green onion

finely chopped

Cilantro leaves
Instructions
Blanch the veggies:
Bring a large pot of water to a boil. Add cabbage, potatoes and lotus roots and blanch for about 1-2 minutes. Drain off water and refresh with cold water and set aside
Cook the noodles:
Whatever noodles you use, cook them according to the instruction. I use instant ramen noodles
Start cooking:
Preheat your skillet or wok. If you use ready-made ma la sauce, add about 3-4 Tbsp of the sauce, or in my case, I use 1/2 pack of Hai Di Lao ma la sauce. If you decide to do the homemade ma la sauce, add about 3 Tbsp of lao gan ma chili and Sichuan peppercorns. The amount is really up to your tolerance. Add onion and stir fry for another 2 minutes

Add the shrimp and stir fry until they just started to turn pink. If you use meat slices, add them here too. Add the fish cakes along with the blanched veggies, noodles and whole dried chilies. Add seasonings and stir to mix everything. Stir to mix everything to make sure they are coated with the ma la sauce. Have a taste, at this point if you feel like you need more, you can add more of the ma la sauce. Turn off the heat

Add the toasted nuts, sesame seeds, green onion and give them a final toss to mix everything. Garnish with some fresh cilantro leaves. Serve immediately