Pears are poached in Chinese rock sugar, dried longan, red dates, and goji berries and served as light dessert tong sui or cheng tng.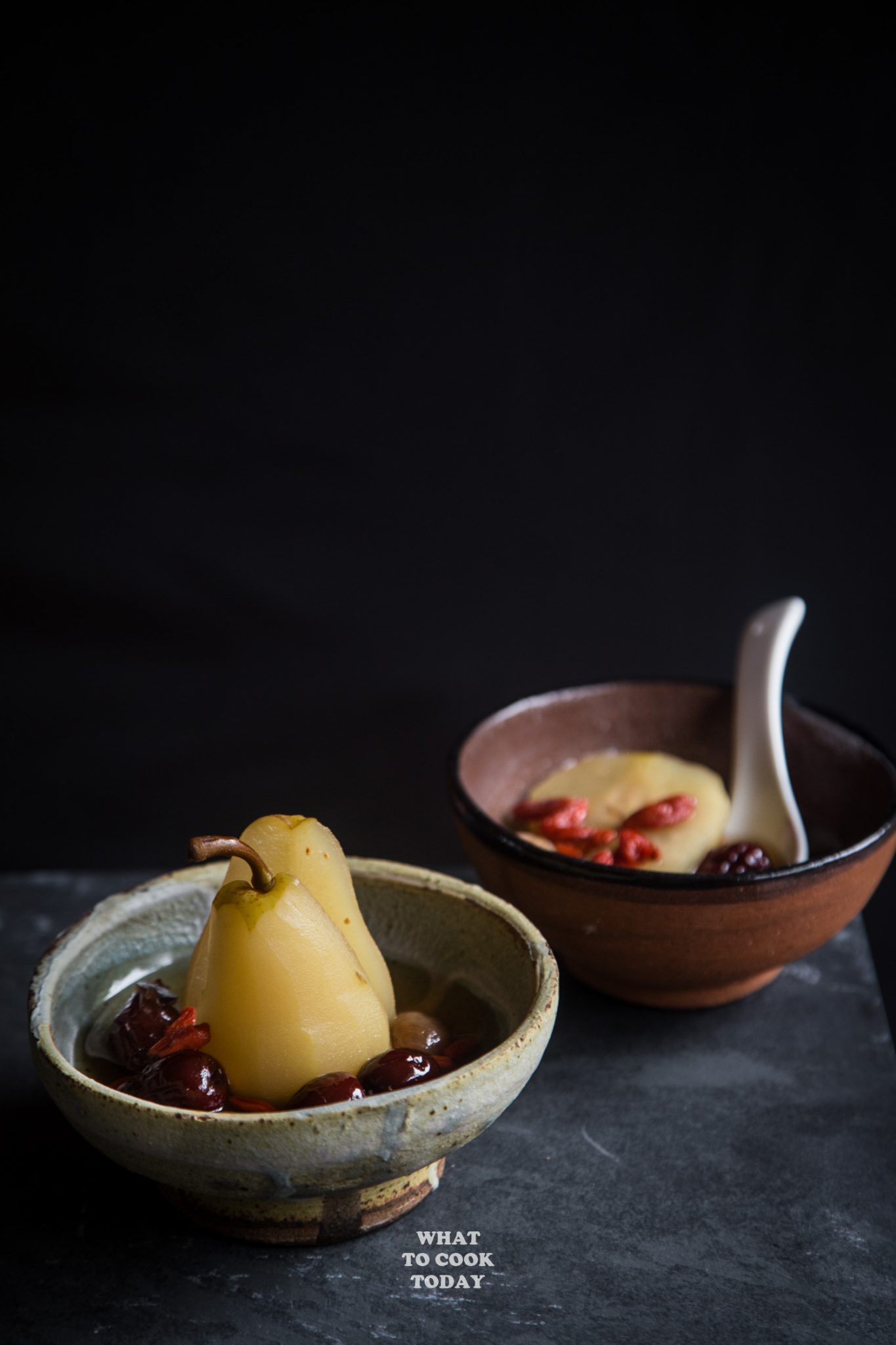 POACHED PEAR FOR DESSERT
It's not uncommon to see Asian dessert served in the form of soup. Heavier and richer dessert likes cakes, kue kue are often served as snacks for tea time. My mom is not a dessert person at all. She hardly ever made any dessert except for soupy light dessert like this longan, red dates, goji berries poached pears. She likes to add snow fungus in this sweet soup but I ran out 🙁 nevertheless, this is still tasty.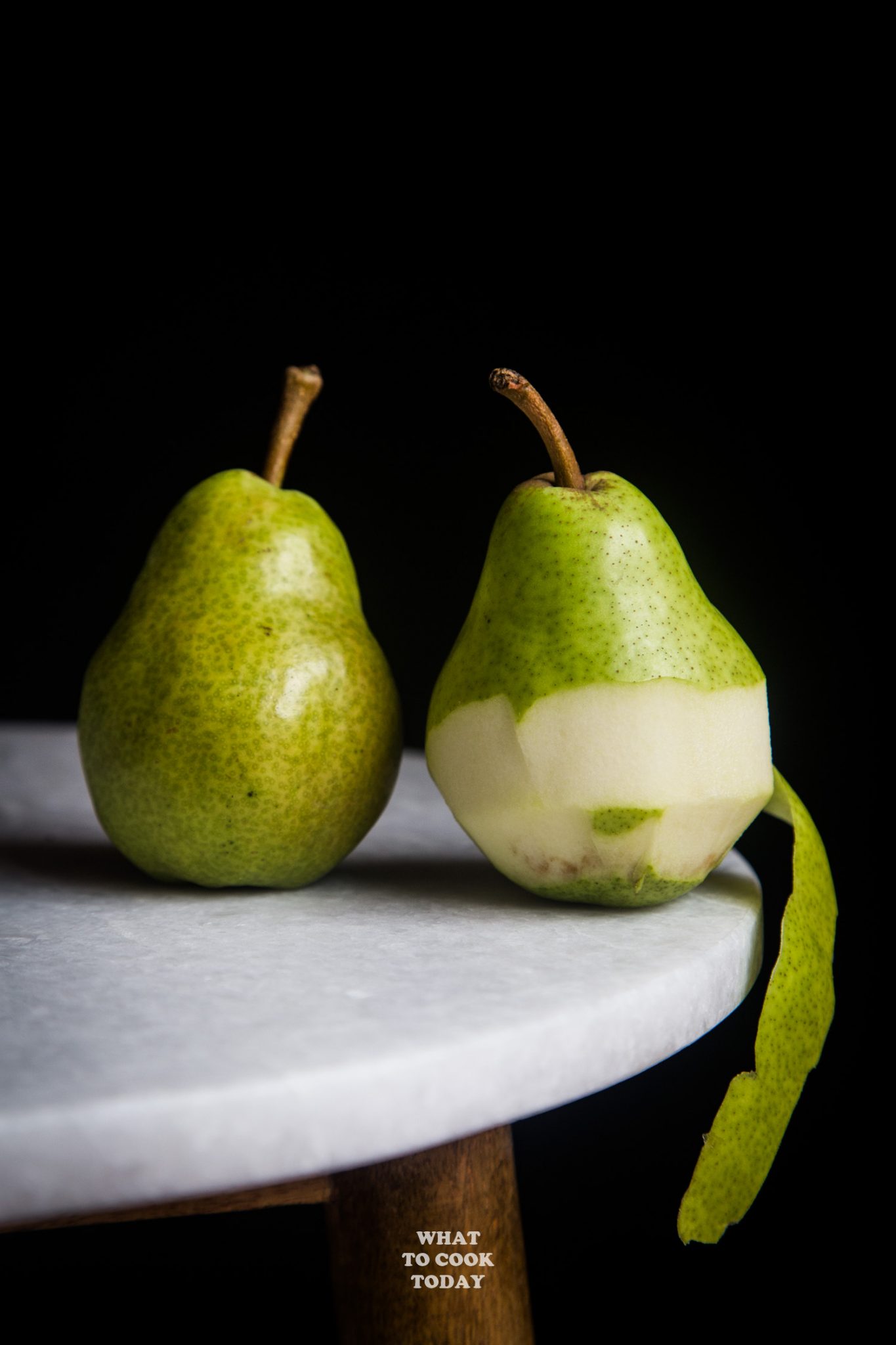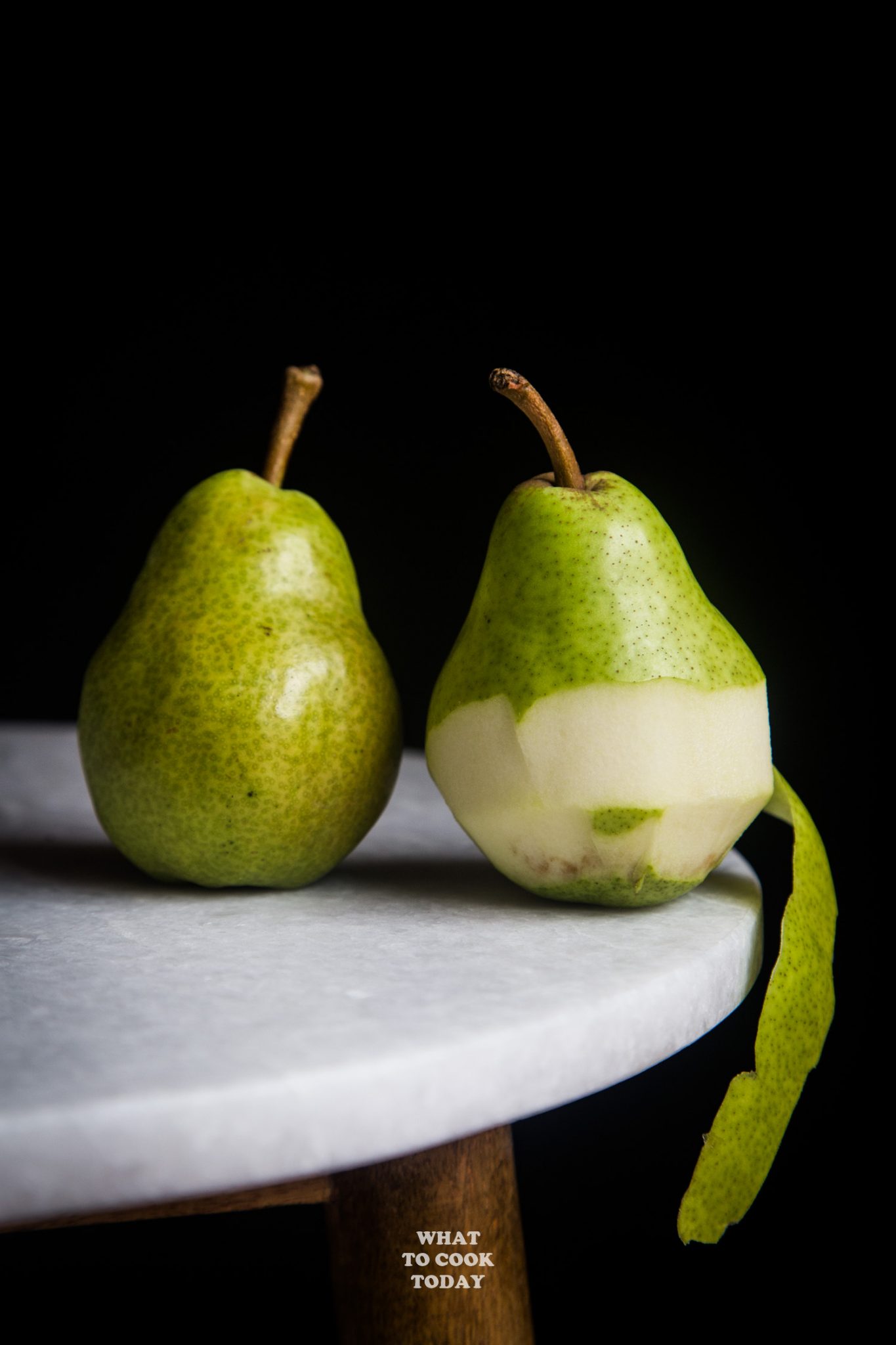 One tips that I learned from David Lebovitz about poaching pear is to use parchment paper to cover the pear during poaching. See details on the recipe card on why.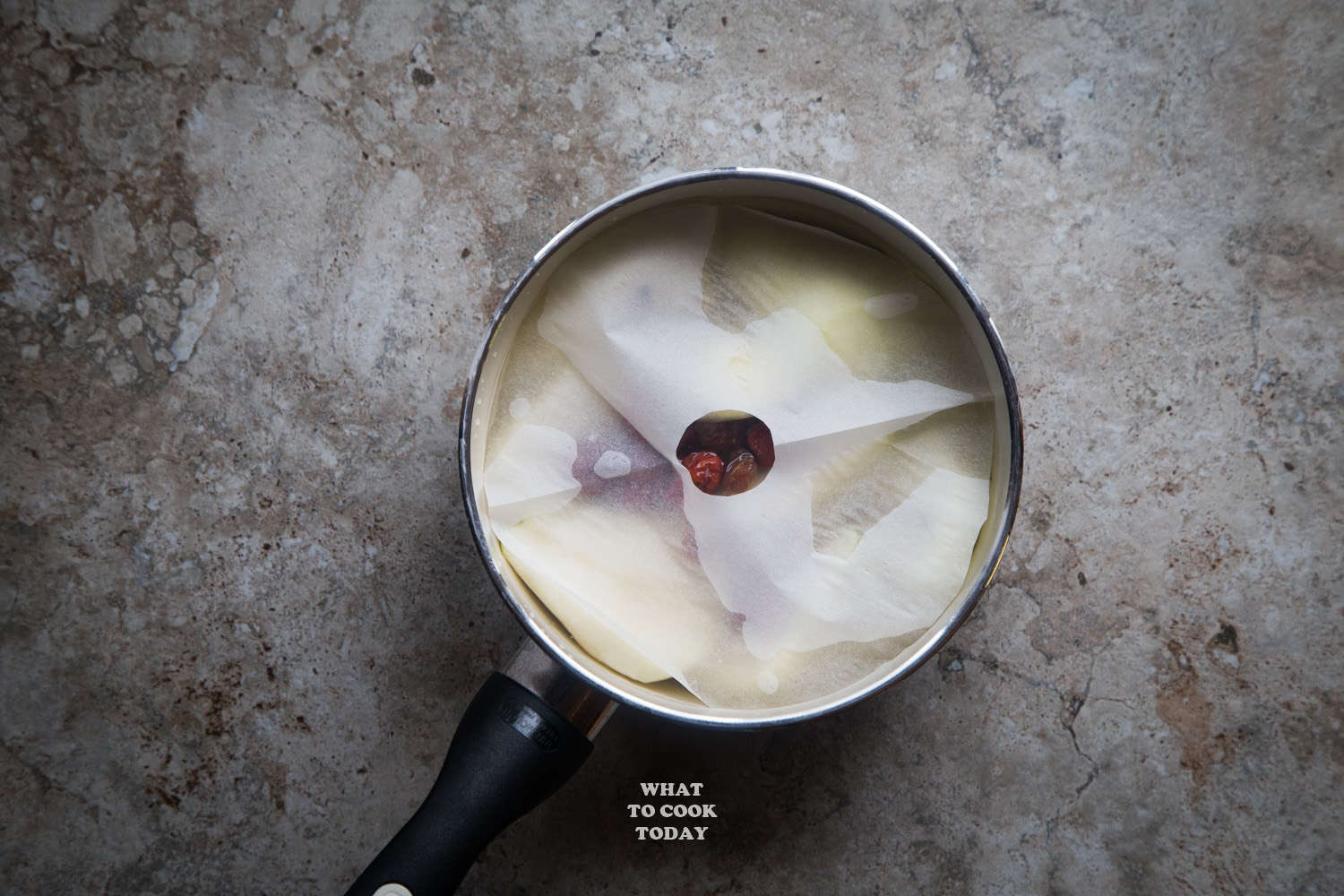 My mom often tells me that majority of Chinese categorize ingredients into "heaty" and "cooling" when it comes to TCM (Traditional Chinese Medicine). The heaty and cooling is not so much about the temperature of the ingredients, but the capability of the ingredients in generating "heat" or "cooling" effect when inside our body. It is pretty much based on the Yin and Yang philosophy. Too much of "hot" energy or "cold" energy is considered not balance and not good for our body. So yes, it's all about finding that balance.Red dates and dried longan are considered "heaty" ingredients and great for a tonic reason, especially during winter.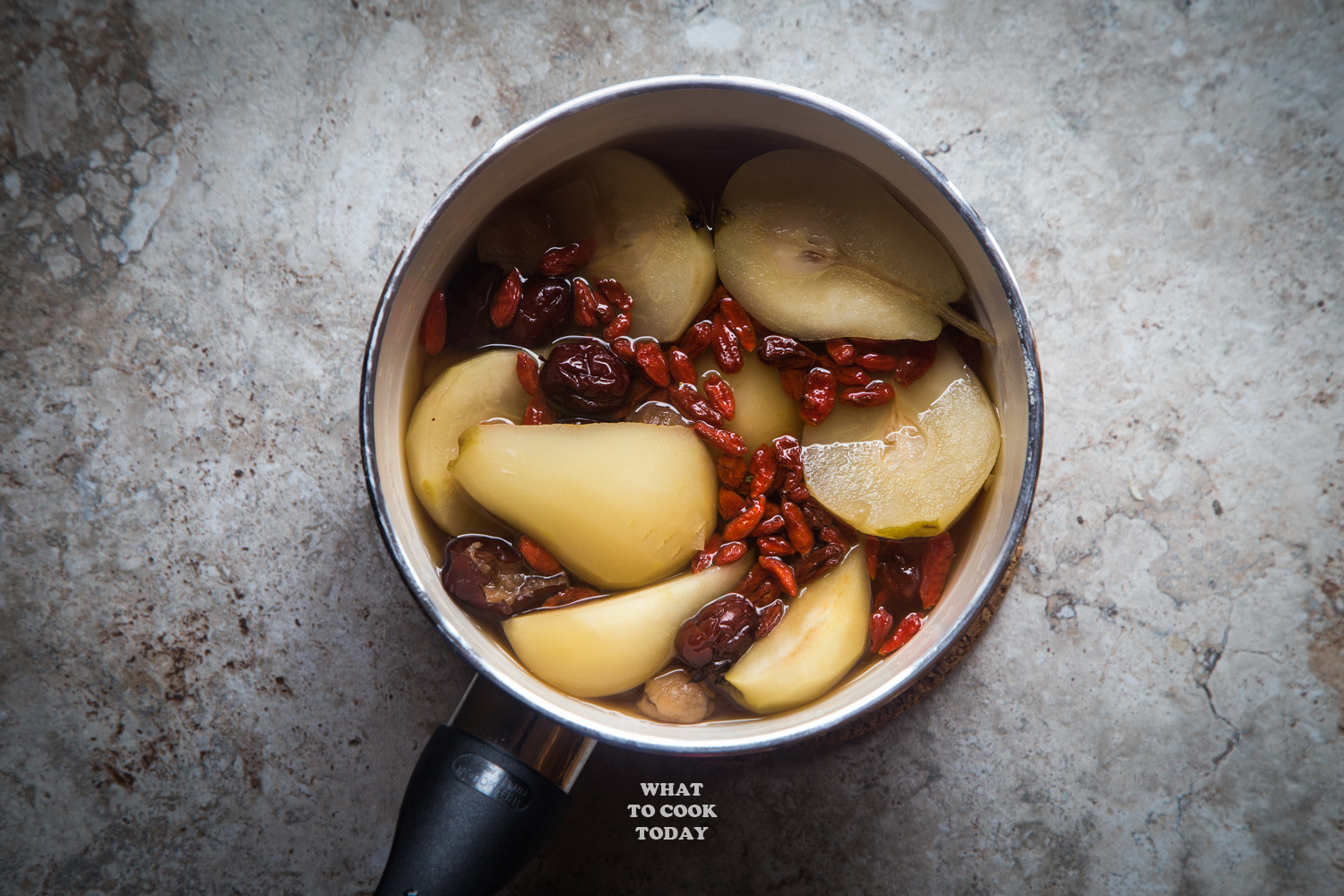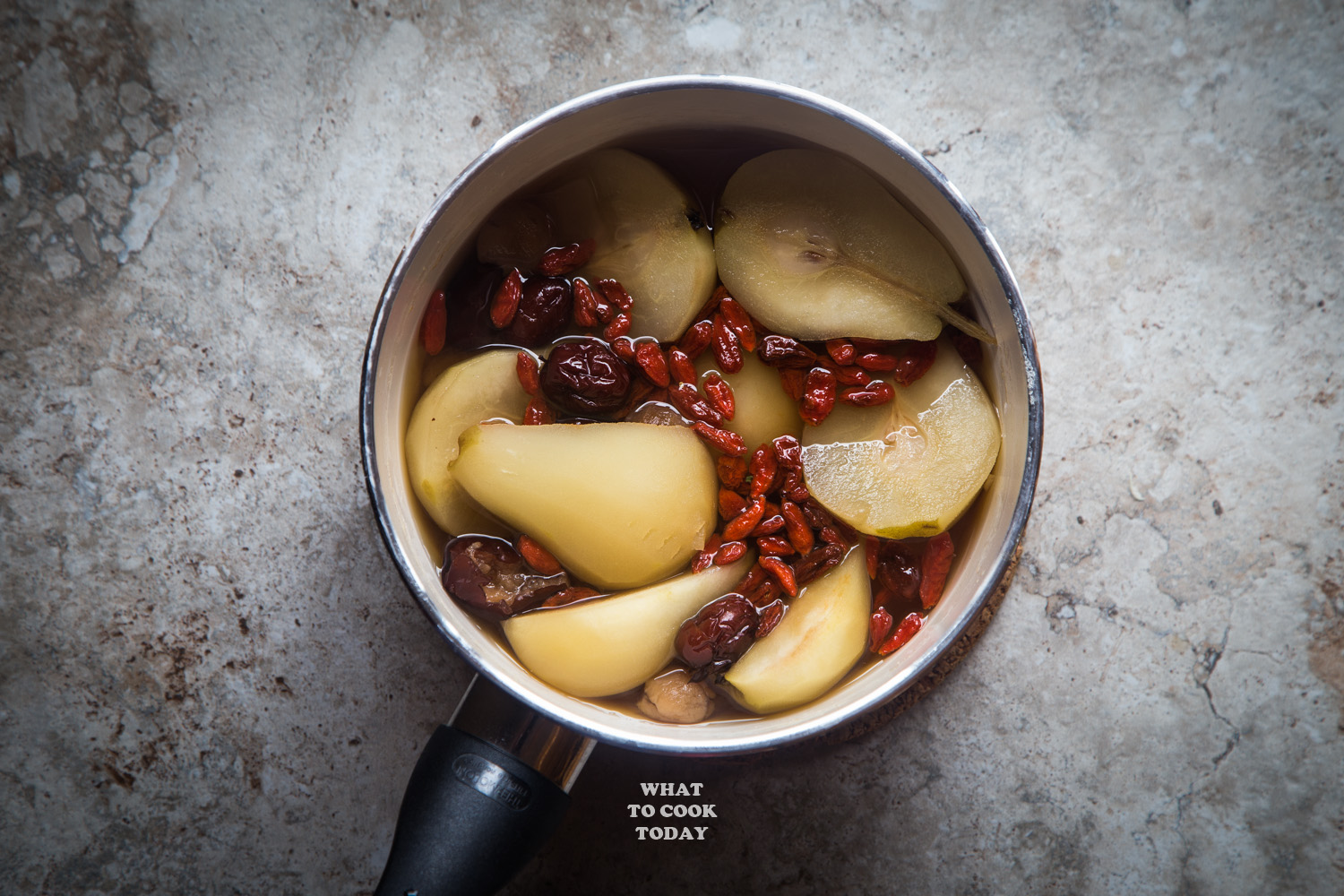 Mom told me that goji berries are more of a neutral, neither heaty or cooling, and so it's a great addition to everyday cooking. Rock sugar is very common in Asian cooking too as a sweetener. It is well, a sugar! But it is in crystal form or comes in big lumps. I remember I used to "steal" these from mom's pantry and ate them like a candy 🙂 So if you don't have Chinese rock sugar, use regular sugar or honey as I suggested in the recipe card below.
This can be served warm or chilled. I like the sweetness that red dates and dried longan contribute to the soup.
It's not easy to find dried longan in the U.S. I have them because mom brought me tons of them when she visited. You can use canned longan too, I've never tried it that way. The canned version is already sweetened in syrup and you can add it into the soup the very last after you turn off the heat (without the syrup preferably as the soup itself is already lightly sweetened)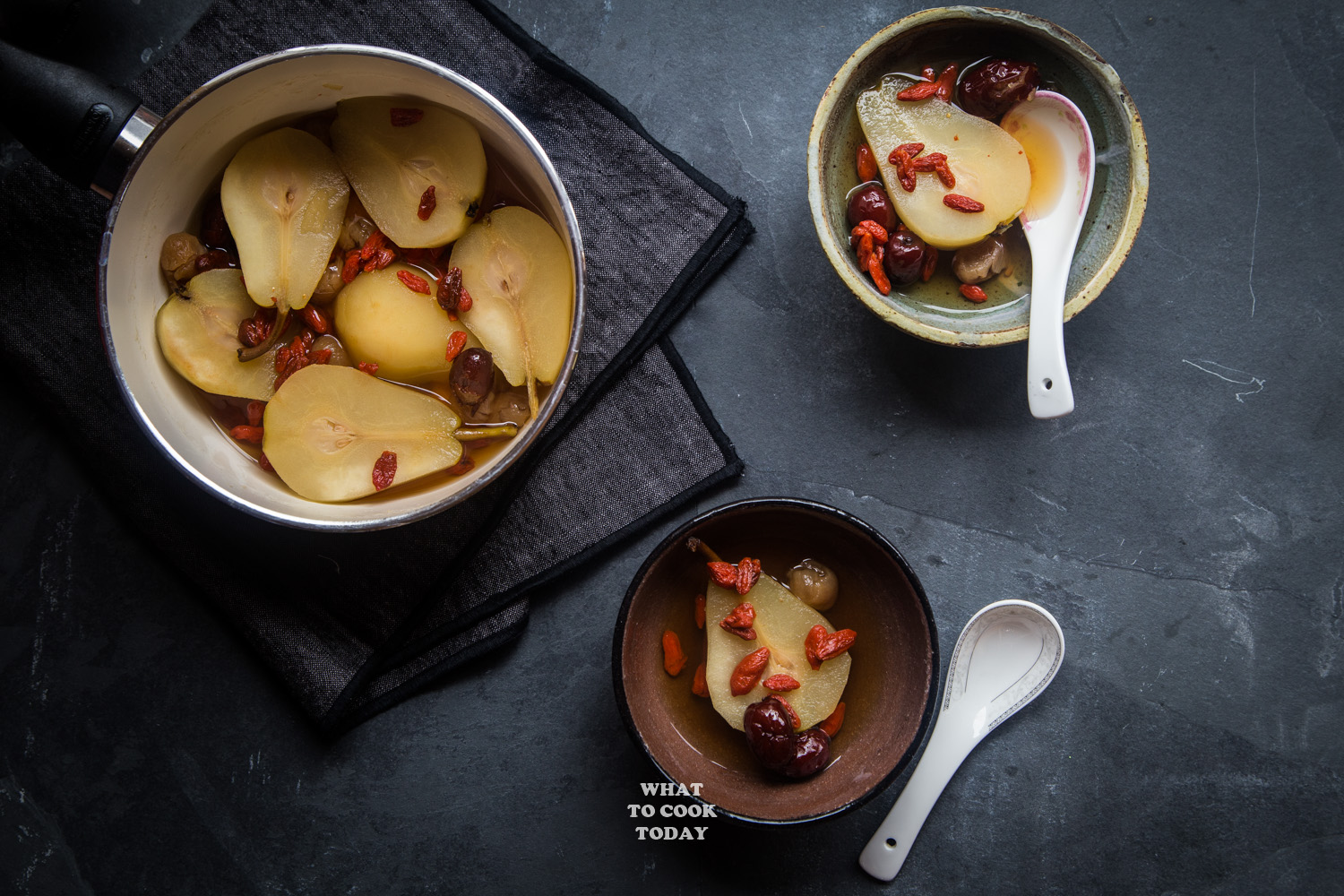 Goji berries are added to the soup last because cooking them for too long can make the soup sour. They plump up quickly when they come into contact with a liquid. They still retain that sweetness when you bite into them. The overall taste of this dessert is not overly sweet, yet refreshing when you serve it chilled or comforting when you serve it warmed.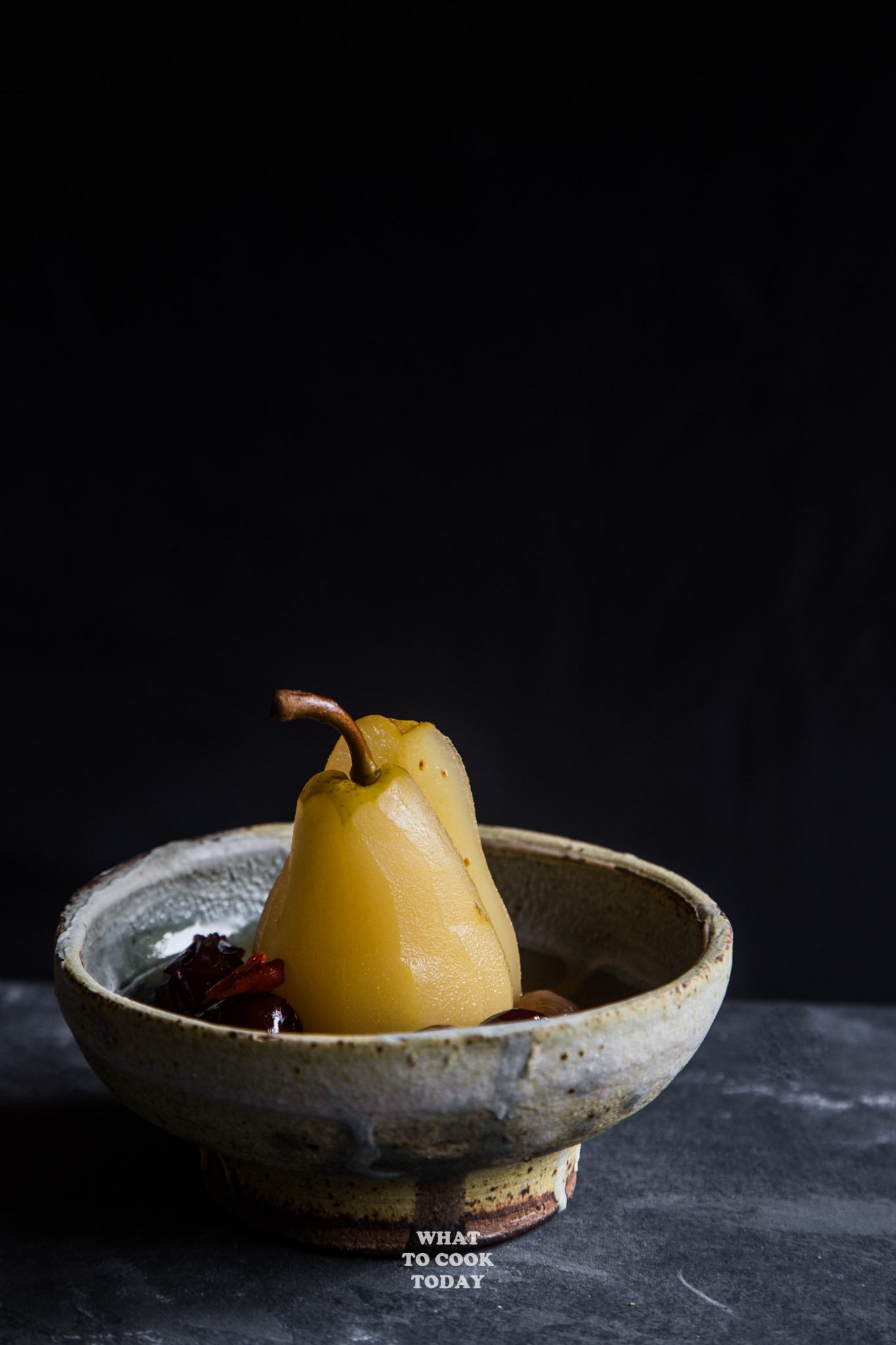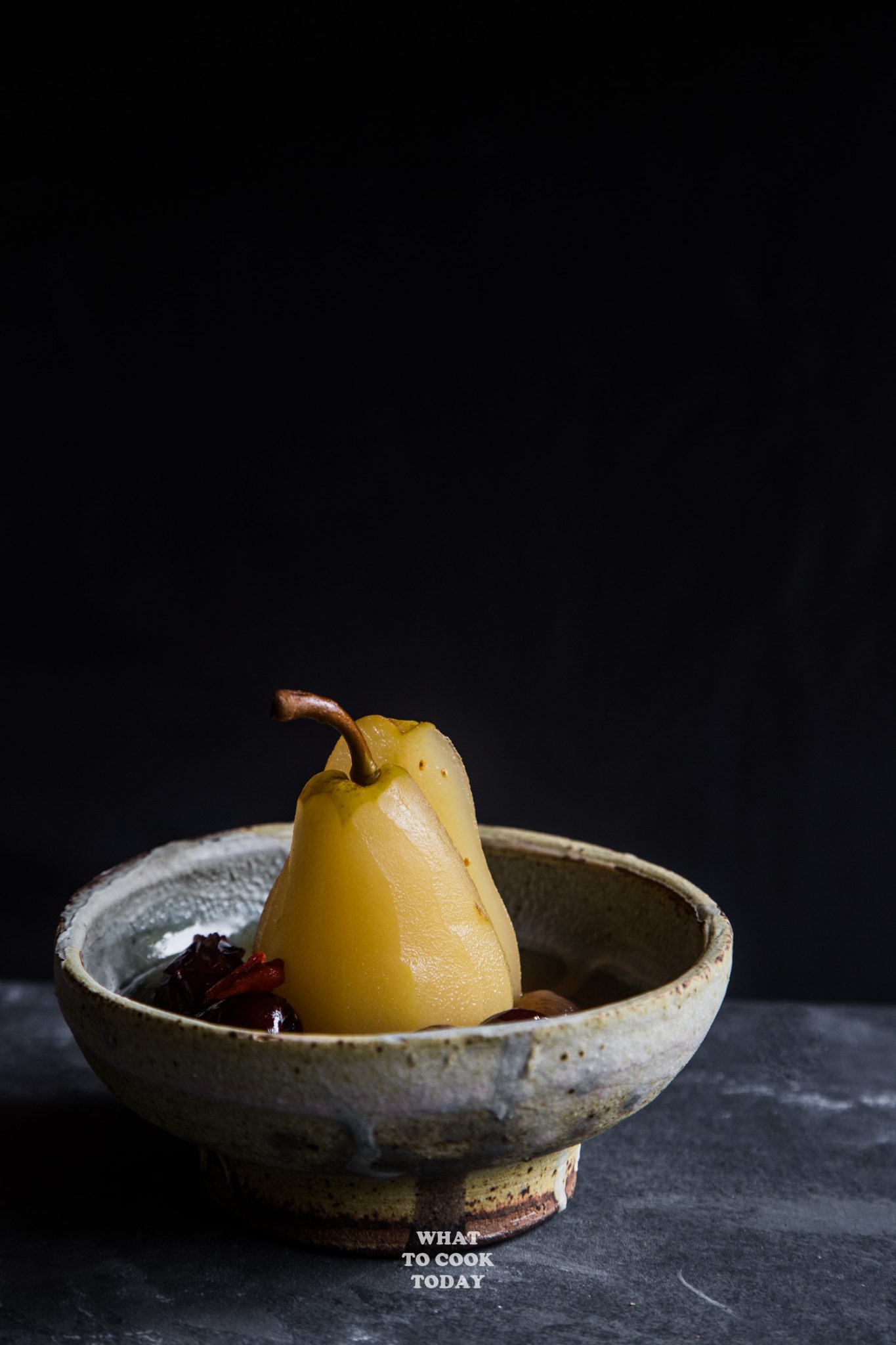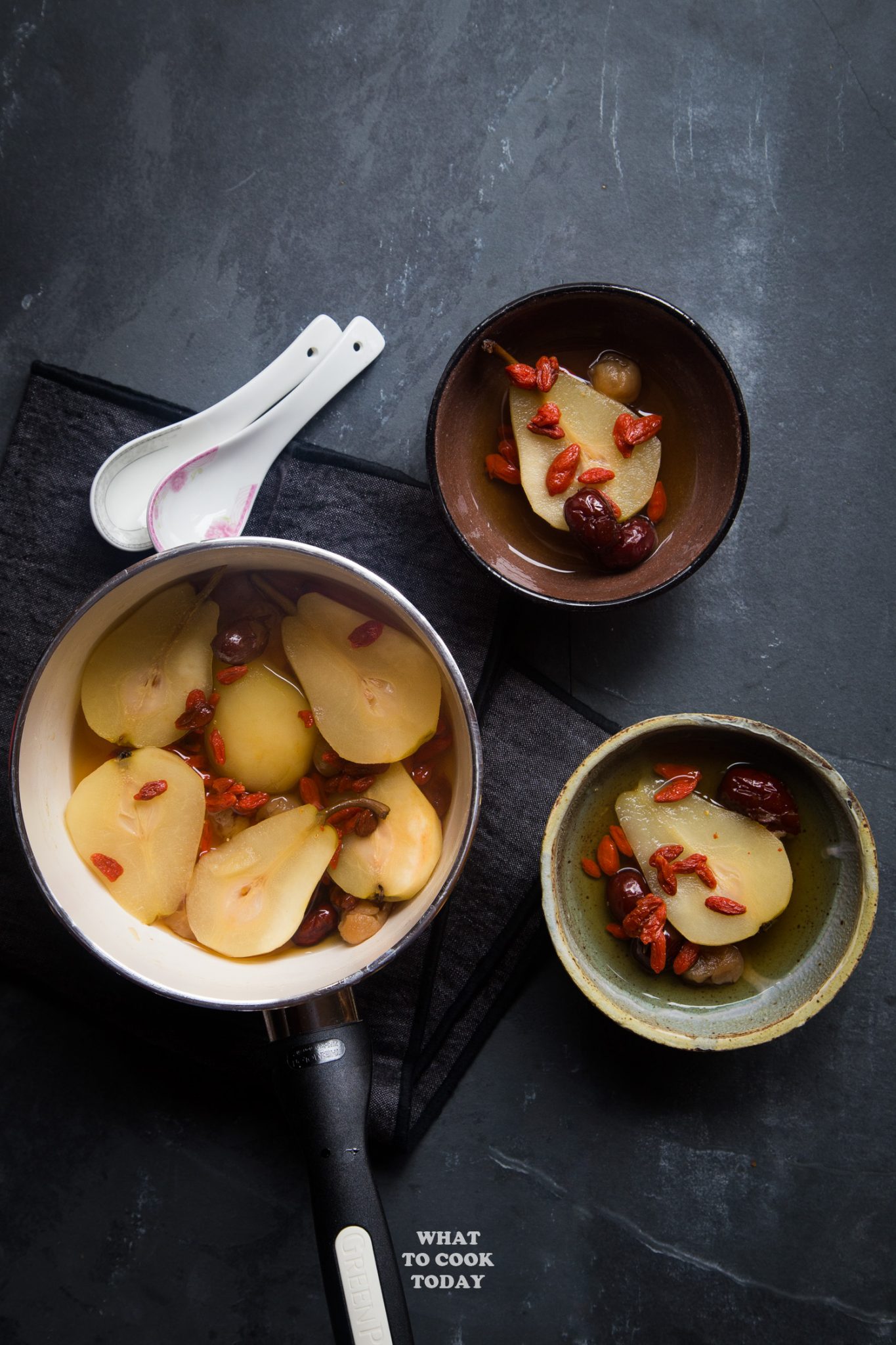 Chinese Poached Pears Tong Sui / Cheng Tng
Instructions
Cut the parchment paper into a circle about the size of the saucepan you will use. Fold in half and then cut a small half circle and when you open it up you now have a circle with a hole in the middle. The hole in the middle to allow some steam to escape during poaching

Place the pears, water, rock sugar, red dates, and longan in a medium or large saucepan. Make sure the pears are in one layer, this will help to cook evenly. Cover with a parchment paper. This will help to prevent discoloration of the pears that often happens during cooking because the pears are not submerged in the liquid. Bring to a boil and then lower the heat to a gentle simmer and let it simmer for the next 25 minutes

The pear will be soft when you pierce with a fork. Sprinkle in the goji berries and let it simmer for another 5 minutes. Remove from the heat
Notes
Other ingredients you can add to these are: Black dates, ginger, snow fungus. Just to mention a few
You may substitute rock sugar with raw honey but adding it last when you are ready to eat them
I know it may not be easy to find dried longan especially if you live in the U.S., you can either omit or use canned longan and adding it last, but it's not imperative to have longan in the soup