Learn how to make this easy Taiwanese popular breakfast, dan bing. Crepe batter is fried with eggs and then rolled up and served with a simple and delicious dipping sauce. You will love eating this dan bing any time of the day!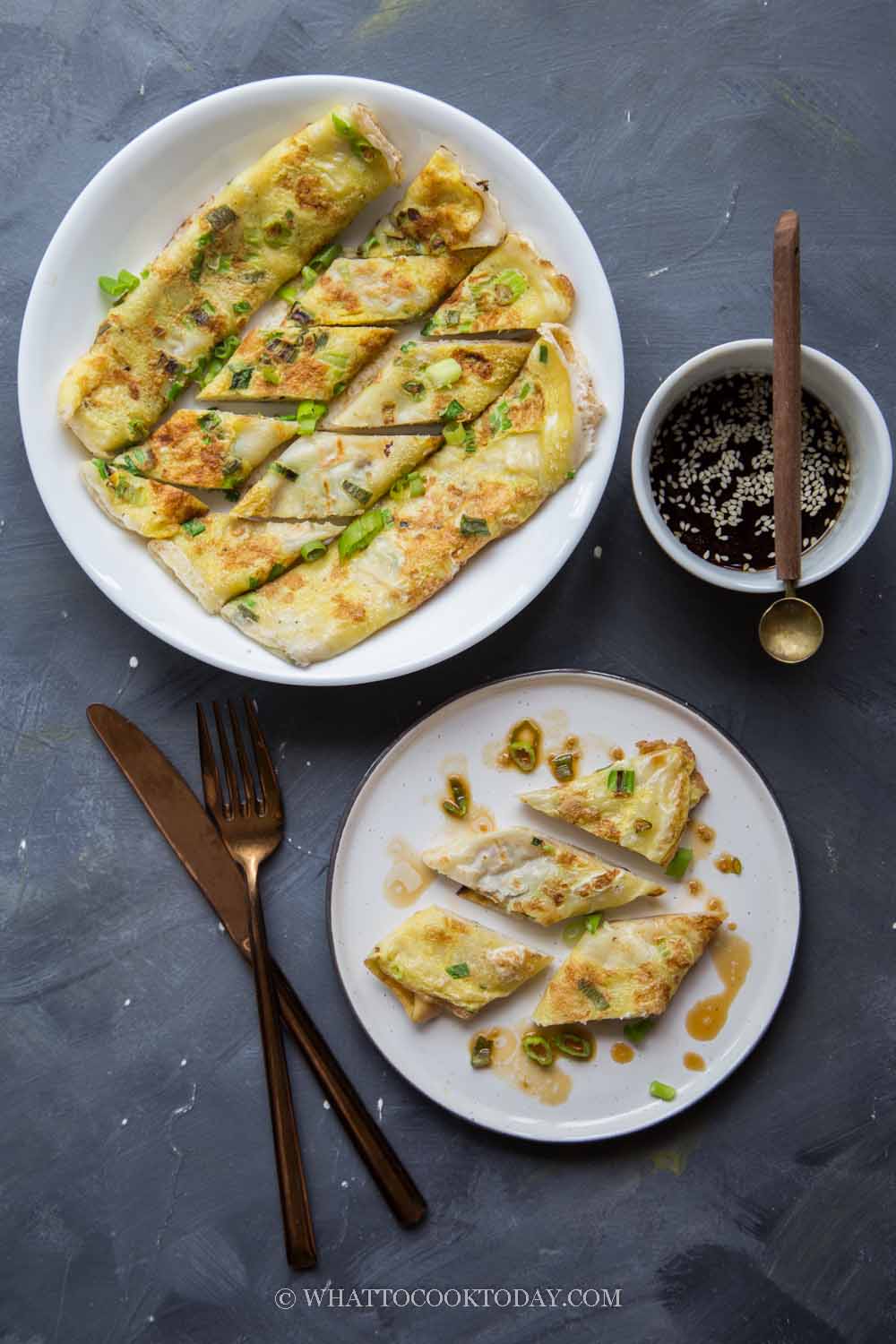 I love waking up to an easy savory breakfast such as this Taiwanese dan bing. The crepe is fry with the egg batter and then you can choose to add any savory toppings of your choice and then roll the crepe up. The crepe batter is a no-fuss to prepare. The recipe is pretty forgiving.
How To Cook Taiwanese Dan Bing
1. Whisk all ingredients for crepe batter until smooth. Strain the batter with a sieve if needed. Cover and let it rest for 10 minutes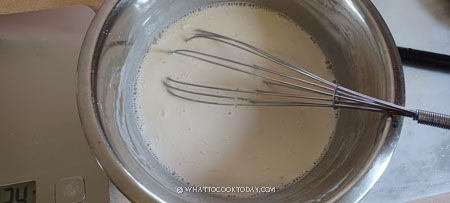 2. Crack all the eggs in a mixing bowl, add the rest of the ingredients for egg batter. Whisk to combine really well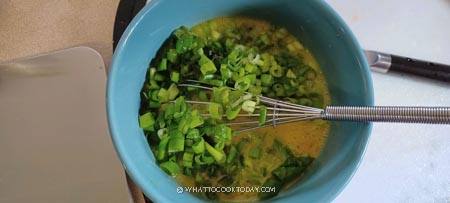 3. Preheat the pan over medium heat. If you drop few drops of water on the pan, it should sizzle. Maintain heat at this range. Add 1 tsp of oil. Scoop about 3 Tbsp (about 50 ml) of the batter onto the pan and swirl to coat the base of the pan. Cook for about 1 minute, the crepe is not fully cooked yet at this point


4. Ladle about 1/4 cup of the egg batter on top of the crepe. Use the spatula to help you spread the eggs and cook for about 2 minutes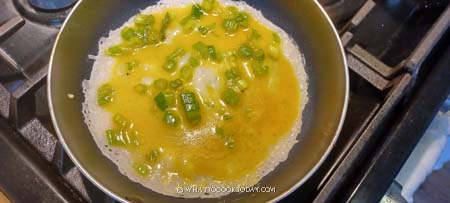 5. I like to cook until the bottom is slightly crispy and golden brown before I flip


6.Then flip it over. If you choose to add topping, add them on half of the crepe. I didn't use any topping


7. Roll the crepe up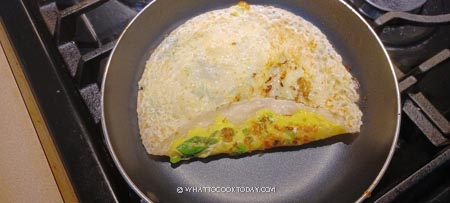 8. Slice the crepe rolls into 3-4 pieces and serve with the dipping sauce

Can I prepare the crepe batter ahead?
You can prepare the crepe batter ahead for up to 24 hours
How to store leftover
Dan bing is best served right after they are made. If you have leftover, keep them in the fridge and then reheat them on the pan until heated through or in the air fryer at 350 F for 5 minutes or until heated through and crispy on the outside and the edges again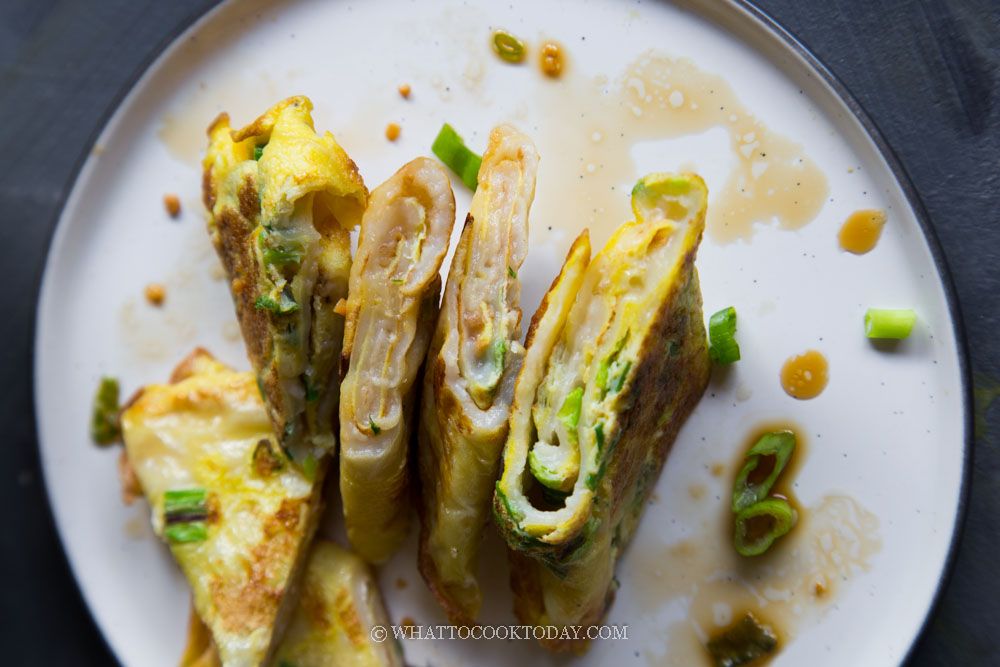 Did you make this Taiwanese dan bing recipe?
I love it when you guys snap a photo and tag to show me what you've made 🙂 Simply tag me @WhatToCookToday #WhatToCookToday on Instagram and I'll be sure to stop by and take a peek for real!

Easy Taiwanese Dan Bing (Egg Crepe Rolls)
Ingredients
Egg batter:
6

large

eggs (room temperature)

about 58-60 grams with the shell

½

tsp

salt

¼

tsp

ground white pepper

2

stalks

green onion

finely chopped
Toppings (optional):
Bacon bits

Meat floss

Ham slices

Shredded cheese or cheese slices
Instructions
Prepare the dipping sauce:
Mix all ingredients for the dipping sauce in a saucepan and cook over medium heat until the sugar dissolves. Set aside
Prepare the crepe batter:
Whisk all ingredients for crepe batter until smooth. Strain the batter with a sieve if needed. Cover and let it rest for 10 minutes
Prepare the egg batter:
Crack all the eggs in a mixing bowl, add the rest of the ingredients for egg batter. Whisk to combine really well
To make dan bing:
Preheat the pan over medium heat. If you drop few drops of water on the pan, it should sizzle. Maintain heat at this range. Add 1 tsp of oil

Scoop about 3 Tbsp (about 50 ml) of the batter onto the pan and swirl to coat the base of the pan. Cook for about 1 minute, the crepe is not fully cooked yet at this point. Ladle about 1/4 cup of the egg batter on top of the crepe. Use the spatula to help you spread the eggs and cook for about 2 minutes. I like to cook until the bottom is slightly crispy and golden brown before I flip. Then flip it over. If you choose to add topping, add them on half of the crepe and then roll up

Remove from the pan and continue with the rest of the crepe batter and the egg batter. Give the crepe batter a good stir each time
To serve:
Slice the crepe rolls into 3-4 pieces and serve with the dipping sauce