The combination of mangoes and butter in a cake is simply amazing. The cake has dense and moist crumbs with its rich and buttery taste, yet it feels light at the same time.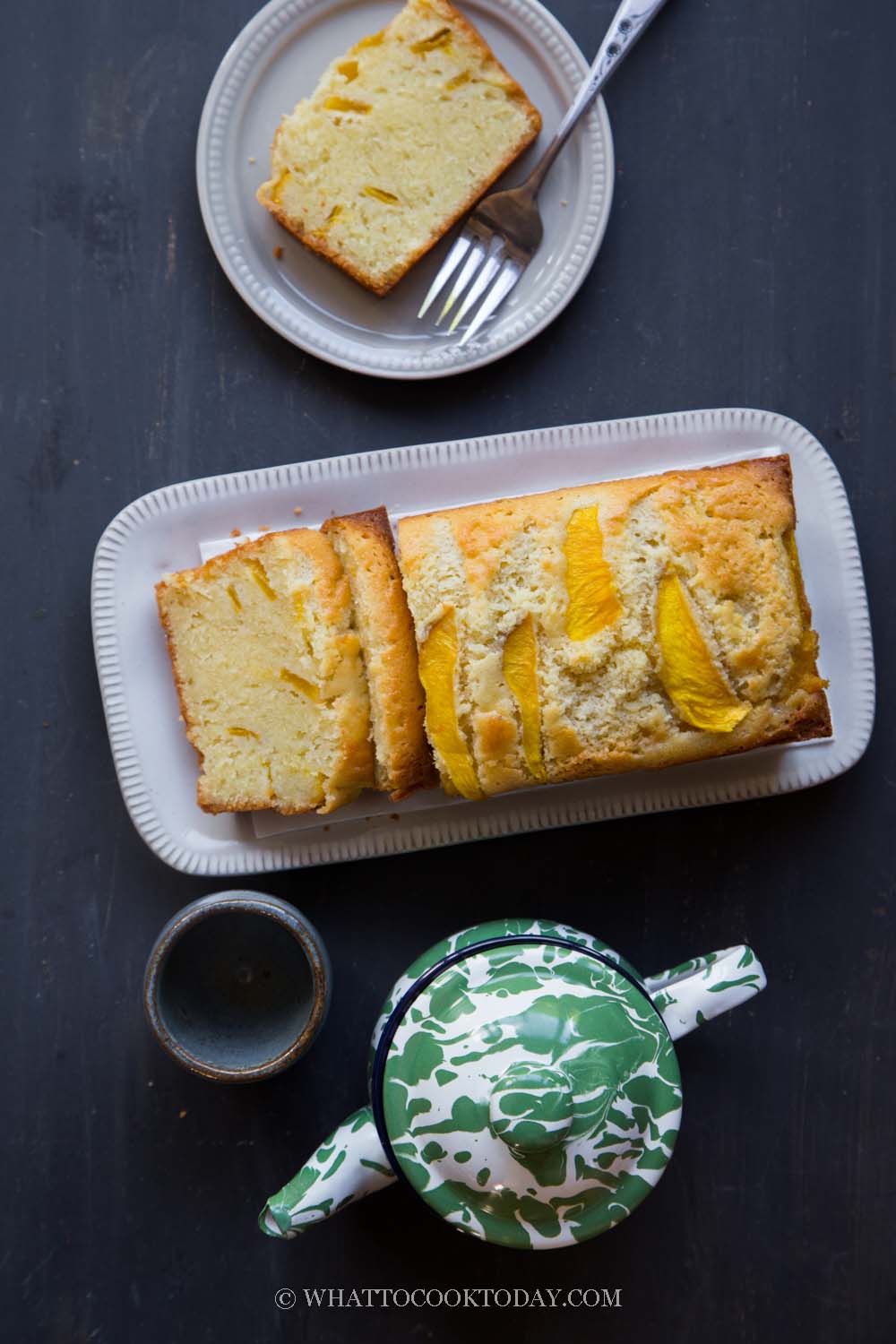 Mango season is a welcome one for me because I love mango and I'm constantly thinking of ways to use the mangoes in baking. Mango butter cake is a must to make if you love mangoes and butter cake. Here in the U.S., we call it mango pound cake. This mango butter cake recipe uses the whole-egg method. Traditional pound cake is made with a whole-egg method. In the past, I made pandan butter cake that uses the egg separation method (the egg whites and yolks are beaten separately). The egg-separation method does produce a very soft and airy butter cake. I think there are two boats here, one boat with people who like soft and airy butter cake and the other is people who like moist and dense butter cake texture. I'm actually leaning towards that moist and dense crumbs for butter cake. I've always enjoyed cake with dense crumbs. It somehow feels more satisfying 🙂 But of course I'm also a huge lover or light and airy chiffon cakes too 🙂
How to bake mango butter cake
1. Butter, eggs, and milk should be at room temperature. Line your loaf pan with parchment paper at the bottom. Preheat oven to 350 F (180 C). My oven is a conventional oven with bottom heat only. Peel the mango. Use a sharp knife to cut near the stone on all sides. Cut into about 1/4-inch slices. We won't use all of them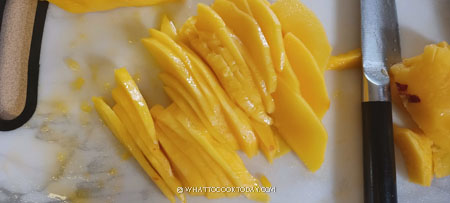 2. Combine all-purpose flour, baking powder, and salt in a bowl. Whisk to combine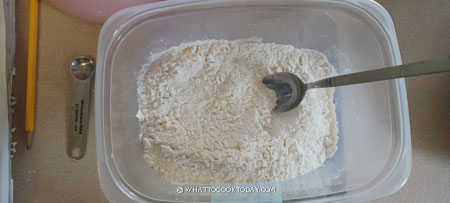 3. Cracks all the eggs in a mixing bowl and beat them with a whisk and set aside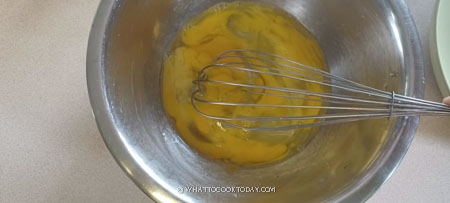 4. I use a stand mixer fitted with a whisk attachment. Cream the butter and sugar at high speed (speed 8 on KA) until it's pale, light, and fluffy. You may need to stop halfway to scrape the side of the bowl and continue to cream again. This is important so the cake won't be hard and dense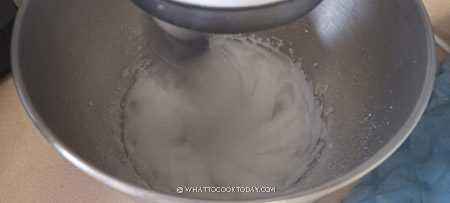 5. Lower the speed to medium (speed 6) and gradually add in the beaten egg, 1/4 at a time until they are fully incorporated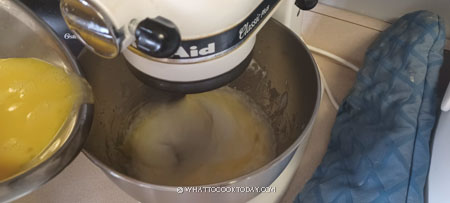 6. Add the milk slowly and continue to mix until combined.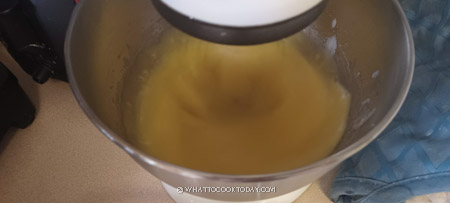 7. Lower the speed to speed 2. Add the flour mixture batch by batch. The flour may not be fully incorporated, it's okay. Stop the mixer and use a rubber spatula to scrape the side of the bowl and use a gentle swipe down and fold over motion to continue folding in the flour mixture until you no longer see any loose white flour. Don't overmix


8. Pour 1/3 of the batter into a prepared pan. Use a rubber spatula to help you smooth the batter. Arrange few slices of mango on top. Pour another 1/3 of the batter and add few more slices of mango. Then pour the rest of the batter on top. Smooth the batter and decorate with more mango slices on this final layer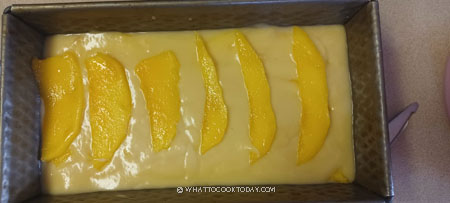 9. Bake in a preheated oven on the middle rack for 40 minutes or until a cake tester inserted into the cake comes out clean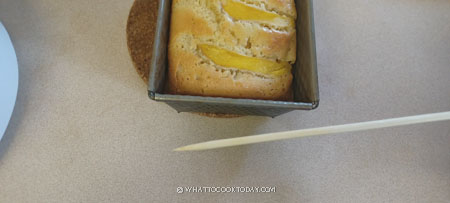 10. Let the cake cools down on the pan for 10 minutes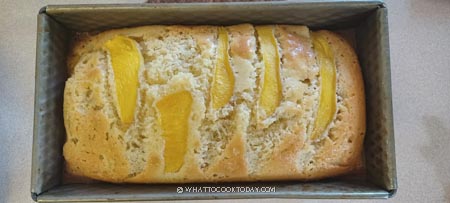 11. Then loosen the side and transfer to a cooling rack to let it cools down completely

Size and types of pan you can use for this recipe
1. Loaf pan
My loaf pan measures 8.5 x 4.5 inches at the bottom and 9 x 5 inches at the top part. The height is 2.5 inches. So it's not a perfect rectangle. So, I think I better list it as 9 x 5 loaf pan instead of 8 x 4 inches like I did before to prevent overflowing of batter in the oven
2. Bundt pan
This recipe can fit into 10-inch (8 cups) Bundt pan
3. Square pan
You can also use 8 x 8 inch pan with at least 2.5 inches height
4. Round pan
You will 9 inch round pan with at least 2.5 inches height
How to store mango butter cake
1. Let the cake cools down completely
2. Cover with a cling wrap or store in air-tight container and it can be kept at room temperature for 2-3 days. I recommend only slice the cake when you are ready to serve them
3. For longer storage, keep the cake in a freezer. Slice the cake into serving portions, wrap them up in a cling wrap and then aluminum foil. Put this inside a freezer bag, push all the air out and seal. It can be kept in the freezer for one month for the best result.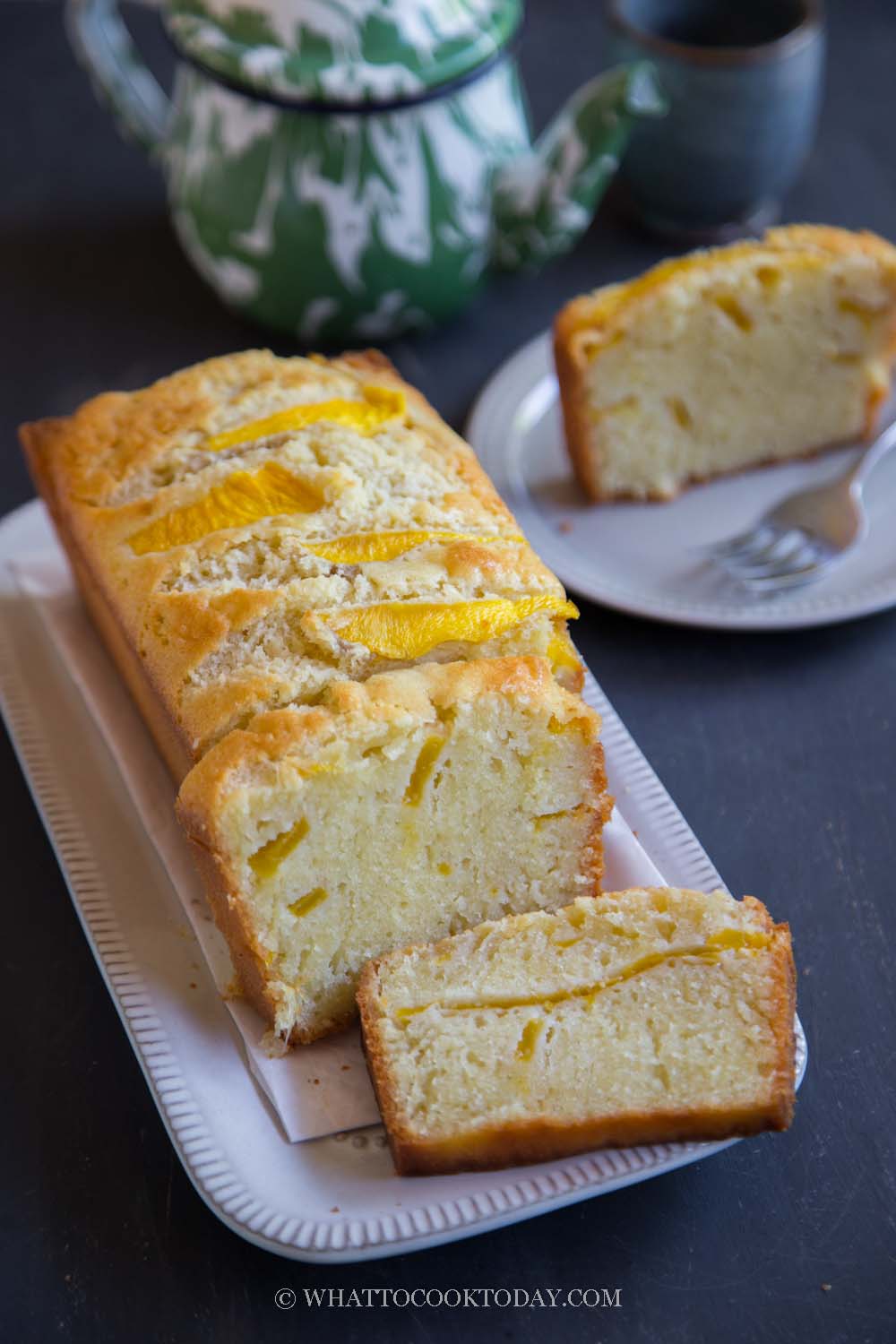 Did you make this mango butter cake recipe?
I love it when you guys snap a photo and tag to show me what you've made 🙂 Simply tag me @WhatToCookToday #WhatToCookToday on Instagram and I'll be sure to stop by and take a peek for real!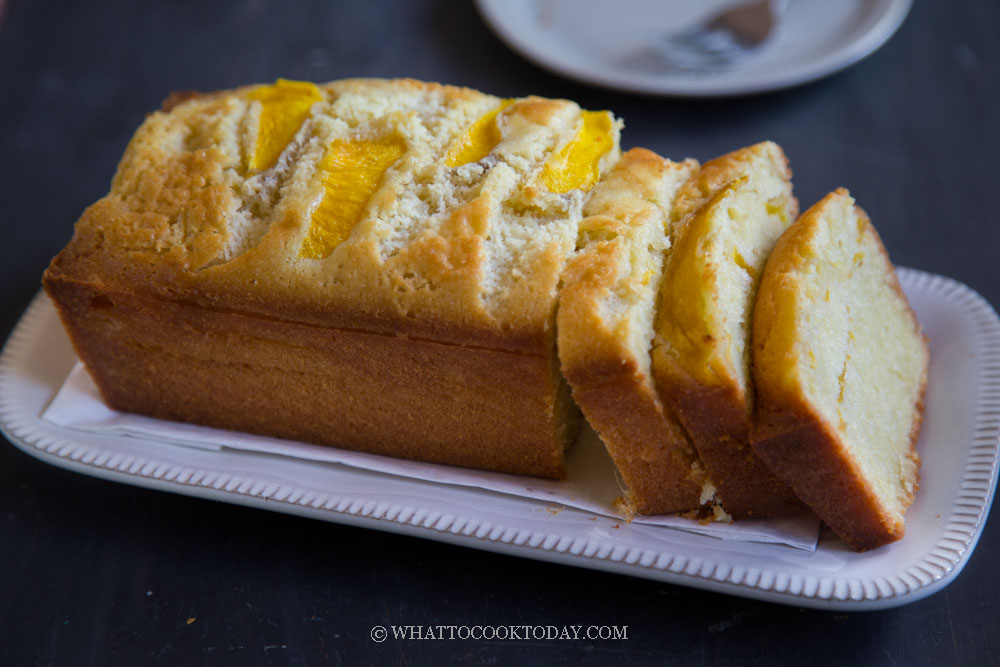 You may also like these butter cake
Mango Butter Cake /Kek Mentega (Whole-Egg Method)
Instructions
Things to prepare before you start working on the cake batter:
Line your loaf pan with parchment paper at the bottom. Preheat oven to 350 F (180 C). My oven is conventional oven with bottom heat only. If you use top and bottom heat oven, please adjust temperature accordingly. You may need to lower temperature by 10-15 degrees.

Peel the mango. Use a sharp knife to cut near the stone on all sides. Cut into about 1/4-inch slices. We won't use all of them

Combine all-purpose flour, baking powder, and salt in a bowl. Whisk to combine
Prepare the cake batter:
The butter should be soft. If you use your finger to press on the butter, it yields easily. The butter shouldn't be melty though. If it is, you may want to chill it a bit to make sure it's not melty, but still soft

Please make sure eggs and milk are at room temperature as well. Cracks all the eggs in a mixing bowl and beat them with a whisk and set aside

I use a stand mixer fitted with a whisk attachment. Cream the butter and sugar on high speed (speed 8 on KA) until it's pale, light, and fluffy. You may need to stop half way to scrape the side of the bowl and continue to cream again. This is important so the cake won't be hard and dense

Lower the speed to medium (speed 6) and gradually add in the beaten egg, 1/4 at a time until they are fully incorporated. Add the milk slowly and continue to mix until combined. Lower the speed to speed 2. Add the flour mixture batch by batch. The flour may not be fully incorporated, it's okay. Stop the mixer and use a rubber spatula to scrape the side of the bowl and use a gentle swipe down and fold over motion to continue folding in the flour mixture until you no longer see any loose white flour. Don't overmix
Baking:
Pour 1/3 of the batter into a prepared pan. Use a rubber spatula to help you smooth the batter. Arrange few slices of mango on top. Pour another 1/3 of the batter and add few more slices of mango. Then pour the rest of the batter on top. Smooth the batter and decorate with more mango slices on this final layer

Bake in a preheated oven on the middle rack for 50-55 minutes or until a cake tester inserted into the cake comes out clean. The time is just for a reference. Your oven may or may not need longer time but you can start checking at a 50-minute mark and continue to bake longer if needed
Cooling down:
Let the cake cools down on the pan for 10 minutes and then loosen the side and transfer to a cooling rack to let it cools down completely
To serve:
I highly recommend waiting until the next day to serve the cake. The cake simply tastes way better the next day as the butter has time to distribute and develop flavor. I usually wrap it up with a cling wrap after it has cooled down completely and wait for 24 hours before cutting and serve
Nutrition
Serving:
1
slice
|
Calories:
314
kcal
|
Carbohydrates:
32
g
|
Protein:
5
g
|
Fat:
19
g
|
Saturated Fat:
11
g
|
Polyunsaturated Fat:
1
g
|
Monounsaturated Fat:
5
g
|
Trans Fat:
1
g
|
Cholesterol:
118
mg
|
Sodium:
278
mg
|
Potassium:
102
mg
|
Fiber:
1
g
|
Sugar:
16
g
|
Vitamin A:
848
IU
|
Vitamin C:
8
mg
|
Calcium:
57
mg
|
Iron:
1
mg