Tofu are stuffed with vegetables and seafood and then coated with batter that gives you crispy tofu (and stays crispy for long too)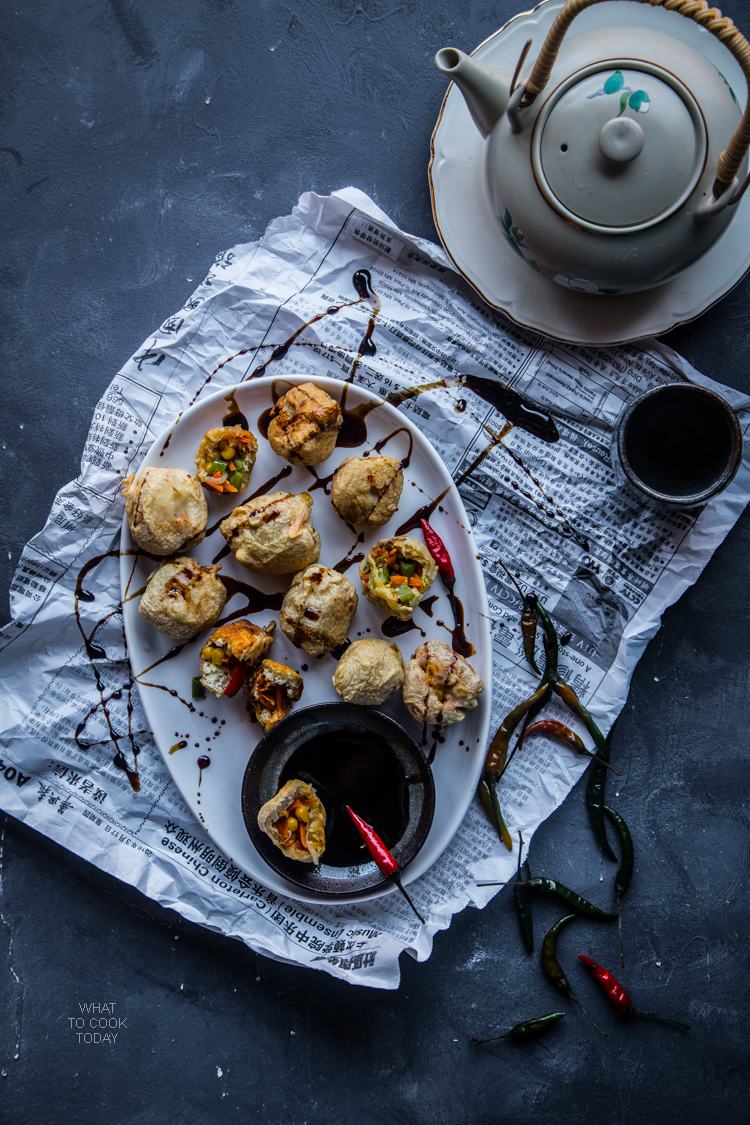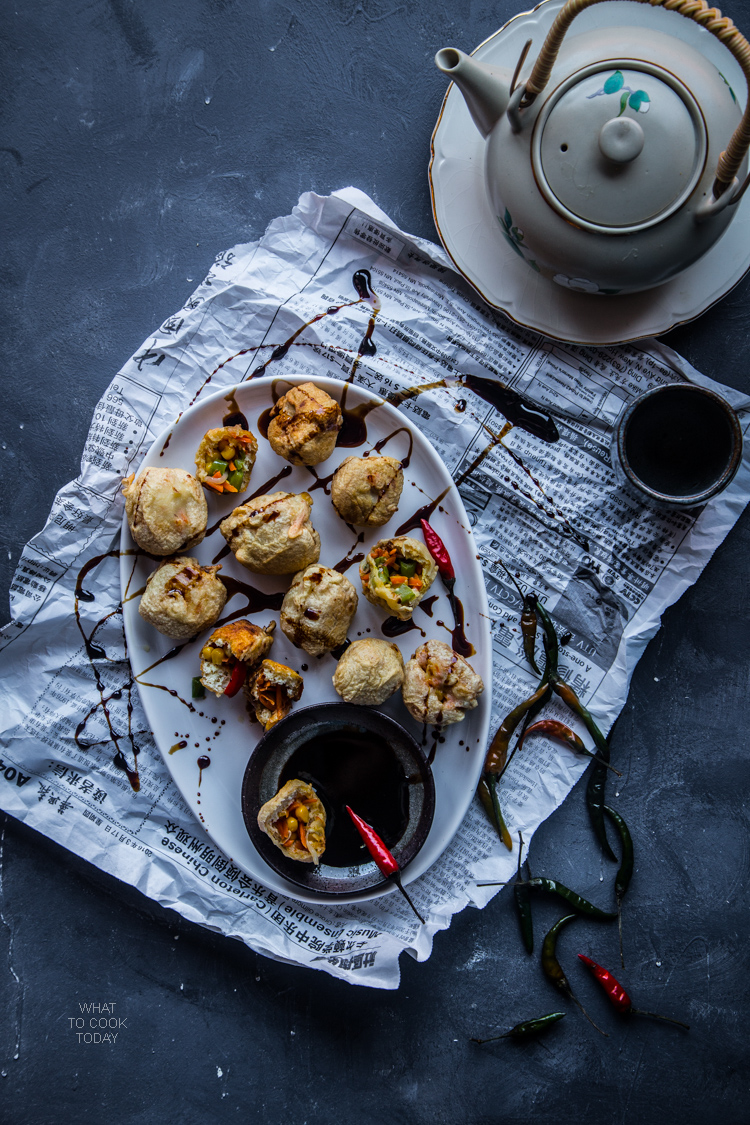 I believe almost everyone is tuning in to his/her T.V., radio, internet for updates on Presidential electoral votes at this moment tonight. I get my updates from the husband (and the internet streaming at the background) and my siblings while typing this post. This is probably one of the time that I have no clue who is going to be the new President. I am just distracting myself by typing this post and to continue with Drums of Autumn book (4th book of Outlander series) after that. Sounds like a good plan aye?
Anyway, the mention of Indonesian street food usually never fails to make me salivate. I love street food. Something about eating off of newspaper, banana leaves and nothing fancy about it that is appealing to me. Rustic is probably the word ? Yeah..just look at this stuffed tofu. As rustic as it can be and I can easily pop these inside my mouth and just claim that I'm too distracted to even count how many I've eaten. The local will eat these stuffed tofu by taking one bite of tofu and one bite of the spicy Thai chili (cabe rawit) alternately. I like it with some Indonesian kecap manis too. Deep-fried, savory, strong kick from the Thai chili. Enough said.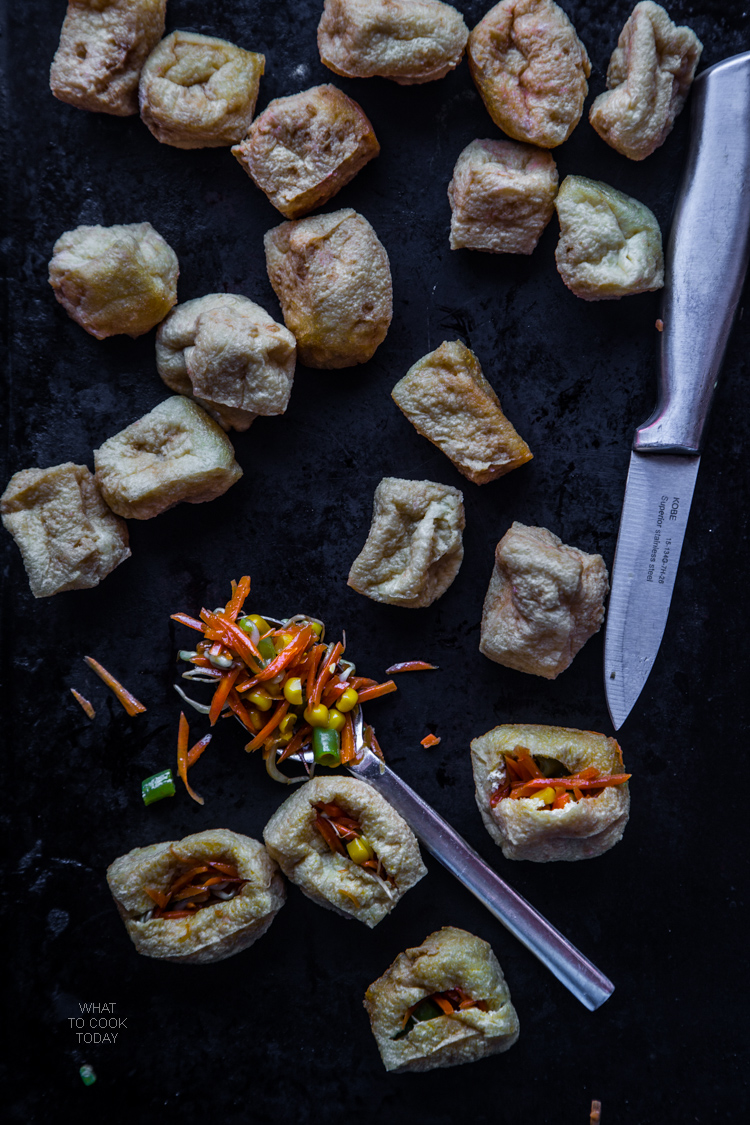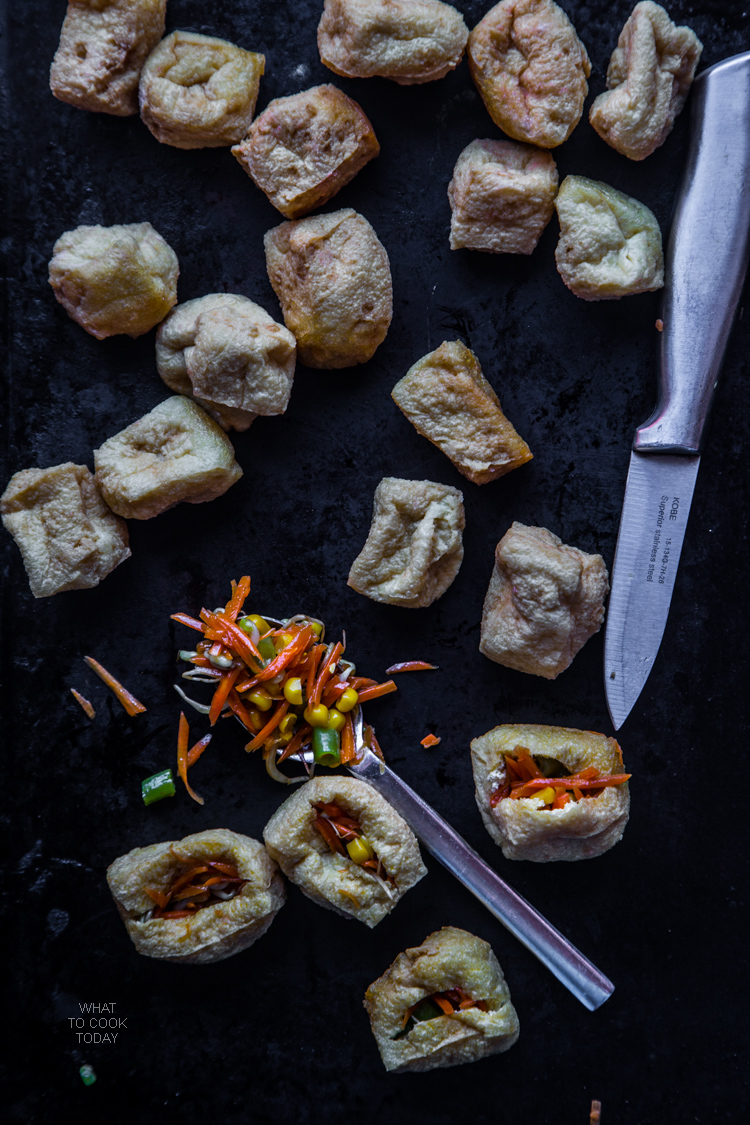 Tahu isi sayur renyah (Crispy veggie stuffed tofu)
Ingredients
900

gr

extra-firm tofu

see notes

Cooking oil for deep-frying
Filling:
5

shallots

finely chopped

5

cloves

garlic

peeled and finely minced

100

gr

shrimp

50

gr

green beans

cut into 1 cm piece

50

gr

sweet corn kernels

if frozen, thawed

50

gr

carrots

shredded

100

gr

bean sprouts

1

Tbsp

cooking oil

1 ½

tsp

salt

1

tsp

sugar

1

tsp

chicken powder

½

tsp

ground white pepper
To serve with:
Red and/or green Thai chili

Indonesian kecap manis
Instructions
If using store-bought tofu puffs:
Use a small knife to slice through the middle of each tofu puff. Take care not to cut through the tofu. The goal is to stuff the tofu with some filling. The tofu puffs are usually pretty hollow inside, if not, you can scoop the content out to make room for the filling. Set aside.
If using extra-firm tofu:
Cut each block of tofu into 6 large pieces. You will need about 2 1/2 blocks to get 15 pieces

I spray with some cooking spray and air fry them at 350 F (180 C) for about 10 minutes, turning them in between, or until they are golden brown and form a crust

Use a small knife to slice through the middle of each tofu puff. Take care not to cut through the tofu. The goal is to stuff the tofu with some filling. Use a spoon to scoop some of the tofu out to make room for the filling. Take care not to scoop out too much because we still want to taste a bit of tofu, not just the skin.
Prepare the filling:
Preheat a large skillet with cooking oil. Add in garlic and shallots and stir-fry for 1 minute. Add in the shrimp and cook until they just turn pink. Add all the veggies and stir fry for another 5 minutes. Add in the bean sprouts. Stir to mix. Season with salt and pepper to your taste. Remove from the heat and set aside to cool down completely
Assembling:
Stuff the tofu with filling as tightly as possible. Repeat until all of them are stuffed.
Preparing batter for frying:
Combine the rice flour, all-purpose flour, tapioca flour, baking soda , salt, chicken powder, coriander powder and whisk to combine. Add the water and the consistency of the batter is semi-thin, but not too thin. Add more water if needed
Frying:
Preheat cooking oil enough for deep-frying. When you dip a skewer into the oil, you will see bubbles. The oil is ready. Place all the dry ingredients for the batter in a large mixing bowl and set aside

Gently put the tofu into the batter to coat. Deep fry in the oil until golden brown, about 2-3 minutes or so. You can do 3-4 at the times but take care not to do too many at a times. You may need to lower the heat a little bit if the tofu got brown too quickly. Repeat until you are done with all the tofu. Remove and place on absorbent paper towel. Serve immediately with chili and kecap manis on the side
Notes
You can also use store-bought deep-fried tofu puffs. You will need about 30 pieces as they are usually pretty small in size
Nutrition
Serving:
1
piece
|
Calories:
146
kcal
|
Carbohydrates:
16
g
|
Protein:
6
g
|
Fat:
7
g
|
Saturated Fat:
1
g
|
Polyunsaturated Fat:
2
g
|
Monounsaturated Fat:
4
g
|
Trans Fat:
1
g
|
Cholesterol:
1
mg
|
Sodium:
538
mg
|
Potassium:
170
mg
|
Fiber:
1
g
|
Sugar:
2
g
|
Vitamin A:
590
IU
|
Vitamin C:
3
mg
|
Calcium:
30
mg
|
Iron:
1
mg
These are definitely due for a repeat very soon.

PIN IT!