Hanoi style rice vermicelli noodle soup that is mild in taste but incredibly satisfying served with chicken, ham, and eggs. Can be made with a pressure cooker or on the stove.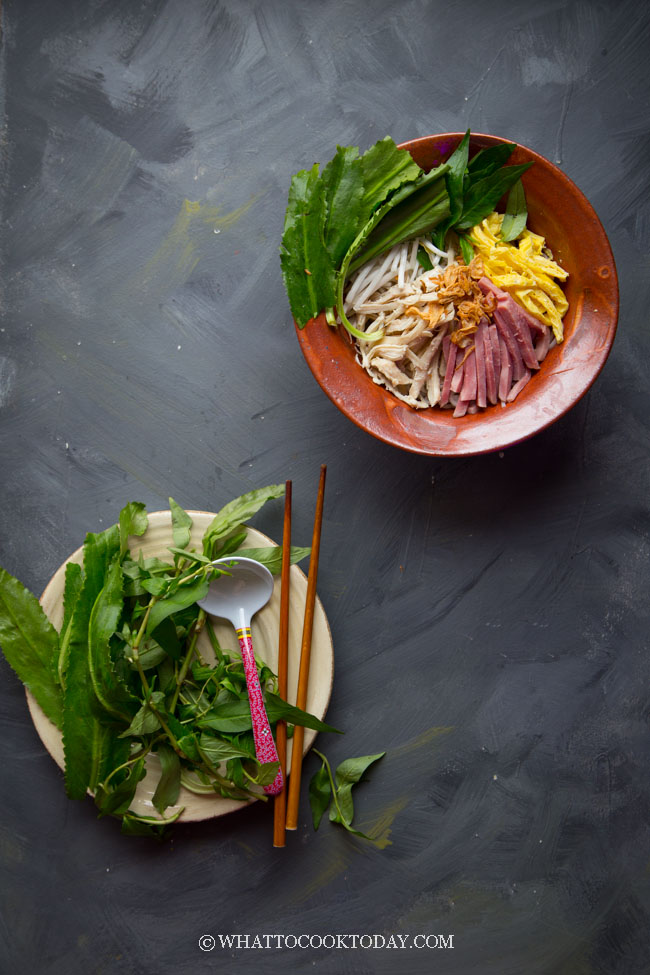 After more than a month of absence, it feels good to be able to get back to some routine. I finally kinda feel like myself a little bit after giving birth. It's been exhausting since October 14, but it's rewarding at the same time. I can't imagine it any other way 🙂 We're in love with him more and more each day 🙂 It feels good to cuddle with him in this cold winter season. I'm grateful that my mom is still around to help out, otherwise, I probably won't be able to sit down here typing up this recipe 🙂 Mom is good. Mom is the best of the best. I gotta give credits to my husband too. I really don't know what to do without him around helping out.
Anyway, with no further due, I present to you this Vietnamese Bun Thang!
NORTHERN VIETNAMESE NOODLE SOUP
Bun thang is definitely not something you spot in Vietnamese restaurants' menus. You will see pho bo, pho ga, bun bo hue, bun thit nuong, or sometimes bun rieu, but I've yet to come across bun thang. It is said that bun than is popular in north Vietnam and usually eaten during Vietnamese new year (Tet festival), but the popularity seems to stay there. That could be the reason why it's not so widespread like other Vietnamese noodle soup we've heard and tasted before.

THE BROTH
The broth is made with pork neck bones, chicken, onion, dried shrimp and seasonings like fish sauce, sugar, and salt. It's pretty simple if you ask me compared to making a pho ga or pho bo, which involves more spices. I have to tell you though, the dried shrimp really shines through in the broth. To me, it's a must to include dried shrimp. It adds that amazing umami flavor.
Here's how I make the broth with pressure cooker:
1. Pressure cook the chicken on high pressure for 10 minutes
The juice collected will then be used further while making the broth. The nice thing about pressure cooker is I can start with frozen chicken thighs/breasts and they cook in no time without overcooking the chicken


2. Then I add pork neck bones, dried shrimp, onion slices and water to cover the bones


3. Pressure cook on high pressure for 45 minutes and then strain stock and seasoned to taste

TOPPINGS
Bun thang is usually characterized by its toppings cut into long strips. Strips of chicken, Vietnamese ham (cha lua), and omelets are usually used as toppings. I did not have any cha lua on hand and so I just used up leftover ham from Christmas 😉

FRESH HERBS I USED TO ACCOMPANY BUN THANG
You can use cilantro, coriander leaves, mint, culantro, Vietnamese coriander (rau ram). I used the latter two.
The main bulk of the work is basically in preparing the broth and cutting/shredding the toppings into strips. I can assure you though you will not regret it.

Winter is miserable enough, but a bowl of bun thang is enough to make me forget about this gloomy winter (at least until I'm done eating!).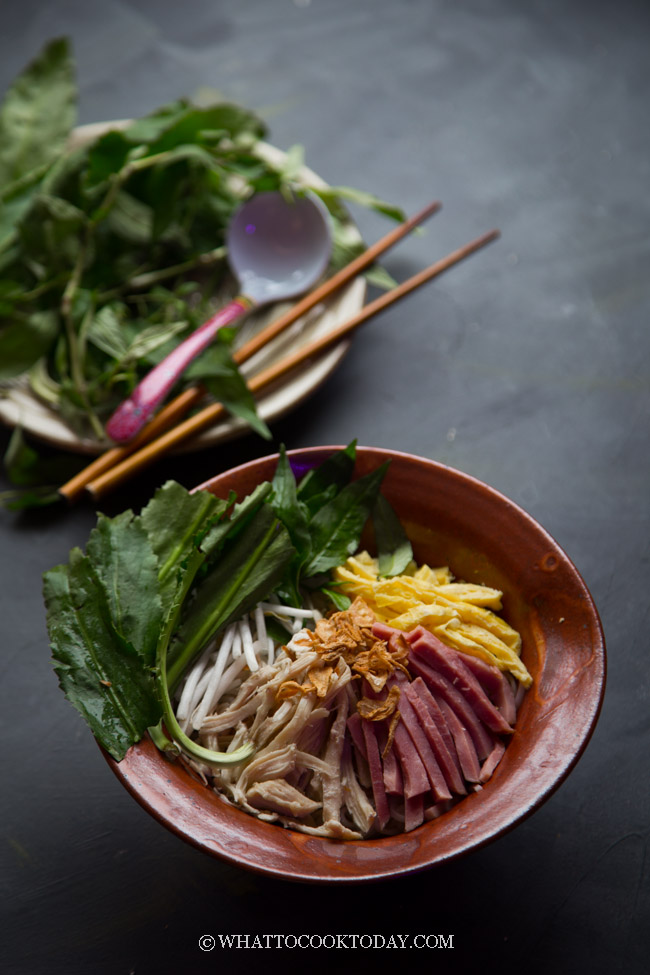 This blog post contains affiliate links. I earn a small commission when you made purchase at no extra cost to you. Learn more.
*Recipe was first published in 2013 and has been updated with new photos and improved recipe
Pressure Cooker Bun Thang (Hanoi Combo Noodle Soup)
Ingredients
1

lb

boneless skinless chicken thighs/breasts

3

lbs

pork neckbones

3

Tbsp

dried shrimp

soak in warm water

1

large

onion

peeled and thinly sliced

1

lb

rice vermicelli noodles

cooked according to package
Seasonings:
2

Tbsp

fish sauce

or more to taste

Salt

to taste

2

tsp

sugar
Toppings:
4

large

eggs

to make omelette

Vietnamese cha lua

or use regular ham, julienned

Shredded chicken (from the chicken we cook above)
Serve with (you can use whatever herbs you like):
Fried shallot crisps

1

cup

mung bean sprouts

blanch in boiling water for 1 minute

small bunch of culantro leaves

small bunch of Vietnamese coriander (rau ram)
Instructions
Place the pork neck bones in a large pot. Cover with water and then bring to a boil for 5 minutes. Discard the water and rinse the bones clean with water to remove all the scums
Cooking the chicken and make the broth in Instant Pot pressure cooker:
Pour 1 cup of water into the inner pot. Place a collapsible steamer or trivet in. Arrange the chicken pieces on top

Close the lid and turn steam release valve to seal. Press "pressure cooker" and make sure it's on "high pressure". Set the timer to 10 minutes and wait 10 minutes to release pressure completely

Remove chicken pieces and let them cool down before shredding the meat

Place pork neckbones inside the inner pot that already has some water with some juice collected from cooking the chicken. Pour in more water to cover the bones, about 10-12 cups

Add dried shrimp and onion slices. Cover the lid. Cook on high pressure again for 45 minutes and then wait 10 minutes and release pressure completely

Strain the stock into a clean pot. Discard the solid. Season with seasonings to your taste
Cooking the chicken and make the broth in Instant Pot pressure cooker:
Place the chicken, pork bones, onion slices, and dried shrimp in a pot. Cover with water. Bring to a boil and then lower the heat to let it simmer for about 20 minutes or until the chicken is cooked through. Remove the chicken from the pot and let it cool down before shredding the meat. Continue to simmer the pork bones for 2 hours on the stove

Strain the stock into a clean pot. Discard the solid. Season with seasonings to your taste
Making omelet strips:
Beat the eggs. Lightly oil your non-stick pan. You can probably make about 5-6 thin omelets or more. Cook for about 1 minute or less on the first side and then flip over and cook for few seconds. Remove from the pan and repeat. Stack them up and then roll up into a roll and thinly slice the omelet
Putting everything together:
Portion the noodles shredded chicken meat, julienned ham, and omelet strips in individual serving bowl. Ladle the hot soup over the noodles generously. Garnish with some cilantro leaves, fried shallot crisp and serve with mung bean sprouts, culantro leaves, rau ram or herbs of your choice
Recommended products: