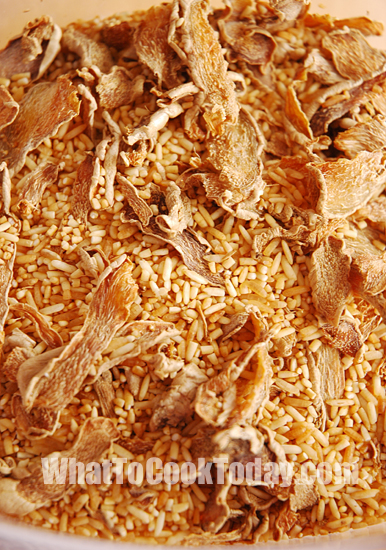 Besides drinking the Black Dates, Ginger, Goji Berry, Longan and Dang Shen Tea, this is another type of drink that I'm having on a daily basis in replace of water. While the Black Dates, Ginger, Goji Berry, Longan and Dang Shen Tea has a sweet taste to it, this tea is basically made "plain" to wash down the taste of sweetness from having Black Dates, Ginger, Goji Berry, Longan and Dang Shen Tea. As you will see in a more recipe to come, ginger is the main ingredient in all the cooking in Confinement diet. It doesn't matter what you cook and what you drink, ginger will be in there. Ginger is even used for bathing during this period. I have to admit though, ginger is very "warming" and the whole idea of Confinement diet is to keep the postnatal body warmed.
This Rice and Ginger Tea or in Hokkian Dialect we called it Bee Teh is made from uncooked jasmine rice and sliced ginger that is being sauteed dry (without any oil) for almost 2 hours and it will reduce in volume. This is usually made in bulk so that you have supply for that one month of confinement period. I enjoy drinking the tea too as a matter of fact. The ginger does give you a sense of warmth.
RICE AND GINGER TEA / BEE TEH (about 30-day supply)
Ingredients
1

lb

uncooked jasmine rice

(500 g)

2

lbs

fresh old ginger (skin on)

(1 kg)
Instructions
Clean and brush the skin of ginger and then sliced thinly

Clean the rice and drain the water completely

It is best to use a wok if you have one, otherwise, a large skillet or pot will work too. Get the wok really hot and then put in the rice and ginger. Lower the heat and then saute for the next 2 hours or so over low heat. It will get lighter and lighter as you saute them

Once it has reduced in volume, turn off the heat and then let it completely cool before store them in an air-tight container. It is very important to let them cool down completely before storing or condensation will form and the ginger and rice may get moldy
How to serve:
When ready to be used, use about 3 tbsp of the rice and ginger mixture and pour about 4 cups of hot water. It is best if you have a thermos for this purpose, to keep it warm. Let it sit for about an hour or so before drinking. Strain it before drinking so you won't bite into the rice granules.