Learn how to make this easy roasted soybean flour (kinako powder). It can be made plain or with some seasonings and herbs to make bubuk koyah kedelai. 


The Chinese New Year has almost come to an end. The Chinese celebrate the new year for fifteen days. On the fifteen-day (cap goh ), the Peranakan people have a tradition of serving lontong cap go meh as part of the celebration. I made lontong cap go meh because my husband has never had it before. It's not a common tradition in our hometown, Medan. So, that's the main reason I made this soy bean flour, so I can serve it with lontong cap go meh and other dishes. The Japanese like to use kinako powder as a topping for many desserts like mochi and wagashi (Japanese sweets). They are also used in baking such as in cookies, cakes, and bread recipe.
VARIETIES
In Indonesia, soybean flour (bubuk koyah) is usually used in savory dishes as the soybean flour itself is also flavored with seasonings and herbs/spices:
Koyah kedelai (Spiced soy powder): made with soybeans. Perfect topping for lontong cap go meh, opor dishes, sayur lodeh, and ketan (glutinous rice/sticky rice).
Koyah kelapa (Spiced coconut powder): made with grated unsweetened coconut and spices. Perfect topping for soto dishes, and also ketan, and lontong cap go meh sometimes use koyah kelapa too. This is similar to serundeng. Koyah kelapa is ground into powder instead.
Koyah kerupuk udang (Spiced prawn crackers powder): made with fried prawn crackers and other spices. Perfect topping or soto or soup, noodle soup dishes.
HOW TO MAKE SOYBEAN FLOUR FROM SCRATCH
1. Rinse the soybeans with clean water and drain off water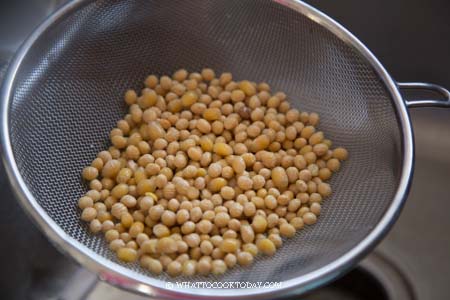 2. Place soybeans on a dry pan. Add kaffir lime leaves, and chili (if using) if you want to make the spiced version or omit if you just want plain soy bean flour (kinako). Cook over medium heat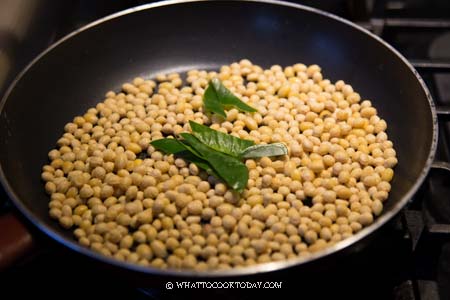 3. Keep stirring to toast them until they are all dry and aromatics, about 10-12 minutes. Remove from the pan and let them cool down completely before blending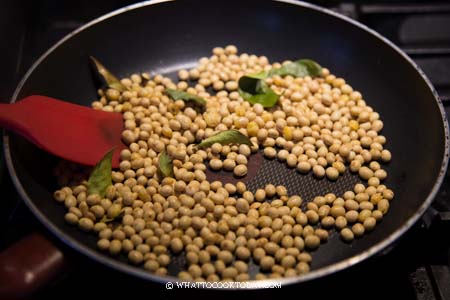 4. Once the toasted ingredients have cooled down, transfer to a blender. Add seasonings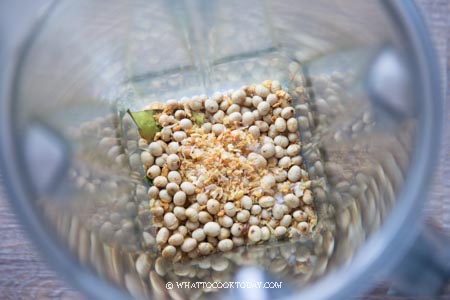 5. Start grinding them on low and then increase the speed to high and blend until it turns into a fine powder. Shown here is just the first round of blending, not as fine yet. I blend it again once more into even finer powder


6. Remove from the blender into a jar. Store in the fridge for up to 3 months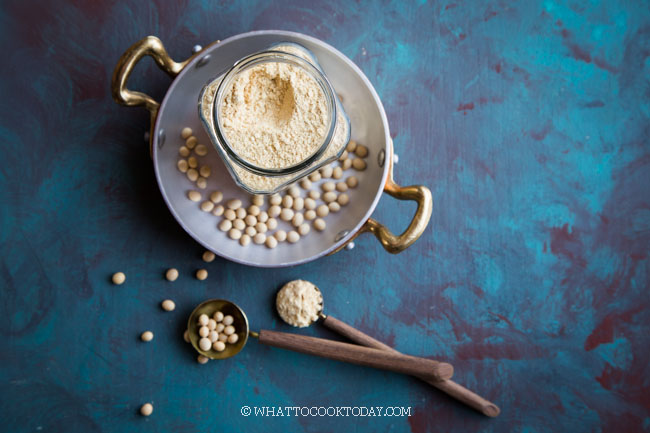 MAKE SURE YOU HAVE A GOOD BLENDER
This soy bean flour is really easy to make as you can see. You DO NEED a powerful blender that can blend things into a fine powder. I've owned this Vitamix blender (not sponsored) for almost 10 years now and it's still going strong and it's a real workhorse!!
THINGS YOU CAN ADD
SPICES AND HERBS: You can add a pinch of turmeric powder, lesser galangal powder, or other aromatic you like.
OTHER INGREDIENT: Some people like to add dried shrimp (ebi) to koyah powder. Simply soak them until soft and then toast them together with the soybeans before blending.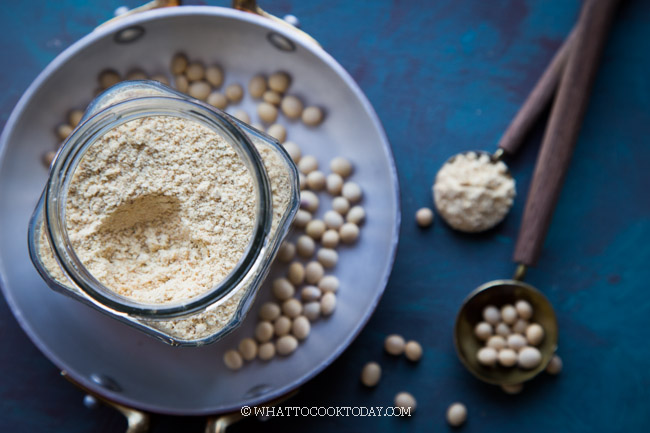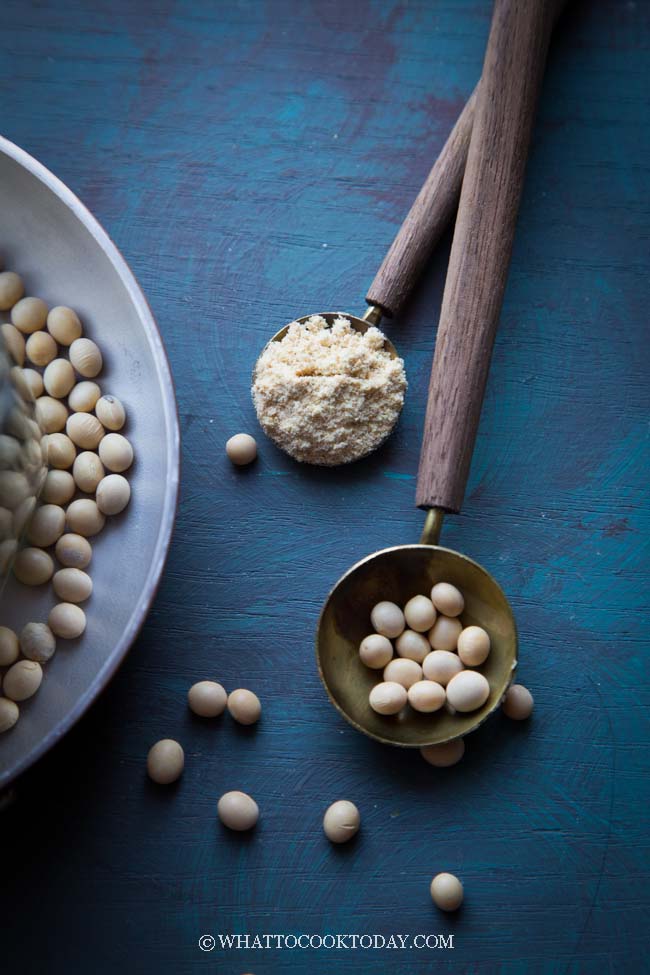 DID YOU MAKE THIS EASY SOYBEAN FLOUR (KINAKO) RECIPE?
I love it when you guys snap a photo and tag to show me what you've made 🙂 Simply tag me @WhatToCookToday #WhatToCookToday on Instagram and I'll be sure to stop by and take a peek for real!

How To Make Roasted Soybean Flour /Kinako Powder (Plain or Spiced)
Ingredients
To make spiced soy bean flour:
3

kaffir lime leaves

remove the middle tough veins

1

Thai chili

optional, thinly sliced

½

tsp

fine white sugar

½

tsp

salt

2

Tbsp

fried garlic flakes

I use store-bought
Instructions
Toast the soybeans:
Rinse the soybeans with clean water and drain off water. Place soybeans on a dry pan. Add kaffir lime leaves, and chili (if using) if you plan to make spiced version. Cook over medium heat. Keep stirring to toast them until they are all dry and aromatics, about 10-12 minutes

Remove from the pan and let them cool down completely before blending
Blend into powder:
Once the toasted ingredients have cooled down, transfer to a blender. Add seasonings. Star grinding them on low and then increase the speed to high and blend until it turns into fine powder

Remove from the blender into a jar. Store in the fridge for up to 3 months
Recommended products: