Crispy and thinly sliced potato chips are coated with aromatic sweet and spicy sambal. This is no ordinary potato chips you have to try!
After making this Kering Kentang last month, I knew I had to make this keripik kentang (potato chips version) of it. My kids and husbands and pretty much anyone who has been exposed to this, can't stop eating it 🙂 It's really good for real!
It's kinda hilarious that my two kiddos actually learned how to eat spicy food because of kering kentang and keripik kentang 🙂 They love them so much that they are willing to put up with the heat. LOL. Of course, I didn't make it super spicy. I actually toned down on the spicyness so that they could try it and I was so glad I did because now, they don't mind eating sambal with their meals! (mission accomplished!)
HOW TO MAKE KERIPIK KENTANG BALADO
1. THINLY SLICE THE POTATOES AND SOAK IN WATER
Use a mandoline slicer to cut the potatoes thinly and then soak in cold water for at least 2 hours. You can do it overnight too if you plan ahead. Drain all water and pat the potato slices dry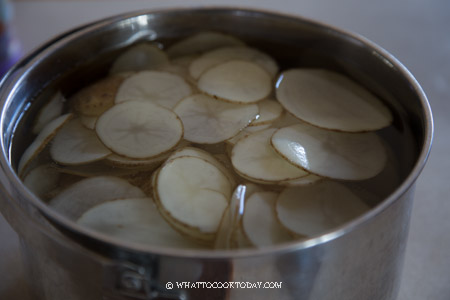 2. FRY THE POTATOES
Heat the oil to high and then lower to medium when ready to fry the potatoes. Fry in small batches until golden brown and crispy and place on the absorbent paper towel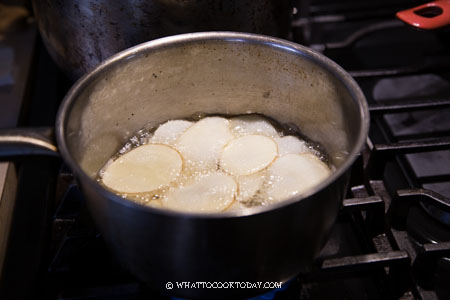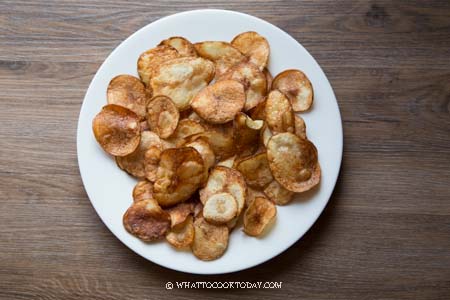 3. MAKE THE SAMBAL
Place all ingredients for sambal in a bowl, except for kaffir lime leaves and bay leaves.
Preheat 1 Tbsp of cooking oil in a large pan/wok. Add the kaffir lime leaves and sliced Thai chili (if using)and fry briefly, about 10 seconds or so.


Add the rest of the ingredients above, bay leaves and cook until the sauce thickens to a syrup consistency


Add the fried potatoes into the sauce and turn off the heat. Stir to make sure the sauce is coating the potatoes.


Transfer to a serving bowl and let them cool down completely and then serve

IMPORTANT TIPS YOU NEED TO KNOW
1. USE MANDOLINE SLICER
I highly recommend using a mandoline slicer to slice the potatoes thinly. The potatoes need to be thin so they are crispy. They will also have equal thickness and roughly the same size and this is important so that your keripik will cook at roughly the same time. If you don't have one already, I recommend to look into this one.
2. PREPARE IN A SMALL BATCH
Once you toss the keripik kentang with the sambal, they keripik will gradually get soggy, especially after the next day. I highly recommend to fry the keripik in a big batch (refer to "keripik kentang balado can be made ahead" below) and only prepare the sambal the day you want to serve it. This will ensure that your keripik kentang balado stays crispy. They will stay crispy for one full day (depending on how humid it is too)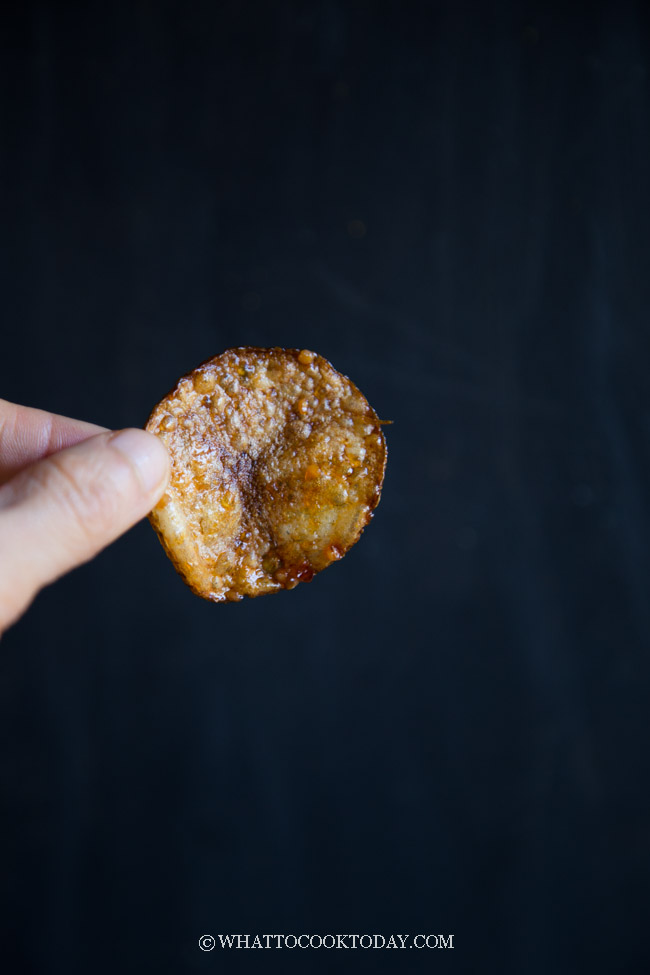 KERIPIK KENTANG BALADO CAN BE MADE AHEAD
This keripik kentang will stay crispy for one whole day but will continue to get soggy the next day. Here's what you can do to prep ahead and have keripik kentang anytime you want to.
1. FRY THE KERIPIK AHEAD OF TIME AND STORE
Fry the potatoes as instructed above or in the recipe card and then let them cool down completely and store in an air-tight ziplock bag or container. They won't stay crispy after the next day, but don't worry. Read on.
2. RE-CRISP THE KERIPIK
Only get the portion you want to serve. You can use air fryer or preheated oven or toaster oven to crisp the keripik again at 350 F for 5 minutes or until they are crispy on the day you want to serve them.
3. MAKE THE SAMBAL THE SAME DAY YOU WANT TO SERVE THEM
Once you have crisped up the keripik, make the sambal as instructed above or in the recipe.
4. TOSS THEM TOGETHER
Toss the keripik in the sambal you just made and you are good to go.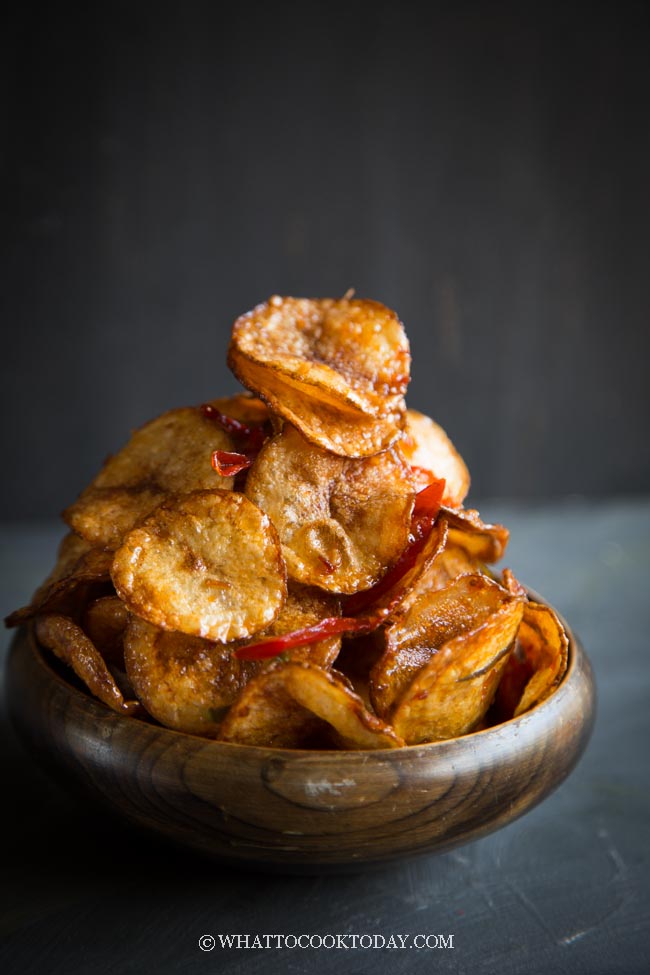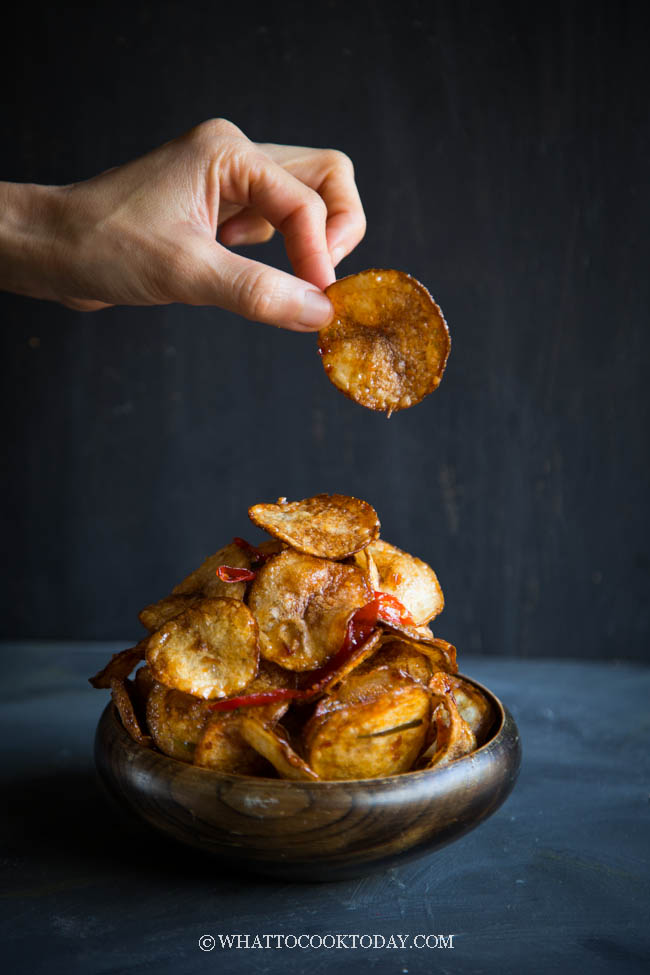 DID YOU MAKE THIS KERIPIK KENTANG BALADO RECIPE?
I love it when you guys snap a photo and tag to show me what you've made 🙂 Simply tag me @WhatToCookToday #WhatToCookToday on Instagram and I'll be sure to stop by and take a peek for real!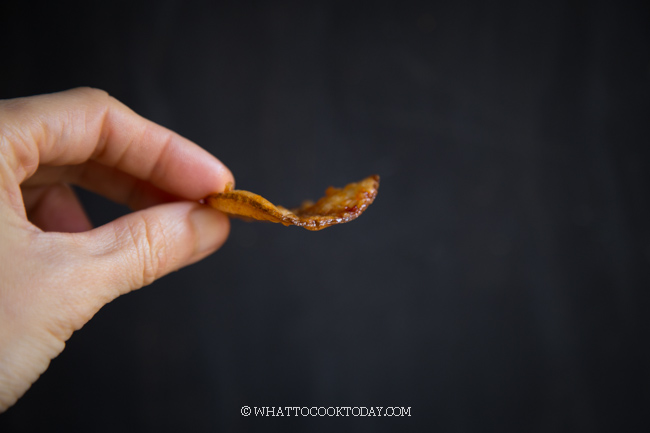 Keripik Kentang Balado (Crispy Sambal Potato Chips)
Ingredients
500

gr

potatoes Choose less waxy potatoes like Russet

Cooking oil to fry potatoes
Instructions
Cut and soak potatoes
You can choose to peel or not to peel the potato. I wash and scrub the skin real clean and leave the peel on. Use a mandoline slicer to cut the potatoes into thin slice chips. I do not recommend cutting them manually as the thickness will not be the same and that affects the cooking time

Soak the potato slices in fresh cold water for at least 2 hours (overnight is fine too) and then drain off all the water and starch that leaks out. Do not skip the soaking part

Use an absorbent paper towel and pat the potatoes dry
Fry the potatoes:
Preheat about 1 1/2-inches of cooking oil over high heat. When you dip a chopstick into a oil and it bubbles around the chopstick, the oil is ready. Or you can just put one piece of potato in there and if it bubbles and floats, the oil is ready. Lower the heat to medium

You need to fry the potatoes in 3-4 batches. DO NOT dump all at one go. Place the first batch in and fry until the potatoes are crispy and golden brown. Remove to an absorbent paper towel. Continue frying the next batch until you run out of the sliced potatoes
Make the sambal:
Place all ingredients for sambal in a bowl, except for kaffir lime leaves and bay leaves

Preheat 1 Tbsp of cooking oil in a large pan/wok. Add the kaffir lime leaves and fry briefly, about 10 seconds or so. Add the rest of the ingredients above, bay leaves and cook until the sauce thickens to a syrup consistency

Add the fried potatoes into the sauce and turn off the heat. Stir to make sure the sauce is coating the potatoes. Transfer to a serving bowl

They are best served on the same day as they stay crispy for one whole day. The next day, they will get significantly soggy, which is normal as the moisture from the sauce continues to soften the potatoes
Recommended products:
You might also like the match stick version (kering kentang korek api)