Learn how to make this delicious Balinese style salad with this easy no-fuss recipe packed with an amazing flavor.
BALI VERSION OF URAP (URAB)
I made this Javanese popular urap sayur a while ago. The Balinese lawar is very similar to urab. The grated coconut and the spices used are almost the similar, though I actually used more spices in this lawar ayam.
WHAT IS LAWAR?
Lawar means finely minced meat and spices. Unlike the Javanese urap that usually only consists of fresh and cooked vegetables, lawar usually is made with animal protein like chicken, duck, pork, beef, and turtle. Blood from chicken and pork is sometimes added to the spices for extra flavor. For vegetarian lawar, meat can be omit and some even use green jackfruit (nangka) instead.
TRADITIONAL LAWAR VS THIS EASY LAWAR
1. LOTS OF CHOPPING
The effort of making lawar goes into all the chopping and mincing the meat and vegetables. The Balinese, usually men, like to gather together to make lawar. They chit chat while busy chopping and mincing at the same time. It sure makes it more fun and makes you forget about all those intense chopping! Lucky for us that nowadays, we can ground our meat easily using a food processor or better, buy the ground meat instead!
2. MEAT IS COOKED IN BANANA LEAVES
The meat is usually wrapped in banana leaves and then steamed to impart that banana leaves flavor on the leaves. I find stir-frying is easier and I know many people who don't live in Asia (like myself) don't always have access to banana leaves
3. USE OF FRESH ANIMAL BLOOD
Lawar is usually mixed with animal blood, though many prefer not to include blood. This recipe doesn't use blood
HOW TO MAKE CHICKEN LAWAR
1. BLANCH THE MUNG BEAN SPROUTS
Bring a medium pot of water to a boil. Add the mung bean sprouts into the boiling water and turn off the heat. Let them sit in the boiling


2. COOK THE CHICKEN AND VEGETABLES
Use about 1 Tbsp of cooking oil and stir fry the meat until they are cooked through, remove from the pan and set aside


Add another one tablespoon of oil and stir fry the ground ingredients until really fragrant, about 3-4 minutes


Add the finely chopped beans and stir fry for about 2-3 minutes or slightly longer. They should still be crunchy but doesn't taste "green" anymore


Add the grated coconut and stir fry for another 2 minutes


Add the chicken meat and blanched mung bean sprouts followed by seasonings. Stir to mix everything.


3. SERVE
Garnish with bawang goreng and give it a final stir to mix everything. Have a taste. Add more salt if necessary. Transfer to a serving platter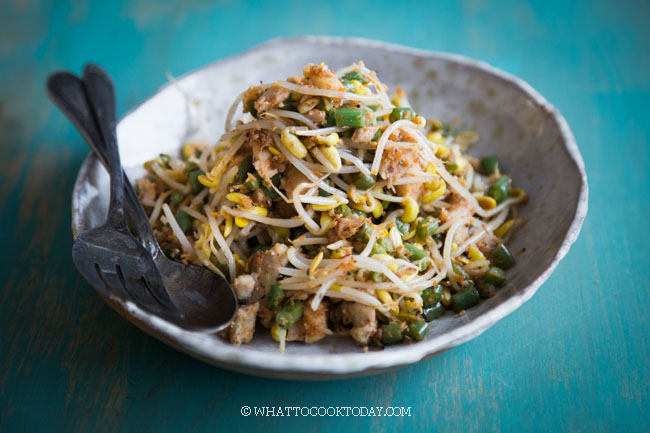 VARIATIONS
Use different meat: Ground pork, ground duck, ground turkey, ground beef
Vegetarian lawar: use boiled green jack fruit and then shred, or simply omit the chicken and shrimp paste in the recipe
My kids enjoy this lawar ayam too. I didn't make it too spicy. They don't mind a bit of heat in their food and it seems like their tolerance for spicy food continues to increase 😉 In fact, my youngest love to have a bit of sambal oelek with his food! He's becoming more and more like me, who can't eat without some sort of sambal with every meal!
DID YOU MAKE THIS EASY LAWAR AYAM RECIPE?
I love it when you guys snap a photo and tag to show me what you've made 🙂 Simply tag me @WhatToCookToday #WhatToCookToday on Instagram and I'll be sure to stop by and take a peek for real!
OTHER BALINESE FOOD YOU MIGHT LIKE
Urap Sayur (Salad with Spiced Grated Coconut Topping)
Ayam Betutu Bali (Balinese Spiced Chicken)
Easy Sambal Matah Bali (Balinese Raw Sambal)
Ayam Suwir Pedas Bali (Ayam Sisit Bali)
Sate Lilit Bali (Minced Meat Satay)
Bubur Ketan Hitam / Bubur Injin Pressure Cooker (Black Sticky Rice Dessert)


Recipe is inspired by The Food of Bali cookbook with some changes of my own.
How To Make Lawar Ayam (Balinese Long Bean Coconut Chicken Salad)
Ingredients
300

gr

chicken thigh

100

gr

long beans (snake beans)

or sub with green beans

100

gr

mung bean sprouts

150

gr

unsweetened grated coconut

2

Tbsp

cooking oil

divided
Ground ingredients:
1

Tbsp

sambal oelek

2

Thai chili

for extra heat, optional

1

Tbsp

shrimp paste

4

cloves

garlic

5

shallots

1

tsp

coriander seeds

or use 1 Tbsp coriander powder

2

inch

galangal root

or use 1 Tbsp galangal powder

2

inch

kencur (lesser galangal)

or use 1 tsp kencur powder, omit if you don't have any
Seasonings:
1

Tbsp

coconut sugar

¼

tsp

ground black pepper

1

Tbsp

lime juice

Salt to taste
Aromatics:
30

gr

bawang goreng

1

bay leaf

or use 2 dried bay leaves
Instructions
Things to prepare:
Bring a medium pot of water to a boil. Add the mung bean sprouts into the boiling water and turn off the heat. Let them sit in the boiling water for about 3 minutes. Discard the water and refresh the bean sprouts with cold water. Set aside
Prepare the ground ingredients:
Put everything for ground ingredients in a blender and process into a paste. Set aside
Cook the chicken and veggies:
You can finely mince the chicken meat. Use about 1 Tbsp of cooking oil and stir fry the meat until they are cooked through, remove from the pan and set aside

Add another one tablespoon of oil and stir fry the ground ingredients until really fragrant, about 3-4 minutes. Add the finely chopped beans and stir fry for about 2-3 minutes or slightly longer. They should still be crunchy but doesn't taste "green" anymore. Add the grated coconut and stir fry for another 2 minutes

Add the chicken meat and blanched mung bean sprouts followed by seasonings. Stir to mix everything. Turn off the heat
Serve:
Garnish with bawang goreng and give it a final stir to mix everything. Have a taste. Add more salt if necessary. Transfer to a serving platter