Learn how to make bubur ketan hitam (bubur injin )conveniently with pressure cooker without having to soak the glutinous rice. So creamy, gooey, and delicious. Instruction for cooking on the stove is included too.
DELICIOUS CREAMY BUBUR KETAN HITAM
Bubur ketan hitam is also known as bubur pulut hitam or bubur injin in Bali. Ketan or Pulut means glutinous rice. Hitam means black and so the English translation black glutinous rice. Black glutinous rice is one of the popular ingredients used in the dessert in Southeast Asia such as: kue koci gula kelapa and Coconut Black Sticky Rice with White Chocolate Mousse I made a while ago.
BLACK GLUTINOUS RICE (KETAN HITAM/PULUT HITAM)
Despite being called black glutinous rice, the rice grains actually have a purple hue to them after cooking. Black glutinous rice is also known as black sticky rice or black sweet rice. Don't be mistaken with black forbidden rice or wild rice. Black glutinous rice is sticky, and gooey after being cooked. I like the sweet mild aroma of black glutinous rice. I find it very aromatic!
HEALTH BENEFITS OF BLACK GLUTINOUS RICE
1. Fiber
Black glutinous rice is unprocessed and it is high in fiber. As we know fiber helps to lower blood cholesterol and improve blood sugar level.
2. Unprocessed
Because it is unprocessed, it retains vitamins and minerals, and also high in anthocyanin, a pigment that gives is purplish hue color after cooking.
WHY YOU WILL LIKE THIS BUBUR KETAN HITAM RECIPE
1. SIMPLE
Making bubur ketan hitam is never a complicated business. All you need are black glutinous rice, sugar, coconut milk, and pandan leaves if you have some.
2. NO SOAKING REQUIRED FOR PRESSURE COOKER
I love making bubur ketan with pressure cooker. The cooking time is not necessarily short, but I like that I don't have to stir or add water (like the case in boiling on stove-top). It's convenient.
3. NO-COOK COCONUT SAUCE
In the past, I usually heat the coconut milk until warm, but I've learned in recent years that coconut milk/cream retains its health benefit when you don't expose them to heat, just like why cold-pressed coconut oil is good. So, any chance I have, I try not to expose them to the heat and usually when you boil the coconut milk, they "break" and turn frothy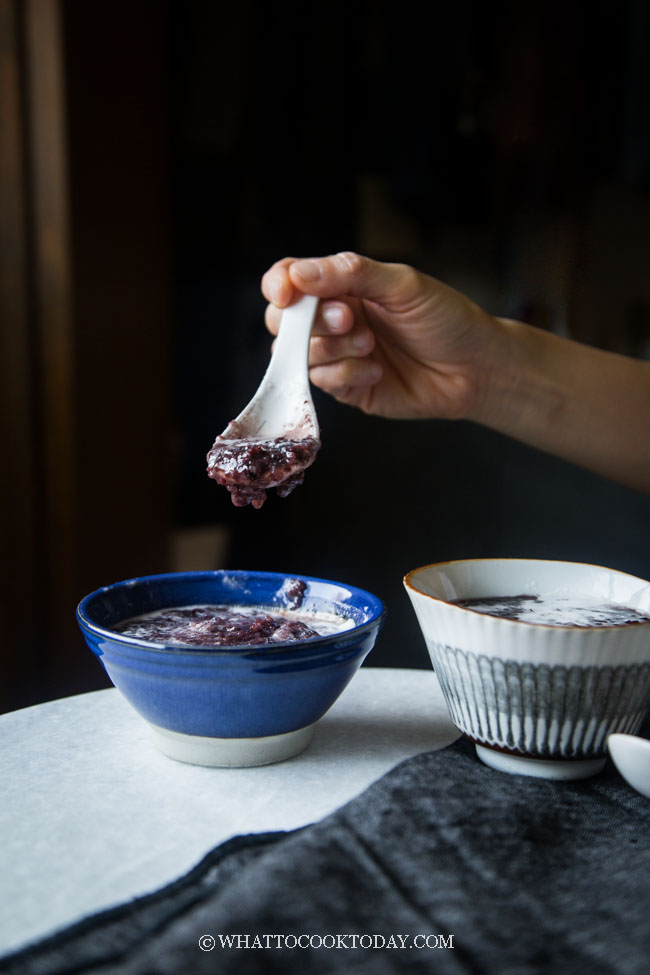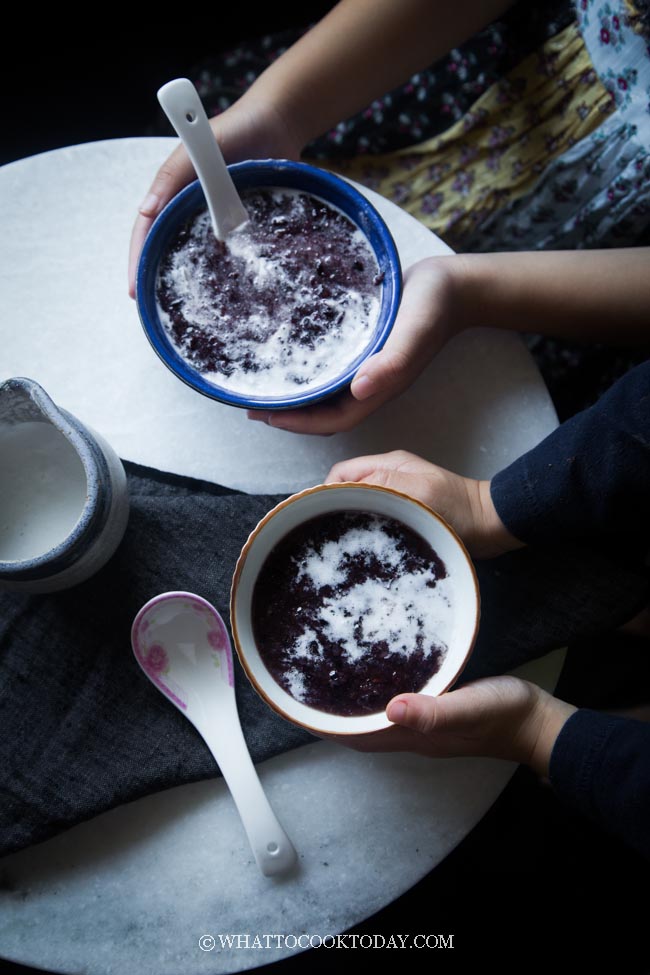 VARIETIES YOU CAN DO WITH BUBUR KETAN HITAM
You can add the following beans to bubur ketan:
1. Mung beans
2. Red beans/adzuki beans
You can do half half: 100 gr beans and 100 gr black glutinous rice. If cooking on stove top, just soak the beans together with the rice and then cook them together after that. No soaking is required if cooking with pressure cooker.
Don't underestimate the humble look of bubur ketan hitam. There is nothing fancy about its look. This dessert is loved by many in Southeast Asia, including me. Bubur ketan hitam is so soft, gooey, and topped with that slightly salty coconut cream and I'm willing to go into a food coma for this! No kidding!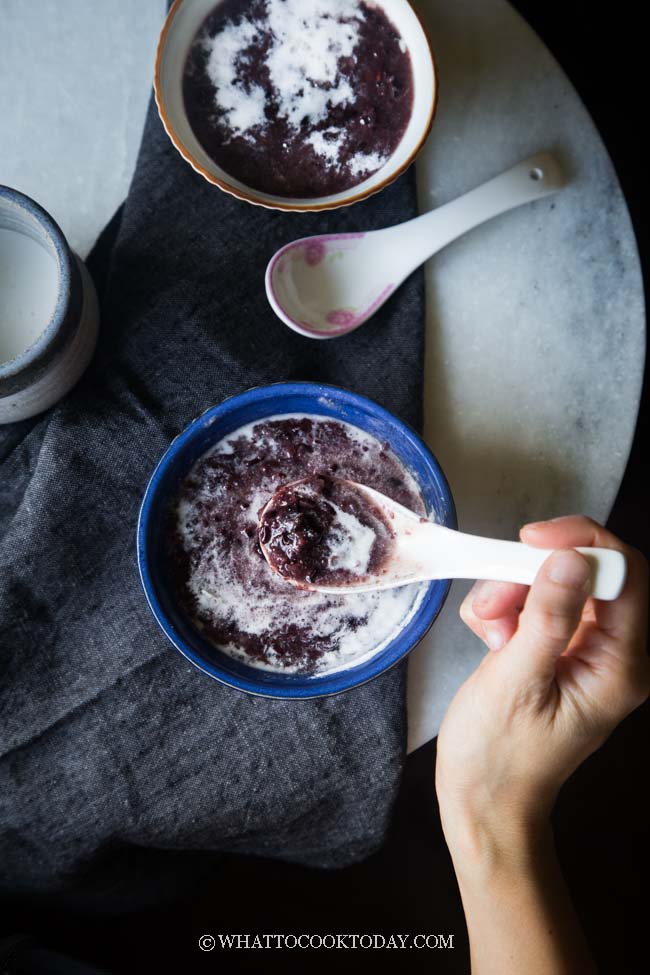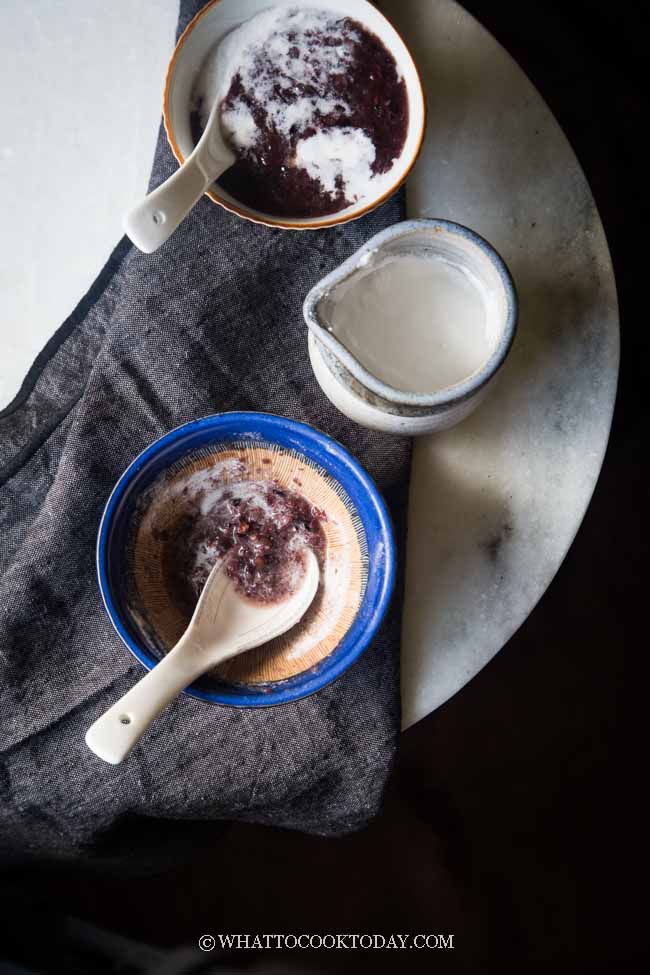 *Recipe is written for 6-quart Instant Pot. Cooking time should remain the same for 8-quart size but will take longer to pressurize. For mini duo (3-quart), I recommend to half the recipe and use the same amount of time to cook*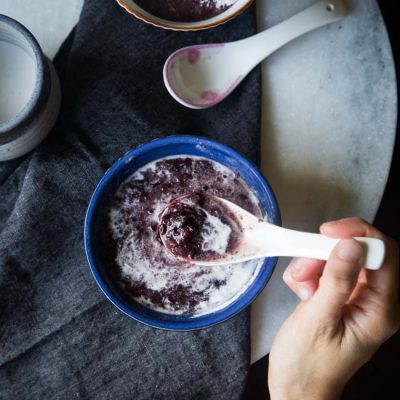 Learn how to make bubur ketan hitam conveniently with pressure cooker without having to soak the glutinous rice. So creamy, gooey, and delicious
For baking/ kueh making: I highly encourage to weigh ingredients with a digital kitchen scale instead of using measuring cups as they are not very accurate especially when it comes to recipe that requires precision.
GRAMS TO CUPS CONVERSION (UNSIFTED)
INGREDIENTS
200

gr

Black glutinous rice/Sticky Rice/Sweet Rice

150

gr

Coconut sugar/Palm sugar

-

or more if you like it sweeter

1000

ml

water

-

You will need to add about 1500 ml of water if cooking on the stove

3

pandan leaves

-

knotted
Coconut sauce:
1

cup

coconut cream -

if using canned, shake before opening

1/4

tsp

salt
INSTRUCTIONS
Cooking on the stove:
Rinse the black glutinous rice briefly with a water and drain off water. In a big pot, soak the black glutinous rice overnight (at least 4 hours) with 2000 ml of water

Cook the black glutinous rice with the soaking water. Bring it to a boil and then add pandan leaves. Lower the heat to medium and simmer until the black glutinous rice is broken, soft, and gooey. You may need to add water if the water dries up before the glutinous rice turns soft and gooey and has the thick porridge consistency

Stir in the coconut sugar and have a taste and add more to your taste
Cooking with Instant Pot Pressure Cooker:
Rinse the black glutinous rice briefly with a water and drain off water

Put the rice in the inner pot of Instant Pot. Add sugar, pandan leaves, and water. Give it a stir. Close the lid. Turn the steam release valve to seal. Press "pressure cooker" and make sure it's on "high pressure" and set the timer to 1 hour 15 minutes for that soft gooey texture. When the timer is done, wait 10 minutes and release pressure
Coconut sauce:
Mix the coconut sauce with salt. Stir to mix. You have an option to serve the coconut sauce without cooking (I like it this way now when I have an option not to expose the coconut to any heat) or you can just let it come to a gently simmer until it's warm and remove from the heat
Serving:
The bubur ketan hitam can be served warm or room temperature. Generously ladle some coconut sauce over the bubur and serve immediately