Now you can easily make tender chicken or turkey gizzards with your electric pressure cooker.
Some people consider offals like chicken gizzards and hearts as nasty bits 🙂 They are usually the "Unwanted". All these nasty bits including kidney, beef tripe, livers are popular in Asia. My mom cooked them often when we were kids. That's probably how I got used to this.
WHAT ARE GIZZARDS?
Gizzards are like the second stomach in many birds. They are pretty muscular and it helps to breakdown seeds and other tough foods. It's like a grinder for the birds.
WHY I LIKE GIZZARDS
1. INEXPENSIVE
One pound of the mixture of chicken gizzards and hearts (mostly gizzards) only cost me less than $2.50.
2. NUTRITIOUS
They are low in calories, high in protein, low in fat, and zero carbs
3.5 oz of  gizzards has about 95 calories, 5 grams of protein, 0.6 grams of fat, 0 carbs,
3. TASTY (really?) Really!
They don't really taste like chicken. It's like meat with a firm texture. When you properly cook them they are not tough or chewy. When they are tough and chewy, they aren't cooked long enough yet
HOW TO CLEAN GIZZARDS
There isn't much you need to do to clean chicken gizzards. Here's how:
1. For large size gizzards like turkey, cut the gizzards in half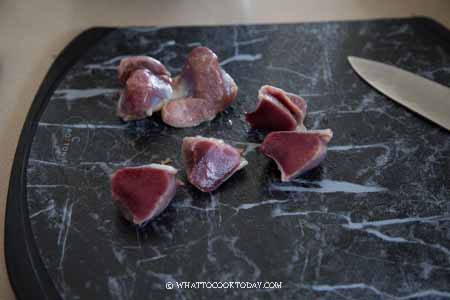 2. Rinse with water to get rid of any sediments or tough seeds you may see
3. If you see any yellowish membrane on the outside, simply cut or peel it off and remove it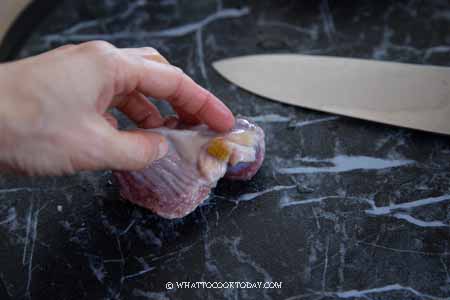 4. Trim off any excess lining (whitish in color) or fat if you see any with kitchen shears
BOILING VS PRESSURE COOKING GIZZARDS
Boiling chicken gizzards on the stove takes a long time, 45 minutes or 1 hour (sometimes longer). Using an electric pressure cooker like Instant Pot makes the gizzards tender in 25 minutes (cooking time), about 15 minutes total (to pressurize and depressurize). It may not necessarily shorter in time, but it's way convenient and I can set and forget.
HOW TO COOK GIZZARDS IN INSTANT POT PRESSURE COOKER
1. After cleaning the gizzards, place them in the inner pot of Instant Pot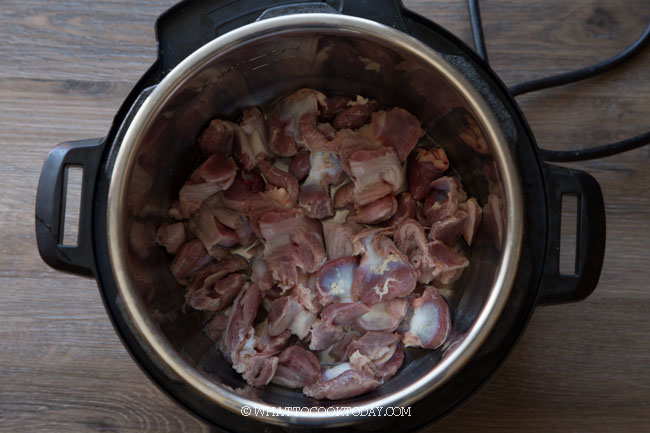 2. Pour in 1 cup of water or chicken stock (or use more if you plan to make a soup). Season with a bit of salt or spices/herbs of your choice if you like
3. Close the lid and turn the steam release valve to "sealing"
4. Press "pressure cooker" and make sure it's on high pressure and set the timer to 25 minutes
5. When it's done, let it depressurized naturally, about 10 minutes
6. The gizzards are fully cooked and ready to be used in your other recipes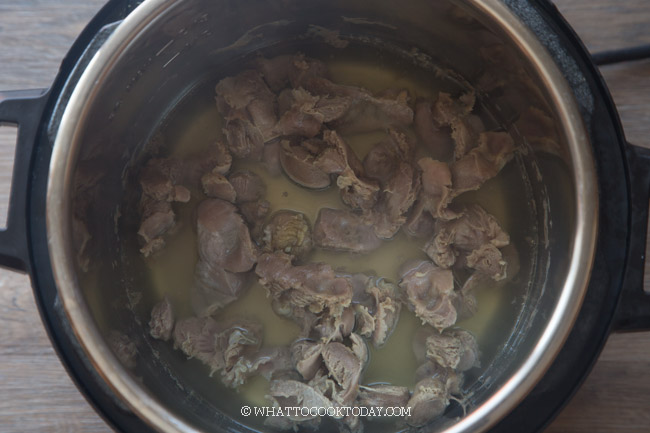 RECIPE IDEAS
My mom used to make Indonesian Potato Sambal with Liver and Gizzards
You can also use them in noodle soup like this Duck Noodle Soup (Ak Bihun)
You can also include them in a braised pork recipe like this braised pork in soy sauce recipe
You can also use this crispy batter recipe to coat the pre-cooked gizzards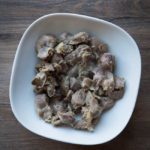 How To Pressure Cook Chicken Gizzards
Ingredients
1

lb

chicken gizzards

sometimes come with hearts too

1

cup

water or chicken broth

more if you want to make it into soup
Instructions
After cleaning the gizzards, place them in the inner pot of Instant Pot. Pour in 1 cup of water or chicken stock (or more if you want to make it into soup). Season with a bit of salt or spices/herbs of your choice if you like

Close the lid and turn the steam release valve to "sealing". Press "pressure cooker" and make sure it's on high pressure and set the timer to 25 minutes. When it's done, let it depressurized naturally, about 10 minutes. The gizzards are fully cooked and ready to be used in your other recipes
Recommended products: