Kuih Seri Muka or Kueh Salat is popular Malaysian nyonya kueh made with pressed sticky rice layered with coconut egg custard flavored with pandan. Also tips on how to get a smooth surface. You will love this recipe as the rice is moist yet sturdy and the custard layer is simply decadent.
TRADITIONAL NYONYA KUEH
My dad absolutely succumbed to nyonya kue like this. They were his favorite afternoon tea snacks. I can probably say that I don't have a major sweet tooth issue, but I absolutely love kue kue like he did. This kuih seri muka is one of my favorites. Seri Muka means pretty face in Malaysian language. I can tell you that the combination of sticky rice and coconut egg custard is just out of this world. But again, I have a Southeast Asian tongue 🙂 Many of my American friends have never tasted coconut milk with eggs combination (or even coconut milk!) In fact, they think it sounds really weird. There's a saying in Indonesian language "Tak kenal maka tak sayang" which means "If you don't know it, you won't love it". I think it's true!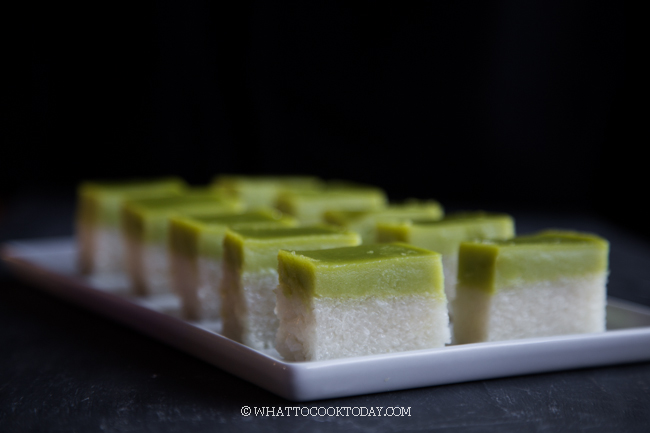 HOW TO MAKE REALLY GOOD SERI MUKA
A. PREPARE AND COOK THE RICE (BOTTOM LAYER)
1. Soak glutinous rice for at least 4 hours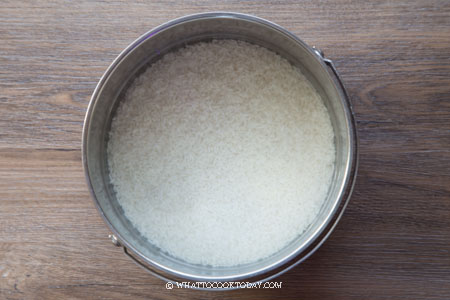 2. Mix this with coconut milk, water, and salt and stir to mix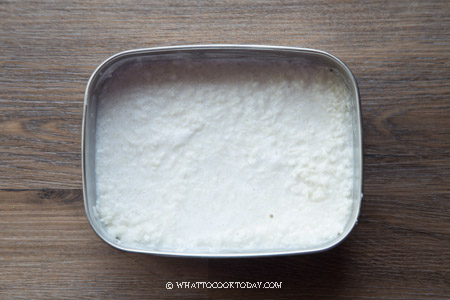 3. Steam the rice over high heat for 25-30 minutes or until the rice is soft and fluffy


4. Oil the pan on all sides. Line a parchment paper on the bottom of the pan (cut to size). Line a parchment paper on top and gently press down on the rice to really pack it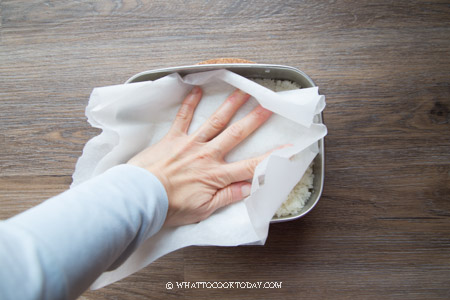 5. This is how it looks like after being pressed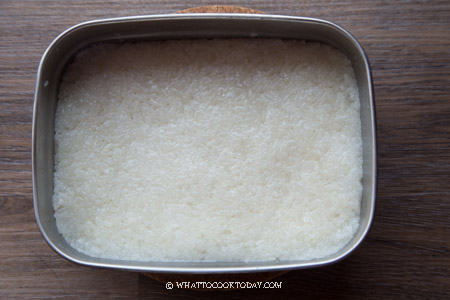 B. MAKE THE PANDAN COCONUT EGG CUSTARD (TOP LAYER)
1. Whisk the eggs with sugar


2. Gradually add in coconut milk and pandan juice and whisk to mix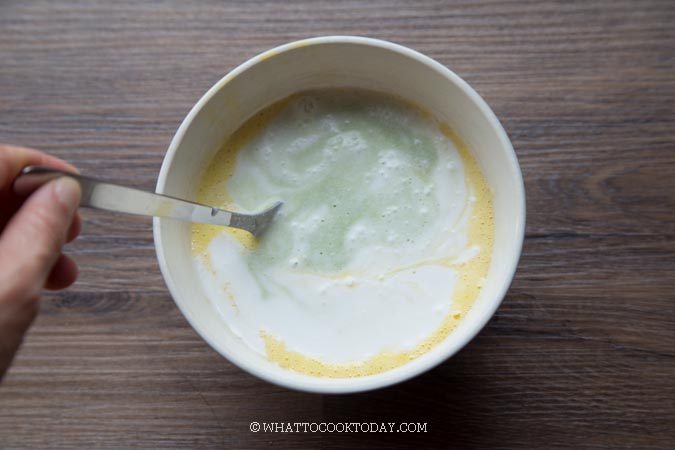 3. Add both sifted all-purpose and tapioca flour. Stir to mix. The mixture will be lumpy


4. Strain the custard mixture with strainer. Do not skip this step or the surface will not be smooth when you steam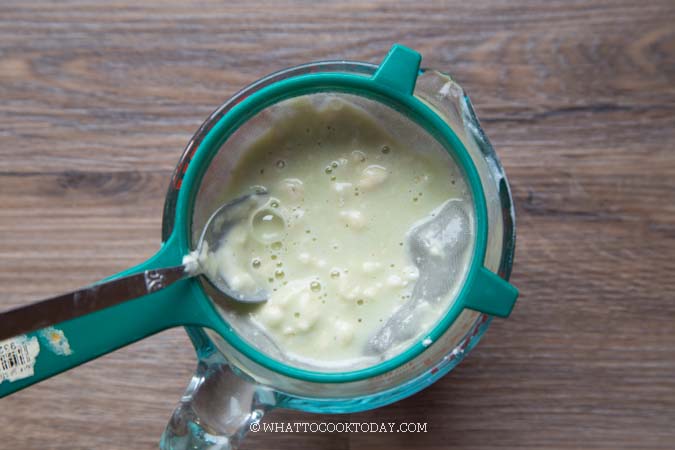 5. Cook the custard mixture over low heat. Do not be tempted to crank up the heat


6. Continue to stir until the mixture is thick enough to coat the back of the spoon but still pourable


C. STEAMING THE KUEH
1. Prepare steamer by bringing water to a boil. Place the sticky rice inside the steamer. Gently pour in the custard to avoid any air bubbles


2. Place two long chopsticks on top as shown below


3. Cover with a lid (wrapped with cloth). So there's a gap between the lid and the steamer. This is to allow vapor to escape and helps to create that smooth surface


4. Steam for 30-45 minutes over medium heat until the custard is set. Insert a toothpick into a middle and if it comes out clean, the kueh is done.

Look at this below I made several years ago. Blistered surface because I did not wrap the lid with a cloth and water condensation dropped on top of the custard creating this ugly uneven surface. Still tasted good, but just bumpy surface 🙁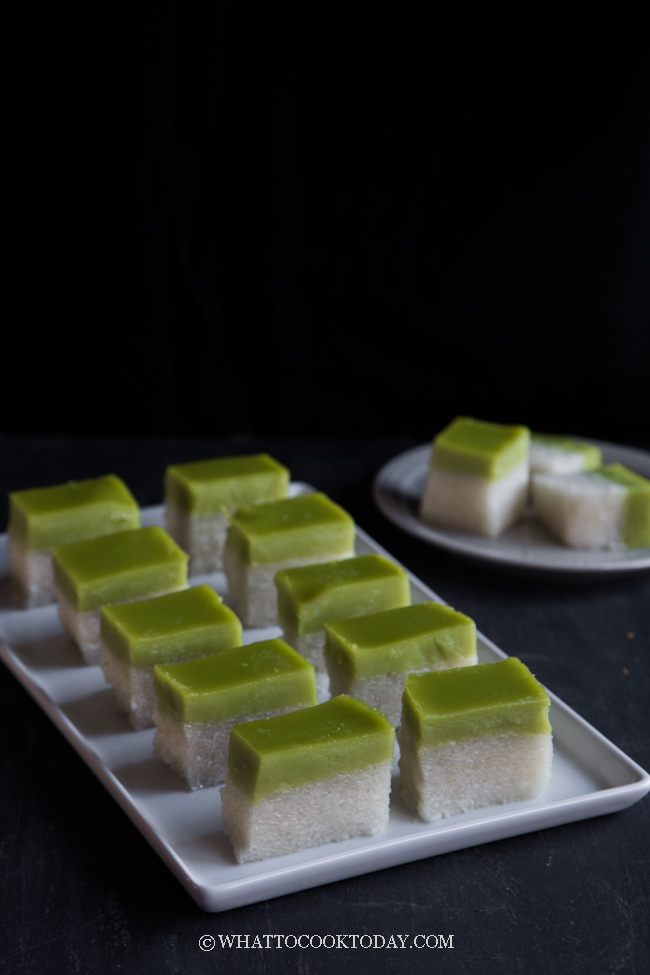 TOP TIPS YOU NEED TO KNOW TO GET A SMOOTH SURFACE ON SERI MUKA
1. Strain the custard mixture to remove any lumps. Failure to do so will create an uneven surface
2. Gently pour the custard onto the rice. We are trying to minimize air bubbles. If you spot any, break the bubbles with toothpicks, otherwise, those bubbles will make uneven surface later
3. Wrap the lid with a cloth. This is very crucial or water condensation will drip back to your seri muka and creates those ugly blisters
4. Do not close the lid entirely. We need to create a gap to allow steam to escape. This step also helps to create a smooth surface
5. Steam over medium heat. Vigorous high heat will create uneven surface too
Seri muka is not difficult to make once you know the above tips.

We love the soft sticky rice underneath with just a hint of saltiness and the soft and slightly bouncy and lightly sweetened pandan coconut egg custard on top. What a perfect pair!
*This post has been updated with new photos and recipe is modified for improvement and to include cooking method for rice using electric pressure cooker*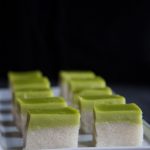 Kuih Seri Muka / Kueh Salat (with smooth surface)
Ingredients
Bottom layer - if using the stove to cook the sticky rice cake:
Bottom layer - If using an electric pressure cooker to cook sticky rice:
Top layer - Coconut pandan egg custard:
Instructions
Cooking sticky rice with a steamer:
Soak the rice for at least 4 hours or overnight in water

Drain the water you use to soak the sticky rice. Place the sticky rice in a tray. Pour in the coconut milk and salt and stir to mix. Place this in a steamer and steam on high heat for about 25-30 minutes or until cooked through and soft. Remove from the steamer. Refill water in the steamer if necessary and get it ready to steam the cake again later. Wrap the lid of the steamer with a cloth to prevent water dripping back on the cake, which will make the surface of the cake not smooth
Cooking sticky rice with Instant Pot pressure cooker:
No need to soak the rice. Place all the ingredients for the rice (bottom layer) in a pan that is at least 3-inch height and can fit in your instant pot. Stir to mix and make sure the rice is covered by liquid. Pour 1 cup of water into the inner pot of the instant pot. Put a trivet in and place the pan with rice on top. Close the lid. Turn the steam release valve to "sealing". Press "pressure cooker" and make sure it's on "high pressure". Set timer to 30 minutes. Wait 10 minutes and then fully release pressure
Pressing the rice cake:
Grab an 8x8-inch square tray or 9-inch round tray and brush with some oil on the bottoms and all sides. Cut a parchment paper to line the bottom of the pan. This will make your life easier when you try to remove cake from the pan. Transfer the sticky rice to the tray. Cover with a piece of parchment paper and really use your palms to pack the rice down so your cake won't fall apart when you cut it
Preparing the top layer:
Place the eggs and sugar in a large mixing bowl. Use a balloon whisk and whisk until the sugar melted. I find it easier when you do it this way first. Add the coconut milk, pandan juice and stir again to mix. Add in all-purpose flour and tapioca flour. Stir until the mixture is smooth.

Strain this mixture again into a large saucepan to catch any lumps. Cook this over low heat and stir until the mixture can coat the back of the spoon. May take about 15-20 minutes. Don't be tempted to crank the heat up as the custard will be lumpy later. Remove from the heat and continue stirring few more times. If the custard happens to be lumpy, you can use an immersion blender or blender to smooth it. This will ensure you have a smooth top

Transfer the mixture to a cup with a spout. I find it easier to pour. Pour this mixture gently to avoid any bubbles over the pressed rice cake. Place two long chopsticks on top but more at the sides (to prevent water condensation from collecting on the chopsticks dripping back to the cake, it happened to me before). 
Steaming the cake:
Place the lid (wrapped with cloth) on top of the chopsticks, this creates some gap to allow some steam to escape. Steam on medium heat for the next 30-45 minutes or until the top layer is no longer "jiggly". Carefully remove the lid and chopsticks and remove the cake from the steamer and let it cool down completely before cutting, about 4 hours or so

Loosen the edge with an oiled knife or plastic knife and then gently transfer the kueh out from the pan and cut to desired size
Recommended products: