Fish are cooked in tamarind juice and aromatic spices and herbs. It's a popular fish stew in Southeast Asia known for its sour and spicy taste profile.

What is asam pedas ?
Asam can refer to tamarind or as an adjective to describe sourness/tartness or something acidic. Pedas means hot spicy. In Indonesia, when you mention asam pedas, usually it involves seafood, more often than not, fish. In Minangkabau, asam pedas is known as asam padeh. Asam pedas is originated in West Sumatra but has spreaded to Borneo and the Malay peninsula. Asam pedas ikan is also very popular in Malaysia, Singapore, and Thailand.
My version of asam pedas
My version of asam pedas is more of a fusion of Padang and Malay asam pedas. Each region may have a slightly different version when it comes to spices and herbs. Some asam pedas recipes, such as the one in Malaysia, use shrimp paste, bunga kantan (torch ginger buds), daun kesum (Vietnamese coriander), and other herbs. Padang-style usually doesn't use these herbs. Herbs such as kaffir lime leaves and bay leaves are usually used in Padang recipe. Most Padang-style asam pedas also uses asam kandis/asam keping/asam gelugur (dried asam fruit), which lends its sour note similar to the one of tamarind. The types of vegetable uses in Malay versions are usually okra/ladyfingers/brinjal. In Indonesia, snake beans/long beans are more often used and sometimes no vegetables are used. My version uses tamarind juice, which is easier to find here than asam kandis and also uses okra.

What type of fish or seafood to use for asam pedas
Ikan tongkol (mackerel tuna) is often used to cook asam pedas in Indonesia. However, you can use other fish such as ikan tenggiri (mackerel), milkfish (ikan bandeng), red snapper, seabass, catfish (ikan patin), stingray. Asam pedas is also suitable for other seafood such as squid, cuttlefish
How to cook asam pedas/asam padeh ikan
1. Rub the fish with 1/2 tsp of salt and set aside to let them marinate when you prepare other things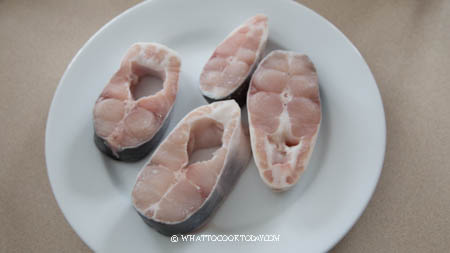 2. Put 1/2 cup of seedless tamarind block in a large bowl. Pour 1 cup of warm water and let it soak for 10 minutes while you prepare other things. Then strain out the juice and discard the pulp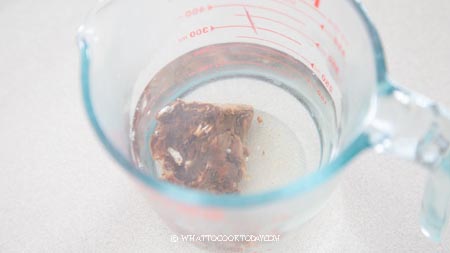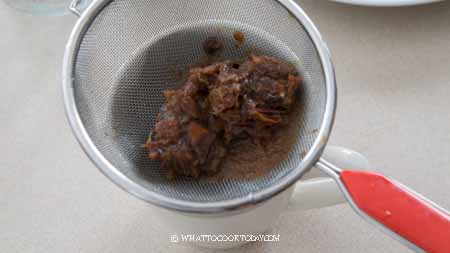 3. Put all ingredients to grind in a blender. The water will help it blend easily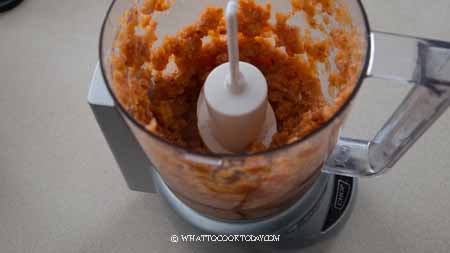 4. Preheat a large skillet or wok. When it's hot, add 2 Tbsp of cooking oil. Add the grind paste you prepared earlier followed by turmeric powder and galangal powder. Saute for about 3-4 minutes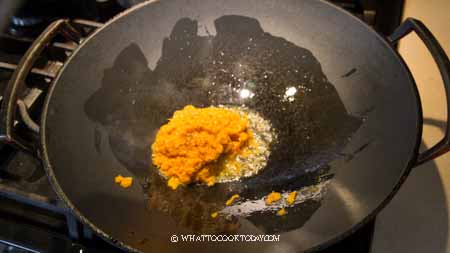 5. Add lemongrass stalk, bay leaves, and kaffir lime leaves. Continue to saute for another minute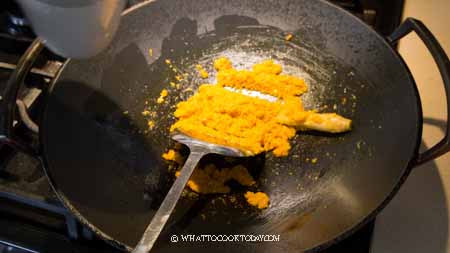 6. Add tamarind juice and seasonings and bring back to a gentle simmer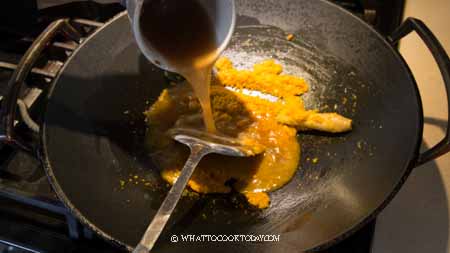 7. Add okra and pineapple cubes and cook until the okra pieces for about 2 minutes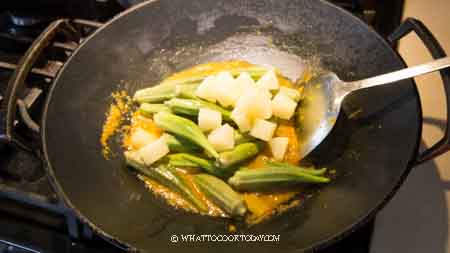 8. Then add the fish and tomatoes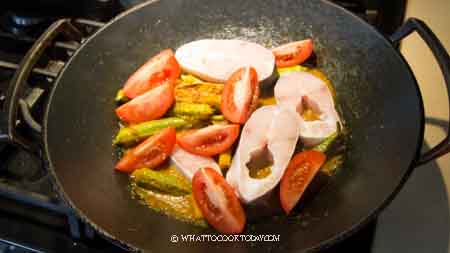 9. Cover and let them cook for about 3-4 minutes or until the fish are cooked through. The cooking time depends on how thick the fish you use. They flake easily when they are cooked.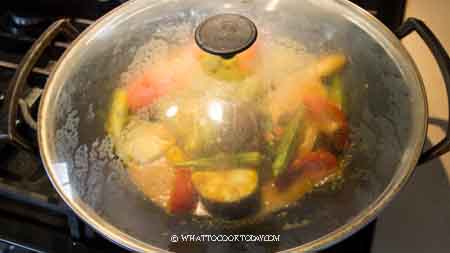 10. Have a taste and adjust to your preference. The asam pedas is sour, spicy, and savory with that hint of sweetness a little bit. When you are happy with the taste, turn off the heat and transfer to a serving bowl
Did you make this asam pedas ikan recipe?
I love it when you guys snap a photo and tag to show me what you've made 🙂 Simply tag me @WhatToCookToday #WhatToCookToday on Instagram and I'll be sure to stop by and take a peek for real!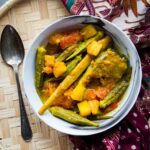 Asam Pedas / Asam Padeh Ikan (Spicy Tamarind Fish Stew)
Ingredients
700

gr

mackerel tuna

½

tsp

salt

½

cup

seedless tamarind block

or use 1/3 cup tamarind paste

360

ml

water

2

Tbsp

cooking oil
Vegetables:
1

large

tomato

quartered

10

pieces

okra

1

cup

pineapple cubes
Seasonings:
1

tsp

sugar

or more to taste

Salt to taste
Instructions
Prepare the fish:
Rub the fish with 1/2 tsp of salt and set aside to let them marinate when you prepare other things
Prepare tamarind juice:
Put 1/2 cup of seedless tamarind block in a bowl. Pour 1 cup of warm water and let it soak for 10 minutes while you prepare other things. Then strain out the juice and discard the pulp
Grind the ingredients:
Put all ingredients to grind in a blender. The water will help it blend easily
Cooking:
Preheat a large skillet or wok. When it's hot, add 2 Tbsp of cooking oil. Add the grind paste you prepared earlier followed by turmeric powder and galangal powder. Saute for about 3-4 minutes. Add lemongrass stalk, bay leaves, and kaffir lime leaves. Continue to saute for another minute. Add tamarind juice and seasonings and bring back to a gentle simmer

Add okra and pineapple cubes and cook until the okra pieces for about 2 minutes. Then add the fish and tomatoes. Cover and let them cook for about 3-4 minutes or until the fish are cooked through. They flake easily when they are cooked.

Have a taste and adjust to your preference. The asam pedas is sour, spicy, and savory with that hint of sweetness a little bit. When you are happy with the taste, turn off the heat and transfer to a serving bowl
Serve:
Serve warm with plenty of steamed rice 😉
Nutrition
Serving:
1
serving
|
Calories:
484
kcal
|
Carbohydrates:
33
g
|
Protein:
39
g
|
Fat:
22
g
|
Saturated Fat:
5
g
|
Polyunsaturated Fat:
6
g
|
Monounsaturated Fat:
9
g
|
Trans Fat:
1
g
|
Cholesterol:
82
mg
|
Sodium:
1199
mg
|
Potassium:
1299
mg
|
Fiber:
4
g
|
Sugar:
19
g
|
Vitamin A:
563
IU
|
Vitamin C:
34
mg
|
Calcium:
112
mg
|
Iron:
4
mg