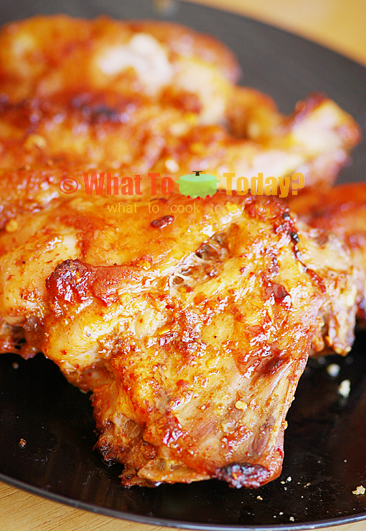 Turkey was never part of my life until I came to the U.S for the first time many many moons ago. It was amazing to me to see such a big bird sitting in the middle of the table waiting to be carved. Well, actually I won't say that the whole idea was new to me because I grew up with food like roasted whole duck, roasted whole pig and things like that. It's just that a bird that size is uncommon in Asia.
This recipe (and one more turkey recipe) I shared were my mom's recipes. She made this two years ago when I just gave birth to my little girl. They are not the traditional Thanksgiving turkey recipe as you can see. So, we did have an Asian-style Thanksgiving meal 🙂
Here was the first version my mom made, with a little hint of spicyness 🙂 We love them. This recipe works on chicken and quails too 😉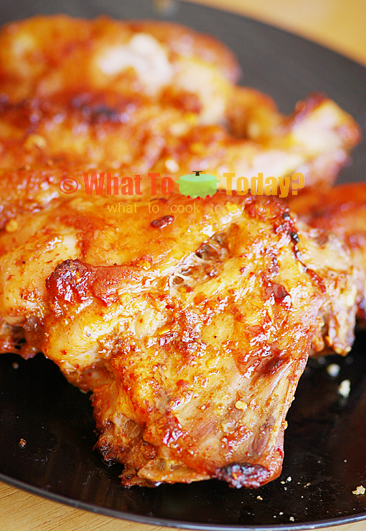 For baking/ kueh making: I highly encourage to weigh ingredients with a digital kitchen scale instead of using measuring cups as they are not very accurate especially when it comes to recipe that requires precision.
GRAMS TO CUPS CONVERSION (UNSIFTED)
INGREDIENTS
1

lb

turkey

-

(breast, legs, etc, it's up to you, with skin on)
Marinades:
1

Tbsp

red chili powder

1

tsp

white pepper powder

1

tsp

minced garlic

1

Tbsp

soy sauce

1

tsp

fresh ginger juice

1

Tbsp

sugar

1

Tbsp

sesame oil
INSTRUCTIONS
Marinate the turkey parts for at least 1 hour in the refrigerator with the marinade ingredients (overnight is best)

Preheat oven to 375 F. Line your baking sheets with aluminium foil and baked until they are cooked, it takes about an hour or maybe longer
Notes
If you plan to do this on a whole turkey, scale up the recipe according to the weight of the turkey and roast according to the instruction to roast the whole turkey