Old-school Chinese flaky pastry filled with gooey sweet and savory maltose filling with a hint of sesame seeds. They are so good and perfect with that cup of coffee or tea!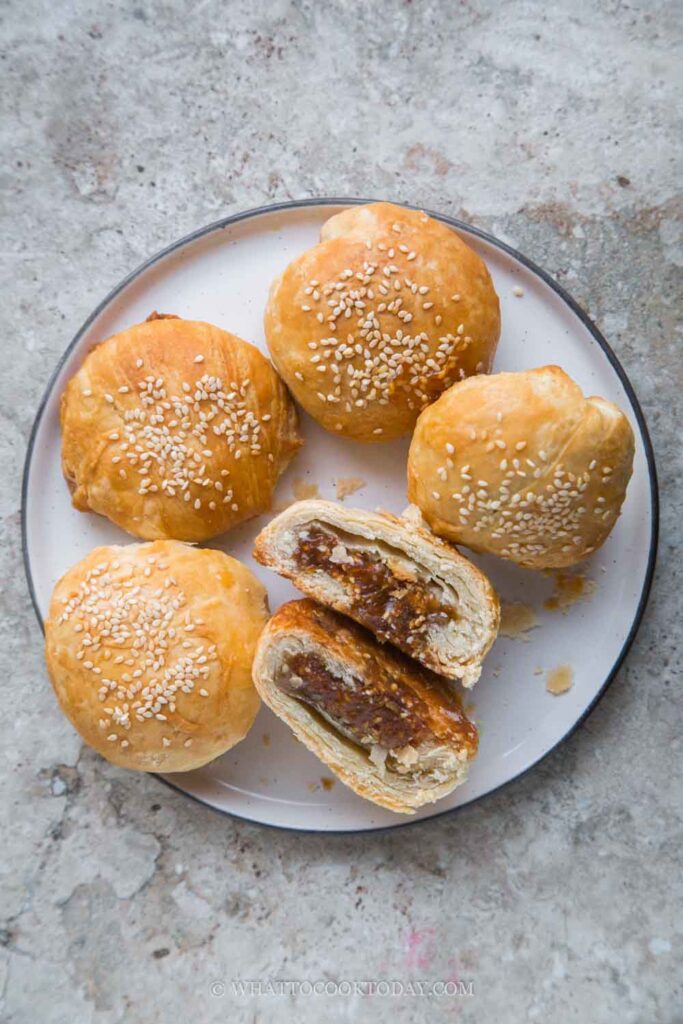 What is beh teh soh/beh teh saw?
Beh Teh Soh is a traditional Chinese pastry that has been enjoyed for centuries. It is a popular snack in Southeast Asia, particularly in Indonesia, Malaysia and Singapore, where it is often served with tea or coffee. The pastry is traditionally baked in a tandoor-like oven. They are stuck to the wall of the oven and baked. The result is a flaky and crunchy crust contrasting with the gooey and nutty maltose filling. They are so good!
Making beh teh soh needs patience
Making Beh Teh Soh is a labor-intensive process that requires patience and attention to detail.
1. It takes time
Just to set the expectation straight here! You need at least 2 to 2 1/2 hours or longer just to roll, shape, and fill the dough. It can be time-consuming but can be a fun weekend project.
2. Filling may still leak during baking
I use a double-wrapping method and it works pretty well, BUT, there were still leaks on few of the pastries that I knew I didn't seal really well.
How to prevent the maltose filling from leaking out
As I mentioned above wrapping the filling in two layers of dough helps to minimize the leaking. Out of one batch (10 pieces), I had about 2 that leaks because I didn't seal the seam well enough. So, despite double-wrapping, but if you don't seal it well, it can still leak out. Before I did the double wrapping method, all of the fillings leaks out on each one of the pastry!
Ingredients and substitutions
1. Cake flour
I highly recommend using cake flour. I have made these several times and the dough made with all-purpose flour is a bit harder to roll because they are stiffer. This is because cake flour has low-gluten content, making it more tender. You can also substitute it with pastry flour.
2. Oil
Any neutral-tasting oil works here. I use grape seed oil.
3. Sugar
Both caster sugar and granulated sugar work here
4. Warm water
I use lukewarm water, between 95-105 F (36.5 – 40.5 C)
5. Salt
I use fine sea salt
6. Maltose
Maltose is the key ingredient for the filling. They are available at Asian grocery stores. I don't recommend substituting with honey because honey is much sweeter and the consistency is runnier. I haven't tried this myself, but some people have reported using light corn syrup or golden syrup as substitutions
7. Brown sugar
The brown sugar gives that nice molasses aroma and also a nice caramel color while act as a mild sweetener at the same time
8. Fried shallots and the oil
You can prepare fried shallots using this recipe and get the oil at the same time
9. Toasted white sesame seeds
The addition of white sesame seeds gives that pleasant nutty aroma
10. Glutinous rice flour
The flour also helps to thicken the filling and give that slightly chewy texture
11. Egg
The egg wash gives the crust a nice golden brown. But you can use a maltose wash instead and omit the egg wash
How to make beh teh soh
1. To prepare water dough: combine flour, sugar, and salt. Whisk to combine. Add the oil and rub the flour mixture with the oil to form a coarse-crumb texture.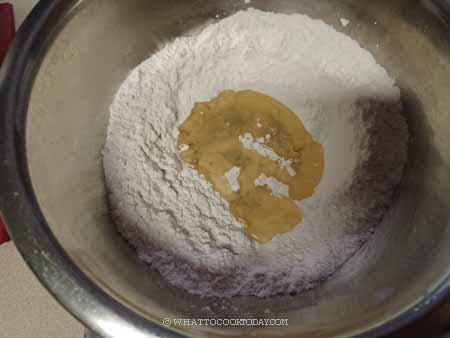 2. To prepare oil dough: add 80 g of warm water to start with and add more as needed. I like to reserve some in case the dough might get too wet because different flour has different water absorption. Knead into a smooth dough. Cover and let it rest for 30 minutes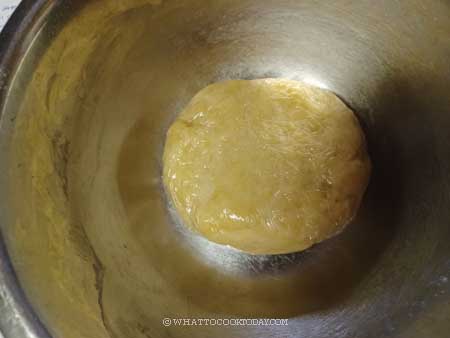 3. Divide the water dough and oil dough into 20 pieces each. So you have a total of 40 pieces (20 water doughs and 20 oil doughs). Round them up into balls and cover them tightly with plastic wrap to prevent them from drying. In this step-by-step photos I took, I only made half the recipe so you will see only 10 pieces of oil dough and 10 pieces of water dough


4. Take one water dough and one oil dough. Flatten the water dough and then put the oil dough inside and wrap the water dough around it. Wrap the dough in plastic wrap and let it rest for 15 minutes to relax the gluten for easier rolling later. So you have a total of 20 doughs now


5. Prepare the filling: Maltose is very sticky and hard to scoop at room temperature (and it's winter here so that makes it even harder). I spray my fingers with some non-stick spray and take out the amount I need and put it in a bowl. I sit this bowl on another bowl filled with hot water. This helps to soften the maltose before you mix it with other ingredients. You can also microwave it in a 10 seconds increment until soften. Add the rest of the ingredients. It will be a sticky paste but pliable. I have to keep it warm because it turns hard due to the weather here. If you leave at a warm place, this shouldn't be a problem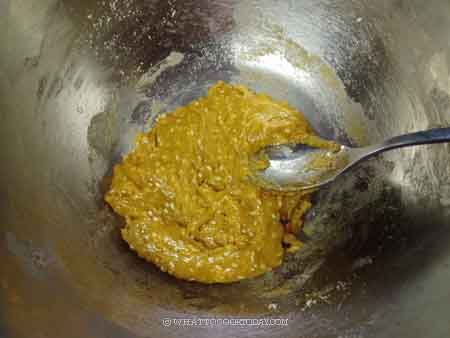 6. We will use only 10 doughs at this step. Take one dough and keep the rest covered tightly. Roll it out into an oval shape, about 2 inches wide and about 4 inches long. Then roll it up like a Swiss roll. Do this to the rest of the dough


7. Then go back to the first one you roll and put it vertically and roll it out again into an oval and then roll it up into a Swiss roll again. If it's difficult to roll, rest it a bit longer and then try to roll it again. Repeat with the rest of the dough and keep them covered tightly. Rest them for 30 minutes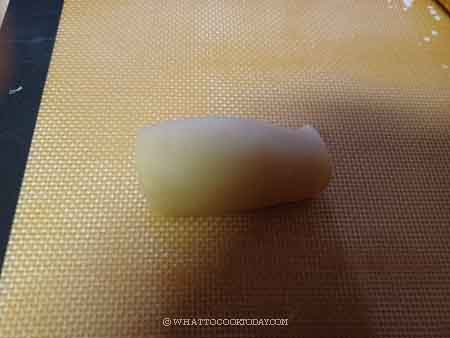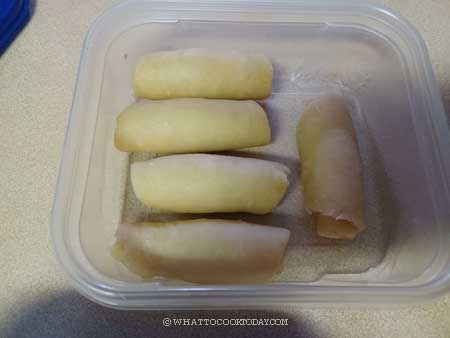 8. Preheat the oven to 400 F (205 C) for conventional oven, 190 C (375 F) for convection oven. Line a large baking sheet with parchment paper. Prepare the flour paste by combining the flour with water


9. The rest of the 10 doughs are used to wrap the filling. This is to prevent the filling from leaking out during baking. We don't need to Swiss roll these doughs like we did earlier. Take one dough and roll into about 3-4 inch round. Put the filling in the middle, about 40-45 grams.


10. Apply the flour paste around the edge and gather the edge towards the center and pinch to seal the seam. Repeat with the rest of the dough and filling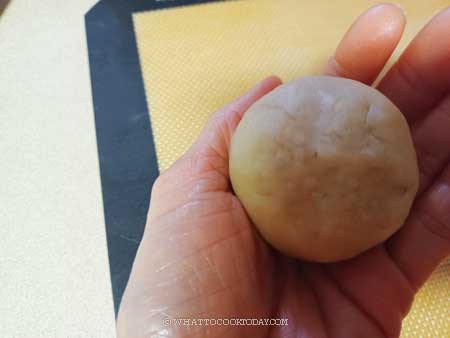 11. Now let's go back to the first 10 doughs that you Swiss rolled earlier. Take one dough and roll it out into a round about 4 inches in diameter (mine looks more like a square lol).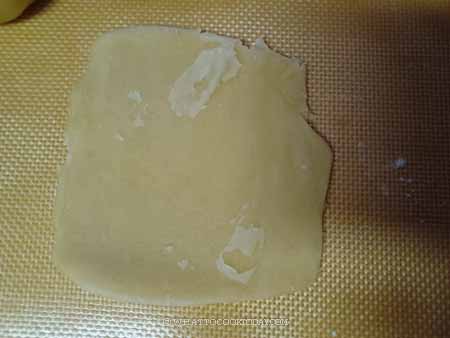 12. Take one of the wrapped filling and apply the flour paste on the seam side and put this seam side down on the dough.


13. Wrap the dough around it and apply some flour paste on the edge and then pinch to seal tight again. Repeat with the rest of the dough and wrapped filling


14. Arrange the shaped pastry on the baking sheet. Traditionally, the pastry is brushed with maltose wash, by combining maltose with hot water. I use an eggwash. Prepare egg wash by whisking the egg with water. Brush the top of the pastry with egg wash. Sprinkle with sesame seeds. Lightly press on them to make sure they stick to the dough


15. Put on the middle rack and bake for 15 minutes or until golden brown. Then lower temperature to 330 F (165 C) for conventional oven, 300 F (150 C) for convection oven, and bake for another 15 minutes. Remove from the oven and let them cool down for 5 minutes on the pan and then transfer to a cooling rack to let them cool down to warm. I still have one that leaked out from this batch. Even with double wrapping but if you don't seal it really well, it can still leak out, but at least majority survived lol!


16. The filling will be oozy and gooey when it's first out from the oven, almost lava-like. So be careful because hot sugar can burn. Once it has cooled down to warm, it will be less oozy, but still gooey. It solidifies, but still somewhat pliable, once it has cooled down completely. Simply reheat in microwave for few seconds until it's warm through and the filling will be soft and gooey again
Flaky crust and gooey filling
The crust is crisp and flaky. The filling won't be lava-like anymore once it cools down but still has a nice soft, slightly chewy, and pliable texture
How to store beh teh soh
1. Let the pastry cool down completely and then transfer to an air-tight container. They can be kept at room temperature for 2 weeks
2. The pastry can also be kept frozen. Put them in freezer bag, push all the air out and seal. Keep frozen for one month. Simply thaw at room temperature and then reheat in the microwave for 10-15 seconds or until warm
Did you make this beh teh soh recipe?
I love it when you guys snap a photo and tag it to show me what you've made. Simply tag me @WhatToCookToday #WhatToCookToday on Instagram and I'll be sure to stop by and take a peek for real!
Beh Teh Soh/Heong Peng (Chinese Horse Shoe Biscuits/Maltose Pastry)
Ingredients
Water dough:
350

g

cake flour

100

g

oil

35

g

caster sugar

5

g

salt

100

g

warm water

or more as needed
Flour paste: (to use during wrapping)
You can use either maltose wash or egg wash:
Topping:
Instructions
Prepare the water dough:
Combine flour, sugar, and salt. Whisk to combine. Add the oil and rub the flour mixture with the oil to form coarse-crumb texture. Add 80 g warm water. I like to reserve some in case the dough might get too wet because different flour has different water absorption. Knead into a smooth dough. Cover and let it rest for 30 minutes
Prepare the oil dough:
Combine the flour with oil. Knead into a soft dough. Round it up into a dough ball. Let it rest together with the water dough
Combine both doughs:
Divide the water dough and oil dough into 20 pieces each. So you have a total of 40 pieces (20 water doughs and 20 oil doughs). Round them up into balls and cover tightly with a plastic wrap to prevent them from drying

Take one water dough and one oil dough. Flatten the water dough and then put the oil dough inside and wrap the water dough around it. Wrap the dough in plastic wrap and let it rest for 15 minutes to relax the gluten for easier rolling later. So you have a total of 20 doughs now
Prepare the filling while waiting:
Maltose is very sticky and hard to scoop at room temperature (and it's winter here so that makes it even harder). I spray my fingers with some non-stick spray and take out the amount I need and put it in a bowl. I sit this bowl on another bowl filled with hot water. This helps to soften the maltose before you mix it with other ingredients. You can also microwave it in a 10 seconds increment until soften. Add the rest of the ingredients. It will be a sticky paste but pliable. I have to keep it warm because it turns hard due to the weather here. If you leave at a warm place, this shouldn't be a problem
Continue with shaping and filling:
We will use only 10 doughs at this step. Take one dough and keep the rest covered tightly. Roll it out into an oval shape, about 2 inches wide and about 4 inches long. Then roll it up like a Swiss roll. Do this to the rest of the dough

Then go back to the first one you roll and put it vertically and roll it out again into an oval and then roll it up into a Swiss roll again. If it's difficult to roll, rest it a bit longer and then try to roll it again. Repeat with the rest of the dough and keep them covered tightly. Rest them for 30 minutes
Wrap the filling with the dough:
Preheat the oven to 400 F (205 C) for conventional oven, 190 C (375 F) for convection oven. Line a large baking sheet with parchment paper

Prepare the flour paste by combining the flour with water

The rest of the 10 doughs are used to wrap the filling. This is to prevent the filling from leaking out during baking. We don't need to Swiss roll these doughs like we did earlier. Take one dough and roll into about 3-4 inch round. Put the filling in the middle, about 40-45 grams. Apply the flour paste around the edge and gather the edge towards the center and pinch to seal the seam. Repeat with the rest of the dough and filling
Double wrap the filling:
Now let's go back to the first 10 doughs that you Swiss rolled earlier. Take one dough and roll it out into a round about 4 inches in diameter (mine looks more like a square lol). Take one of the wrapped filling and apply the flour paste on the seam side and put this seam side down on the dough. Wrap the dough around it and apply some flour paste on the edge and then pinch to seal tight again. Repeat with the rest of the dough and wrapped filling

Arrange the shaped pastry on the baking sheet
Baking:
Traditionally, the pastry is brushed with maltose wash, by combining maltose with hot water. I use an eggwash

Prepare egg wash by whisking the egg with water. Brush the top of the pastry with egg wash. Sprinkle with sesame seeds. Lightly press on them to make sure they stick to the dough

Put on the middle rack and bake for 15 minutes or until golden brown. Then lower temperature to 330 F (165 C) for conventional oven, 300 F (150 C) for convection oven, and bake for another 15 minutes
Cool down:
Remove from the oven and let them cool down for 5 minutes on the pan and then transfer to a cooling rack to let them cool down to warm
To serve:
The filling will be oozy and gooey when it's first out from the oven, almost lava-like. So be careful because hot sugar can burn. Once it has cooled down to warm, it will be less oozy, but still gooey. It solidified, but still somewhat pliable, once it has cooled down completely

Simply reheat in microwave for few seconds until it's warm through and the filling will be soft and gooey again
Nutrition
Serving:
1
piece
|
Calories:
534
kcal
|
Carbohydrates:
78
g
|
Protein:
8
g
|
Fat:
21
g
|
Saturated Fat:
2
g
|
Polyunsaturated Fat:
6
g
|
Monounsaturated Fat:
12
g
|
Trans Fat:
0.1
g
|
Cholesterol:
19
mg
|
Sodium:
213
mg
|
Potassium:
94
mg
|
Fiber:
2
g
|
Sugar:
35
g
|
Vitamin A:
28
IU
|
Calcium:
45
mg
|
Iron:
1
mg