Cap Chay is a stir-fried medley vegetables with some meat and/or seafood with thick gravy. This easy one-pan stir-fry is going to be your go-to healthy delicious stir-fry anytime of the week.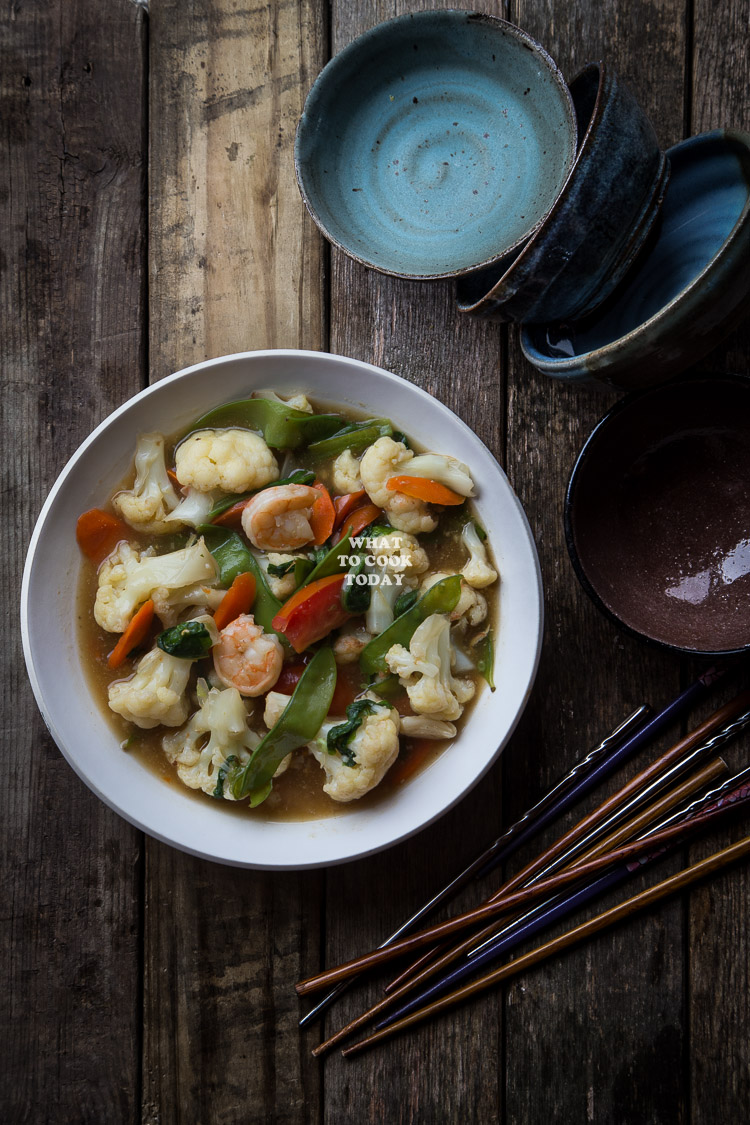 Almost every Saturday dad would bring us to this place that served delicious food Chinese food when we were young. It's across the street from a used-to-be-popular cinema in town but the cinema was gone and replaced by a supermarket. They were well-known for their Hainanese pork chop and this Cap Chay. Those were the two things that we ordered every time we ate there. I'm not sure if this place is till there or not but boy…thinking of my childhood, this cay chay sure had been part of it often!
I love the thick glistening gravy (thanks to corn starch) that coats everything in that dish. I listed out the common vegetables, meat, and seafood used to make Indonesian cap chay, but feel free to use whatever veggies you like. That's why the name is cap chay (mixed vegetable stir-fry). They are so good when served pipping hot with a bowl of steamed white rice and other meat dishes. This cap chay is really satisfying and healthy at the same time. Love the colors too!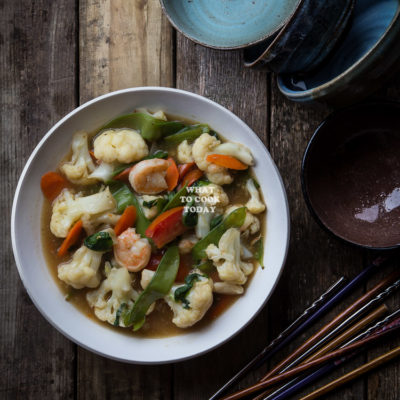 Ingredients
2

Tbsp

of Grape seeds oil or oil of your choice

2

cloves

of garlics

finely chopped

1-

inch

ginger

peeled and finely chopped

1/2

onions

thinly sliced

2

oz

of sugar snap peas

1

boneless skinless chicken thigh

thinly sliced

5

fish balls

sliced

2

carrots

thinly sliced

6

large prawns

peeled and deveined

1

large tomato

cut into wedges

1

small bunch of broccoli/cauliflower florets

briefly blanch in boiling water

5-6

cremini mushrooms

sliced

1

bunch of yu choy/chinese broccoli

washed and roughly cut into large pieces

1

cup

of chicken stock or water

2

Tbsp

oyster sauce

2

Tbsp

of corn starch dissolved in 1 Tbsp water

more if needed

Salt and white pepper powder to taste
Instructions
Heat up oil in the wok. Add in garlic, onions, ginger and stir fry until they are fragrant

Add in chicken meat . Saute for 1 minute. Add in broccoli/ cauliflower florets, carrots, snap peas, yu choy, and tomato wedges and cook for about 5 minutes. Lastly add in the shrimp and fish balls and stir fry for another 1 minutes or so or until the shrimps turn pink. Add in the oyster sauce

Add in chicken stock and let it simmer for about 1 minute. Season with salt and pepper

Give the cornstarch mixture a stir an pour into the wok and stir until the sauce is thickened and coats everything nicely

Remove from the heat and place on the serving plate. Serve immediately with rice and other dishes