This incredibly easy Japanese one-pot stew that is built on flavored broth, chunks of veggies, variety of meats, seafood, mushrooms. Chanko nabe is eaten by the sumo wrestlers in Japan. But worry not, you are not eating to be a sumo wrestler 😉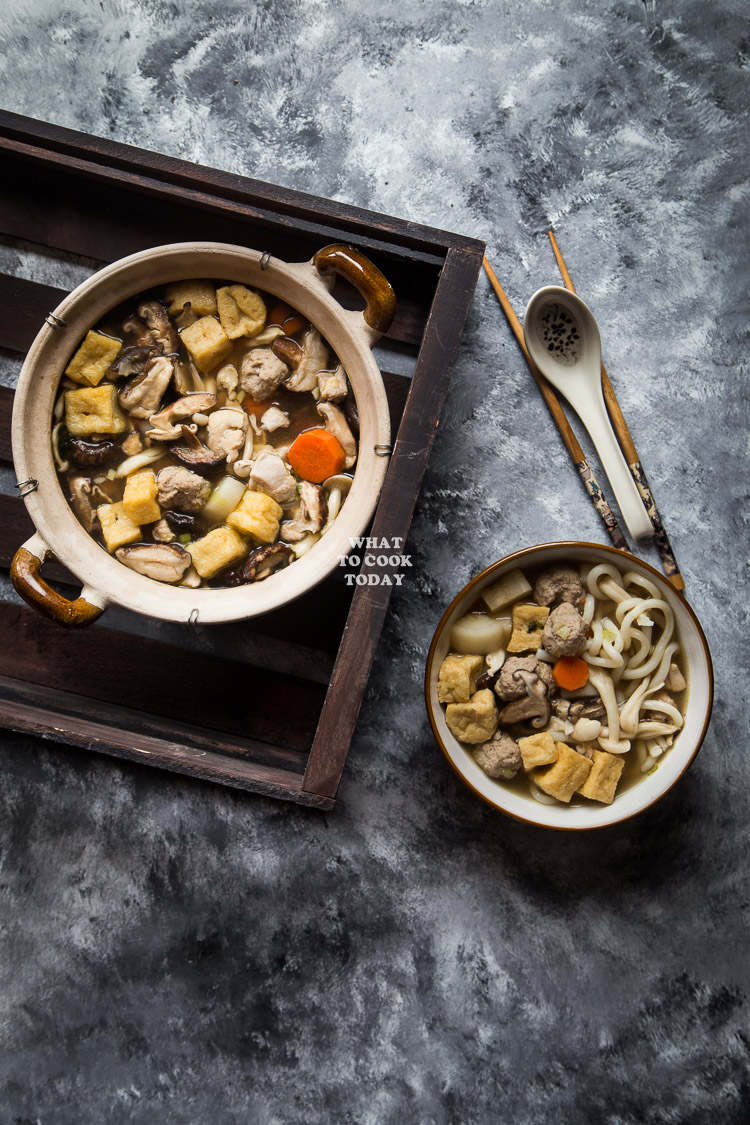 I have a strong affinity for rustic chunky looking food. Take this chanko nabe as an example. Eating chanko nabe reminds me of the Chinese hot pot where we pretty much have everything from chicken, beef, pork, fish, veggies, tofu…you get it!! Chanko nabe is exactly that. The broth has the Japanese touch by using dashi and soys sauce as a base.
In case you haven't heard of chanko nabe and wondering why the sumo wrestlers eat this stew, well, from what I heard is that chanko nabe is usually rich in protein (meat, seafood, tofu, etc) and the sumo wrestlers eat this stew in a massive amount to help them gain weight! Now I know what you are thinking!! I DON'T WANT TO FREAKING GAIN WEIGHT!!! Don't worry my friend! You won't! (unless you eat that massive amount too). If you look at the stew itself, it's a complete meal on its own and it can be as healthy as you want it to be or loaded with whatever else you want to put in there. We got a balance of veggies and protein here (and some carbs, the udon).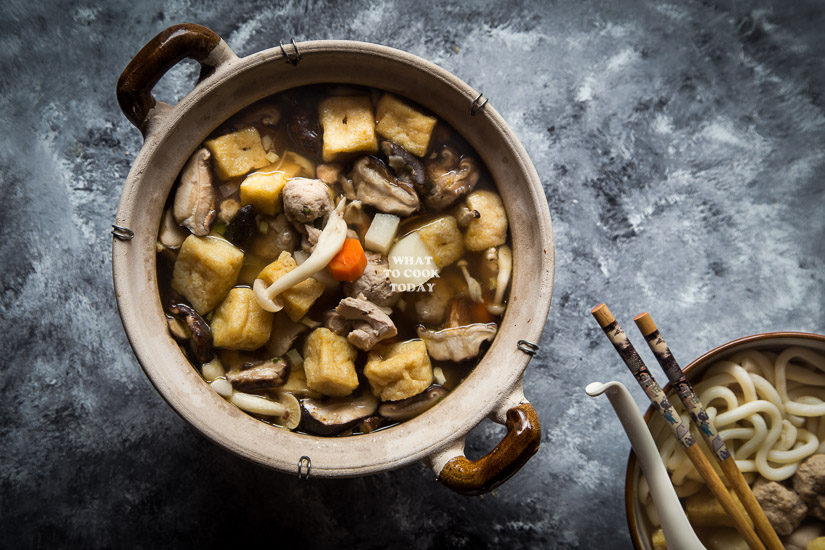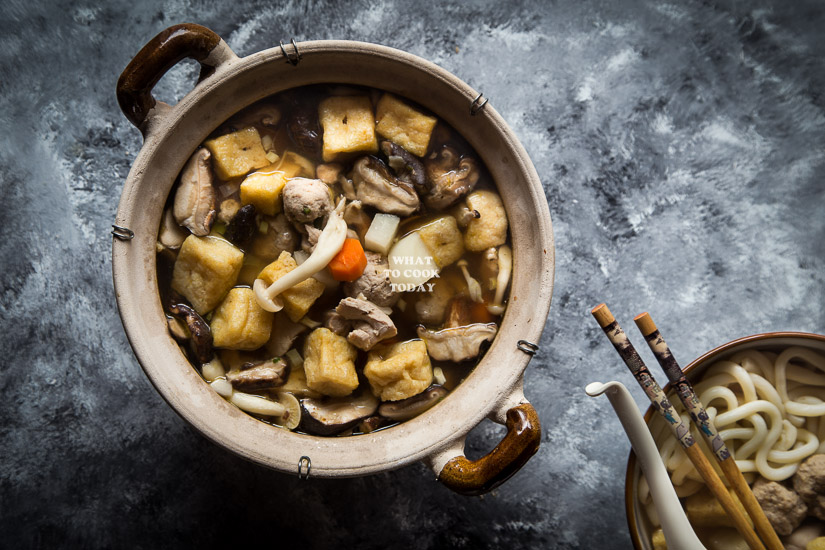 I only used chicken meat in this stew and plenty of fresh veggies like daikon, carrots, napa cabbage, and mushrooms. They were pretty much the bits of things I had left in the fridge at the end of the week that I turned into appetizing chanko nabe. So, you can definitely make this into meatless version if you like and it would still be delicious!
Like the Chinese hot pot, chanko nabe is usually served with the stew still simmering on a portable stove centered on the table where everyone surrounding it can help themselves to the stew.
Recipe is adapted from Lucky Rice cookbook by Danielle Chang (affiliate link)

Chanko Nabe/ Sumo Wrestlers' Stew (4-6 servings)
Ingredients
8

cups

dashi

see note

¼

cup

soy sauce

¼

cup

sake

3

Tbsp

mirin

1

large

daikon

cut into 1-inch chunk

2

large carrots

cut into chunks

1

lb

boneless skinless chicken thigh

cut into 1-inch pieces

1

small napa cabbage

cut into 2-inch chunks

1

pack

fresh shimeji mushrooms

or any mushrooms of your choice

8

fresh shiitake mushrooms

you can use dried version too

12

tofu puffs

1

lb

udon noodles

2

stalks

scallion

thinly sliced at an angle
Instructions
Place dashi in a large pot and bring to a simmer. Add in soy sauce, sake, mirin, and daikon, carrots, and chicken thigh and cook for about 10 minutes. Add in the rest of the ingredients and cook for another 10 minutes. Have a taste and season with more soy sauce and salt to your taste. Add in the udon noodles and cook just until the udon is heated through. Garnish with some scallion and serve immediately
Notes
Recipe for basic dashi stock is here
If you ask me, there's really no "set" recipe for this chanko nabe. You can use whatever your heart desires in this stew. All veggies or lots of meat and/or seafood…it's your call!


*This post contains affiliate links. You don't pay extra as a consumer if you choose to click on the link and purchase from there. What To Cook Today just receives a small commission from this. That's all. It helps to pay for some of the cost to have this blog up and running. Thank you so much for your support !