I know I've been cooking lots of Chinese food for the past…let's see…almost one month ? Thank you for bearing with me through this journey. It was the discovery of Fuschia Dunlop's three cookbooks, Revolutionary Chinese cookbook, Shark's Fin and Sichuan Pepper, and Land of Plenty that got me intrigued to try the recipes out.
Honestly speaking, I didn't know much about Chinese cooking. Well, we are traditional Chinese family, but there are lots of things I didn't have opportunity to learn back in the old days when the Chinese language was still banned in Indonesia. I'm happy to learn that Chinese language is being taught now though. My mom did teach us to speak, read and write Chinese, however, as we grew older and with less practice, I had started to forget quite a bit of them. During my three-year journey living in Singapore though, had somehow helped because I was exposed to the conversation in Mandarin and watching lots of movies in Mandarin. So that helped. My mission now of course I want my daughter to learn another language besides English, which she is learning three actually: English, Mandarin and Hokkian, well, and a bit of Indonesian Malay.
So, now you ask, what does that all have to do with chicken and papaya soup ? what I just spilled out up there has nothing to do with the chicken and papaya soup other than my point is I want to learn more about Chinese cooking from the Mainland China and that's why you've been seeing quite a bit of Chinese recipe. The chicken and papaya soup is one of them. But worry not, I will move on to other countries pretty soon 😉
When I see this chicken and papaya soup in Fuschia Dunlop's Shark's Fin and Sichuan Pepper cookbook, I was definitely all curious how it would turn out. I had a soup made with green papaya before. My mom made fish with green papaya soup for me when I just had my baby. Green papaya tastes totally different from ripen papaya. The ripen papaya is very sweet and tasty. Green papaya doesn't have much taste, but if you use it to cook soup, it will pick up flavors from the soup. As weird as you may think about this papaya soup, I strongly encourage you to give it a try. The papaya really sweetened up the soup (in a good way), even my daughter loves this soup when I made it the other day. Such a simple soup with wonderful taste.
This recipe is adapted from Shark's fin and Sichuan Pepper – A sweet-sour memoir of eating in China by Fuschia Dunlop. Published by W. W. Norton & Company.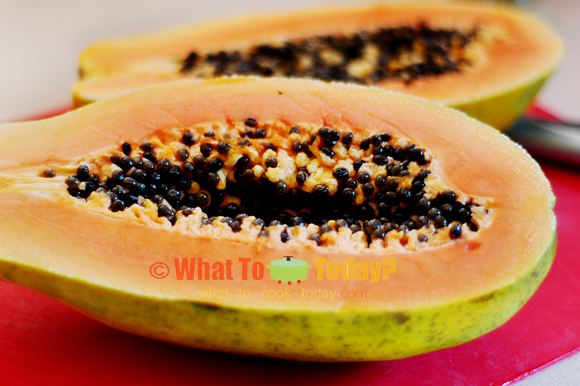 CHICKEN AND PAPAYA SOUP
Ingredients
1

whole chicken

(about 3 lbs or so)

2

spring onions

1

thumb-size ginger

2

tsp

Shaoxing wine

1

large ripe papaya

Salt and pepper to taste
Instructions
Prepare a big pot of water and blanch the chicken for a minute or two, and then discard the water and rinse the chicken with cold running water

Slightly crush the ginger with the side of a cleaver or a heavy object. Wash and trim the spring onions and break them into a few long sections

Place the chicken in a saucepan or casserole dish with just enough water to cover it. Bring the liquid to the boil over a high flame, and skim off any scum that rises to the surface. Add the ginger, spring onions and wine, then turn the heat down and simmer gently, half-covered, until the chicken is very tender and comes easily away from the bone when you pull it with tongs, about 1 hour or so. Skim off as much oil that rises to the top as possible (they mostly comes from the skin of the chicken)

Shortly about 30 minute before the chicken is ready, peel and de-seed the papayas, cut them into chunks and add them to the soup

Season with salt and pepper to your taste and serve on individual serving bowl