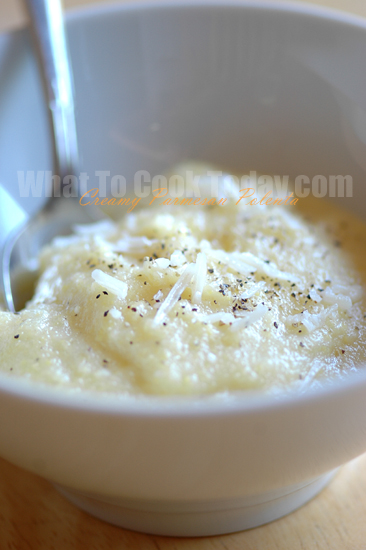 So, I have been seeing quite a bit of polenta recipe in different cookbooks, however, I hadn't had a chance to try it. I decided to give it a try the other day while flipping through Ina Garten's Barefoot Contessa How Easy Is That? cookbook. If you like cream of wheat or grits, then you will like polenta.
Polenta is basically made with ground yellow or white cornmeal (ground maize), which can be ground coarsely or finely depending on the region and the texture desired. Polenta has definitely found popularity as a gourmet food. Polenta dishes are on the menu in many high-end restaurants, and prepared polenta can be found in supermarkets in tubes or boxes at high prices. Many current polenta recipes have given new life to an essentially bland and simple food, enriching it with meat and mushroom sauces, and adding vegetables, beans or various cheeses into the basic mixture.
Fiorina is super picky these days. I'm pulling my hair trying to think of what to feed her every day. She's eating table food, however, sometimes when I fixed dishes like Pig's Knuckle or Liver lol, I will fix separate dish appropriate for her age. I fed her the first spoon of polenta and the next thing I know, the whole bowl was gone!!!! It's an instant HIT!!!! As a matter of fact, my spoon couldn't get to her mouth fast enough! She LOVES it! and I LOVE it too!
CREAMY PARMESAN POLENTA (6 servings)
4 cups chicken stock
2 tsp minced garlic (2 cloves)
1 cup yellow cornmeal, preferably stone-ground (You can use Quaker yellow cornmeal or Indian Head stone-ground cornmeal)
1 Tbsp kosher salt
1 tsp freshly ground black pepper
1 cup freshly grated Parmesan cheese, plus extra for serving
1/4 cup creme fraiche
2 Tbsp (1/4 stick) unsalted butter
COOKING METHOD:
1. Place the chicken stock in a large saucepan. Add the garlic and cook over medium-high heat until the stock comes to a boil. Reduce the heat to medium-low and very slowly whisk in the cornmeal, whisking constantly to make sure there are no lumps
2. Switch to a wooden spoon, add the salt and pepper, and simmer, stirring almost constantly, for 10 minutes, until thick. Be sure to scrape the bottom of the pan thoroughly while you're stirring
3. Off the heat, stir in the Parmesan, creme fraiche, and butter. Taste for seasonings and serve hot with extra Parmesan cheese to sprinkle on top