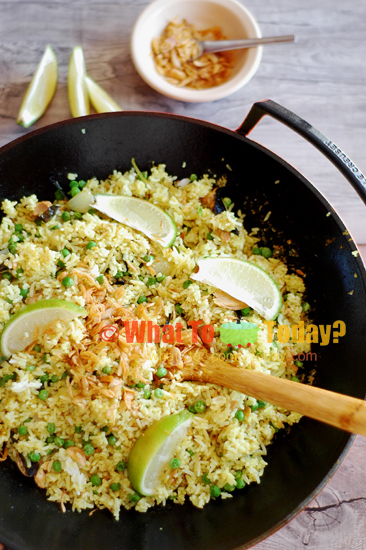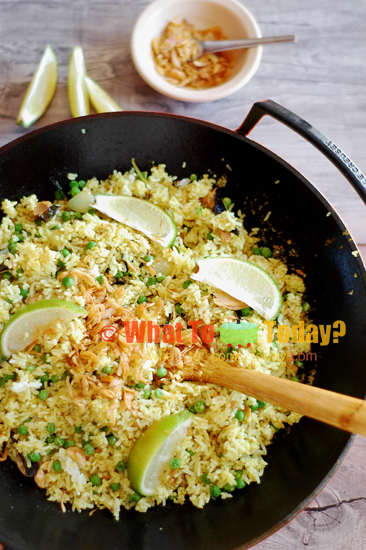 Shallots are one of the important ingredients in Southeast Asian kitchen. Shallots are used in fresh cooking in addition to being pickled. Finely sliced, deep-fried shallots are used as a condiment in Asian cuisine on rice dishes, noodle dishes, etc. Shallot are somewhat taste like onion, but it is milder and very fragrant when you cook it.
This fried rice with shallots are highly flavorful, thanks to the shallots. I personally a big fan of shallots. The deep-fried shallots crisp are available in most Asian grocery store. It's not easy to get a good quality one though, as most manufacturer mix the shallots with some starches, so there are more starch than shallots (cheaper in cost for them). So, my mom always brings some for me when she visits.
Like I mentioned before in my other fried rice posts, they key of making good fried rice is of course, the rice itself. It is best if you can use overnight white jasmine rice and the rice isn't cooked with too much water, which results in "damp" fried rice.
Try this fried rice with shallots and I bet you most likely will get hook. Slightly spicy from the chili, a bit tangy from the lime, and some crunch from the shallots (not to mention the great flavor!) Feel free to add in whatever you like too. That's the whole idea of fried rice to most Asians, a lazy fix that is satisfying when you eat it, and quite economical too!! 😉 That probably explains why I NEVER ordered fried rice when we eat out here in the U.S. It costs too much just for a plate of fried rice, they are "catered" to the Westerners' taste buds, and they hardly ever done it right!
FRIED RICE WITH SHALLOTS
Ingredients
4

cups

cooked jasmine rice

(made with 2 cups of jasmine rice + 2 cups of water)

2

boneless skinless chicken thighs

(cut into 1-inch cubes)

2

Tbsp

margarine or butter

2

large onions

(peeled and diced)

2

cloves

garlic

(peeled and minced)

10

shallots

(peeled and thinly sliced)

4-5

Bird's eyes chili

(as many or as little as you want) (chopped)

4

oz

of canned tuna

1

cup

of green peas

(if frozen, thawed first)

1

tsp

of turmeric powder

¼

cup

curry leaves

3

Tbsp

grape seeds oil
Garnish:
Generous amount of fried-shallot crisp

(available at Asian grocery)

1

lime

(cut into wedges)

Fried eggs

(optional)
Instructions
Cook your rice with rice cooker or if you don't have one, put a washed rice in a saucepan and add the water. Bring to the boil and simmer uncovered until all liquid has been absorbed and the rice is cooked through and fluffy. Set aside to cool down completely. It's best you do this overnight

Preheat a wok or large pan. Add in the oil. Add shallots cook until it starts to change in color and turn translucent, about 2-3 minutes

Add in chopped chili, curry leaves, and turmeric powder and continue to saute until fragrant.

Add in the rice and stir to mix everything. The rice will start to turn yellow too. Add in the green peas and canned tuna. Continue to cook and stir on high heat. Turn off the heat and sprinkle on generous amount of fried shallot crisp and serve immediately with fried egg on each serving if you want to. Squeeze on some lime for a little surprise (good surprise)