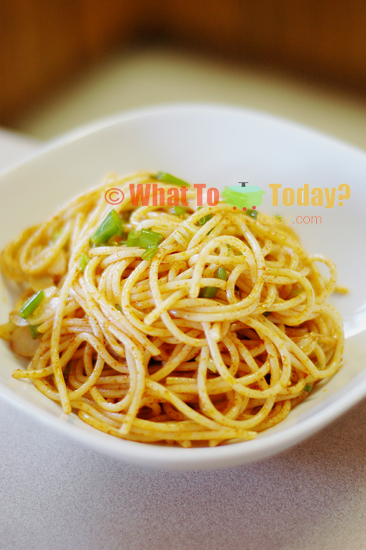 So it was Saturday evening and we were a bit lazy to dine out as we normally would on the weekends. I opened the fridge to take a peek to see what I could possibly fix. I mean I had lots of ingredients in the fridge stocked up for the up coming week as usual, but I really wanted to just make something simple. I was kinda leaning towards making some pasta dish. It's rather simple most of the time. I thought of Aglio Olio and I think I heard hubby cheering when he heard Aglio Olio. So, there I was started out with cooking up the pasta, slicing the garlic and everything. Opened up the fridge again only to find out that I don't have any other cheese besides Cheddar. Arrghhhh!!!! I can't be using cheddar for Aglio Olio, that will be mac and cheese almost! Fine..! forget the cheese. I have lots of spring onions and some are still growing in the water I have in jars as a matter of fact. So, it turned out that I was making garlic noodles with some spring onions and sweet paprika powder and strangely enough, this simple noodle dish turned out to be really good. It's meatless I know (considering the carnivores in us!!), however, it's really good and satisfying. I can see this as a side dish too if you have other meat dishes. Nonetheless, it was still good without any meat. Just a little headsup, it is called garlic noodles for a reason (doh?). So, you may need to freshen up the breath after that ha! but you shouldn't hold back on the garlic for sure! that's what makes it good!
**The recipe is written in Metric and sometimes I include U.S. Measurements**
Please weigh ingredients with a digital kitchen scale instead of using measuring cups as they are not very accurate especially when it comes to recipe that requires precision.
INGREDIENTS
Kosher salt

1

lb

dried spaghetti

1/3

cup

good olive oil + 1/2 Tbsp sesame oil

12

large garlic cloves

-

, peeled and cut into thin slivers

1/2

tsp

sweet paprika powder

-

(more if you like)

1/2

cup

thinly sliced spring onions

-

(both white and green parts)
INSTRUCTIONS
Bring a large pot of water to a boil. Add 2 Tbsp of salt and the pasta and cook according to the directions on the package or to the "done-ness" you like (al dente or not). Set aside 1 1/2 cups of the pasta cooking water before you drain the pasta

Meanwhile, heat the olive oil over medium heat in a pot large enough to hold the pasta, such as 12-inch saute pan or a large shallow pot. Add the garlic and cook for 2 minutes, stirring frequently, until it just begins to turn golden on the edges- don't BURN IT!

Carefully add the reserved pasta-cooking water to the garlic and oil and bring to a boil. Lower the heat, add 1 tsp of salt, and simmer for about 5 minutes, until the liquid is reduced by about 1 third

Add the drained pasta to the garlic sauce and toss, add the sweet paprika powder and toss again. Off the heat, add the spring onion and toss to mix well. Allow the pasta to rest off the heat for 5 minutes for the sauce to be absorbed. Taste for seasoning