Learn how to measure flour and sugar correctly with measuring cups using a very simple method for better accuracy. This post also provides you with grams to cups conversion for flour/starch and different varieties of sugar.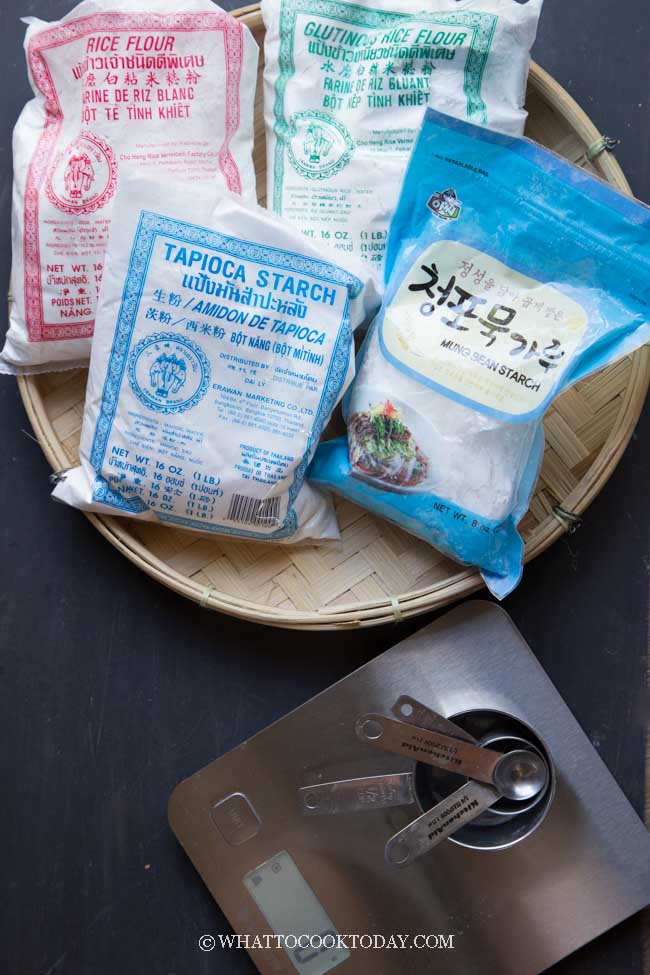 Many of the recipes in this blog are in Metric measurements, mainly in grams. I know here in the U.S., the U.S. cups, tablespoons, teaspoons measurements are the standard. I decided to measure all the different kinds of flours/starches I use often in Asian recipes in this blog using U.S. cups measurements and weigh each on a digital kitchen scale. The list of course is not exhaustive. I'll continue to add more to the list.

WHY I DO NOT LIKE CUPS MEASUREMENTS
I get it, it's easy, it's convenient and most people don't own a digital kitchen scale. At the same time, it is highly inaccurate. It depends on who scoop the flour, how you scoop it, etc, etc.
WHY YOU SHOULD GET A DIGITAL KITCHEN SCALE
1. Fewer things to wash
With cups and tablespoons, you have more things to wash. With a kitchen scale, I can weight ingredients straight in the bowl I'm going to use, hence fewer things to wash
2. It's highly accurate
If the recipe calls for 100 grams I know I'm going to get 100 grams. Unlike cups or tablespoons, sometimes I might get 10 grams over or 15 grams under because of the way I scoop
3. Easily convert in between units
Whether the recipe is in grams, pound, oz, etc, you can easily convert this with a digital kitchen scale. Mine can measure milk and water (their density is different)
HOW TO MEASURE FLOUR AND STARCH PROPERLY
Flour measurement with cups has the biggest variables. So we need to make sure we do it correctly
1. Use measuring cups for dry ingredients
Measuring cups for dry ingredients have a smooth level top. If you use measuring cups with spout and slightly slanted edge, the result will differ because that is meant of liquid measurement
2. Fluff and stir the flour/starch
Before you scoop the flour out from the container or bag, use a spoon or scoop the fluff and stir the flour a little bit inside the container or bag. What is the purpose of fluffing the flour? by fluffing the flour, we avoid overpacking. Flour that has been sitting inside a container or bag will pack overtime


3. Spoon into measuring cup
Use a spoon/scoop to spoon the flour into a measuring cup
Spoon the flour into the measuring cup using another spoon and give it a little shake and continue until the flour/starch overflowing the cup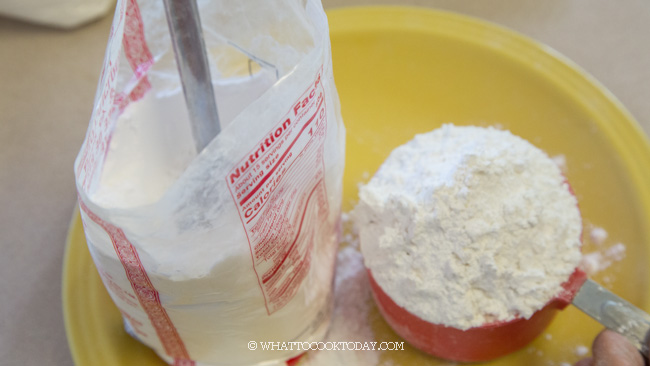 4. Level
Use a knife with the straight edge to level it off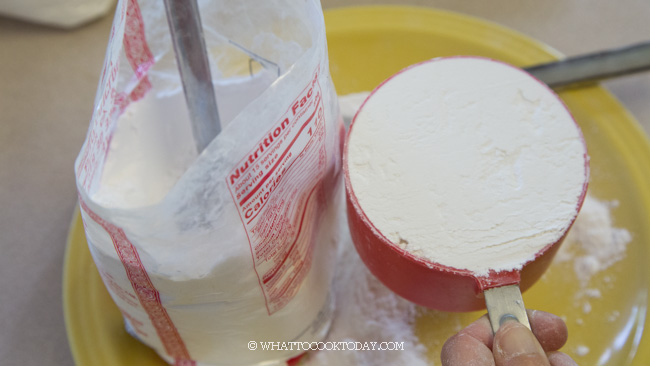 WHAT IF I SCOOP THE FLOUR/STARCH DIRECTLY FROM THE CONTAINER/BAG USING MEASURING CUP
You seriously don't want to do this. I was guilty of that before. I experimented with that and the difference can be between 10-20 grams difference each time. Wow! it may not seems like a lot, but all this adds up in baking or when you make kue/kuih or anything that requires precision. It will affect your end result.
DO I NEED TO SIFT THE FLOUR/STARCH
None of my recipes here will ask you to sift the flour/starches (not that I can recall). I don't usually do that. All the measurements I provided here are without sifting. I feel that it's more convenient and most people don't sift their flour anyway.
HOW TO MEASURE USING TABLESPOON OR TEASPOONS
The correct way is still with scooping with another spoon into the tablespoon or teaspoon. It's just like how we do it with flour/starch and then level off. BUT, I don't think people can't be bothered with that when it comes to tablespoon and teaspoons. For practicality, the measurement with tablespoon or teaspoon here is done by scooping directly using the measuring tablespoon and teaspoons and then level off with a knife.
HOW TO MEASURE SUGAR WITH MEASURING CUPS
1. USE MEASURING CUPS FOR DRY INGREDIENTS
2. STIR AND BREAK UP ANY LUMPS IN SUGAR


3. SCOOP INTO MEASURING CUP
With an exception for brown sugar, scoop the sugar into the measuring cups using another spoon and give it a little shake as you do so. Scoop until you overflow the cup


4. LEVEL
Use a straight-edge knife to level it off


4. FOR BROWN SUGAR
I scoop directly from the container/bag using measuring cups and really press and pack it down and level off with a knife
GRAMS TO CUPS CONVERSION FOR FLOUR/STARCH (WITHOUT SIFTING)
ALL-PURPOSE FLOUR
1 cup = 140 grams
1 Tbsp = 8 grams
1 tsp = 3 grams
BREAD FLOUR
1 cup = 140 grams
1 Tbsp = 8 grams
1 tsp = 3 grams
CAKE FLOUR
1 cup = 135 grams
1 Tbsp = 8 grams
1 tsp = 3 grams
WHEAT STARCH (TENG MIEN)
1 cup = 125 grams
1 Tbsp = 6 grams
1 tsp = 2 grams
GLUTINOUS RICE FLOUR (MOCHIKO FLOUR)
1 cup = 110 grams
1 Tbsp = 7 grams
1 tsp = 2 grams
RICE FLOUR
1 cup = 110 grams
1 Tbsp = 6 grams
1 tsp = 2 grams
TAPIOCA STARCH
1 cup = 120 grams
1 Tbsp = 8 grams
1 tsp = 2 grams
CORNSTARCH
1 cup = 120 grams
1 Tbsp = 7 grams
1 tsp = 3 grams
POTATO STARCH
1 cup = 160 grams
1 Tbsp = 10 grams
1 tsp = 3 grams
SWEET POTATO STARCH
1 cup = 130 grams
1 Tbsp = 8 grams
1 tsp = 3 grams
MUNG BEAN STARCH
1 cup = 135 grams
1 Tbsp = 9 grams
1 tsp 3 grams
GRAMS TO CUPS CONVERSION FOR SUGAR (WITHOUT SIFTING)
WHITE SUGAR
1 cup = 200 grams
1 tbsp = 13 grams
1 tsp = 4 grams
CONFECTIONER'S SUGAR/ICING SUGAR (NO SIFTING)
1 cup = 105 grams
1 tbsp = 7 grams
1 tsp = 2 grams
BROWN SUGAR -LIGHT OR DARK (PACKED)
1 cup = 210 grams
1 Tbsp = 13 grams
1 tsp = 4 grams
COCONUT SUGAR
1 cup = 154 grams
1 Tbsp = 10 grams
1 tsp = 3 grams