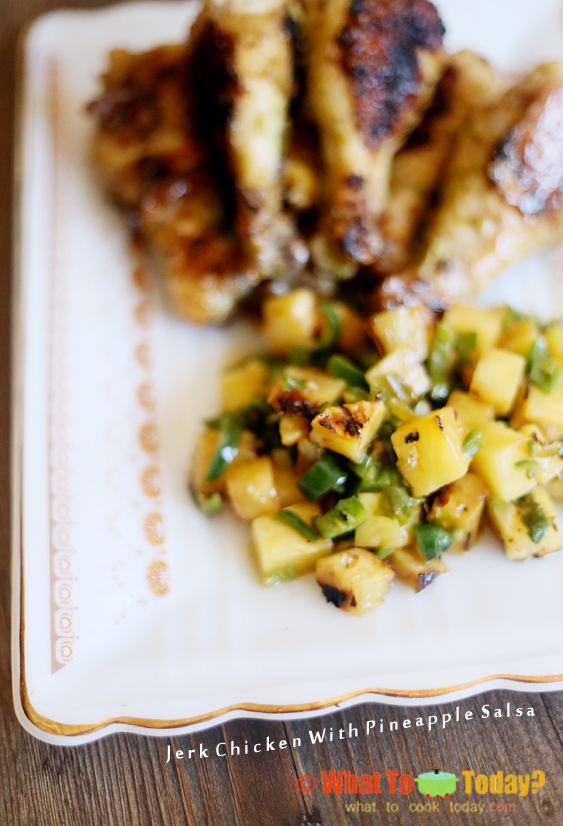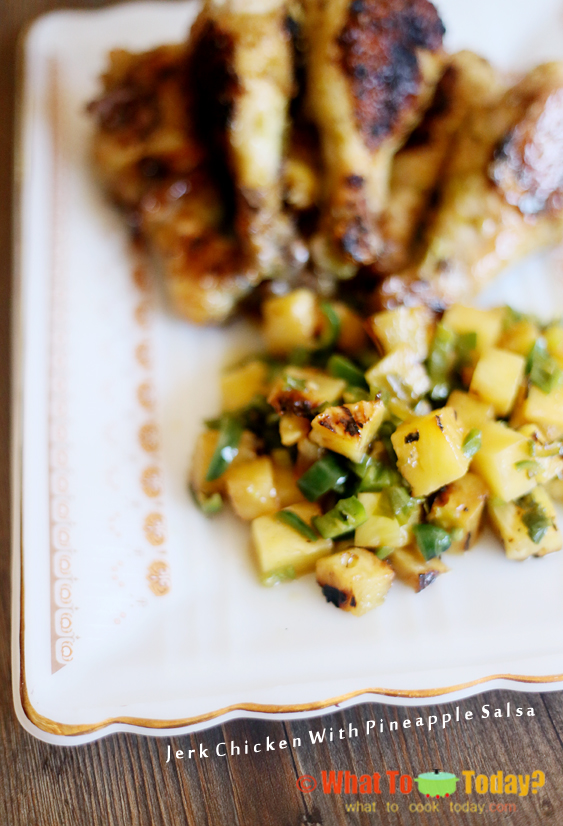 I heard of Jerk chicken so often but I've never actually had one before. Jerk is a method of cooking from Jamaica. The meats are usually rubbed with spices mixture (usually hot). The spices can be dry rub or wet kind. The meat is then traditionally roasted over charcoal grill.
Most Jamaican chefs grind the spices by hand in mortar and pestle, a technique that is used to retain the spices' natural, aromatic oils. The spices are toasted first to enhance and mellow their flavor. Using a store-bought ground spices will do too, is just that the flavors won't be as intense.
This recipe calls for a small habanero pepper, and trust me, a small one goes a long way. I love how it turns out and it's a mean jerk chicken 🙂 The pineapple salsa creates a perfect balance to the fiery chicken. Feel free to adjust the spicyness to your liking though.
JERK CHICKEN WITH PINEAPPLE SALSA
Ingredients
JERK MIX (1 cup):
2

Tbsp

olive oil

6

garlic cloves

minced

1

small habanero pepper

diced

1

Tbsp

ground allspice

1

tsp

ground cinnamon

1

tsp

cayenne pepper

2

Tbsp

brown sugar

1

tsp

white pepper

1

Tbsp

dried thyme

1

tsp

salt

1

tsp

ground ginger

4

scallions

trimmed and chopped

⅓

cup

fresh lime juice

½

cup

red wine vinegar
Other ingredients:
1 ½

lbs

drumsticks

or feel free to use thighs or breast

½

cup

Jerk mix you prepared

Salt to taste
Pineapple salsa:
2

slices

of 1-inch fresh pineapple

½

cup

diced bell pepper
Instructions
Preparing the jerk mix:
Heat the oil in a small saute pan over medium heat. When the oil shimmers, add the garlic and habanero and saute until the garlic just starts to color, about 3 minutes. Add the all spice, cinnamon, cayenne, and brown sugar and cook, stirring constantly, until the sugar melts and the mixture starts to clump together. Remove from the heat and let cool slightly. Transfer the mixture to a blender. Add the white pepper, thyme, salt, ginger, scallions, lime juice, and red wine vinegar and blend until smooth. Store in an airtight container in the fridge for up to 10 days
Preparing the salsa:
Brush the preheated grill with some cooking oil. Place the fresh pineapple on a grill and grill over medium heat about 6 minutes, turning once. Let it cool down for 5 minutes and then cut into small chunks and place in a serving bowl
Cooking the chicken:
Generously rub half of the jerk mix under and all over the drumsticks.and let it marinade for at least one hour, turning occasionally

Prior to cooking, remove the chicken from the refrigerator and let it stand in room temperature for 30 minutes. Preheat the grill and sprinkle the drumsticks with some salt and grill until the drumstick are cooked through. Remove from the grill and cover with aluminum foil while you finish grilling the rest. Serve with pineapple salsa