Learn how to make Japanese style old-fashioned sponge cake that is soft, moist, with a nice chewy texture, and with an amazing rich aroma of honey and pandan.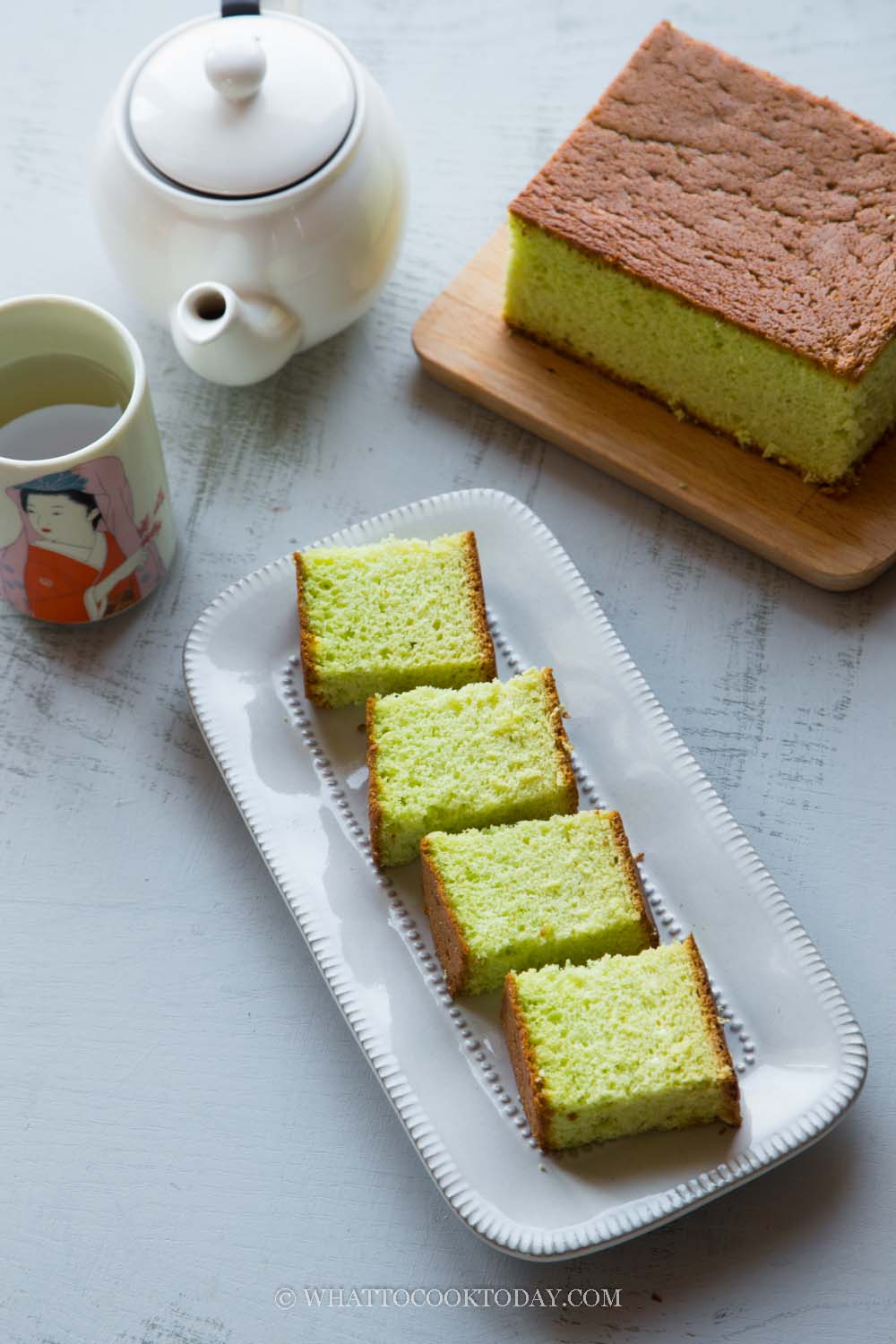 Japanese castella is different from the Taiwanese castella I made a while ago. They are both so good and spongy in texture. The Japanese castella has a soft yet chewy texture (thanks to the bread flour). The Taiwanese castella is soft with that melt-in-mouth texture and usually is baked using water-bath method. The Japanese castella was introduced by the Portuguese and throughout the years, the Japanese has adapted it to suit their taste and it is what it is today. Honey kasutera or castella is one of the most popular flavors in Japan.
No egg separation
I like the method that doesn't involve egg separations and to beat egg white separately. I really don't mind doing that considering how many chiffon cakes and sponge cakes I've baked in my life so far LOL!, but if we can have a more straight forward method with good result, then that's where I go! It's an old-fashion way of making sponge cake. It reminds me of the Chinese old-fashioned egg sponge cake.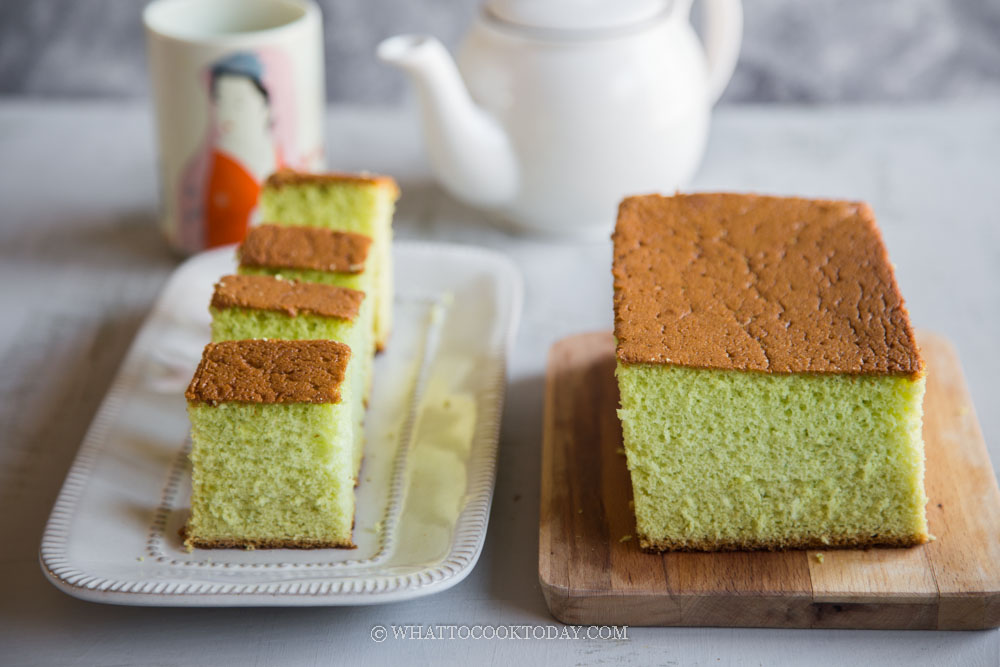 Bread flour vs all-purpose flour vs cake flour
Traditional Japanese kasutera is made with bread flour, which gives that nice chewy texture that I really like. You can use all-purpose flour, but you won't have much of that chew if you don't mind all that. I definitely won't use a cake flour because this is not meant to be soft and melt-in-the-mouth type of cake. But, it's up to you. Everyone has his/her own preference.

Type and size of pan to use
I use a 9 x 5 loaf pan to bake this cake. You can also use 6-inch square pan with at least 2.5 inches height. I use a lighter color pan so the cake won't be too dark. This cake has quite a good amount of honey that gives the cake its dark brown color on the outside.
How to make pandan honey kasutera (Japanese castella)
1. Preheat oven at 350 F (180 C). If your oven has top and bottom heat, you may want to adjust by lowering temperature by about 15 degrees. It is VERY important that the eggs are at room temperature. Oil the baking pan or use a non-stick spray. Line the bottom and sides with parchment paper


2. Sift the bread flour with salt. This extra steps will aerate the flour, remove lumps so that it's easier to mix into the batter at a later step


3. Warm the milk with honey to lukewarm on the stove. Do not boil or the milk will separate. Add pandan essence and set aside


4. Beat the eggs in a stand mixer with a whip attachment on speed 8 for about one minute


5. Then increase the speed to 10 and add sugar in 3 batches, about 1-minute interval each time


6. Beat until the mixture is tripled or even quadrupled in volume, thick, and creamy. This may take about 5 minutes over high speed 10 on Kitchen Aid. If you use a hand mixer, this will take much longer. We call this "ribbon stage"

7. If you put a toothpick in the batter. It will stand without falling


8. You can also test the consistency by lifting some of the batter with the whisk and the batter should drop down in trail and remains visible before disappearing into the batter. It is VERY important to beat to ribbon stage


9. You can stop the mixer and do this manually by hands OR lower the speed of the stand mixer to 2 and add the honey into the batter and let it beat on low speed until combined, about 20 seconds or so


10. Add 1/3 of the flour mixture over low speed, then add the next 1/3 until you run out of flour


11. The flour may not be thoroughly combined and you will still see some on the side of the mixing bowl. Don't worry, don't try to beat until they are combined. Stop the mixer and use a rubber spatula to gently scrape the sides of the bowl and gently fold it into the batter using the swipe down and fold over motion until you no longer see any pockets of flour. Do not overmix


12. Pour the batter into the prepared pan. It should be only about 3/4 full. You can bake the remaining extra in a smaller pan if it's too full for your pan. Tap the pan on counter 3-4 times to release any large bubbles


13. Use a skewer or a chopstick to draw a zigzag to pop any large bubbles inside the batter


14. Put the pan in a preheated oven, middle rack and bake for 10 minutes and then lower the heat to 320 F (160 C) for 40 minutes or until cake is no longer jiggly and the top is dry to touch and feels bouncy
15. Remove from the oven and drop the pan on the counter 2-3 times to minimize shrinkage. Lift the cake out from the pan by grabbing the parchment paper. Trim off excess parchment paper that extends up so it won't ruin the surface of the cake when you flip it over later


16. Spread a parchment paper or a silpat on a counter. Brush some oil on the parchment paper

17. Flip the cake upside down on top of it to let it cools down completely. I leave it for about one hour


18. Once it has cooled down I didn't peel the parchment paper off the cake. I wrap it with a parchment paper and staple the paper to secure


19. Wrap a cling plastic wrap around it. I don't want the plastic to touch my cake directly. You can peel off the parchment paper off the cake then wrap with a cling wrap directly if you don't mind. Then let the cake age at room temperature for 2 days. Some people age the cake in the fridge for 1 day. You can do either way


20. Carefully remove the plastic wrap. Trim the 4 edges and slice with a serrated knife to serve. Japanese castella is served as is without any cream or topping. It is perfect with a cup of tea or coffee


The caramelization of the sugar and honey that creates that dark brown on the outside really makes the cake so aromatic and you can literally smell honey (and hint of pandan in this case!)
Did you make this recipe?
I love it when you guys snap a photo and tag to show me what you've made 🙂 Simply tag me @WhatToCookToday #WhatToCookToday on Instagram and I'll be sure to stop by and take a peek for real!

The recipe is adapted from Japanese Cooking 101 with some modifications
Pandan Honey Kasutera (Japanese Castella Cake)
Ingredients
4

large

eggs (room temperature)

about 50 grams each without the shell

125

gr

granulated sugar

30

gr

milk

40

gr

honey

1

tsp

pandan essence

100

gr

bread flour

I don't recommend all-purpose flour

⅛

tsp

salt
Instructions
Things to do before you start working on the recipe:
Preheat oven at 350 F (180 C). If your oven has top and bottom heat, you may want to adjust by lowering temperature by about 15 degrees. It is VERY important that the eggs are at room temperature.

Oil the baking pan or use a non-stick spray. Line the bottom and sides with parchment paper

Sift the bread flour with salt. This extra steps will aerate the flour, remove lumps so that it's easier to mix into the batter at a later step

Warm the milk with honey to lukewarm on the stove. Do not boil or the milk will separate. Add pandan essence and set aside
Beat the eggs:
Beat the eggs in a stand mixer with a whip attachment on speed 8 for about one minute. Then increase the speed to 10 and add sugar in 3 batches, about 1-minute interval each time. Beat until the mixture is tripled or even quadrupled in volume, thick, and creamy. This may take about 5 minutes over high speed. If you use a hand mixer, this will take much longer. We call this "ribbon stage"

If you put a toothpick in the batter. It will stand without falling. You can also test the consistency by lifting some of the batter with the whisk and the batter should drop down in trail and remains visible before disappearing into the batter. It is VERY important to beat to ribbon stage. It took me about 5 minutes with stand mixer at speed 10
Incorporating flour mixture and liquid:
You can stop the mixer and do this manually by hands OR lower the speed of the stand mixer to 2 and add the honey into the batter and let it beat on low speed until combined, about 20 seconds or so

Add 1/3 of the flour mixture over low speed, then add the next 1/3 until you run out of flour. The flour may not be thoroughly combined and you will still see some on the side of the mixing bowl. Don't worry, don't try to beat until they are combined. Stop the mixer and use a rubber spatula to gently scrape the sides of the bowl and gently fold it into the batter using the swipe down and fold over motion until you no longer see any pockets of flour. Do not overmix
Baking:
Pour the batter into the prepared pan. It should be only about 3/4 full. You can bake the remaining extra in a smaller pan. Tap the pan on counter 3-4 times to release any large bubbles. Use a skewer or a chopstick to draw a zigzag to pop any large bubbles inside the batter

Put the pan in a preheated oven, middle rack and bake for 10 minutes and then lower the heat to 320 F (160 C) for 40 minutes or until cake is no longer jiggly and the top is dry to touch and feels bouncy
Cooling down:
Remove from the oven and drop the pan on the counter 2-3 times to minimize shrinkage. Lift the cake out from the pan by grabbing the parchment paper. Trim off excess parchment paper that extends up so it won't ruin the surface of the cake when you flip it over later

Spread a parchment paper or a silpat on a counter. Brush some oil on the parchment paper. Flip the cake upside down on top of it to let it cools down completely. I leave it for about one hour
Age the cake:
Once it has cooled down I didn't peel off the parchment paper off the cake. I wrap it with a parchment paper and staple the paper to secure, then wrap a cling plastic wrap around it. I don't want the plastic to touch my cake directly. You can peel off the parchment paper off the cake then wrap with a cling wrap directly if you don't mind. Then let the cake age at room temperature for 2 days. Some people age the cake in the fridge for 1 day. You can do either way
To serve:
Carefully remove the plastic wrap. Trim the 4 edges and slice with a serrated knife to serve. Japanese castella is served as is without any cream or topping. It is perfect with a cup of tea or coffee
To store:
The cake can be kept at room temperature in an air-tight container for 3 days