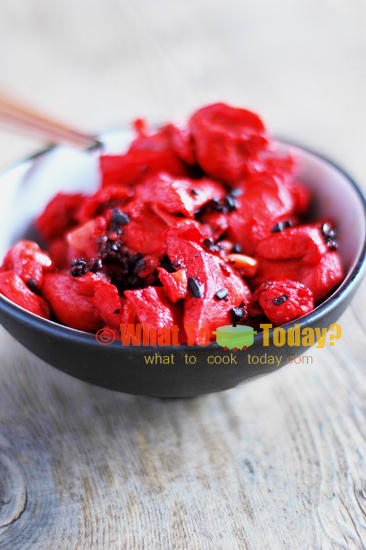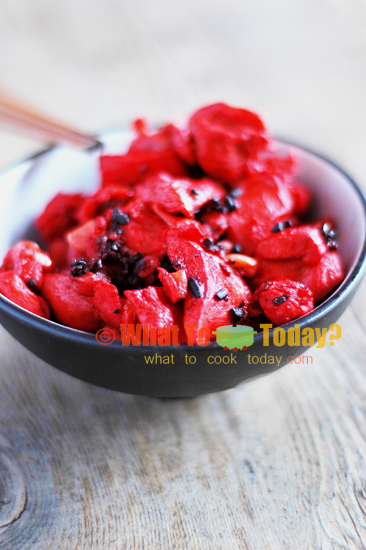 The first time I had a dish cooked with red yeast rice/red fermented rice/red vinasse was the time when I had my "confinement period" after giving birth to my baby girl. I have liked it ever since. The red yeast rice itself doesn't have any taste, in fact, they are like regular rice grains. The only distinctive thing about the red yeast rice is of course the vibrant red colors.
You probably know about red yeast rice from non-cooking sources. I've seen red yeast rice supplements. The details I read from wikipedia about red yeast rice is that in the late 1970s, researchers in the United States and Japan were isolating lovastatin from Aspergillus and monacolins from Monascus, respectively, the latter being the same fungus used to make red yeast rice but cultured under carefully controlled conditions. Chemical analysis soon showed that lovastatin and monacolin K are identical. The article "The origin of statins" summarizes how the two isolations, documentations and patent applications were just months apart. Lovastatin became the patented, prescription drug Mevacor for Merck & Co. Red yeast rice went on to become a contentious non-prescription dietary supplement in the United States and other countries.
So, that's a little background about the red yeast rice. Red yeast rice is being used very often in Asian cooking and for making certain types of wine. It is being used in cooking mainly for its color. I like how the dish tastes, sweet and slightly sour from the glutinous rice wine and aromatic thanks to the garlic, ginger and sesame oil. I put this dish under confinement recipes category as well because I think it just fits perfectly.
Red fermented rice chicken
Ingredients
1

lb

chicken thighs

3.5

oz

100 g ginger (julienned)

1

Tbsp

minced garlic

5

Tbp red yeast rice

4

Tbsp

sesame oil

2

cups

chicken stock

1.5

cups

glutinous rice wine

SEASONINGS:

1

Tbsp

salt

or more to taste

Salt to taste

½

Tbsp

chicken seasoning powder
Instructions
Chop the chicken into chunks and set aside

Heat a pot, use sesame oil to fry the ginger and garlic, add the red yeast rice and stir fry until fragrant

Add the chicken pieces and stir fry until they turn color, add seasonings and stock, bring to a boil and then lower the heat and let it simmer until the chicken is well done

Lastly add the glutinous rice wine, and bring it to boil again for a minute or so and then turn off the heat and serve