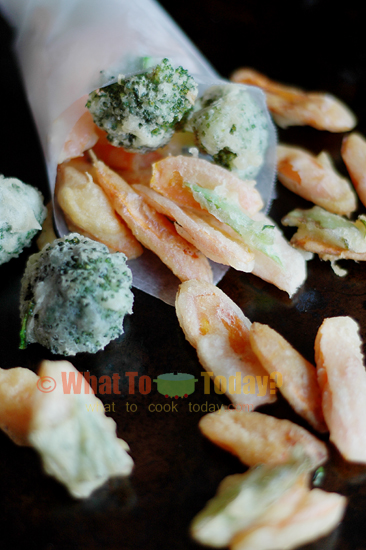 I'm sure every now and then you heard of this word "tempura" or perhaps seen it on the menu at Japanese restaurants. While reading through the history of tempura from Takashi's noodle cookbook by Takashi Yagihashi, I just found out that the cooking method was introduced by the Portuguese in the sixteenth century and has been refined into a uniquely Japanese food ever since. The key of making a good tempura is of course, the batter itself. If you ever tasted tempura before, you know how light and crispy these tempura can be.
The best thing about making tempura, any kind of tempura is it is so affordable and you can use any leftover of fresh veggies, or seafood like jumbo shrimp to do so. In this recipe, I only use carrots and broccoli because they are some of the leftover for the week. These two are my most favorite of vegetable tempuras besides sweet potato and jalapeno tempura. The carrots taste almost like sweet potatoes because they were so sweet in nature. The broccoli tempura was amazingly crunchy and so good. My mom were impressed.
I didn't use any egg in the batter, so this recipe is very suitable for vegan as well. Try it and you'll be surprised that you, too, can make awesome tempura at your own kitchen. The Japanese also like to serve tempura in their meal set and noodle dishes. I adapted this recipe from Washoku by Elizabeth Andoh.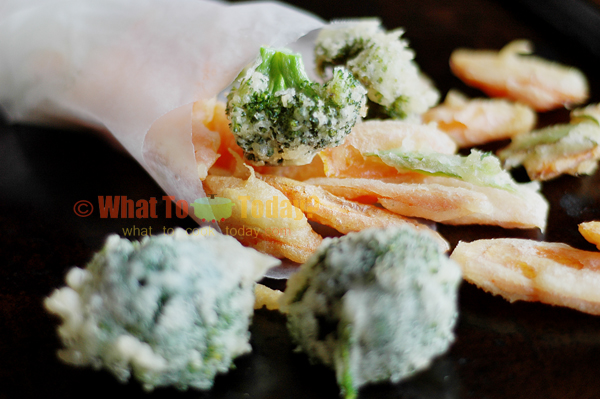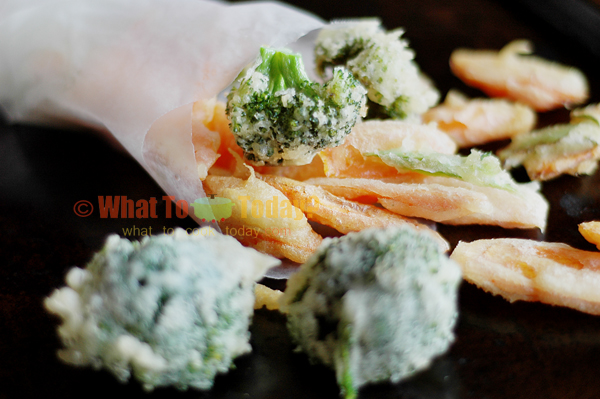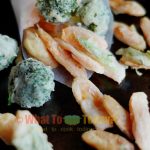 VEGETABLE TEMPURA
Ingredients
3

medium-size carrots

(cut at an angle into 1/4-inch thick slices)

1

bunch of broccoli florets

, separate the stems and the florets

Other vegetables that you may use: sweet potato

, yam, burdock root, parsnip

Vegetable oil for deep-frying

1

tsp

sesame oil

(for that hint of nutty sesame flavor)-optional
Tempura batter:
6

Tbsp

(about 1/3 cup) self-rising flour (see note below)

9

Tbsp

of ice water
Instructions
Get your vegetables ready in a bowl and blot up excessive moisture with paper towels

Get your frying oil ready. Pour about 2 inches of the vegetable oil in a deep-skillet and heat to 370 F on a deep-frying thermometer. Or test it with few drops of the batter, the drops will sink slightly and then rise to the surface and puff quickly but not color immediately. This is the sign that the oil is ready. Preheat oven to 200 F at the same time

While waiting for the oil to heat up, prepare the batter just before frying. Pour the ice water into a small bowl and sift the flour over it. Stir to mix slightly. You want the lumps to be visible in the batter.<br> <img class="aligncenter size-full wp-image-9932" title="Lumpy tempura batter" src="http://whattocooktoday.com/wp-content/uploads/2012/04/DSC_5826.jpg" alt="Lumpy tempura batter" width="366" height="550" data-mce-src="http://whattocooktoday.com/wp-content/uploads/2012/04/DSC_5826.jpg"><br> Why ? because these lumps will puff up as you fry your vegetables creating the nice crunch. Place all the vegetables in the tempura batter and toss lightly to coat the vegetables with the batter

One by one, placing the vegetables in the hot oil as much as you can but not to overcrowd your skillet. Fry for about 1 minute and DO NOT stir or flip them or anything. Just leave it for that 1 minute. Then transfer the crispy vegetables to a wire rack on a tray to drain and slip into the warm oven. Clear the oil with fine-mesh strainer of batter bits before adding the next batch of pancakes. Repeat the above steps until all vegetables are fried

Serve with dipping sauce if you prepare any. Otherwise, it is good as it is or you can sprinkle some salt on top of them right before serving
NOTE: Self-rising flour is readily available here in the U.S., however, if you can't find it where you are or perhaps never stock it at home, you can make your own by using (double or triple the recipe if you need more):
1/3 cup all-purpose flour + 1/2 tsp baking powder + 1/8 tsp salt = 1/3 cup self-rising flour