An easy one-pot Asian-style macaroni soup recipe that many seeks comfort in, from kids to adults. It can be made with Instant Pot or stove-top. A wonderful recipe for busy weeknight dinner.
One of my favorite soups from childhood is this Asian Chicken Macaroni Soup. My mom never cooked pasta at home when we were kids simply because she had little knowledge about food from other countries at that time. Macaroni though, it's one kind of pasta, perhaps the only pasta she knew, that she cooked a lot with a soup. You can ask other Asian kids who grew up in Asia, and they most likely know macaroni soup 🙂 This is like macaroni and cheese for the kids here in the U.S.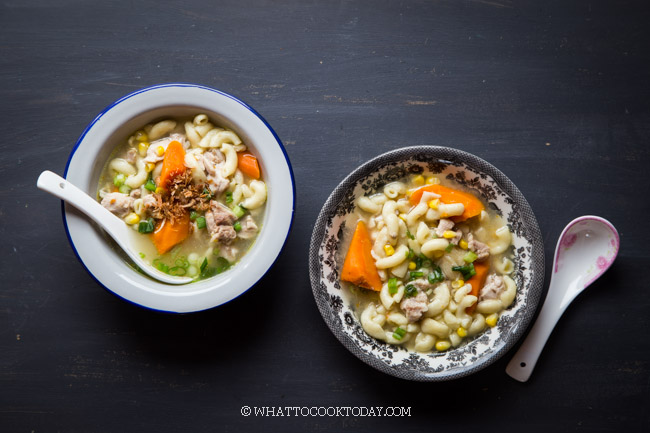 My kids never really knew about this Asian Chicken Macaroni Soup until I made it a few days ago with Instant Pot. Macaroni soup is not originated in Indonesia, that's for sure. I'm not sure where it's from, but everyone has his/her own version. This was how my mom made hers. Sometimes she would even add eggs to the soup too.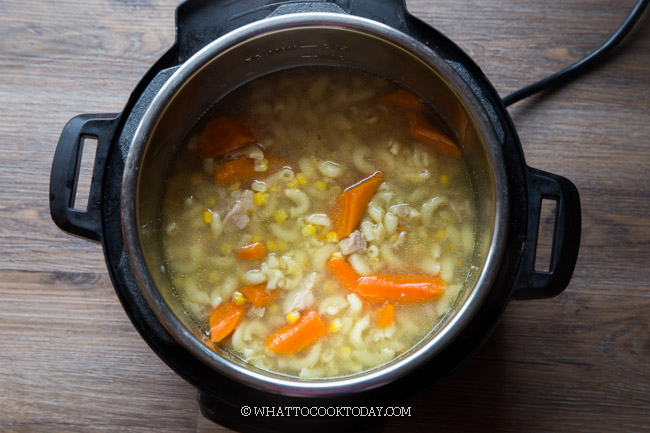 INGREDIENTS
There's really no "fixed" rule when it comes to this macaroni soup. You can add whatever you like.
Chicken: I suggest using dark meat pieces like thighs or drumstick, but feel free to use breast if that's what you like
Veggies: If cooking with Instant Pot, I suggest cut the carrots into large chunks so they won't turn into mush
Aromatics: I used whole garlic that I smashed with a heavy object to release flavor
Chicken broth: you can use store-bought chicken broth or homemade. I happened to have bone broth in my freezer and so I used a combination of store-bought chicken broth and that.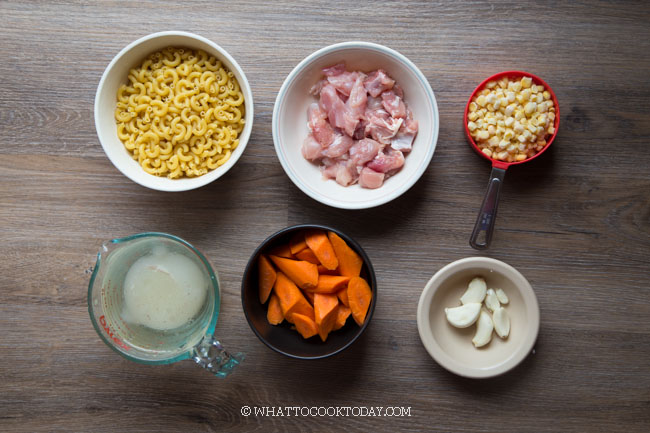 INSTANT POT VS COOKING ON THE STOVE
I like to use Instant Pot to make this chicken macaroni soup because everything cooks in one pot. I don't have to cook the macaroni separately and it only took 10 minutes later (5 minutes pressurizing and 5 minutes cooking), voila…dinner was ready!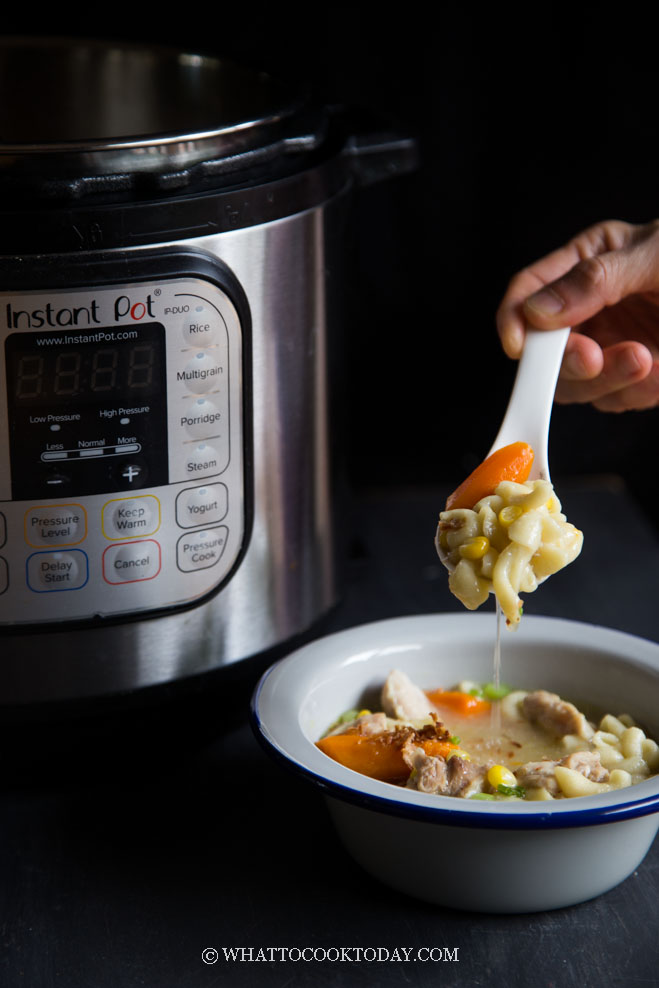 SUPER EASY ASIAN CHICKEN MACARONI SOUP STEP-BY-STEP COOKING GUIDE WITH INSTANT POT
It is really as easy as just put everything inside the inner pot of the Instant Pot (in no particular order)
1. Add dried elbow macaroni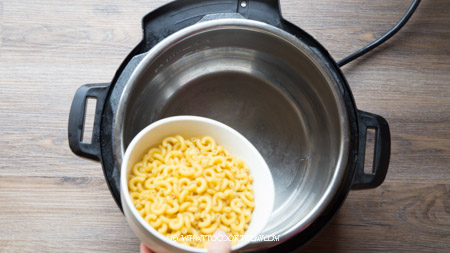 2. Add corn kernels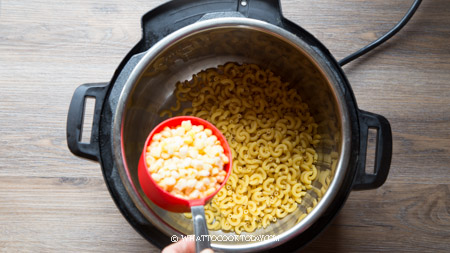 3. Add the carrot pieces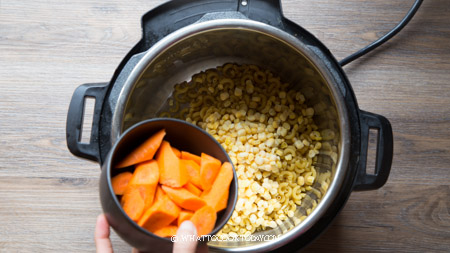 4. Add whole smashed garlic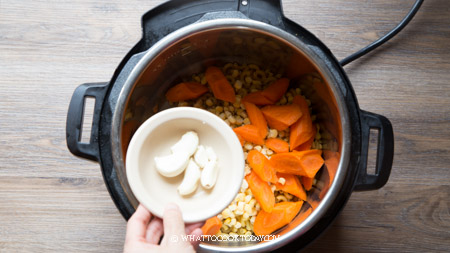 5. Add chicken pieces


6. Add chicken broth


7. Add Better-than-Bouillon or Bouillon cube


8. Give it a stir and then pressure cook on high for 3 minutes (updated) and then release pressure immediately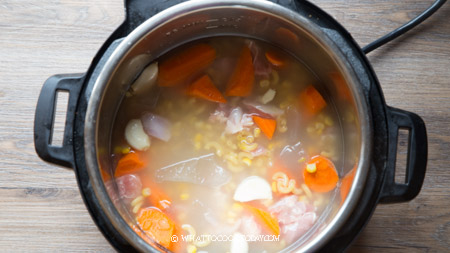 CUSTOMIZE THE RECIPE
Like I've mentioned earlier that there's really no fixed rules and you can use whatever you like to make it yours. Here are some suggestions:
Meat: You can use pork loin, beef stew pieces, cooked ham cubes
Meatless: You can use beans such as chickpeas, kidney beans, pinto beans, etc
Veggies: You can add celery, mixed veggies
Broth: You can use vegetable broth or beef broth depending on your choice of meat or no meat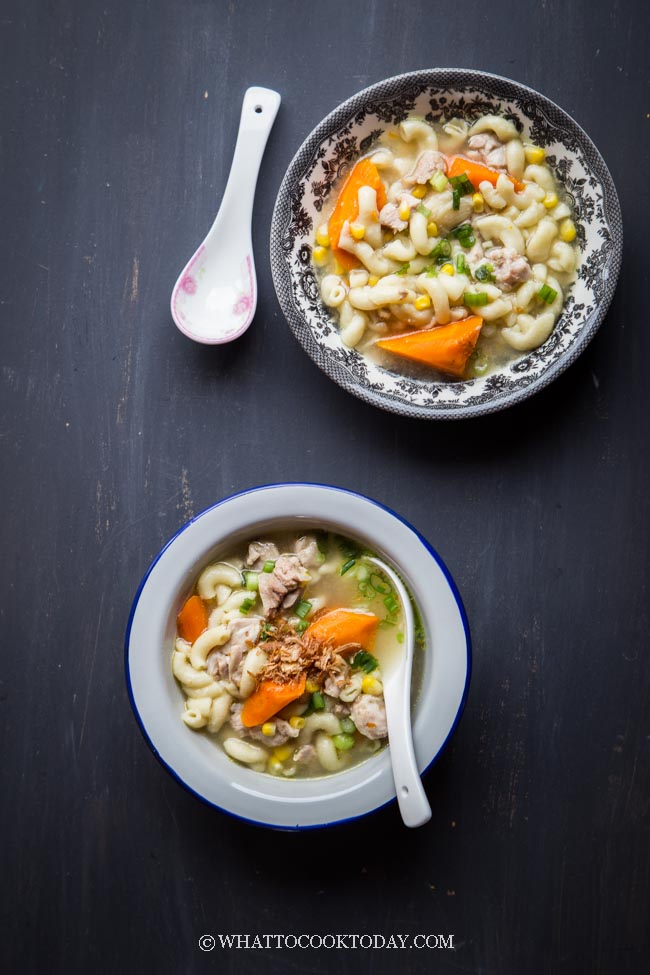 DID YOU MAKE THIS SUPER EASY ASIAN CHICKEN MACARONI SOUP?
I love it when you guys snap a photo and tag to show me what you've made 🙂 Simply tag me @WhatToCookToday #WhatToCookToday on Instagram and I'll be sure to stop by and take a peek for real!
*Recipe is written for 6-quart Instant Pot. Cooking time should remain the same for 8-quart size but will take longer to pressurize. For mini duo (3-quart), I suggest to half the recipe and use the same amount of time to cook*
Super Easy Asian Chicken Macaroni Soup (Instant Pot or Stove-top)
Ingredients
Instructions
Cooking with Instant Pot:
Place all the ingredients, except for salt and the garnish, in the insert of the instant pot. Give it a stir. Close the lid. Turn the steam release handle to seal. Press Pressure Cook and set on high pressure. Set the timer to 3 minutes (updated). If you want a much firmer texture, 2 minutes will do. It will take about 5-10 minutes to pressurize and then the timer will start. When the timer beeps, carefully turn the valve to release pressure immediately. Season with salt to your taste
Cooking on stove top:
Bring chicken stock to a boil and then add in chicken pieces and the rest of the ingredients, except for macaroni, salt and the garnish. Bring it back to a boil and then lower the heat to let it gently simmer for about 15 minutes

While the chicken is cooking, bring a pot of water to a boil and cook macaroni according to instruction. Drain and set aside

After 15 minutes, add macaroni to the soup and season with salt to your taste.
Serving:
Garnish with chopped green onions and crispy shallots (if using)