Tahini is used widely in Middle Eastern cuisine. Tahini is a thick paste made from crushed sesame seeds. High in protein and other nutrients, it is a flavorful base for cooking. It is a basic ingredient in various hummus dishes, as a sauce for meat, fish, vegetables and dessert. In The New Book Of Israeli Food by Janna Gur, she shared that the key to a successful tahini dish is choosing top quality raw material. The top quality tahini is delicious on its own without any additions. Taste it straight from the jar. It should be nutty and slightly sweet, without a trace of bitterness. I was fortunate to be able to find a great quality tahini in our local neighborhood grocery store, imported from Greece.
This baked lamb patties in tahini sauce is inspired by siniya, one of the flagship dishes of Palestinian cuisine-ground lamb baked in tahini. Siniya baking pan is a round ovenproof pan in which the dish is baked and served. You don't have to use siniya, your cast-iron ovenproof pan will do, or even a baking dish or a shallow ovenproof saucepan will do as well.
The patties are so moist and flavorful from the baharat spice mix. It may be a bit troublesome to prepare the baharat spice mix, however, this spice really flavors up the whole dish, and the creamy tahini sauce and the roasted pine nuts make the whole dish so special and flavorful. This recipe is a keeper.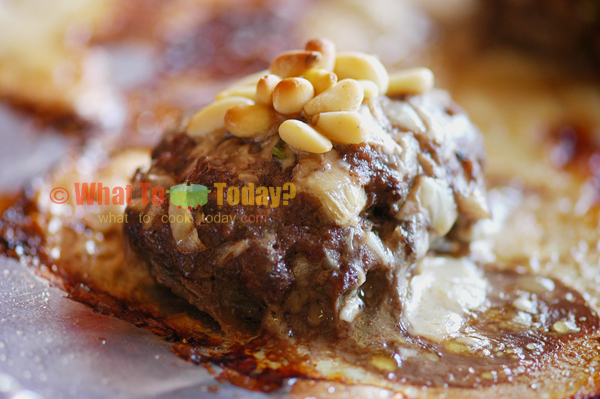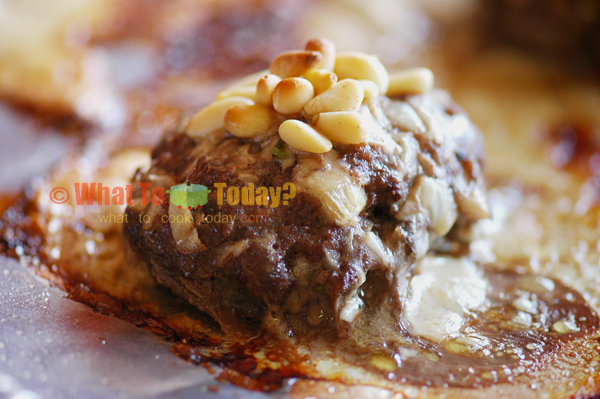 BAKED LAMB PATTIES IN TAHINI SAUCE
Ingredients
1

kg

2 lb 4 oz ground lamb (with some fat)

2

onions

chopped

3

cloves

garlic

crushed

1

heaping tablespoon of baharat spice mix

2

Tbsp

olive oil

½

cup

fresh parsley or coriander

chopped

FOR TAHINI SAUCE:

½

cup

raw tahini

2

Tbsp

freshly squeezed lemon juice

Salt and freshly ground black pepper

½

tsp

ground cumin

2-3

Tbsp

pine nuts

FOR BAHARAT SPICE MIX:

2

Tbsp

ground cardamon

1

Tbsp

ground black pepper

½

Tbsp

ground allspice

1

Tbsp

ground cinnamon

1

Tbsp

ground dry ginger

½

Tbsp

ground nutmeg
Instructions
Prepare the Baharat spice mix: Mix all the ingredients and keep in an airtight jar

Prepare the patties: Mix the meat with the onions, garlic, parsley or coriander, baharat and olive oil. Knead thoroughly and refrigerate for 30 minutes

Heat the oven to 425 F (220 C). Make sure your oven is clean and there is no remnants of food in there or it will create smoke

Knead again and form large patties (as small or as big as you want). Arrange in an ovenproof pan and bake for 10 minutes

While the patties are baking, prepare the sauce: Whisk the raw tahini with 1/2cup of water- the sauce should be smooth and quite thin. Add the lemon juice and season to taste

Pour the sauce over the partly baked patties. Sprinkle the pine nuts and bake for 10-15 minutes until the tahini sauce forms a crust over the patties. Garnish with chopped mint and serve immediately