Traditional baklava is quite labor-intensive to make by brushing each layer of phyllo dough with butter. I'm sharing with you an easy and quick way to make baklava but it still gives a really good result. The baklava can be made with or without butter/ghee. I seriously can't tell the difference.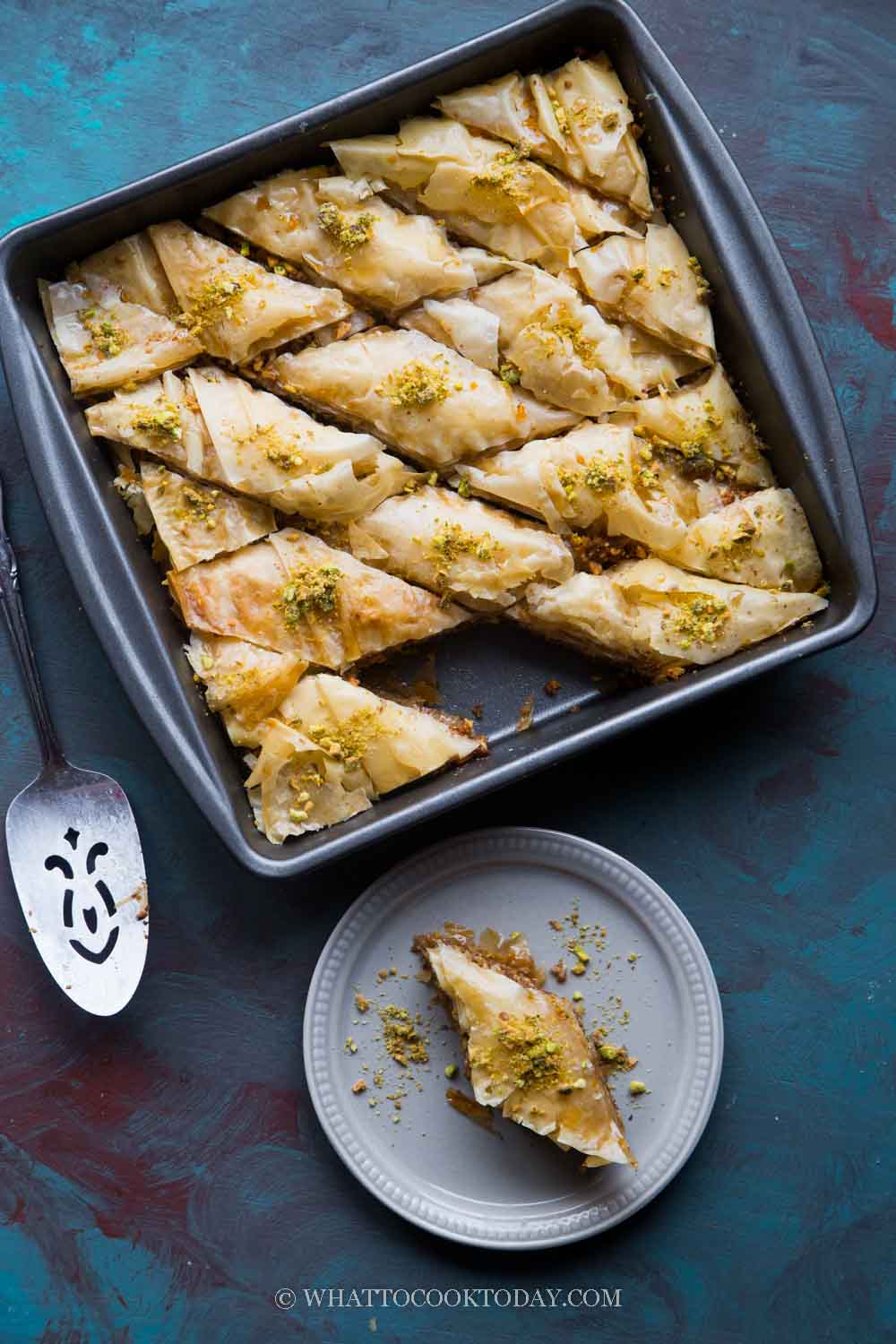 What is Baklava?
Baklava is a popular Greek and Middle Eastern pastry made from layers of buttered phyllo dough filled with chopped nuts and soaked with a sugar or honey syrup. Baklava is a traditional Easter specialty, consisting of forty layers of phyllo to represent the forty days of Lent.
The history of baklava is not well documented. It has been claimed by many ethnic groups, but there is strong evidence that it is of Central Asian Turkic origin.
My first baklava
My first encounter with Baklava was in Oklahoma (yes, we're talking about 15 something years ago). I was watching the morning news and they were featuring the Baklavas from Muhanna Sweets shop in Tulsa, Oklahoma and how good they were. So, I decided to order some online. They were no jokes indeed. So GOOD!!!! The first time I had them and certainly they were unforgettable. Then I ordered some more to give as Christmas gifts for some friends and they love them just as much. I saw the Baklava recipe on Martha Stewart Living cookbook again and I immediately just wrote myself a note as one of the desserts I need to make and today was the day.
Why you should try baklava
In case you haven't already, you really should. The smell of baking Baklava is incredible. You know, the spices, the nuts….. My husband never had it before and he was impressed. That crunch when you bit into it will surely break the silence in the room! AMAZING!
Traditional baklava vs this no-butter/ghee easy and quick baklava
Baklava isn't actually hard to make. The traditional way of making it is kinda labor-intensive, however. Each layer of phyllo dough needs to be brushed with butter and we're talking about 40 something layers here.
This recipe doesn't require that you brush each layer with butter or ghee and by the way, which save you lots of time. I'm not using butter or ghee either. I'm using oil, healthy oil. Though calorie-wise it's probably about the same, but at least the oil I use (grapeseeds oil) isn't high in saturated fat 😉 Of course, you are welcome to use butter. I also included the recipe if you want to use butter. I did notice that the top layers on baklava using oil tend to separate a bit more compared to if you use butter/ghee, but it's still not a bad thing though. Taste and texture-wise are still really good despite using oil.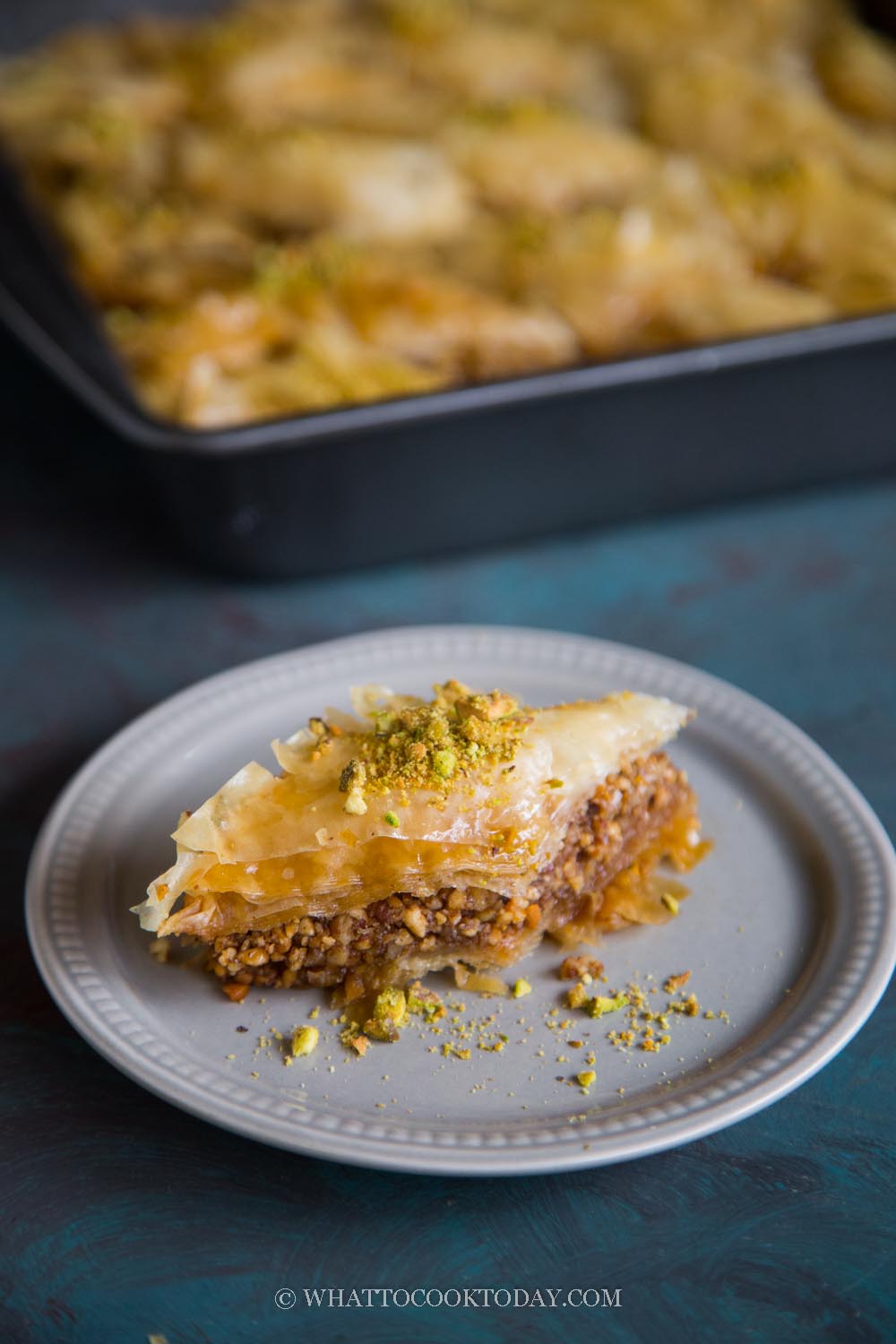 How to make baklava the easy and quick way without using butter/ghee
1. Place all ingredients for the syrup in a saucepan and bring to a simmer and let it simmer for 3-4 minutes and then off the heat. Let it cools off completely. You can prepare this the day before too. It's important to let the syrup cool down completely before pouring over the baked baklava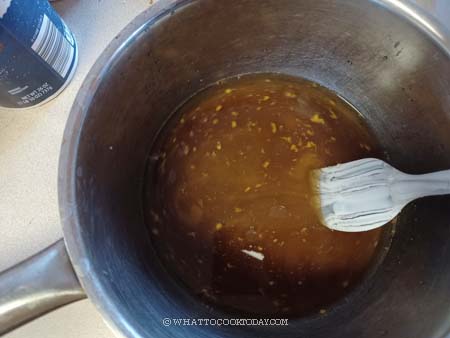 2. Preheat the oven to 350 F (180 C). Ground the nuts finely in a food processor


3. Combine them with the sugar, cinnamon, allspice, and cloves in a bowl


4. The phyllo dough usually comes frozen. If you get a 1 lb pack, you only need half of them for this recipe. Thaw them overnight in the fridge or at room temperature for about 2 hours. Unroll the phyllo. Immediately cover with plastic wrap and then a damp towel. Do not let the damp towel touch the phyllo dough directly because it makes the phyllo dough turn soggy. Keep covered while working as phyllo dough dries out very quickly when exposed to dry air


5. Brush a 9 x 9-inch square baking pan with oil (or you can also use cooking spray). Cut the stacks of phyllo dough about the same size as your pan, a little over is fine too as they will shrink after baking. Lay 1/2 of the phyllo sheet stack on the pan. Top with some of the scraps from cutting the phyllo sheet earlier. So the bottom will have a bit more layers than the top


6. Pour the nut mixture on top evenly


7. Then cover with the rest of phyllo sheet stack


8. Use a very sharp knife to cut diagonally through the phyllo dough, making sure to cut all the way to the bottom, then cut straight to form diamond shapes. You can also just cut in squares if it's easier. You want to cut them first before baking because, after baking, it's almost impossible to cut them without breaking the crispy phyllo into pieces


9. Pour the oil (or butter/ghee if using that instead of oil) all over the dough and tilt the pan as needed to let the oil sip to the layers of phyllo underneath too. Use a pastry brush to brush the top to make sure the oil covers the top evenly too. You don't want any dry spots


10. Put the baking pan on the middle rack and bake for 50-60 minutes or until the top has nice golden brown. Once out from the oven, immediately pour half of the syrup all over the hot baklava, tilting the pan to even out and then pour the rest again and tilt the pan to let the syrup go through the layers underneath


11. Garnish with some ground pistachio on each piece. Let the baklava cools down for 2 hours before serving

How to store baklava
1. Let baklava cools down completely in the baking pan
2. You can store them loosely cover with a foil at room temperature to preserve the crispness for 2-3 days
3. For longer storage, keep them in an air-tight container and store them in the fridge. They will lose that crispness and have a chewy texture instead
3. I personally recommend freezing them. Simply thaw at room temperature when ready to serve
Did you make this easy and quick baklava without using butter/ghee recipe?
I love it when you guys snap a photo and tag to show me what you've made 🙂 Simply tag me @WhatToCookToday #WhatToCookToday on Instagram and I'll be sure to stop by and take a peek for real!

The recipe was originally published in 2011, but I have updated it with a quick easy method and without using ghee/butter on December 6, 2021. We love the result just as much as the one using butter/ghee.

Easy and Quick Baklava (Without Butter/Ghee)
Ingredients
227

gr

phyllo dough

100

gr

walnuts

100

gr

pistachio

100

gr

almonds

30

gr

sugar
If you want to use butter or ghee:
If you want to use oil:
85

gr

neutral-tasting cooking oil

I use grape seeds oil
Spices:
1

tsp

ground cinnamon

⅛

tsp

ground allspice

⅛

tsp

ground cloves
Honey syrup:
340

gr

honey

100

gr

sugar

¾

cup

water

⅛

tsp

salt

1

Tbsp

orange zest
Instructions
Prepare the syrup:
Place all ingredients for the syrup in a saucepan and bring to a simmer and let it simmer for 5 minutes and then off the heat. Let it cools off completely. You can prepare this the day before too. It's important to let the syrup cool down completely before pouring over the baked baklava

340 gr honey,

100 gr sugar,

3/4 cup water,

1 Tbsp orange zest,

1/8 tsp salt
Prepare the nuts mixture:
Preheat the oven to 350 F (180 C). Ground the nuts finely in a food processor. Combine them with the sugar, cinnamon, allspice, and cloves in a bowl

100 gr walnuts,

100 gr pistachio,

30 gr sugar,

1 tsp ground cinnamon,

1/8 tsp ground allspice,

1/8 tsp ground cloves,

100 gr almonds

The phyllo dough usually comes frozen. If you get a 1 lb pack, you only need half of them for this recipe. Thaw them overnight in the fridge or at room temperature for about 2 hours
Prepare the phyllo dough:
Unroll the phyllo. Immediately cover with plastic wrap and then a damp towel. Do not let the damp towel touch the phyllo dough directly because it makes the phyllo dough turn soggy. Keep covered while working as phyllo dough dries out very quickly when exposed to dry air

Brush a 9 x 9-inch square baking pan with melted butter or oil (or you can also use cooking spray). Cut the stacks of phyllo dough about the same size as your pan, a little over is fine too as they will shrink after baking

Lay 1/2 of the phyllo sheet stack on the pan. Top with some of the scraps from cutting the phyllo sheet earlier. So the bottom will have a bit more layers than the top. Pour the nut mixture on top evenly. Then cover the rest of phyllo sheet stack

Use a very sharp knife to cut diagonally through the phyllo dough, making sure to cut all the way to the bottom, then cut straight to form diamond shapes. You can also just cut in squares if it's easier. You want to cut first before baking because after baking, it's almost impossible to cut them without breaking the crispy phyllo into pieces. Pour the oil (or butter/ghee if using that instead of oil) all over the dough and tilt the pan as needed to let the oil sip to the layers of phyllo underneath too. Use a pastry brush to brush the top to make sure the oil covers the top evenly too. You don't want any dry spots

85 gr neutral-tasting cooking oil,

113 gr ghee
Baking:
Put the baking pan on the middle rack and bake for 50-60 minutes or until the top has nice golden brown

Once out from the oven, immediately pour half of the cooled-down syrup all over the hot baklava, tilting the pan to even out and then pour the rest again and tilt the pan to let the syrup go through the layers underneath

Garnish with some ground pistachio on each piece
Cooling down:
Let the baklava cools down for 2 hours before serving
Notes
If you choose to use butter/ghee, ghee is better because it has been clarified and doesn't have much water left compared to butter. Butter will make the baklava soggy much faster because of the water content
Nutrition
Serving:
1
piece (baklava with oil)
|
Calories:
290
kcal
|
Carbohydrates:
37
g
|
Protein:
5
g
|
Fat:
15
g
|
Saturated Fat:
2
g
|
Polyunsaturated Fat:
8
g
|
Monounsaturated Fat:
5
g
|
Trans Fat:
1
g
|
Sodium:
89
mg
|
Potassium:
159
mg
|
Fiber:
2
g
|
Sugar:
26
g
|
Vitamin A:
29
IU
|
Vitamin C:
1
mg
|
Calcium:
35
mg
|
Iron:
1
mg