Pork tenderloin is stuffed with stir-fried Chinese sausage and rice and rolled into a roulade and baked to perfection. This Asian-inspired pork roulade seems more complicated than it actually is. It can be prepared ahead and baked later, making it perfect for your weeknight meal or for your holiday dinner.


Pork roulade seems fancy when you present it on a table and it's also a pretty economical way to feed the family or the crowd. I love making this for weeknight dinner or for the weekend. I have even made this for Thanksgiving and Christmas dinner before. As we are only 4 people in a household, I prefer to serve something not too big like this soy sauce brined five-spice roasted chicken and this pork roulade. So, here's my take on pork roulade with some Asian flare 😉
How to make pork roulade with Chinese sausage and rice stuffing
1. Melt butter on a preheated heavy-bottom pan, or simply add cooking oil if not using butter. Add onion and garlic and saute for about 2-3 minutes. Add chopped celery and mushrooms and saute for another 2 minutes.


2. Add Chinese sausage and cook for another minute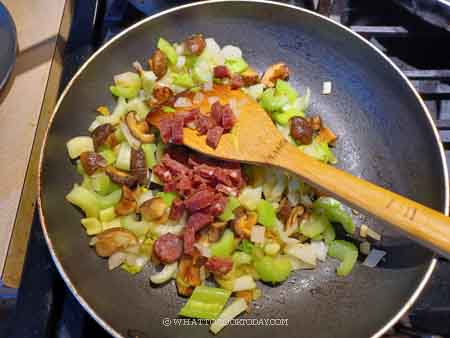 3. Add cooked rice followed by the seasonings. Continue to stir fry until all are well-combined. Have a taste and adjust seasonings to your taste. Off the heat and set aside to let it cool down and keep it in the fridge if you prepare a few days before


4. Start by cutting down the long end of the tenderloin, taking care not to cut through. Open it up into a bigger piece now. Cover with a plastic wrap and use a mallet (or in my case a pestle) and start to pound on the meat into about 1/2 inch thick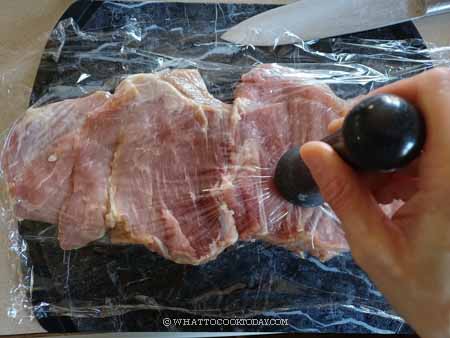 5. Preheat oven to 450 F (230 C). Cut about 8-10 pieces of kitchen twine, about 7-8 inches long each. Carefully spoon the stuffing on the meat surface and start to roll the pork over


6. Use the kitchen twine to tie around the pork roulade, spacing it out to about 1 inch for each tie. Brush the surface of the roulade with oil to keep it moist. Season with salt and pepper. Put the roulade on a rimmed baking sheet lined with heavy-duty aluminum foil for easier clean-up later


7. Place on the middle rack and let it roast for 10 minutes and then lower the temperature to 325 F (160 C), cover the pan with a foil and let it cook for the next 25 minutes or until the instant thermometer reads 140-150 F (60-65 C)


8. Carefully transfer to a cutting board, cover with a foil and let it rest for 10 minutes before cutting. This is important to keep the meat moist. After that, remove the kitchen twine and slice it into about 1 inch thick, and put it on a serving plate. Pour the pan dripping over the pork slices and serve

How to keep the meat tender and moist
1. Pounding the meat with meat mallet helps to tenderize the meat and also we want to pound it so that the meat has equal thickness and cooks evenly
2. Brushing the surface of the pork roulade with oil before baking
3. The initial high temperature is to "sear" the meat so it helps to seal in the juice during baking
4. I also cover the pan with a foil after searing to help keep the meat moist
5. DO NOT open the foil after baking. It is important to let the meat rest for 10 minutes before slicing or you will lose all the juice and end up with dry meat
6. Save the pan drippings and pour it over the meat just before serving

Did you make this pork roulade with Chinese sausage and rice stuffing recipe?
I love it when you guys snap a photo and tag to show me what you've made 🙂 Simply tag me @WhatToCookToday #WhatToCookToday on Instagram and I'll be sure to stop by and take a peek for real!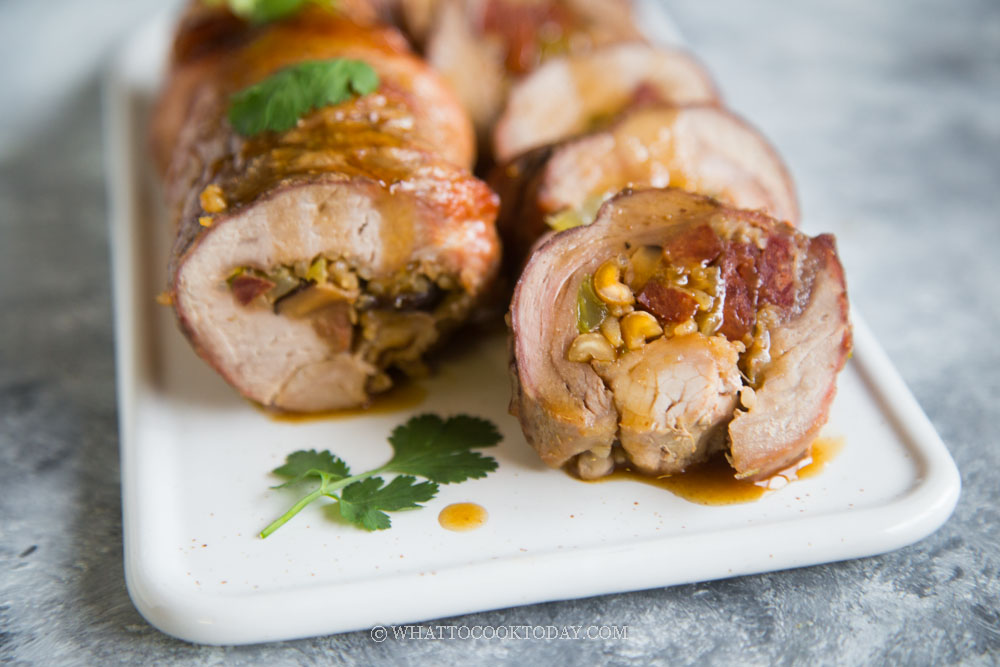 Asian Pork Tenderloin Roulade with Chinese Sausage and Rice Stuffing
Ingredients
3

lbs

pork tenderloin

Cooking oil

for brushing the meat

Salt and pepper

to season the meat
Stuffing:
2

large

dried shiitake mushrooms

soaked in warm water until soft and diced

1

small

onion

finely chopped

2

cloves

garlic

minced

1

large

celery stalk

finely chopped

2

Tbsp

butter

or use cooking oil for healthier option

1

link

Chinese sausage

diced

½

cup

cooked rice
Seasonings for the stuffing:
You will need:
Instructions
Prepare the stuffing (can be prepared few days before):
Melt butter on a preheated heavy-bottom pan, or simply add cooking oil if not using butter. Add onion and garlic and saute for about 2-3 minutes. Add chopped celery, mushrooms and diced Chinese sausage and saute for another 2 minutes. Add cooked rice followed by the seasonings. Continue to stir fry until all are well-combined. Have a taste and adjust seasonings to your taste. Off the heat and set aside to let it cool down and keep it in the fridge if you prepare few days before

2 large dried shiitake mushrooms,

1 small onion,

2 cloves garlic,

1 large celery stalk,

2 Tbsp butter,

1 link Chinese sausage,

1/2 cup cooked rice,

1 Tbsp oyster sauce,

1 Tbsp soy sauce,

1 tsp sugar,

1/4 tsp ground white pepper
Butterfly the meat:
Start by cutting down the long end of the tenderloin, taking care not to cut through. Open it up into a bigger piece now. Cover with a plastic wrap and use a mallet (or in my case a pestle) and start to pound on the meat into about 1/2 inch thick
Assembling:
Preheat oven to 450 F (230 C). Cut about 8-10 pieces of kitchen twine, about 7-8 inches long each. Carefully spoon the stuffing on the meat surface and start to roll the pork over

Use the kitchen twine to tie around the pork roulade, spacing it out to about 1 inch for each tie.

Brush the surface of the roulade with oil to keep it moist. Season with salt and pepper. Put the roulade on a rimmed baking sheet lined with heavy-duty aluminum foil for easier clean-up later

Cooking oil,

Salt and pepper
Baking:
Place on the middle rack and let it roast for 10 minutes to let is "sear" and then lower the temperature to 325 F (160 C), cover the pan with a foil and let it continue to cook for the next 25 minutes or until the instant thermometer reads 140-150 F (60-65 C)
Cooling down:
Let it rest for 10 minutes without opening the foil before cutting. This is important to keep the meat moist
Serving:
After that, remove the kitchen twine and slice into about 1 inch thick and put on serving plate. Pour the pan dripping over the pork slices and serve
Nutrition
Serving:
1
serving
|
Calories:
337
kcal
|
Carbohydrates:
7
g
|
Protein:
48
g
|
Fat:
12
g
|
Saturated Fat:
5
g
|
Polyunsaturated Fat:
1
g
|
Monounsaturated Fat:
4
g
|
Trans Fat:
1
g
|
Cholesterol:
158
mg
|
Sodium:
407
mg
|
Potassium:
934
mg
|
Fiber:
1
g
|
Sugar:
1
g
|
Vitamin A:
126
IU
|
Vitamin C:
1
mg
|
Calcium:
23
mg
|
Iron:
2
mg