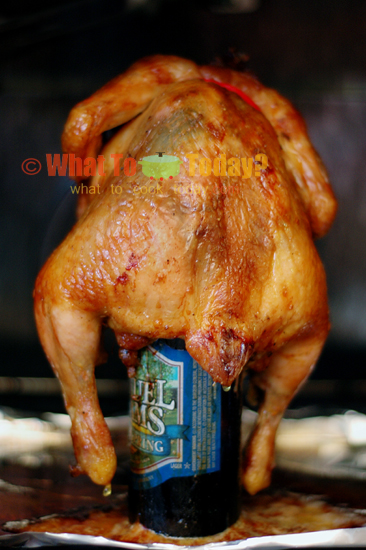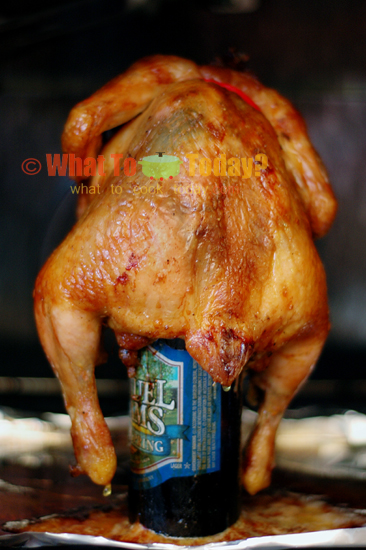 So, yesterday I posted the cowboy meatballs recipe and I did mention something about testicles. Now I'm writing about beer BUTT chicken. What in the world is she doing ? I can only promise you that there are no profanity at this site and you will end up with good meals.
So what's the fuss about this beer butt chicken ? As weird as the title reads, it actually just involves you sticking a can or bottle of beer into the chicken's lower cavity, in this case, the butt! The beer butt chicken is another recipe from the Southern part of the U.S.
I honestly think I couldn't do this. I mean I was a little worry with the 5 lb-chicken supported merely by a can/bottle of beer. What if the whole thing tip over while cooking and I'll end up with a huge mess in the oven and no lunch! That spells disaster, doesn't it ? Of course all the bad things that I imagined never happened as usual. In fact, I ended up with a beautifully cooked chicken and even better when we ate it.
The steam from the beer cooks the inside of the bird and the meat ends up so moist and juicy while flavoring it at the same time. And oh…. Have I also mentioned this is also a Fiorina-approved recipe ? My daughter hardly wants to eat meat of any kind. Well, she would if I ground it up very finely and sneak it in somewhere. I tore her chunks of this beer butt chicken and she ate this without spitting it out! In fact, her mouth opened so fast that I was trying to keep up with her. Wohooo!!! I'll definitely make this again!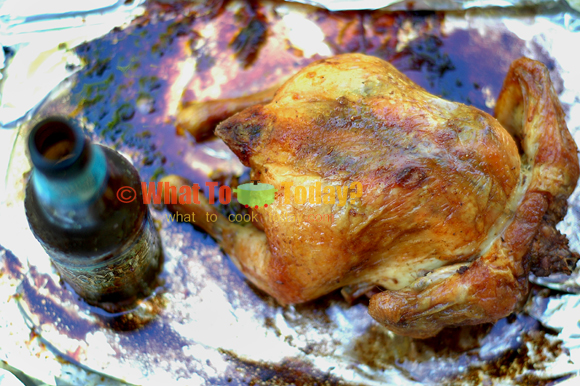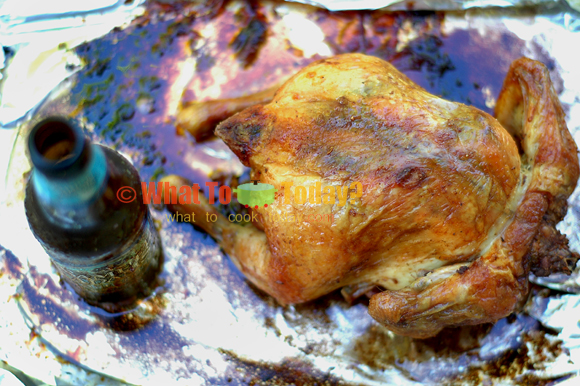 JAMIE OLIVER'S BEER BUTT CHICKEN
Ingredients
1

large whole chicken

(about 3 1/2 to 4 lbs)

1

can of beer or 1 bottle of beer

(I used bottle)

FOR THE RUB:

1

heaping tsp fennel seeds

1

level tsp cumin seeds

1

level tsp smoked paprika

1

heaping tsp light brown sugar

1

level tsp mild chili powder

Sea salt and freshly ground black pepper

Olive oil
Instructions
Preheat your grill or oven to 400 F. Take the chicken out of the refrigerator while you prepare the rub. Using a mortar and pestle, bash up the fennel and cumin seeds and mix with paprika, brown sugar, chili powder, salt and pepper. If you don't have mortar and pestle, you can always use food processor. Stir in about 3 Tbsp of olive oil until you get a nice paste. Drizzle this rub all over the chicken, inside and out, using your hands to make sure you get into all the nooks and crannies

Crack the beer open. have a couple of good gulps so your can/bottle is just about half-full, then lower your chicken's cavity onto the top of the can/bottle so it looks as though the chicken is sitting on the can. A bit undignified, I know, but trust me - it's going to be delicious.

If you are using the grill, try to strategically move a small amount of coals to the sides rather than directly underneath the chicken, so the heat radiates around it and cooks it from all angles rather than grills it. The same principle applies to roasting

Carefully sit the chicken on the bars of your grill or in a roasting pan on the very bottom of your oven. Cook for 1 hour 10 minutes to 1 hour 30 minutes or until it's golden and delicious and the meat pulls away from the bone and the juices run clear (no longer bloody. If this isn't the case, just cook for a bit longer because every grills and ovens are slightly different. It took me about 1 hour 45 minutes on my oven

Once you know the chicken is done, very carefully remove it from the grill or the oven. You may want to wait for few minutes to let it cool down a little bit and then slowly and carefully, lift the chicken up to remove it from the can or bottle. Loosely cover the chicken with aluminum foil and a dish towel while you get some grilled vegetables, salad or warm breads together. It's going to taste so good that you really won't need much else