Wood ear mushroom/black fungus are tossed in a savory, umami, lightly spicy, tangy, and garlicky dressing and then chilled makes such a perfect cold appetizer and it's incredibly easy to put together too.

What is wood ear mushroom or black fungus?
It's a mushroom that has a black/dark-brown woody color and has a shape like an ear (hence the name!) or some people just call it black fungus. It has a very mild flavor, almost plain if you ask me with a soft yet crunchy texture. Like many other mushrooms, they are perfect as a salad as it picks up all the flavors you combined them with.

The recipe rundown
Taste: The taste mainly comes from the dressing, which is savory, umami, a bit spicy, tangy, and refreshing if you chill the salad before serving
Texture: Soft but crisp
Pros: They are fairly easy to put together
Cons: Some of the ingredients may be a bit difficult to find but you can always substitute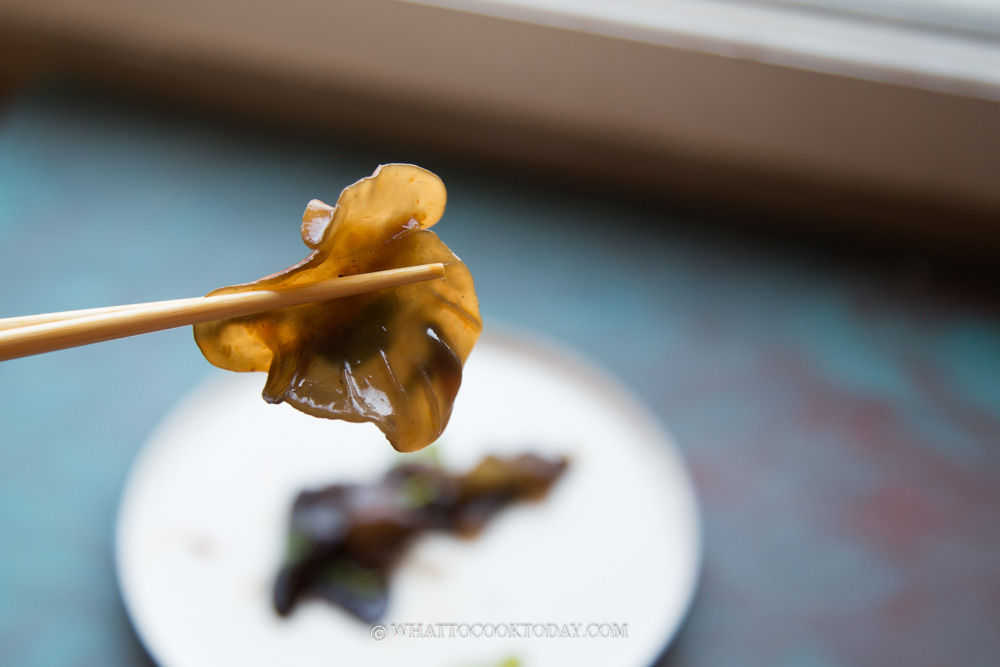 Special ingredients
1. Wood ear mushrooms/black fungus
These mushrooms are usually sold in dried form and are widely available in pretty much most Asian grocery stores
2. Dou Ban Jiang (Spicy bean paste)
Dou ban jiang is made with fermented broad beans and chili. They are available at Asian grocery stores. You can also use the Korean gojuchang
3. Chinese black vinegar
The brand that I prefer is the one shown in the photo below, but it's hard to find. You can also try this brand. If you can't find any Chinese black vinegar, you can use balsamic vinegar. Balsamic vinegar is sweeter compared to Chinese black vinegar, but it will work for this recipe
How to prepare wood ear mushroom/black fungus salad
1. Get a big bowl. Soak the black fungus/wood ear mushrooms in room temperature water for about 20 minutes or until they tripled or quadrupled in size


2. While the fungus is soaking, prepare the dressing. Preheat oil in a saucepan. Add ginger and garlic and saute for about 30 seconds or until fragrant


3. Add the dou ban jiang and saute for another 30 seconds


4. Add the rest of the ingredients and cook until the mixture just comes to a gentle simmer and turn off the heat. Transfer to a large bowl you are going to use to serve the salad. Let it cools down

5. Drain off the soaking water. Use kitchen shears to trim off the hard woody part of the mushrooms. Bring a large pot of water to a boil. Add the mushrooms and cook for about 5 minutes.


6. Drain off water and soak in ice-cold water to stop the cooking process and to crisp them up. Pat them really dry with an absorbent paper towel so the dressing can cling to the mushrooms later


7. Put the prepared mushrooms and cilantro leaves into the bowl and toss with the dressing to evenly coat


8. You can serve straight away or keep it covered and chill in the fridge for about one hour or up to 2 days. I really like them chilled as it tastes very refreshing

Did you make this recipe?
I love it when you guys snap a photo and tag to show me what you've made 🙂 Simply tag me @WhatToCookToday #WhatToCookToday on Instagram and I'll be sure to stop by and take a peek for real!

Wood Ear Mushroom/Black Fungus Salad (凉拌木耳)
Ingredients
80

gr

dried wood ear mushroom

1

cup

fresh cilantro leaves

lightly packed, chopped
Instructions
Soak the black fungus:
Get a big bowl. Soak the black fungus/wood ear mushrooms in room temperature water for about 20 minutes or until they tripled or quadrupled in size
Prepare the dressing:
While the fungus is soaking, prepare the dressing. Preheat oil in a saucepan. Add ginger and garlic and saute for about 30 seconds or until fragrant. Add the dou ban jiang and saute for another 30 seconds. Add the rest of the ingredients and cook until the mixture just comes to a gentle simmer and turn off the heat. Transfer to a large bowl you are going to use to serve the salad. Let it cools down
Assembling:
Drain off the soaking water. Use kitchen shears to trim off the hard woody part of the mushrooms. Bring a large pot of water to a boil. Add the mushrooms and cook for about 5 minutes. Drain off water and pat them really dry with an absorbent paper towel so the dressing can cling to the mushrooms later

Put the prepared mushrooms and cilantro leaves into the bowl and toss with the dressing to evenly coat
Serving:
You can serve straight away or keep it covered and chill in the fridge for about one hour or up to 2 days. I really like them chilled as it tastes very refreshing
Storing:
Leftover can be stored in the fridge for up to 5 days
Nutrition
Serving:
1
serving
|
Calories:
118
kcal
|
Carbohydrates:
18
g
|
Protein:
3
g
|
Fat:
5
g
|
Saturated Fat:
1
g
|
Polyunsaturated Fat:
2
g
|
Monounsaturated Fat:
3
g
|
Trans Fat:
1
g
|
Sodium:
421
mg
|
Potassium:
350
mg
|
Fiber:
3
g
|
Sugar:
2
g
|
Vitamin A:
278
IU
|
Vitamin C:
2
mg
|
Calcium:
10
mg
|
Iron:
1
mg