Soft and chewy dough infused with mashed pumpkin and filled with melty palm sugar and rolled in grated coconut is one of the popular kuih/kue in Southeast Asia. Ondeh ondeh is naturally gluten-free.


A while ago I made the traditional ondeh ondeh or we call it klepon in Indonesia infused with an amazing pandan flavor. This time around, I decided to use pumpkin for that beautiful vibrant orange hue. I gotta use up the mashed pumpkin I have in the freezer.
Ingredients
1. Pumpkin
You can use any type of pumpkin or squash. Just gradually add in water as each pumpkin differ in how moist it is. You can also use sweet potato, again, you need to adjust the amount of the water
2. Glutinous rice flour
This is also known as sweet rice flour/sticky rice flour or mochiko flour. There is no substitute for glutinous rice flour in this recipe. Glutinous rice flour is GLUTEN FREE (don't let the word glutinous fools you into thinking it contains gluten)
3. Wheat starch
This is also known as tang mian. It's not the same with wheat flour. This is the starch extracted from wheat. This is available at Asian grocery store
4. Palm sugar
We call this gula Jawa or sometimes gula aren and gula Melaka in Malaysia and Singapore. If you can't find it at Asian store, you can try using coconut sugar. It has very similar taste and aroma profile
5. Grated coconut
It is usually unsweetened. It's not the same with desiccated coconut. You can find it sold in frozen pack at Asian store

Important tips
The most common problem with ondeh ondeh is bursting of the sugar (or sugar leaks out) during boiling. Here are few tips to avoid that:
1. Don't overfill the dough. I know we try to stuff in as much as we can, but avoid that
2. Make sure you finely chop the palm sugar so it can easily melt inside the ondeh ondeh while you boil it
2. Don't roll the dough too thin
3. Make sure you roll the dough into a smooth ball without any cracks. Dab with a bit of water to help you roll them really smooth
4. Boil the onde onde right away after you fill and shape them. If you let them sit around, they will leak sugar when you boil them

How to store pumpkin ondeh ondeh
1. Ondeh Ondeh is best served on the same day they are made. If you have leftovers, you can transfer them to a container with a tight lid and keep them in the refrigerator. They will harden after refrigeration. You can reheat by using moist heat like a steamer. Steam them over boiling heat for 2-3 minutes and they will soften again. You can also reheat them in the microwave. Cover them with a wet paper towel and then microwave on high for about 10 seconds or less, you need to monitor.
2. It is not recommended to freeze uncooked ondeh ondeh as they will leak or burst when you boil them
Did you make this pumpkin ondeh ondeh recipe?
I love it when you guys snap a photo and tag to show me what you've made 🙂 Simply tag me @WhatToCookToday #WhatToCookToday on Instagram and I'll be sure to stop by and take a peek for real!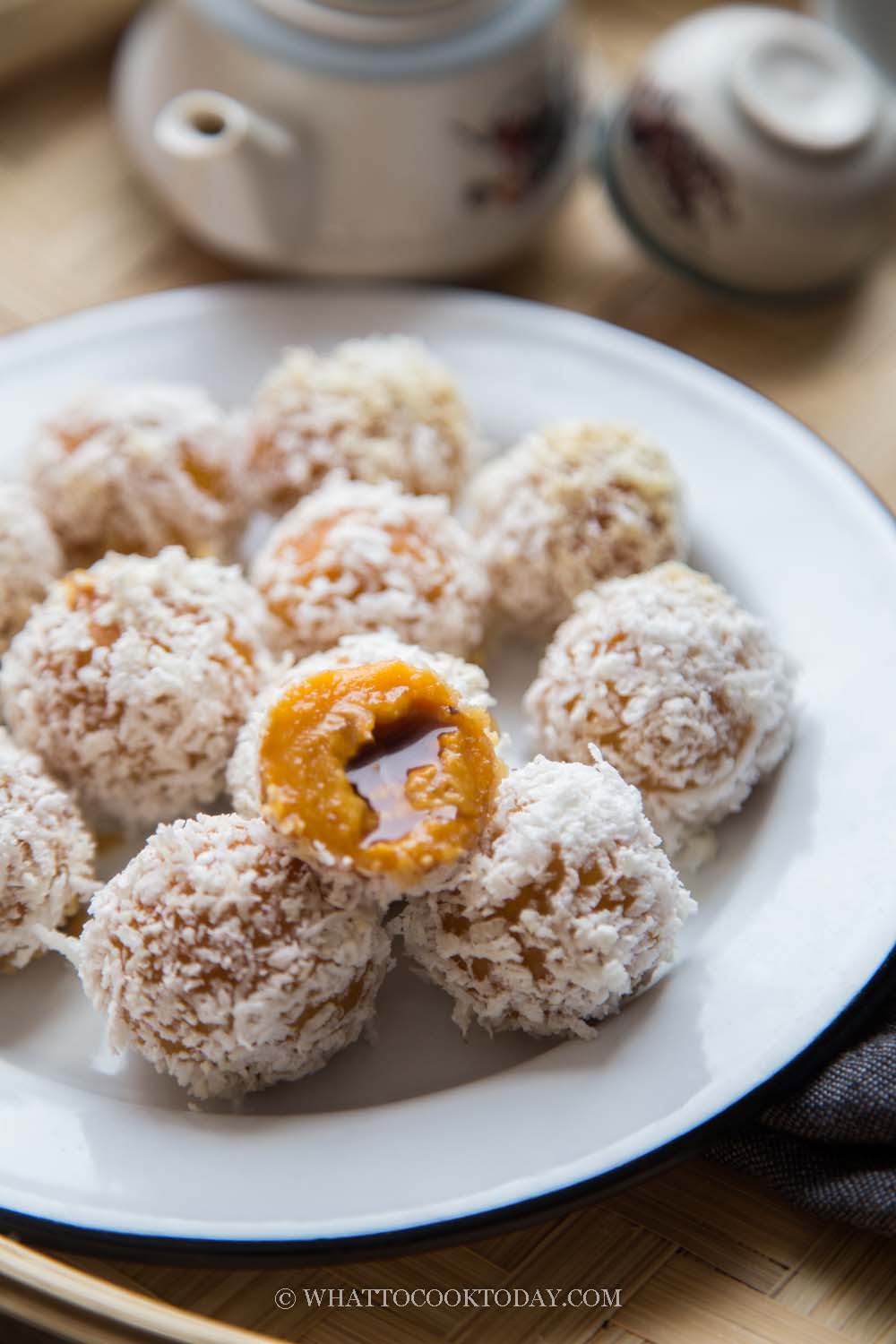 Pumpkin Ondeh Ondeh/Klepon
Instructions
I use frozen grated coconut so I need to thaw it. Mix with salt and then steam with a pandan leaf over medium heat for 10 minutes. Set aside to cool down

Finely chop the palm sugar and set aside
Prepare the dough:
Combine glutinous flour and wheat starch. Set aside

Get about 200 grams of pumpkin (weight is after peeling off the skin and seeded). You will have a bit of leftover. Cut the pumpkin into cubes and then steam for 15 minutes until they can be easily mashed

Mash the pumpkin while it's still hot. You only need 100 grams of mashed pumpkin for this recipe. Add the mixture of flour, oil, and gradually add in the water. Don't dump all in there. The amount of water needed depends on how moist the pumpkin is. Add until you can knead into a smooth non-sticky dough
Fill, shape, and boil right away:
Bring a large pot of water to a boil over medium heat before you start filling and wrapping. You want to boil the onde onde right away after you fill and shape them. The longer they sit, the more likely they are going to be leaking out sugar when you boil them

Divide dough into 30 pieces and roll into balls. Work with one ball at a time while keeping the rest covered. Use your thumb to make an indentation on the ball and then fill it up with coconut sugar. Gather the sides to seal and roll into a smooth ball. It is important to roll it into smooth balls. Dab your fingers with some water if necessary to make sure that it's smooth when you roll it. Any seam is a potential for the coconut sugar to leak out when you boil them
Boiling:
The water should be simmering by now. Boil the onde onde right away and then continue to fill and shape the next one and boil until they float to the top. Once they float to the top, let them cook for another 1-2 minute
Roll in grated coconut:
Remove with a slotted spoon and roll in the grated coconut. Serve at room temperature, as a dessert or your afternoon tea snack