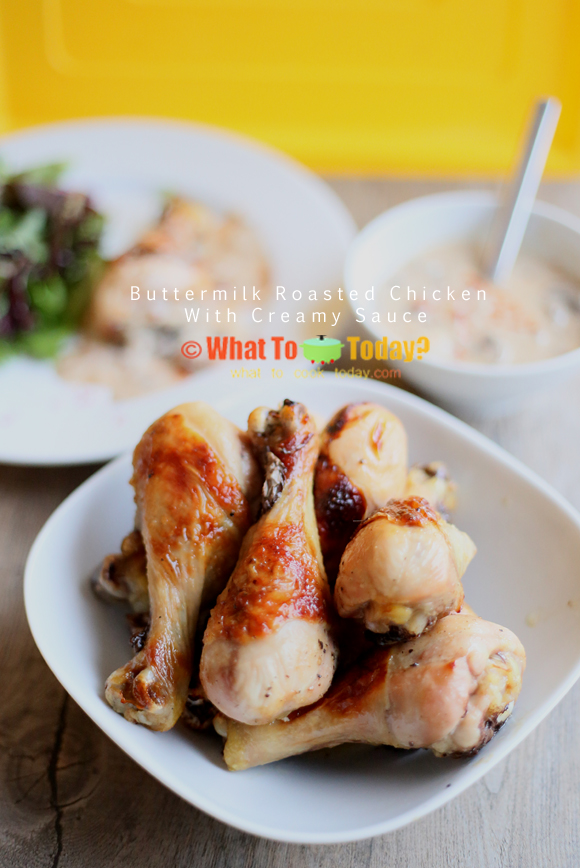 My daughter loves chicken drumstick. I think it's the fact that she can easily hold on to the "stick" and eat it makes it appealing to her when she was young. Now that she is much older (almost 3 1/2) and gotten lazy, she prefers that someone already have the meat ready for her because she doesn't like biting into the bone (whatever!). Anyway, I like chicken drumstick myself because they are easy to eat and doesn't take too long to cook. Buttermilk is also another one of my favorite ingredients when it comes to marinating. The acidity and extra fat in the butter milk adds flavor and make the meat more tender and flavorful. This super easy buttermilk roasted chicken with creamy sauce is a no brainer and my favorite too because it doesn't require much time and preparation other than having to marinade the chicken a day ahead. The next day you just pop them into the oven and you have a meal. Serve it with some salad or other vegetables you like, some carbs like potato or rice and you are good to go 🙂
BUTTERMILK ROASTED CHICKEN WITH CREAMY SAUCE
Ingredients
12

large drumsticks

with skin on

2

cups

of buttermilk

4

cloves

garlic

peeled and bruised with heavy objects

Dash of salt and pepper

¼

cup

of cooking oil + more for baking
Creamy sauce:
3

Tbsp

butter

3

Tbsp

of all-purpose flour

1

cup

of mushrooms - optional

sliced

Paprika powder

optional
Instructions
Things to do the night before:
Get a large freezer bag that will be able to accommodate all the drumsticks in. Freezer bag is better as the chicken will marinade more "evenly". Add in the rest of the ingredients. Push the air out and seal the bag. Squish it around so they are marinated evenly.
The next day:
Preheat oven to 425 F. Line your roasting pan with aluminum foil. Take the drumstick pieces out from the freezer bag (keep the marinating juice) and shake off any excess and arrange on the roasting pan. Brush each drumstick with some oil and pop them into the oven and bake until they are golden brown. It may take somewhere around 30-45 minutes depending on your oven.

In a medium sauce pan, melt about 1 Tbsp of butter, add in the mushrooms (if using, if not using you can go ahead and skip this part) and stir-fry until they are soft, remove from the pan and set aside. Melt another 2 Tbsp of butter, add in the all purpose flour and cook them over medium heat until they turn slightly brownish. Gradually add in the buttermilk juice from marinating the chicken and stir constantly until they are thickened, add the mushrooms back into the pan, have a taste and add more salt if needed. Serve with the chicken on the side and sprinkle some paprika powder over the creamy sauce if you desire