Goujon is a fancy French word for strips of fish or sometimes chicken being breaded and fried. I personally love fish dishes. I remember how my parents always make sure there were plenty of fish stocked up in the fridge when they know I would be home visiting 🙂 Steam it, deep-fry it, bake-it, or my most favorite…raw (sashimi)..I love them all. My recent favorite white fish fillet are sole and swai fillet. Their flesh are so tender that they melt in your mouth. My daughter loves them too. Using sole or swai fillet to make this fish goujon is simply perfect. The crunchy outside when you bite into them against the soft flesh that just melt in your mouth…simplicity at its best. If I haven't mentioned before, I also a big fan of fresh dill. Love the smell of it. I enjoy using dill with rice and seafood dishes. This fish goujon can be served as main course or as appetizers if you wish.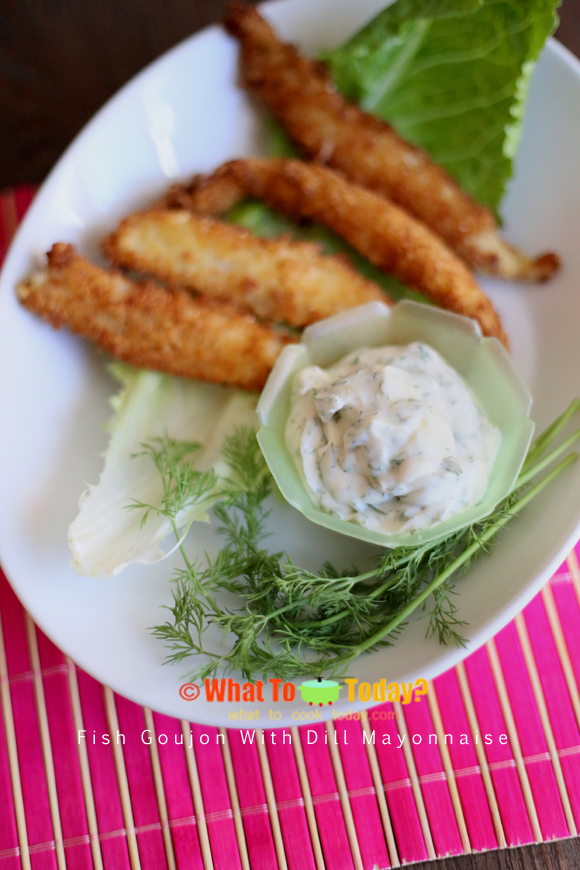 **The recipe is written in Metric and sometimes I include U.S. Measurements**
Please weigh ingredients with a digital kitchen scale instead of using measuring cups as they are not very accurate especially when it comes to recipe that requires precision.
INGREDIENTS
3

white fish fillet

-

My favorites are sole and swai fillet, you are welcomed to use whatever you like

4

cups

panko bread crumbs

3

eggs

-

beaten

1

cup

of corn starch

Dash of salt and pepper

Oil for deep frying
Dill Mayonnaise (mix everything in a bowl):
Handful of fresh dill

1

cup

of mayonnaise

-

I used olive-oil based mayonnaise

Juice of 1/2 lime
INSTRUCTIONS
Prepare three shallow platter. One for corn starch and seasoned with some salt and pepper, one for eggs, and one for panko bread crumbs. Set aside

Pat the fillet dry with absorbent paper towel. Cut them into half lengthwise. Then aim your knife diagonally and cut each half into 4 long strips and you will have total of 24 strips

When ready to cook, preheat enough oil in a fryer. Coat each fillet (one at a time) with corn starch and shake off any excess, then coat with the eggs, and lastly coat evenly with the panko bread crumbs. When the oil is hot enough, gently put in the coated goujon and fry until golden brown. Place on absorbent paper towel to absorb excess oil and continue to fry the rest of the goujon. Serve with the dill mayonnaise on the side