Tender meatballs smothered in delicious gravy and sweet potato mash is a favorite from kids to adults. The recipe is made without any dairy products. IKEA Swedish meatballs may need to move over!
Swedish meatballs were one of the things we often ordered when we went to IKEA. It's yummy and they always have it on a special and you can see almost every diner at IKEA ordered Swedish meatballs with mashed potatoes. When I saw the Swedish meatballs recipe on Jamie Oliver's Food Escapes, I immediately made a note for myself as a to-try dish. I made lots of adaptations to his recipe though, but it still turned out really well. The family absolutely loves this and begging me to make more soon.
HOW TO MAKE SWEDISH MEATBALLS FROM SCRATCH
1. Prepare the sweet potato mash
Cut the potatoes into cubes. I leave the skin on, you can peel it off if you prefer. I use Instant pot pressure cooker to cook the potatoes on high pressure for 5 minutes. Add coconut oil, salt, pepper, and garlic powder (if using) and start mashing while it is still warm. Set aside until when ready to serve


2. Prepare the meatballs
Melt 1 Tbsp of coconut oil. Add onion and stir fry until they are soft and slightly caramelized, about 3-4 minutes. Remove from the pan and set aside to cool down


In a large mixing bowl, add ground beef and the rest of the ingredients for meatballs. Add the cooked onion.


Stir to mix and then use your clean hand to mix into a large mass. Cover and refrigerate for 30 minutes. They are easier to shape into meatballs later


Take the meatballs out of the refrigerator and wet both of your palms slightly with a bit of water and start shaping into balls and continue to wet your hands as you go and they will not stick to your hands


3. Cook the meatballs
In the same pan that you use to cook the onion, bring the oil back to hot over medium heat. Add the meatballs and let them cook over medium heat until they are golden brown all over


Brown the meatballs in batches and don't crowd the pan or they won't brown properly. Remove the meatballs to a plate


4. Prepare the gravy
Start with a clean pan. I strain the oil that I used to cook the onion and later on meatballs (because this oil already has so much flavor in it, I hate to discard it) to get rid of any bits. Add another 1 Tbsp of coconut oil.


Add the all-purpose flour and keep stirring over medium heat until the roux started to turn light golden brown. Take care not to burn the flour

Add the beef broth. Keep stirring until the sauce is smooth and creamy


After that add the coconut cream and seasonings and keep stirring until it's smooth. If you find the gravy is a bit too thick, you can always thin it with a bit of broth. Have a taste and adjust if necessary


5. Putting everything together
Add the meatballs back into the gravy


Gently stir to coat the meatballs with the gravy. Remove from the heat. Sprinkle with some chopped parsley


6. Serving
Portion out the mashed sweet potatoes, meatballs and smother some gravy on top of sweet potatoes and meatballs. Scoop out some lingonberry to serve with

I asked the hub and kids what they think. "The meatballs are tender. Love the combination of savory and slightly sweet"

SUBSTITUTIONS
1. Coconut oil
I know not everyone likes coconut oil like I do. You can definitely use butter if dairy is not an issue. Dairy is not an issue to me and the family, but I prefer to use coconut oil over butter. If dairy is an issue, you can use non-dairy butter
2. Coconut milk and coconut cream
If dairy is not an issue, you can use regular milk and heavy cream. If dairy is an issue and you don't like coconut milk, you can use other non-dairy milk to substitute for coconut milk and use dairy-free half and half
3. Bread crumbs
I use regular bread crumbs, but you can use panko bread crumbs too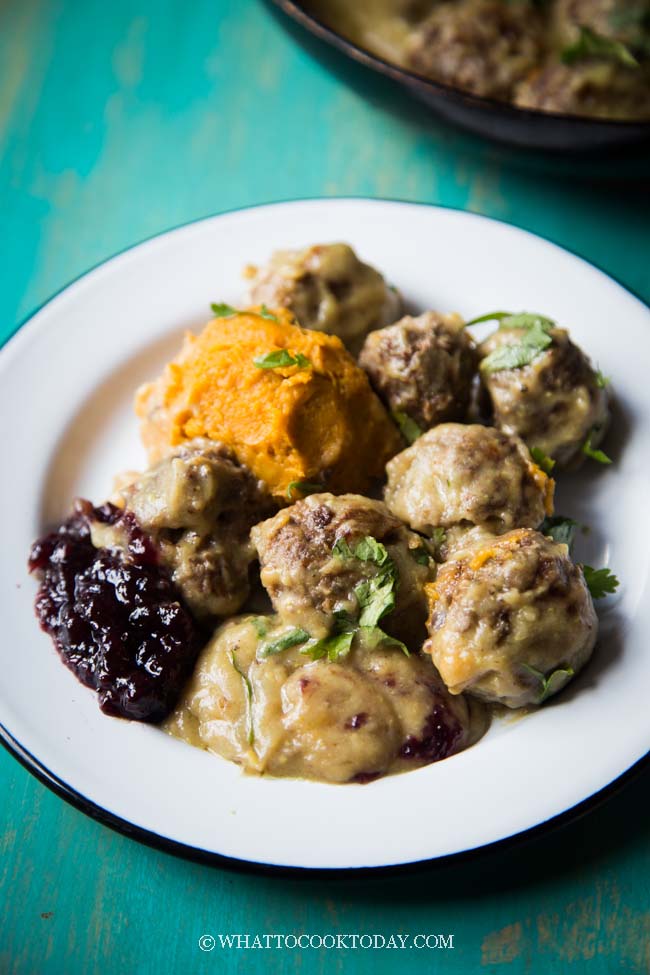 VARIATIONS
Instead of serving with sweet potato mash, you can also serve it with egg noodles, pasta, crusty bread, zoodles (zucchini noodles) or other spiralized veggies.

DID YOU MAKE THESE HOMEMADE SWEDISH MEATBALLS WITH SWEET POTATO MASH RECIPE?
I love it when you guys snap a photo and tag to show me what you've made 🙂 Simply tag me @WhatToCookToday #WhatToCookToday on Instagram and I'll be sure to stop by and take a peek for real!

The recipe was last published in 2014 and I updated it with improved recipe, photos, and video tutorial on September 30,2020.

Homemade Swedish Meatballs with Sweet Potato Mash (Dairy-Free)
Ingredients
For the meatballs:
1

Tbsp

coconut oil

1

small

onion

peeled and finely chopped

1

lb

ground beef

this can be a combination of half pork, half beef, or all pork/beef. Your choice

¼

cup

bread crumbs

¼

cup

coconut milk

or other non-dairy milk of your choice

1

large

egg

1

tsp

salt

½

tsp

ground black pepper

½

tsp

nutmeg powder

½

tsp

cinnamon powder
Sweet potato mash:
1

lb

sweet potatoes

peeled and cut into large chunks

1

Tbsp

coconut oil

1

tsp

garlic powder

optional

Salt and pepper to taste
To serve with:
Traditionally served with lingonberry jam

buy a high quality one, not just sugar and extract on the ingredient list, it makes a big difference, but you can use blackcurrant, blueberries or blackberries jam. I used blackberries jam
Instructions
Prepare sweet potato mash:
Cut the potatoes into cubes. I leave the skin on, you can peel it off if you prefer. Put in a large saucepan or pot and pour in water, just enough to cover the potatoes. Bring to a boil and cook until fork-tender. Drain off water and return to the pot. Add coconut oil, salt, pepper, and garlic powder (if using) and start mashing while it is still warm. Set aside until when ready to serve

You can also cook the sweet potatoes in an Instant Pot pressure cooker, which was what I did. Fill up the inner pot with 1 cup of water. Put the cut potatoes on a steaming rack. Close the lid and turn the steam release valve to "sealing". Press "pressure cooker" and on "high pressure". Set timer to 5 minutes and then release pressure immediately. Add coconut oil, salt, pepper, and garlic powder (if using) and start mashing while it is still warm. Set aside until when ready to serve
Prepare the meatballs:
Melt 1 Tbsp of coconut oil. Add onion and stir fry until they are soft and slightly caramelized, about 3-4 minutes. Remove from the pan and set aside to cool down

In a large mixing bowl, add ground beef and the rest of the ingredients for meatballs. Add the cooked onion. Stir to mix and then use your clean hand to mix into a large mass. Cover and refrigerate for 30 minutes. They are easier to shape into meatballs later

Take the meatballs out of the refrigerator and wet both of your palms slightly with a bit of water and start shaping into balls and continue to wet your hands as you go and they will not stick to your hands.

In the same pan that you use to cook the onion, bring the oil back to hot over medium heat. Add the meatballs and let them cook over medium heat until they are golden brown all over. Brown the meatballs in batches and don't crowd the pan or they won't brown properly. Remove the meatballs to a plate
Prepare the gravy:
Start with a clean pan. I strain the oil that I used to cook the onion and later on meatballs (because this oil already has so much flavor in it, I hate to discard it) to get rid of any bits. Add another 1 Tbsp of coconut oil. Add the all-purpose flour and keep stirring over medium heat until the roux started to turn light golden brown. Take care not to burn the flour

Add the beef broth. Keep stirring until the sauce is smooth and creamy. After that add the coconut cream and seasonings and keep stirring until it's smooth. If you find the gravy is a bit too thick, you can always thin it with a bit of broth. Have a taste and adjust if necessary
Putting everything together:
Add the meatballs back into the gravy. Gently stir to coat the meatballs with the gravy. Remove from the heat. Sprinkle with some chopped parsley
Serving:
Portion out the mashed sweet potatoes, meatballs and smother some gravy on top of sweet potatoes and meatballs. Scoop out some lingonberry to serve with