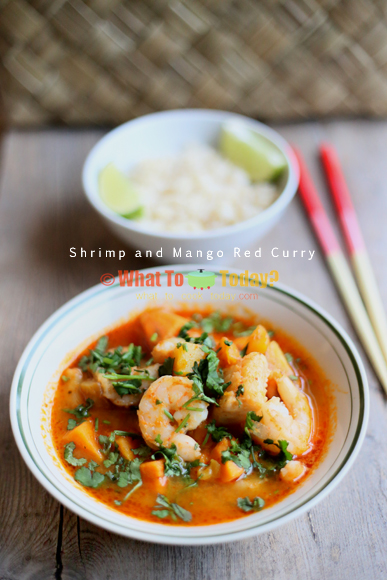 I have to admit that I'm still in a "survival" mode. Meaning, I'm trying to survive motherhood with our 4 1/2-month old baby (as I'm typing this entry) and a 3-year old daughter. Fun ? yes. Exhausting ? yes. Hungry ? double yes!! I feel like I'm hungry all the time. I'm not sure if I'm using breastfeeding as an excuse to eat or I'm hungry because I'm nursing the baby full time. Either way, this family of mine need to eat. I don't have much time to spare when it comes to cooking. I yearn for those afternoon when my girl was taking her 2-hour nap and I was making some steamed buns or whatever that I was experimenting. Now, I'm trying to catch a nap when the baby naps (and that doesn't always happen as I wish). I know that day will come again, but at the moment, I need something tasty, quick, and simple to make.
Shrimp and mango red curry comes to the rescue. This dish is inspired by Thai red curry. I love Thai food and when I saw the red curry paste in the fridge, I know this is my ticket to easy and quick meal in one pot. I like how it turned out. The sweet, sour, and salty taste in one pot. Not to mention the crunchy and sweet flesh of the shrimp…mmmm…….good !! You will not be disappointed. We weren't. And I always keep Thai red curry paste in the pantry 😉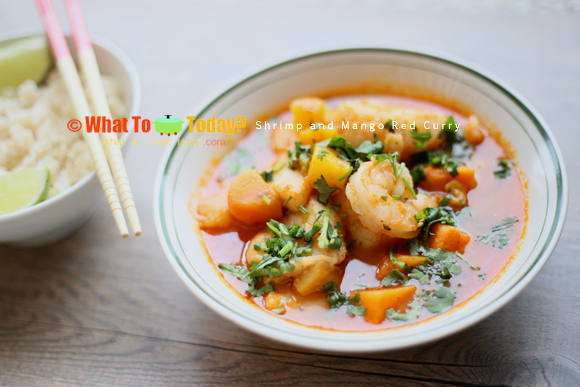 For baking/ kueh making: I highly encourage to weigh ingredients with a digital kitchen scale instead of using measuring cups as they are not very accurate especially when it comes to recipe that requires precision.
GRAMS TO CUPS CONVERSION (UNSIFTED)
INGREDIENTS
1

lb

of raw jumbo shrimp

-

peeled and deveined

1

lb

of sweet potatoes

-

peeled and cut into 1 1/2-inch cubes

1

large ripen mango

-

peeled, pitted and cut the flesh into 1 1/2-inch cubes

1

cup

chicken stock

1

cup

coconut milk

2

Tbsp

of store-bought Thai red curry paste

-

more if you want it spicier

1

Tbsp

of fish sauce

-

or more to taste

Juice of 1 lime

Small bunch of cilantro leaves

-

finely chopped

1

Tbsp

of cooking oil
INSTRUCTIONS
Preheat 1 Tbsp of cooking oil in a medium to large pot. Stir in the curry paste and stir fry for about 5 minutes

Add in the chicken stock and coconut milk and bring to a boil. Add in the sweet potatoes and bring back to boil and lower the heat to let it simmer and cook the sweet potatoes until tender but not mushy

Tip in the shrimp, mango, fish sauce, and squeeze the lime juice in. Bring it back to a boil. Have a taste and add more fish sauce if needed

When ready to serve, garnish with cilantro leaves