Cassava is one of the most common ingredients you can see being used in West Africa. Cassava is also known as Yucca. This root is native to South America. From what I read from wikipedia is that Cassava is the third-largest source of carbohydrate in the world. I'm not surprised with this because Cassava is also widely used in Indonesia as source of carbohydrate. It is known as Singkong or Ubi Kayu in Indonesia. Not only they are cheap, they are abundant and fill up your tummy. If you don't know me already, I am a carbo person. Rice, potatoes, noodles, corn and cassava are my weakness. I really like cassava and I can eat it anytime of the day, 7 days a week if you allow me to.
The cassava-stuffed shrimp is the mixture of basic ingredients such as cassava with high-end luxury one, in this case, shrimp. I really enjoy this dish though. Such a great fusion! Love the creaminess, the spiciness and the flavor from the curry powder and the tarragon….yumbo!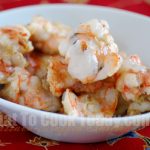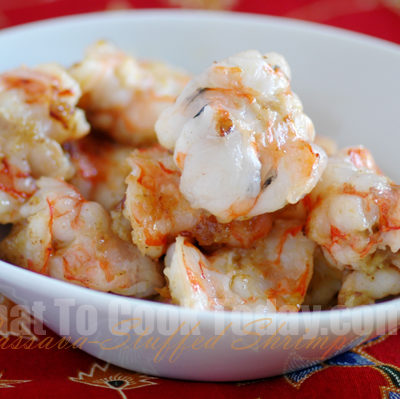 CASSAVA-STUFFED SHRIMP
Ingredients
¼

cup

olive oil

or as needed, divided

1

merguez sausage - if you can't find any

use any spicy sausage

1

small red onion

diced

1

garlic clove

minced

1

cup

diced peeled butternut squash

1

cup

diced peeled rinsed cassava

1

scotch bonnet chili

seeds and ribs removed, chopped (if you can't find any, you can substitute with Habanero, they are quite close)

1

Tbsp

curry powder

½

cup

coconut milk

¼

cup

chicken stock

1

tsp

chopped tarragon

Salt

16

jumbo shrimp

peeled,deveined, and butterflied
Instructions
To make the filling, heat 2 Tbsp of the oil in a medium saucepan. Add the sausage and onion and cook, stirring often, until the onion is translucent, about 5 minutes. Add the garlic, squash, cassava, chili, and curry powder and cook, stirring often, until the garlic is golden, about 3 minutes. Add the coconut milk, chicken stock, and tarragon and bring to a simmer, then reduce the heat and simmer gently for 35 minutes

Drain the vegetables and reserve the liquid. Transfer the vegetable mixture to a bowl and mash with a fork, adding half of the reserved cooking liquid, or as needed, to make a smooth puree. Season with salt, then set aside to cool

Lay a butterflied shrimp out on a sheet of plastic wrap, cover with another sheet, and gently pound with a meat mallet to as thin as possible, about 1/8 inch or less. Remove the top piece of plastic wrap and place 1 1/2 tsp of the filing in the center of the shrimp. Bring the 4 edges of the plastic wrap together up over the shrimp,so the shrimp wraps around the stuffing, and then, holding the edges of the plastic wrap, squeeze the wrap around the shrimp to form it into a ball, then rotate the shrimp ball to tighten it. Repeat with the remaining shrimp

Heat the remaining 2 Tbsp oil in large saute pan, preferably nonstick, over medium-high heat. Carefully remove the plastic from the shrimp balls. Add them to the oil (seams side down), in batches if necessary, and cook for 3 minutes. Turn and cook for additional 4 minutes, or until the shrimp is opaque throughout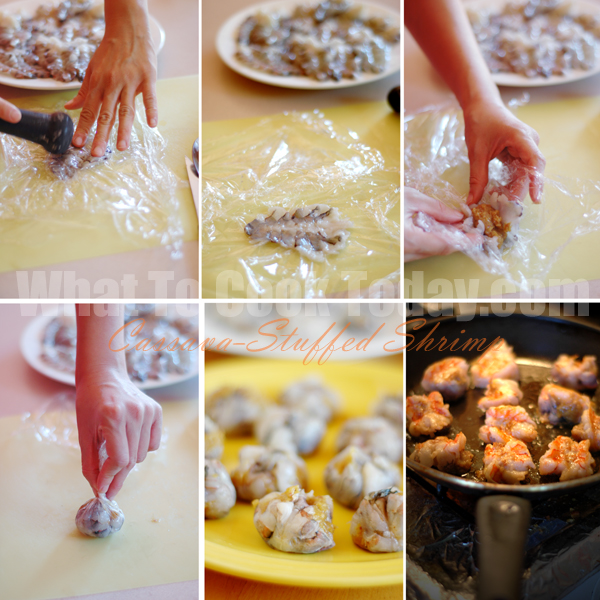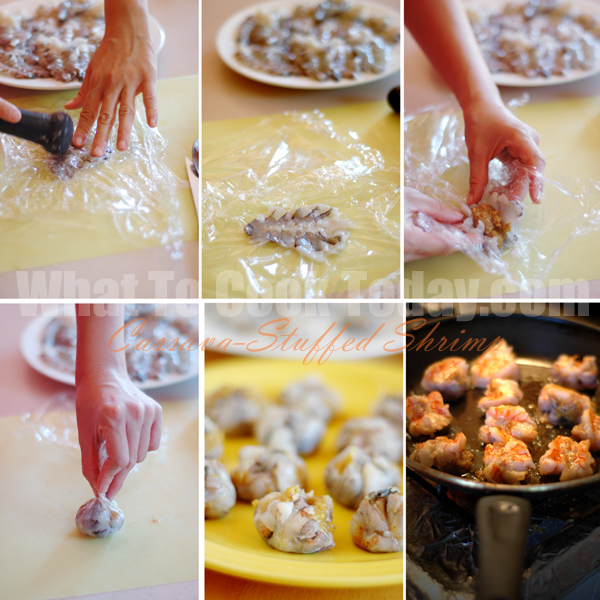 Now, don't expect perfect shrimp balls, because they are not going to be like that since we are using whole butterflied shrimps. The key is to pound the shrimp as thin as you can (but not to destroy it 😉 ) so when you cook them, they won't unroll.