Learn how to make Indian-style unleavened flatbread or known as chapati/roti/phulka with this easy recipe. The dough can be made with whole wheat flour or all-purpose flour if you don't have Atta flour.

What is chapati?
Chapatis or often known as roti or phulka, is unleavened bread and one of the world's simplest bread to make. It's fun to eat too because you can tear it into pieces and dip them into curries, yogurt, etc, or you can wrap some meats and/or vegetables with it. The dough is made with flour, salt, and water. The dough is then rolled out and cooked on a griddle or a skillet until it puffs up.
Chapatis are quintessential food in the Subcontinent. They are cheap to make. They feed and nourish people in the Subcontinent, they are versatile and taste good with almost anything. Just like rice in our household and the majority of Asians.
I got this wonderful chapatis recipe from Mangoes and Curry Leaves cookbook by Jeffrey Alford and Naomi Duguid. If you're making chapatis for the first time, they suggested using atta flour. I've seen this in the Asian grocery store before. If you can't find this in Asian grocery store, you can try South Asian grocery, I believe they have it for sure. Atta is a special kind of whole wheat flour, made from hard durum wheat that is very finely ground. An attractive pale yellow-brown in color, it makes the best chapatis because it is strong and makes a dough that rolls out very smoothly.
Why you'll like this recipe
1. Only 4 ingredients
2. The dough is easy to work with
3. Not much kneading
4. You get soft chapati
Secret in making a soft chapati
It's no secret actually. Use hot water to mix with the dough. The hot water helps to gelatinize the starch which results in softer bread. Simple as that.
How to make chapati
1. Whisk together flour and salt.


2. Add the hot water and oil


3. Use a spatula to stir at first. The dough won't come together just yet. Transfer this to a work surface, dusted with some flour. Give the dough a few kneads until you get a smooth dough, about 1 minute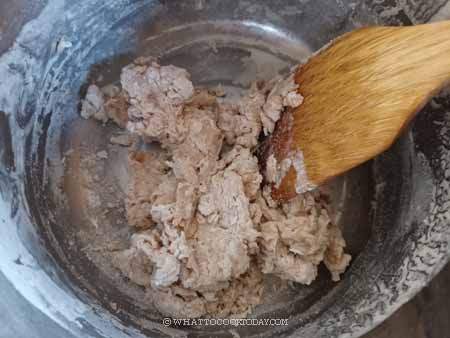 4. When it's cool enough to handle, use your hands to knead the dough into a soft, slightly, sticky dough


5. Divide the dough into 8-10 pieces (depending on how large you want the chapati to be) and shape into balls. Keep them covered and rest for 15 minutes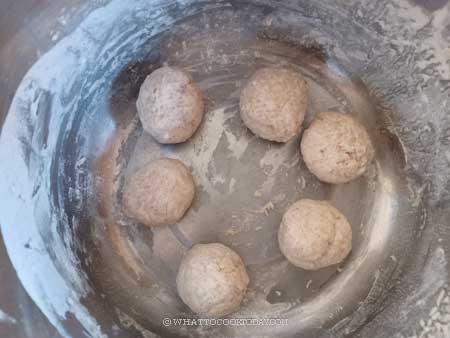 6. Dust some flour on your work surface, dust your palm and rolling pin with flour, and flatten each ball with your palm.


7. Use a rolling pin to roll from the center outward with light strokes and rotate the bread slightly between each stroke, until it is 7 to 8 inches in diameter. You want to roll the dough thin. Set aside and repeat with the remaining dough. Do not stack the rolled-out chapati; if you don't have enough counter space for them all, roll out just a few and begin cooking, then roll out the others as the chapati cooks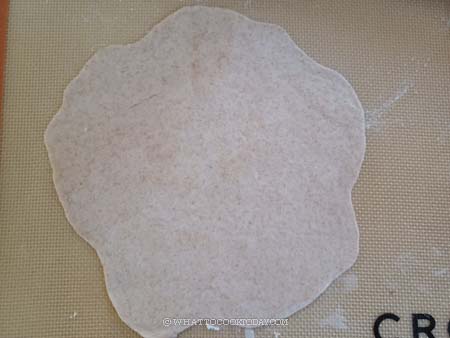 8. Heat a cast-iron griddle or skillet over medium-high heat. When the griddle is hot, put about 1/2 tsp of oil or ghee and spread it over the surface. Place a chapati top side down on the griddle and let it cook for only 10 to 15 seconds, then gently flip to the second side. Cook on the second side until small bubbles begin to form in the dough and there are some light brown spots, approximately 1 minute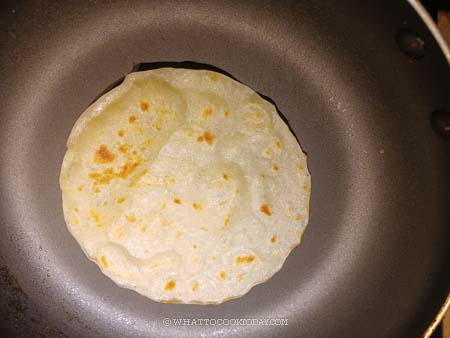 9. Flip the chapati again and gently press on the surface using a clean towel or rubber spatula. A perfect chapati will puff up.


10. Flip again and cook for another 30 seconds or so. If the chapati start to burn on the bottom before it has ballooned, move the bread across the skillet, dislodging it from the point at which it is beginning to burn.


11. When you are happy with your chapati, remove it and brush with some oil/butter/ghee and wrap in a clean towel. Cook the other chapati, stacking each as it is finished on top of the others and wrapping the stack in cloth to keep the chapati soft and warm

Tips to get soft roti/chapati
1. Use hot water
The hot water really soften the dough and make it so much easier to work with
2. Roll the dough thin
When you roll the dough thin and evenly, the dough will puff up during cooking, making it soft and pliable
3. Keep cooked chapati warmed
I stacked them up and wrap with a clean dry towel to keep them warm and soft

Did you make this chapati/roti/phulka recipe?
I love it when you guys snap a photo and tag to show me what you've made 🙂 Simply tag me @WhatToCookToday #WhatToCookToday on Instagram and I'll be sure to stop by and take a peek for real!

Easy Chapati/Roti/Phulka (Indian Flat Bread)
Ingredients
230

gr

Atta flour

, or substitute white wheat flour or all-purpose flour, sifted, plus extra for rolling

1

tsp

salt

2

Tbsp

vegetable oil or ghee

(clarified butter) and more for cooking the bread

170

gr

hot water

start with 130 gr if using all-purpose flour
Instructions
Whisk together flour and salt. Add the hot water and oil and use a spatula to stir at first. The dough won't come together just yet. When it's cool enough to handle, use your hands to knead the dough into a soft, slightly, sticky dough

Transfer this to a work surface, dusted with some flour. Give the dough a few kneads until you get a smooth dough, about 1 minute

Divide the dough into 8-10 pieces (depending on how large you want the chapati to be) and shape into balls. Keep them covered and rest for 15 minutes

Dust some flour on your work surface, dust your palm and rolling pin with flour, and flatten each ball with your palm. Use a rolling pin to roll from the center outward with light strokes and rotate the bread slightly between each stroke, until it is 7 to 8 inches in diameter. You want to roll the dough thin

Set aside and repeat with the remaining dough. Do not stack the rolled-out chapati; if you don't have enough counter space for them all, roll out just a few and begin cooking, then roll out the others as the chapati cooks
Cooking:
Heat a cast-iron griddle or skillet over medium-high heat. When the griddle is hot, put about 1/2 tsp of oil or ghee and spread it over the surface. Place a chapati top side down on the griddle and let it cook for only 10 to 15 seconds, then gently flip to the second side. Cook on the second side until small bubbles begin to form in the dough and there are some light brown spots, approximately 1 minute

Flip the chapati again and gently press on the surface using a clean towel or rubber spatula. A perfect chapati will puff up. Flip again and cook for another 30 seconds or so. If the chapati start to burn on the bottom before it has ballooned, move the bread across the skillet, dislodging it from the point at which it is beginning to burn

When you are happy with your chapati, remove it and brush with some oil/butter/ghee and wrap in a clean towel. Cook the other chapati, stacking each as it is finished on top of the others and wrapping the stack in cloth to keep the chapati soft and warm
How to store:
Let chapati cools down at room temperature and then wrap with a cling wrap. They can be stored at room temperature for 2-3 days if it's not humid, otherwise, keep them in the refrigerator

For longer storage, keep them in the freezer and simply thaw at room temperature and then reheat on the stove until warm and soft again
Recommended products:
Nutrition
Serving:
1
chapati
|
Calories:
103
kcal
|
Carbohydrates:
17
g
|
Protein:
3
g
|
Fat:
3
g
|
Saturated Fat:
1
g
|
Polyunsaturated Fat:
1
g
|
Monounsaturated Fat:
2
g
|
Trans Fat:
1
g
|
Sodium:
236
mg
|
Potassium:
84
mg
|
Fiber:
2
g
|
Sugar:
1
g
|
Vitamin A:
2
IU
|
Calcium:
8
mg
|
Iron:
1
mg