Learn how to make this old-school Hainanese bread loaf that is soft and fluffy. The bread is usually cut in thick slices, grilled over charcoal, and smothered with kaya jam and butter to make kaya butter toast by the old-school coffee shop (kopitiam).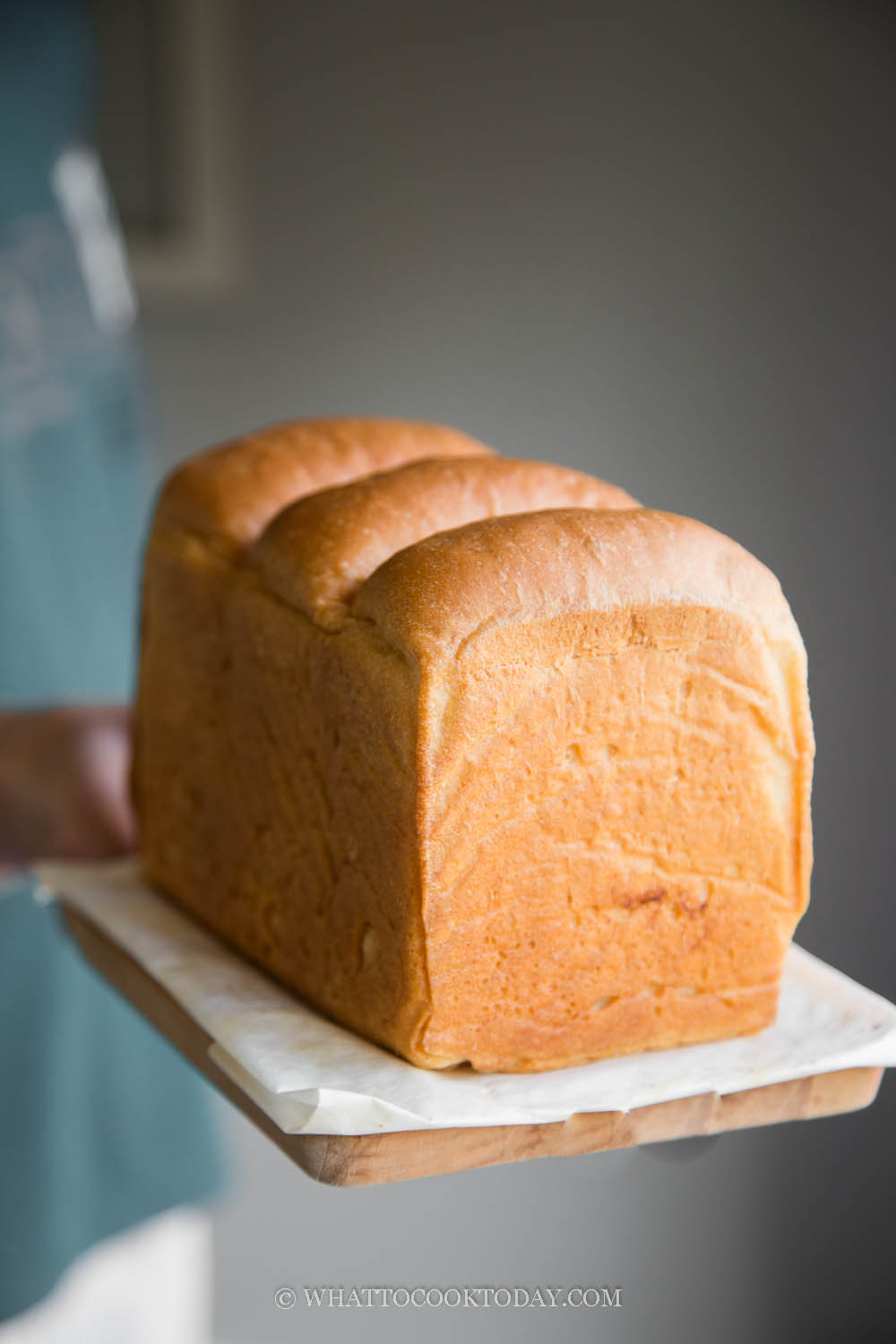 Every kid in my generation would agree that Hainanese bread is the bread that they grew up eating. My dad went to kopitiam (old-school coffee shop) every morning for his coffee and toast. I went with him probably 2-3 times each week. A kaya butter toast accompanied by milk tea, half-boiled eggs, and sometimes kuih lopes/kue lupis were always in order for my breakfast. Sadly you don't see many kopitiam like this around in this modern days anymore.
What is Hainanese bread?
It's basically just a loaf of plain white bread. It probably gets its name because back in the old days, most kopitiam shops are owned by the Hainanese people. The one most memorable things about Hainanese kopitiam is the thick slices of Hainanese bread that are used to make kaya butter/margarine toast. The bread loaf is usually tall in shape and not brushed with an egg wash or milk. So it has that rustic look. It's crusty on the outside but with soft fluffy crumbs. Hainanese bread is also known as roti Benggali in Penang, Malaysia. The roti/bread is usually sold by Benggali man

How to make Hainanese bread
1. Put all ingredients in a mixing bowl of a stand mixer, except for the butter.


2. Knead on lowest speed for about 5 minutes to get a rough dough, add the butter


3. Increase speed to 2 (on KA) and knead until the dough is smooth and elastic and when you stretch it thin, it won't break (windowpane stage), about 10 minutes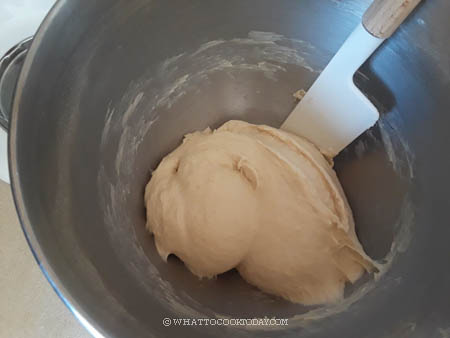 4. Oil your palms and remove the dough from the bowl and shape it into a round dough ball.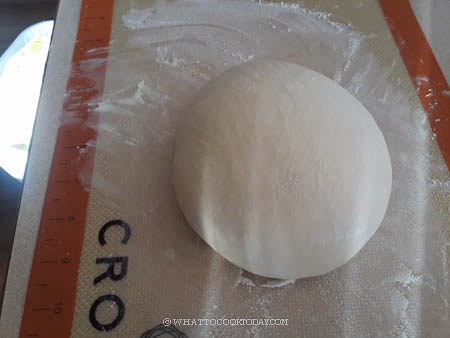 5. Put it back into an oiled bowl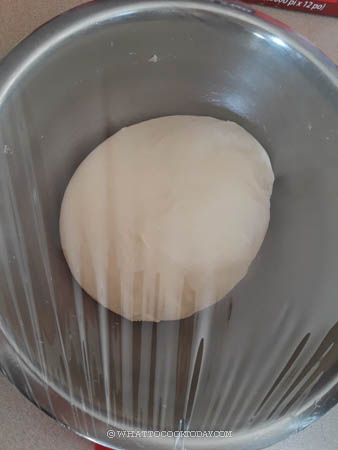 6. Cover and let it proof until doubles in size in a warm place. This may take 1 hour or longer depending on the temperature


7. Line your loaf tin with parchment paper for easier release later or you can grease the pan with some oil to prevent sticking. Once the dough has doubled in size, transfer to a work surface, knead a few times to punch out air bubbles


8. Divide into 3 or 4 equal size dough balls. Cover and rest them for 10 minutes


9. Work with one dough at a time, roll it out into a rectangle, and then fold two sides in and then Swiss roll it up, repeat with the rest of the doughs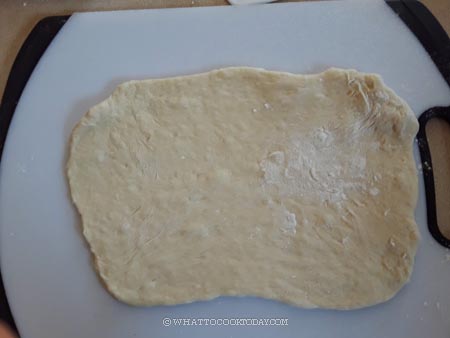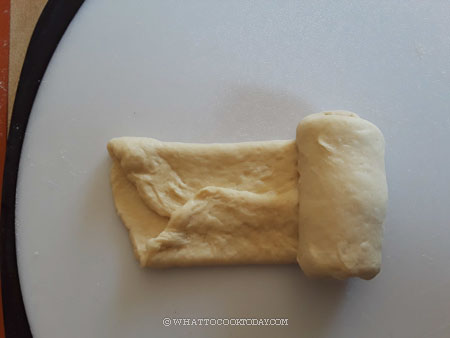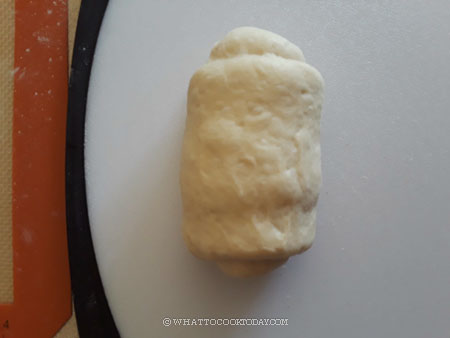 10. Put the shaped dough into the loaf pan.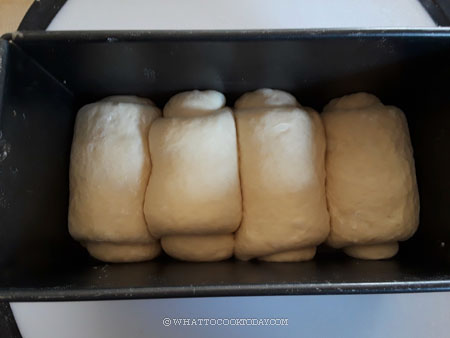 11. Loosely cover and put in a warm place again and let them proof again until they reach near the top rim of the pan, about 45 minutes to 1 hour. 10 minutes before the end of proofing time, preheat the oven to 350F (180 C)


12. Put the loaf pan in the middle rack and bake for 50 minutes. If the top of the bread gets too brown, you can tent it with a foil (shiny side up). Remove from the oven and then lift it out of the pan or turn it out of the pan onto a cooling rack to let it cools down completely. Don't leave the bread in the pan or the bottom of the bread will get soggy

Did you make this Hainanese bread loaf recipe?
I love it when you guys snap a photo and tag to show me what you've made 🙂 Simply tag me @WhatToCookToday #WhatToCookToday on Instagram and I'll be sure to stop by and take a peek for real!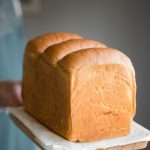 Soft Fluffy Hainanese Bread Loaf (Hailam Kopitiam Bread/Roti Benggali)
Instructions
Prepare the dough:
Put all ingredients in a mixing bowl of a standmixer, except for the butter. Knead on lowest speed for about 5 minutes to get a rough dough, add the butter and then increase speed to 2 (on KA) and knead until the dough is smooth and elastic and when you stretch it thin, it won't break (windowpane stage), about 10 minutes
1st proofing:
Oil your palms and remove the dough from the bowl and shape it into a round dough ball. Put it back into an oiled bowl. Cover and let it proof until doubles in size in a warm place. This may take 1 hour or longer depending on the temperature
Shaping:
Line your loaf tin with parchment paper for easier release later or you can grease the pan with some oil to prevent sticking. Once the dough has doubled in size, transfer to a work surface, knead a few times to punch out air bubbles and divide into 3 or 4 equal size dough balls. Cover and rest them for 10 minutes

Work with one dough at a time, roll it out into a rectangle, and then fold two sides in and then Swiss roll it up, repeat with the other two dough balls
2nd proofing:
Put the shaped dough into the loaf pan. Loosely cover and put in a warm place again and let them proof again until they reach near the top rim of the pan, about 45 minutes to 1 hour. 10 minutes before the end of proofing time, preheat the oven to 350F (180 C) for conventional oven. For convection oven, lower temperature by 20 F or 15 C
Baking:
Put the loaf pan in the middle rack and bake for 50 minutes or until an inserted thermometer into the center of the loaf is at least 190 F (88 C). If the top of the bread gets too brown, you can tent it with a foil (shiny side up). If you use a dark-color pan (near black or black in color), you may want to check on the loaf at 40 minutes as a dark-color pan cooks faster
Cool down:
Remove from the oven and then lift it out of the pan or turn it out of the pan onto a cooling rack to let it cools down completely. Don't leave the bread in the pan or the bottom of the bread will get soggy
How to store:
Once the bread has cooled down completely, wrap it up or put in an air-tight container for 3 days
Nutrition
Serving:
1
slice
|
Calories:
136
kcal
|
Carbohydrates:
23
g
|
Protein:
4
g
|
Fat:
3
g
|
Saturated Fat:
2
g
|
Polyunsaturated Fat:
1
g
|
Monounsaturated Fat:
1
g
|
Trans Fat:
1
g
|
Cholesterol:
7
mg
|
Sodium:
73
mg
|
Potassium:
56
mg
|
Fiber:
1
g
|
Sugar:
1
g
|
Vitamin A:
75
IU
|
Vitamin C:
1
mg
|
Calcium:
17
mg
|
Iron:
1
mg