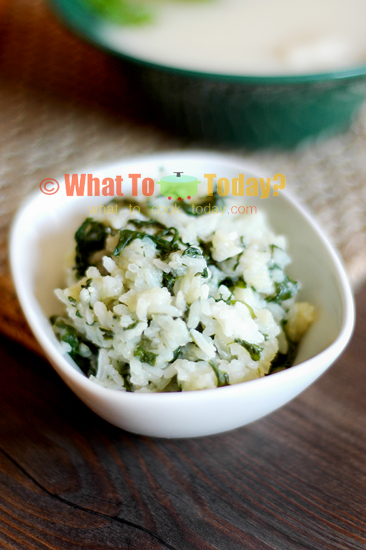 Check rice is a Liberian specialty that is often served in special occasion to accompany other dishes. The rice is usually prepared with greens called jute leaf. Jute leaf is an edible leaf from certain types of jute plants and often used to thicken soups, stews and sauces.
Jute leaf is common in Middle Eastern, African and some Asian cooking. Jute leaf can be found frozen, dried or in canned forms.
If you are unable to find jute leaf like I am, you can still make check rice by substituting jute leaf with dark greens vegetables like spinach, kale, okra, beet greens or even collard greens.
Check rice is incredibly easy to prepare and also a good way to incorporate veggies into the rice. And you don't have to own rice cooker to make check rice or any type of rice actually.
Check rice goes well with other light entree such as fish in coconut milk or tsire (pronounced seer-ay, grilled marinated beef strips threaded on skewers).
For baking/ kueh making: I highly encourage to weigh ingredients with a digital kitchen scale instead of using measuring cups as they are not very accurate especially when it comes to recipe that requires precision.
GRAMS TO CUPS CONVERSION (UNSIFTED)
INGREDIENTS
1

tsp

salt

1 1/2

cups

(300 g) long-grain white rice

1/2

lb

(250 g) jute leaf or substitute with fresh spinach, kale, stemmed and chopped (you should get about 4 to 5 cups)

1 1/4

cups

water if using fresh spinach as it will contribute some water too

-

, 1 1/2 cups water if using jute leaf and kale
INSTRUCTIONS
Combine water with the salt in a medium saucepan and bring to a boil. Add rice, lower the heat and cover. Simmer 10 minutes

Spread greens over top of rice, cover again and cook on low heat another 5 to 10 minutes, or until rice is soft and water is absorbed. Fold greens into rice before serving