Make this Ghanaian gari biscuit made with fermented cassava. It is light, crispy, and the coarse texture of gari flour is simply addicting. A simple biscuit that everyone enjoys.

WHAT IS GARI?
Another new ingredient I've learned lately is the gari (pronounced gah-ree). This coarse flour is made of ground cassava that is fermented and roasted. It is very popular in West African cooking. All that is left in gari is pretty much the fiber of cassava, hence it is a healthy ingredient to use. The gari flour has a slightly sour taste to it.
The African lady I bought this gari flour from the first time, told me that she ate gari flour regularly like how she would eat oatmeal. I can now easily find this gari flour in Asian store that carries African ingredients too.

What I want to make with this gari flour today is these gari biscuits. I saw this recipe on The Ghana Cookbook Fran Osseo-Asare and Barbara Baeta, Hippocrene Press, 2015. I totally got hooked to this biscuits though. The coarse gari flour gives that texture that I like. It doesn't make the biscuits sour or anything. The biscuits are more cookies instead of like American biscuits.
HOW TO MAKE REALLY GOOD GARI BISCUITS
1. Mix all the dry ingredients in a large mixing bowl and stir to combine.


2. Add butter pieces into the flour mixture and use a pastry knife or food processor to process into the texture of coarse crumbs.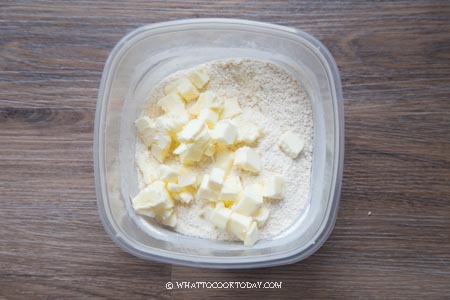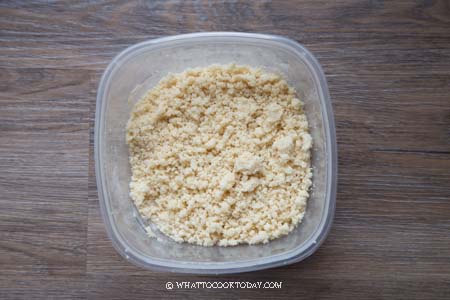 3. Add the beaten egg and mix into the flour mixture. If it's too dry, you can add 1 teaspoon of water or milk (if you prefer) to start with.


4. Divide the dough into 20 equal pieces. Roll into balls and then place on a baking sheet. Slightly pat the dough down into patties. Use a fork to create some pattern on top if you like.


5. Bake in a preheated oven for 12-15 minutes or until golden brown. The longer you bake the crispier it will get.

It's very simple to make, isn't it? 🙂

HOW TO STORE GARI BISCUITS
1. Let the cookies cool down completely
2. Transfer to an air-tight container or bag and they can be kept at room temperature for up to 2 weeks. Anything longer, they may start getting soggy
Have I said that I absolutely love the texture? Maybe it's just my weirdo side!

DID YOU MAKE THIS GARI BISCUITS RECIPE?
I love it when you guys snap a photo and tag to show me what you've made 🙂 Simply tag me @WhatToCookToday #WhatToCookToday on Instagram and I'll be sure to stop by and take a peek for real!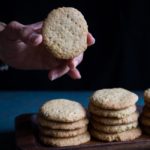 How To Make Gari Biscuits (African Cassava Biscuits)
Ingredients
Wet ingredients:
1

large

egg

4

Tbsp

cold butter

65 gr, dice into small pieces

1

tsp

water or milk

as needed
Instructions
Preheat oven to 350 F. Line a baking sheet with a piece of parchment paper

Mix all the dry ingredients in a large mixing bowl and stir to combine

Add butter pieces into the flour mixture and use a pastry knife or food processor to process into the texture of coarse crumbs

Add the beaten egg and mix into the flour mixture. If it's too dry, you can add 1 teaspoon of water or milk (if you prefer) to start with

Divide the dough into 20 equal pieces. Roll into balls and then place on a baking sheet. Slightly pat the dough down into patties. Use a fork to create some pattern on top if you like

Bake in a preheated oven for 12-15 minutes or until golden brown. The longer you bake the crispier it will get

Remove from the oven and let them sit for one minute and then transfer to a cooling rack to cool down completely. Store in an air-tight container once they have cooled down completely and they can be kept at room temperature for up to 2 weeks